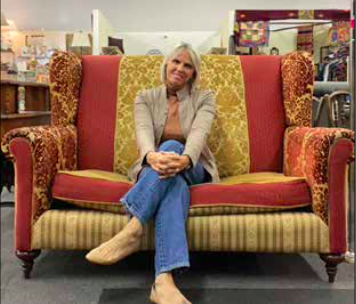 The Ashland Artisan Emporium invites you to their 11th Annual Anniversary sale and celebration being held Saturday, November 13th! This occasion will mark their 11th year in business and serve as the official yearly kick-off to amazing local holiday shopping! They are also kicking off their 2nd Annual Holiday Charity Raffle. Read on for more details.
Explore over 180 individually and carefully curated booths, artfully offering everything from local crafts, to books, to clothing, to home decor, to furniture and worldly goods. The Emporium is home to thousands of items sure to please even the most discerning of shoppers.
In today's interview, I sit down with local owner Michelle Christian to talk about the store and its role in the community of Ashland.
Hi Michelle, congrats on the continued success of the Emporium! How is everything going?
Hi Shields, I always look forward to this interview. This is the 11th year we have done this and each time gives me the opportunity to reflect on the past year. This year was an especially upside down and colorful year! It really gave us an opportunity to stretch ourselves, to grow and get stronger. Challenges always change us, and without that we can become complacent. Our client base is loyal and supportive, and we are so grateful to have successfully made it to this point. No matter what the future holds, we are ever grateful and proud of what this shop has become to so many people. We host so many wonderful vendors who would not have otherwise had a place to showcase their products and inventory. We still love doing this, we still love coming to work each day and meeting new people who get excited about the vast and ever changing inventory under one roof.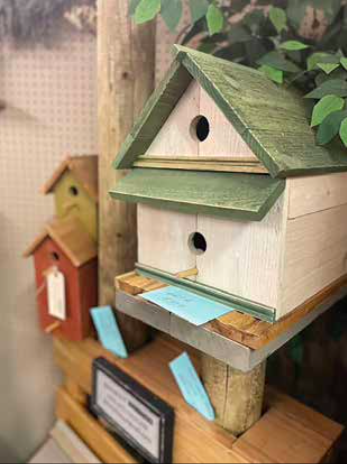 There is a vast inventory and you have over 180 vendors! Can you tell us about some of the amazing things to be discovered at the Emporium?
We have so much unique stuff, every day I find something new! Scotts Rocks and Gems is my favorite go-to spot for affordable crystals and rocks! I am a huge fan of crystals and he keeps my collection growing all the time. The cashmere booth (#496) is also one of my favorite spots for cashmere sweaters. Her prices are unbeatable, so get here quick because her stock sells out quickly. I love having the honor of being here every day to get first dibs! Besides crystals and cashmere, we sell a lot of vintage and new clothing, accessories and bags. Our furniture department is also another highlight, although we have currently halted our consignment program until the end of the year, when we hope to unveil a new larger space for furniture. We also offer a lot of succulents and houseplants at better prices than most other retail shops in the area. 
Tell us about the anniversary sale and Holiday Charity Raffle.
This is our biggest event of the year and is always well-attended by the vendors and community. We will be offering at least 20% off EVERYTHING in the store for one day only, which will be Saturday, November 13th all day from 11-5. We usually have live music and food/drinks – but due to Covid, we are just offering the discount. We ask that everyone maintain social distancing during the sale and wear their masks over their noses and mouths at all times while in the store. We are also excited to kick off the second year of offering our Holiday Charity Raffle. Tickets will be on sale from November 1st through December 26th with winners to be drawn December 27th and notified around New Years. Tickets are $5 for 5. Sign up at the front desk, then drop your tickets in the candy-cane tubes by the booths with the prizes you wish to win. The best part is, our vendors are donating the ticket proceeds to a wide range of charities! Our raffle last year raised just over $1000 for local and global charities including Rogue Valley Fire Relief Fund, Friends of the Animal Shelter, UNETE, TreeSisters, The Maslow Project and so many more! Our generous vendors donate the prizes and will be showcased in their booth during the raffle – so come in to show your support and check out what is being offered.
What's the best way to shop at The Emporium, especially during the busy holiday rush?
We always recommend "starting a pile" at the front counter rather than carrying multiple items around the store. We have wonderfully organized and helpful employees that are eager to begin the data entry process to speed up the check out process – as we do not use UPC codes. We manually enter each item. Roxanne has even developed a color coding system for each row to assist us in finding the right keys for each case. The store is large and has many locked cases and this system helps us find the right key quickly so the customer can get what they need more efficiently. So the next time you are in, notice the color coded dots on the floor of each aisle. They are there for a reason. Another helpful tip is to make sure you wear your masks correctly! We do appreciate that so much.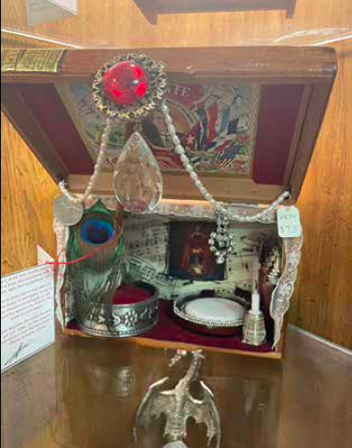 Michelle, what are your top gift picks for the upcoming holiday season?
Well, handmade things are always a great idea. We have a new vendor selling wonderful birdhouses and an old pro selling fairy houses and portals that are extraordinary! Krista Johnson is also an established vendor that makes whimsical hot pads and play swords and shields out of fabric – some of which has been re-used from old Shakespeare Festival plays. 
The kids adore these shields and swords and they make great gifts!
What are three words that best describe the Emporium?
Unexpected, eclectic, and affordable. Can we also add in "socially responsible"! Most of our items are recycled, upcycled, and handmade – which means less waste and more things saved from the landfill. Raising teenage daughters, I realize that it is now more cool than ever to go thrifting! In fact, it might be our favorite thing to do!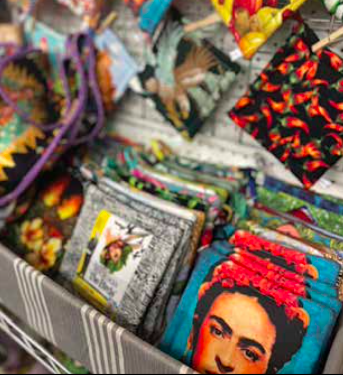 Michelle, thanks for creating such an amazing space in our community. Are there any last words or comments you would like to share with our readers?
I started this shop when I was pregnant, young, naive and hopeful. Fast forward over a decade. I am none of those things anymore. Ok, maybe somewhat hopeful still, but I am still making mistakes and doing the best I can. I have stepped up to the plate and I am ready to fight for this shop because I believe in the vision set forth by my father. Covid and other things have made things harder, but I still believe in the small business owner, the importance of supporting the community, and the idea of following one's passion without apology. Things are going to get real in the new year. It's time to strip it down and let the magic through.