Interviews
Ashland Artisans Emporium Let the Treasure Hunting Begin
If you haven't been to The Ashland Artisan Emporium, you need to go. Set aside an hour or two and let the treasure hunting begin. At The Emporium you'll find everything from vintage clothing to rare books, unique and rare gemstones to handyman tools. The Emporium has it all including over 90 booths of vendors. In today's interview I speak with local owner Leah Fairbanks about all The Emporium has to offer and more.
Leah, thanks so much for speaking with me today and welcome back to LocalsGuide.
Thanks so much it is great to speak with you again!
Leah, please describe your store to us by taking us on a little tour.
When you visit The Emporium, you will be greeted by our booth to the right of the entrance, featuring rare mineral specimens, new gold and silver jewelry along with vintage treasures. As you continue through the store you will be amazed by the variety of gifts that you can find. There are four isles in the store with rows on both sides. Our back room is named Mercantile, and it is stocked with all kinds of treasures new and used at bargain pricing.
There is simply so much to discover in the Emporium. What have been some of your favorite discoveries? 
My favorites are always items I simply could not find anywhere else. Being a big fan of clothing, I get excited when I discover a cool vintage beaded dress or a luxurious cashmere sweater from our exclusive Cashmere Booth. I also love high quality chocolate, so I frequently go by The Coco Craft chocolate wall to see what seasonal treats that Amalie Kirkland has created.
You all have amazing prices on all your products. Please say more.
Our vendors are very competitive in pricing their products. We proudly feature some of the best prices and deals on merchandise in town! Our regular and loyal customers frequently scour the store for new items. Many customers have now become our friends and we look forward to seeing them when they visit The Emporium.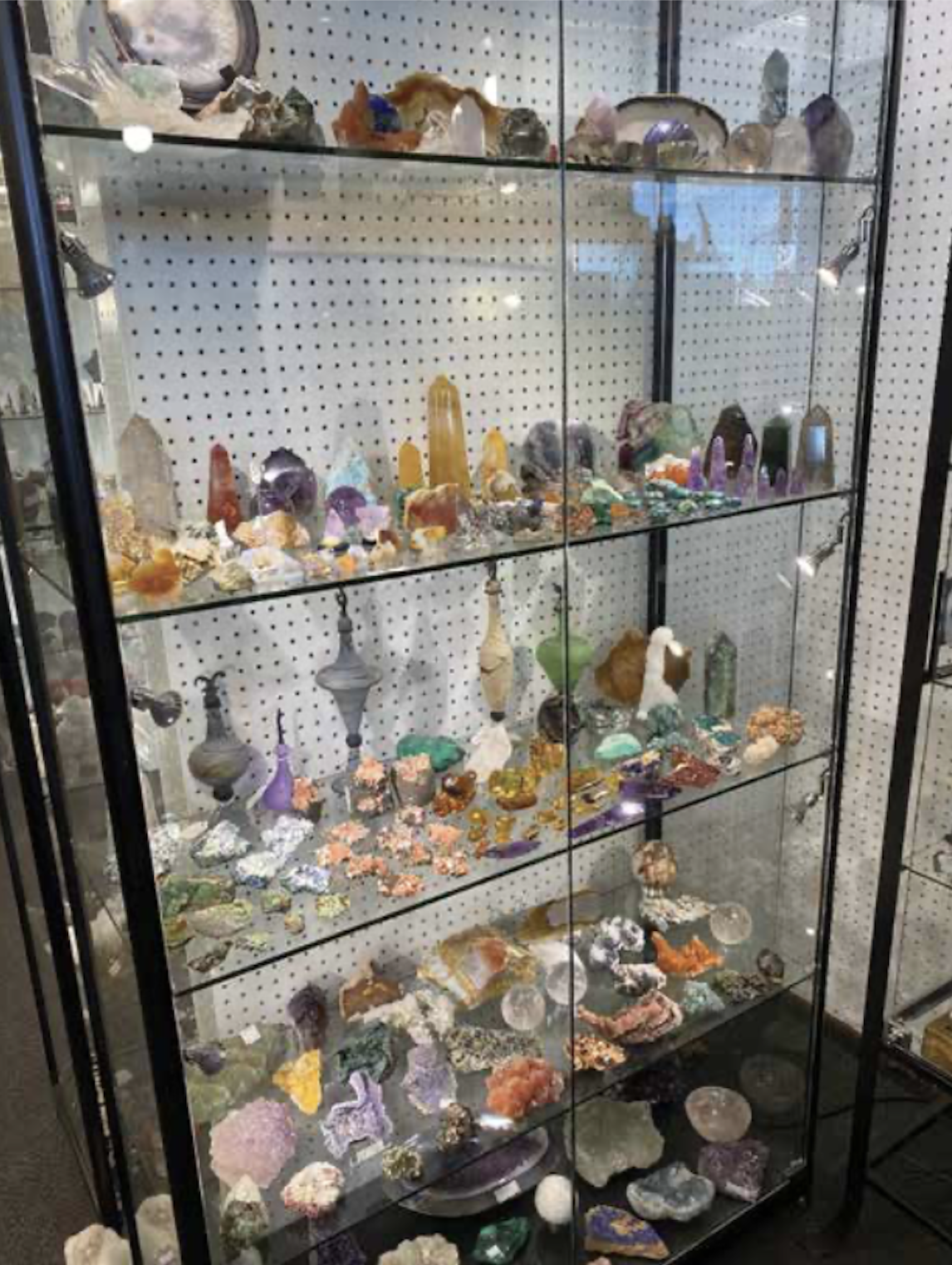 Leah, what are some of your best gifts that you carry in your store?
We carry gifts for everyone! We have been named the best place in Ashland off the Plaza to get a gift. We feature fabulous artwork from local artists who we are very proud to support. Several of our artists and I are members of The Lithia Artisans Market and The Emporium offers one-of-a-kind ceramics, visual arts, as well as my flame worked art glass. We also have games, unique jewelry, home decor, tools and electronic gadgets in new packaging. Gift certificates are very popular so our guests can pick out what they want for themselves. If there is something in particular that you are looking for it is probably here in the store somewhere!
Leah, tell us about your new card booth.
We are so excited about our new card booth. We noticed that there was a void of places for customers to purchase Pokémon, Magic, Yu-Gi-Oh! and sports cards. We carry new and used cards for gamers and card collectors. We have many valuable graded cards and sports related memorabilia in this booth. It is easy to find, it is the first booth you see to the left when you walk into the store.
Tell us about your mineral specimens.
Our rare mineral specimens are sourced from all over the globe! We have old collections with valuable material that in some instances cannot be found anymore. Our goal is to be able to obtain as many cool pieces as possible and provide our guests the ability to purchase pieces that they might not be able to find anywhere else. The opal that we carry was mined by my husband Derek, years ago from Opal Butte in northeastern Oregon. Several vendors include a variety of mineral and gemstones displayed in their booths throughout the store.
Leah, I understand that rare and hard-to-find books are also in abundance at the Emporium.
Many of our vendors carry rare vintage books. A real treasure hunt! Half the fun that people have in our store is wandering from booth to booth in search of a book they may have been searching for for years.
Leah, how do you go about selecting the vendors who work with you?
We invite vendors that are committed to providing great merchandise for our customers. Our goal is to have diversity. Each booth is unique and special. We expect our vendors to keep their booth clean and well stocked to provide the ultimate shopping experience.
You are always searching for new merchandise and vendors. Please say more.
We want to make sure that we carry a wide variety of high quality goods. One of our newer vendors, David Morgan, travels frequently to the Bay Area to stock new items for his booth. His specialty is lighting, neon signs and anything electric. David is a designer and an artist who creates and builds many of his fixtures. A visit to his booth is a must! We have also added a new booth that specializes in glowing mushroom sculptures and small lighting fixtures by Bee Born. As soon as we saw her art pieces we knew it would be a perfect fit for our store. Our daughter Tara also has her own wall space at our store. She sells pins, keychains, stickers and her own homemade crocheted creations. She has designed whales, frogs and gummy worms! They are very popular. She is attending Southern Oregon University here in Ashland and the money that she makes at her booth is used to help put herself through college.
Leah, please tell us about Rogue Trading Company.
This is our new retro hobby store in Medford formerly known as The Coop DeVille. It is located on 1234 Court Street across from The Collectors Market, near The Rogue Valley Mall. We are extremely excited about this new partnership. We are a group of four: Derek Lusk, Nick DeAngelus, Dano Roddy and Troy Wagner. The new store is focused on all things retro! We will be specializing in Pokémon, Magic, Yu-Gi-Oh! and sports cards. Retro clothing, wall art, vintage media, including new and used records, and CDs and tapes are on display as well. Our ultimate goal is to host Magic tournaments at this store. We have a lot of excitement building from our loyal fan base about Magic cards and tournaments. Stay tuned!
Leah, finally what is the favorite part of your job and being a part of the Southern Oregon community?
For Derek and I, our favorite part about The Emporium is that we feel we are providing a service for our neighbors and for our town. We have become more tied into the community through our relationships with our customers and our vendors. Derek and I want our guests to be able to come in and find everything they want and more while having fun. It is common to hear people giggling and laughing while shopping. One of the most common things that we hear is that they can't believe how much time has passed since they entered the store because they are having such a good time!
Learn More:
Ashland Artisan Emporium
1674 Ashland Street, Ashland
(541) 708-0577
Instagram: Ashland Artisan Emporium