Articles
21st Annual Lithia Artisans Christmas Faire Thanksgiving Weekend
The Lithia Artisans Market of Ashland is thrilled to announce its 21st Annual Christmas Faire at the Historic Ashland Armory over Thanksgiving Weekend. Timed to run in conjunction with Ashland's Festival of Lights, this longstanding tradition is a wonderful opportunity to support local folks by purchasing gifts directly from the makers themselves. For over 20 years this show has brought out the best of our community.
The show dates and times for this year's fair are November 24-26 – Friday 10-7, Saturday 10-6, and Sunday 11-4. The Historic Ashland Armory comes alive with art and music on the corner of Oak and B Streets, two blocks from Downtown Ashland.
This will be the largest gathering of local artisans in Ashland in a long time. The location is special and creates just the right ambiance to showcase some of the best art and craft of the region. Artisans have been known to keep some of their best pieces off to the side and bring them out for the first time at this treasured event.
"We are so incredibly grateful to live in a place that supports the arts and crafts. A heartfelt thanks to all those who came out last season. You help us thrive during turbulent times," said show manager Marcus Scott. "I'm really excited to see what the artisans have created for the upcoming show."
There has been a tremendous amount of interest in the market this past season. The market has some wonderful new artists who have joined its ranks, and many of them will be showing their wares at the event. New faces and products keep the show fresh. The Christmas Faire features over 45 local makers.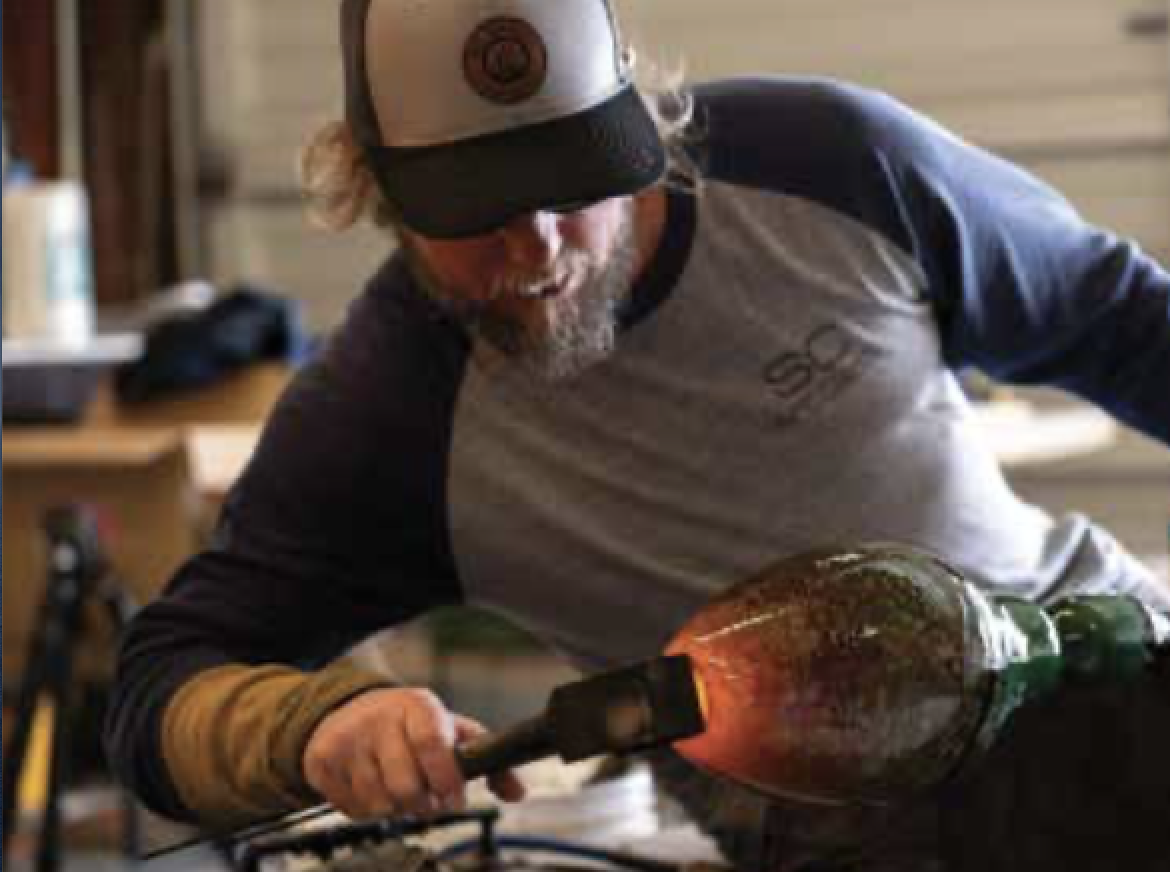 The photo on the front page features veteran market member Erin Linton. Erin continues to evolve as an artist, pushing herself into familiar yet uncharted territory. Her love of the natural world shines throughout her portfolio. Her work is magical and best experienced in person.
Potter Carmen Profitt joined the Artisans Market in 2021. She instantly found her place among peers. She finds themes in nature that touch her artistically and then tells those stories in her pottery. A mug is no longer just a vessel for coffee, it represents the cycles of the moon, water, air, a sunset. Beauty abounds in her work.
The other photographs on this page feature a jasper pendant by the talented hands of silversmith Dan Clark, working glass artist Scott Carlson, and wooden spoons by the Oregon Spoon-man Trace Taber. All these and over 40 other artisans will be on hand to help you find that perfect one-of-a-kind, handcrafted gift this holiday season.
Daily live music accompanies the festivities and entry to the fair is free. For more information visit our website lithiaartisansmarket.com, or follow the market on Facebook page where we always give you the most up to date information about our weekly schedule. facebook.com/lithiaartisansmarket