Interviews
2Yoke Design – Wellness Design For Home & Workplace
2Yoke Design is a multidisciplinary design firm specializing in Architectural Interiors that emphasize Wellness Design for both the Home and Workplace. 2Yoke design believes that timeless design is rooted in the expression of natural materials and organic, place-based design solutions. 2Yoke's innate understanding of programmatic and spatial needs enables them to create space plans and aesthetics which are customized to the client's lifestyle, offering functional efficiency while enhancing the expression of the client's unique personality. By assessing the interests, culture, and pursuits of the individual, or collective, a definition of environment emerges that accentuates these attributes, and ultimately enhances the experience and pleasure of life within the space.
2Yoke has offices both in Ashland, OR and Brooklyn, NY and has recently completed two projects at the Cowhorn Vineyard and Garden, a Biodynamic™ vineyard located on the Applegate Wine Trail of Southern Oregon. In this interview we speak with Brienne Wasmer, the founding Principal Designer at 2Yoke Design, about her inspiration and vision for 2Yoke Design.
Brienne, thanks for taking the time to speak with us today. Please tell us a little bit more about yourself and your inspiration behind creating 2Yoke Design.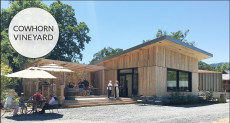 The verb Yoke means to join together, a bond or tie. I founded 2Yoke Design with the intention of uniting the principles of health and wellness with the built environment. My life's passions are shared equally between the disciplines of design and yoga. I started my architectural journey at the University of Oregon, receiving a Bachelors of Architecture and a Masters of Interior Architecture. As I developed my design sensibilities, I simultaneously developed my yoga practice and interest in alternative medicines such as Ayurveda, Chinese Medicine and Naturopathy.

After working in a mid-sized firm for four years, I noticed that both my colleagues and myself were suffering from a work-life balance thrown out of whack. Like many Americans, we worked long hours, at non-ergonomic work stations, and without meaningful access to nature. As a result, long-term physical pain, chronic health issues and a stressful work-life imbalance can inflict a substantial toll on the human body and spirit.

As responsible architects and designers, we consider ourselves champions of the Green Building movement, although, the industry's conversation of health and wellness is often limited to energy-efficient building systems. Many of the green building strategies that excite architects, such as technologically-advanced mechanical systems, are typically not only invisible to the building user but also costly to the building owner. I became deeply inspired to expand the definition of "sustainable building" within the interior design field, a rich and tactile discipline steeped in opportunity to inspire deeper connections with nature.

Once I realized the power that design, especially interior design, can have on our daily experience of well being, I knew i had found my calling. I began to devote my talents and energies to optimizing health and wellness in the built environment. In 2012, 2Yoke Design was conceptualized in Portland, Oregon. Today, we have offices in Ashland, OR and Brooklyn, NY. In Ashland, I practice and teach both Aerial and Vinyasa Yoga, study ayurvedic medicine and lead 2Yoke Design projects on the West Coast. I actively look for ways to enlighten the lives of people through design with intensity, vim, and vigor because I am wholeheartedly dedicated to the service we provide and the ethos we follow.

2Yoke designs health-conscious homes, yoga studios, wellness and health clinics, farm-to-table restaurants, ergonomic workspaces and co-housing communities.
Please tell us more about Wellness Design and what this entails.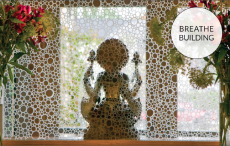 For the average health-conscious individual today, the pursuit of optimal wellness encompasses a wide reach of activities ranging from buying organic produce and products to seeking preventative health care practices such as meditation, acupuncture and yoga. 2Yoke regards Wellness Design as an extension of these healthy habits into the built environment. In other words, 2Yoke Design is to your home or workplace what the food coop is to your belly: the trusted venue from which you can acquire the highest quality of ingredients to sustain a happy and healthy life.

During our material selection process for the Breathe Building, a 10,000 SF wellness clinic, yoga center and organic cafe in Portland, OR, we included Wellness Design "ingredients" such as responsibly-harvested Douglas Fir, locally-sourced concrete, reclaimed lumber and a multitude of toxin-free materials. Additionally, we boosted our local economy by collaborating with local artists, vendors, craftsmen and makers.

Although we actively assist in the tracking and achieving of the highest of green building certifications, such as the Cowhorn Vineyard Tasting Room Living Building Challenge Petal Certification, wellness goals, in design, do not have to be only for those who seek certifications and can afford the highest quality in materials. For example, wellness in one's living or workspace can be achieved through a well-organized furniture layout with ergonomic solutions. Moreover, access to fresh air, natural daylight, and vistas to nature represent low-cost design strategies that have long-term health and happiness benefits.
What you just described fits very nicely with the ethos of 2Yoke Design. Can you please elaborate?
The spirit of our commitment to sustainability reveals itself in two working tenets: 'Truth in Materials' and 'Timeless Design.' The concept of Truth in Materials is just as it sounds: we aim to honestly express the inherent beauty of the Earth's natural resources and man-made materials alike. The field of interior design is loaded with finish material options, many of which aim to mimic qualities from other materials. Wood is patterned to look like metal. Tile is printed to resemble wood. The textural fallacies are endless and fashionable.

In casual conversation, we feel best when expressing ourselves authentically. Design is no different. At 2Yoke, we find that a simply elegant and forthright use of materials outshines the world of faux finishes, in most cases. Celebrating the authenticity of materials brings forward a natural expression of beauty and teaches people about the natural world in a subtle and intimate way: through first-hand experience of the senses. It's in our DNA to want to physically connect with nature, even in building material form; e.g. a deeply-veined slab of marble as a counter top tempts passersby to reach out see with their fingertips how beautiful it is.

Truth in Materials dovetails beautifully with our company's second principle of Timeless Design. The average interior design lifespan spans a mere 7 years, before being ripped up, thrown out and redesigned. 'Phony' or faux-finish materials tend to be the first items to go out with the trash. They simply do not last the test of time. Truthful materials express their beauty as they age, rather than falling apart, thereby establishing their longevity. Metal patinas, wood weathers and cures, leather softens, and stone morphs to reveals the traffic patterns of each passing day. These signs of age mark the passage of time, connecting people with place. We are proud to say that when our clients envision their space thriving for a hundred years or more, and we can help them achieve this.
Brienne, you are also joined at 2Yoke by Courtney Tysell. Please talk about the role that she plays in 2Yoke and how you two work together.
Courtney and I have a long history of design collaboration. Together we inspire. We problem solve. We do yoga.

We met during my undergraduate education in Architecture at the University of Oregon. Although her focus was in Biology & Environmental Science she demonstrated a natural awareness and sensibility for spatial relationships. I encouraged her to continue her education with an emphasis in design. She went on to complete a degree in Landscape Architecture from UC Berkeley in 2012. Courtney's passion for environmental sustainability was a natural fit for 2Yoke and she now heads up our East Coast office in Brooklyn, NY.  

As a polished team, Courtney and I uniquely compliment each other's personalities and the dynamic roles we play at 2Yoke. For example, Courtney ensures that projects are managed with a high level of organization and clear, thorough communication. She has a "nuts & bolts" approach to tracking progress on a project yet has a welcome sense of humor on the job. My interior design sensibility is informed by experience with architecture, building and finish material research, and sustainability.


Our wellness design discussions are enriched with Courtney's knowledge of the plants and sciences and my interest in the practices of feng shui, yoga/ayurveda, and color theory. When we start a new project, I dive into unearth the character of it, seeking out the details of the place, the people, and the time to help inform the design process. Armed with her experience in hospitality design, Courtney sets up a clear path to successful project completion by dialing in the realistic budgets, schedules, and deliverables upfront.
You recently completed a large project with Cowhorn Vineyard. Can you give us an overview of project goals and what was covered?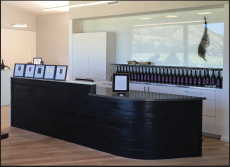 From the moment 2Yoke was consulted by owners Barbara and Bill Steele, to custom-create the new Cowhorn Vineyard Tasting Room and co-author its architectural ambiance, our team was honored by our appointment to such a prestigious and progressive project. We became inspired to parlay the principles of sustainable farming into a physical, visceral, and visual experience. The partnership with Cowhorn has revealed not only our mutual dedication to sustainable practices, but also a mutual investment in the 2Yoke Ethos – working within, not against, the organic processes of nature.

The Steeles own and operate a Biodynamic® vineyard and their commitment to earth sustainability in farming is reinforced in their decision to track the Living Building Challenge Petal Certification for their new tasting room. The Living Building Challenge™ (LBC) model is the most advanced standard of sustainability for buildings and it is organized into seven categories, or petals: Place, Water, Energy, Health & Happiness, Materials, Equity and Beauty. They are on track to be the 41st building in the world to achieve the certification and would be the only tasting room to do so.

The toughest petal to achieve is Materials. It's the most challenging because it requires owners, architects, builders and vendors to collaborate closely select from available materials that meet high standards of sustainability. For example, materials must:

      Be environmentally friendly (no 'red-listed' ingredients)

      Come from responsible industries

      Support the local economy

      Have a net positive waste stream

2Yoke Design's experience tracking the Materials petal on the Breathe Building project represented a huge advantage for the Cowhorn design process, as we were able to come to the table pre-prepared with an extensive material research and a first-hand knowledge of the tracking procedures. In the end, nearly all materials in the the tasting room were harvested from local sources. This is a huge testimony to the local talent and resources to be found in Southern Oregon.

By focusing on the beauty of the land and the principles of Biodynamic™ winemaking, the design story resulted as a merging of 2Yoke Design principles with the key elements of Cowhorn Vineyard as an enterprise: the natural life cycles of the land and the grape. 2Yoke Design thrives on this symbiotic design method. Being a member of Cowhorn Vineyard wine club, I personally feel the design process was a labor a love for the wine, the land, and a shared vision.
Please walk us through some of the considerations and thought process that went into designing the tasting room.
Our design vision was to create an elegant blank slate against which the wine and the unique Biodynamic™ farm could be highlighted as one sips and soaks up the product and environment in which it grew directly. Our clients were keen on the simplicity of materials evoking monasterial qualities and serving as a mirror to the land in which their wine venture emerged.

Upon arrival, you immediately walk onto white-washed Oregon oak flooring. The whole space is very bright and white. The middle of the main space is punctuated by two sleek free-standing bars, each cloaked in white glass and black Shou Sugi Ban, a traditional Japanese preservation method of charring wood. The contrast of texture and color aims to celebrate the cycle of life, death and rebirth, inherent to all natural processes. Above the bottle display, a smaller yet exquisite mark of elegance takes shape as the Cowhorn logo, an ebony brushstroke on a sea of white light.

Truth in materials, simplicity in form, and an unwavering awareness of classical influences amongst a modern milieu, drives our design expression. Folded architectural forms translate to the interior through waterfalls of American Clay™ plaster, Pacific Northwest-made ceramic tile, and back-painted glass.

We wanted to create an austere cathedralesque environment with almost all the materials coming from the land or reflecting views from the land into the materials. There is no place in the tasting room that you could stand where you will not see the beauty of the vineyard. Breathtaking rows of Syrah reflect in the bar's glass and march on perfect axis with the room's massive sliding glass door. The soft planks of oak diagonally draw the eye, along the floor, to this impressive, black-lined aperture. Humbly contained within its frame, is a moment-by-moment meditation of color and light: life in the vineyard.

From inception, the design process was led by a desire to celebrate the land and the grape. You see this permeate throughout the space. When sitting at the spacious bar, you mull the wine across your tongue and at the same time see a mirage, that could be likened to a Monet interpretation of the vineyard reflected in a large plate of white glass. It's subtle, beautiful and unique, like the wine itself. The overriding consideration was always to draw the attention to the vineyard. It is an extraordinary lense to see, taste and experience Biodynamic® farming. Truth in material and simplicity in design complement the organic processes of nature. Through a visually compelling, sustainably-sourced and toxin-free palette, 2Yoke Design defines an interior that yields fruit through sensory experience.
Many customers here in Southern Oregon report feeling a limited inventory and access to vendors. Please talk about the resources that 2Yoke is able to access.
With offices on each coast (Ashland, OR & Brooklyn, NY), we are creatively fueled by a wide variety of materials and resources, including direct access to emerging products within the industry. Our far-reaching network of vendors and tradespeople spans from San Francisco to Portland and to the East Coast.

We have a diverse portfolio of projects in Ashland, Jacksonville, Portland, San Francisco, Brooklyn, Manhattan, Chicago, and Detroit, and as a result have coalesced a national network of vendors and trades. Establishing this intricate web of professionals has further expanded our reach through referrals. We are committed to local materials and trades and sincerely believe in stimulating the local economy as much as possible.  We are savvy, resourceful, and not shy about encouraging collaboration and information sharing.  For example, there are many vendors in Southern Oregon who are subsidiaries of larger distribution companies. Often, these local companies have online access to products that may only be on display in showrooms of major U.S. cities such as Los Angeles and New York City. With the help of our network, we can successfully navigate the seemingly shallow waters of local supply to reveal the hidden gems just below the surface: tile, lighting fixtures, furniture, upholstery, art and decor.
Brienne, you also have a strong relationship with Green Hammer. Can you tell us about some of the projects you have done and how the two companies work together?
2Yoke Design and Green Hammer have shared innovative sustainable projects and clients for the past four years. The two companies demonstrate a like-minded drive towards a Net Zero future, as well as a commitment to local economies and craft. We offer interior design and architectural consultation, in addition to working collaboratively with the architects, engineers and builders. They build our designs to stand the test of time, at a fraction of the long-term environmental and monetary cost. 4 years working, 13 projects, a 6-Unit Net Zero Passive House co-housing community, 1 Passive House residence, 4 green residential remodels, 1 commercial adaptive reuse, 1 LBC-tracking commercial building. Last summer, we celebrated the completion of "America's most sustainable wellness center," the Breathe Building, in Southeast Portland. We collaborate primarily in the Portland area, where their office is located, however, both the Cowhorn Vineyard Tasting Room and Residence are shared projects in Southern OR.
Your projects can be extremely detail-oriented. Please talk about the vetting process that your projects go through and the experience that you bring to the table to make this possible.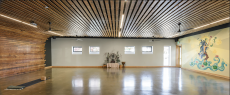 Before beginning a project we tailor a questionnaire to our client. This generates a dialogue about design intent, budget, timeline, sustainability goals, style, existing conditions, past experiences, ideal uses and needs.  We proceed to define our scope of work and roles with other project professionals (these may include: engineers, contractors, developers, architects, landscape architects, graphic designers).  The content gathered from these exercises steadily guides our conceptual and schematic design phase. By thoughtfully absorbing the surrounding environment (both natural and built), the lifestyle and hobbies of the community, and the history of the project, a project's overarching design character emerges. Once these broad strokes of project inspiration are established, we earnestly filter our resources to focus on the root project objectives. This exploration leads to a comprehensively curated design palette with room for flexibility and collaboration.  

Because our office space is not traditional (It's cloud-based and largely paper-less), we are able to spend less resources on maintaining an office space and more time out in the field, and getting to know our clients and the spaces they inhabit. We do roughly 50 percent commercial and 50 percent residential projects and every one is unique unto itself.

We love working with people. Small business owners, carpenters, developers, families.

2Yoke takes pride in hitting timelines as well as going above and beyond to meet your customers expectations.

Yes. We have a methodical approach to the level of communication we bring to our clients. With a clear task checklist and timeline upon project inception, we can address expectations and goals up front, ensuring all parties are on the same page. Like any creative process, time is necessary to digest, reflect, and produce a well-articulated, thorough, and dignified design. The best projects result from a team that values the process and trusts each other to communicate openly and respectfully. We appreciate when our clients take an interest in the sustainability efforts we practice and when they share with us personal accounts of how Wellness Design has enriched their lives.
On the commercial side of your design work, you are helping business owners address many types of complex interesting issues. Please tell us about one.
We have worked on a wide range of commercial projects including a health clinic, movie theatre, tech office, yoga studio, retail space, bars and restaurants. It is an incredibly satisfying journey to put ourselves in the place of the owner, employee, and patron of these spaces.  We do not only have to imagine these roles, but we have, at times, occupied those them at different times in our lives giving us additional expertise in those areas; Courtney was a cook for many years, and I have been a yoga teacher since 2006.

In commercial projects, there can be unusual function-specific needs that can arise. We like to take advantage of these idiosyncrasies and transform them into design opportunities.  For instance, in the Yoga Union lobby (main tenant of the Breathe Building) there was a need for a substantial merchandise display. In lieu of buying a generic off-the-shelf retail system, we opted to build a custom modular slat wall system from old Douglas Fir planks that had been reclaimed from the original structure. The solution that is not only more attractive, but endowed with meaning as it shares a story of renewal and rebirth.
2Yoke has a great amount of experience in the residential side. Tell us about some of your recent projects.
We've worked with many different individuals and families and can create a sensible design flow that reflects their desires and habits. We like to get to know our clients and design personal touch elements that reflects who they are, not who we are. Understanding our client's past, and their daydreams for the future, allows us to thoughtfully diagnose their needs for the present. The home is a person's most vulnerable and authentic space; we see the design of the home as an opportunity to best express and care for oneself. 2Yoke offers bespoke design solutions that protect, nourish, and inspire your life. Currently, we are working on a wide range of residential projects: multi-family new construction, whole-home renovations, kitchen and bathroom remodels, and home decor & furniture curation.  We enjoy all facets of residential design from the flooring to the fasteners.
What's the next step for individuals wanting to learn more about your work?
Please check out our website: www.2yokedesign.com and email us: info@2yokedesign.com.  We are eager to hear how 2Yoke can help best express your personality, vision and values. And don't miss the opportunity to soak up some design and wine at the new Cowhorn Vineyard Tasting Room in the beautiful Applegate Valley!
Learn More:
2Yoke Design
Ashland Design Studio
287 4th St, Ste 1, Ashland
503-754-9945
www.2yokedesign.com
Instagram: 2yokedesign
Facebook: www.facebook.com/2YokeDesign