Interviews
What's New at the Lithia Artisans Market?
Lithia Artisans Market of Ashland (LAMA) is a collective of regional artists and craftspeople from the Ashland area exhibiting and selling their own work. This festive open-air market runs weekends from mid-March through October, Saturdays from 10 – 6 and Sundays from 11 – 5. Located on Calle Guanajuato along Ashland Creek, this picturesque venue is the perfect spot for artisans to exhibit and sell fine art and quality handcrafted work and interact directly with the public. Calle Guanajuato is a quaint alley located behind Ashland's downtown plaza between Winburn Way and North Main. It is adjacent to Lithia Park and near the Oregon Shakespeare Festival theaters. In this interview we spoke with market manager Marcus Scott.
Marcus, thanks for speaking with us today. What's new this year at the Lithia Artisans Market?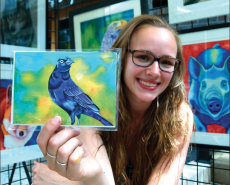 It is my pleasure. We have a lot of new things happening at the market these days. Last year the city repaved the alleyway we call home, Calle Guanajuato. That is a project that was in the works since the flood back in 1997. It finally came to fruition last year and we couldn't be more happy with the outcome.

This year we got a brand new mural at the top of our market. This mural was the inspiration of a local couple who are dedicated to the idea of public art in Ashland. Barry and Kathryn Thalden envisioned a giant mural on this wall depicting images of Ashland's sister-city, Guanajuato, Mexico. They took a trip to Guanajuato and met the perfect artist for the project, Loreta Ragnel Villasenor. Loreta is a kind hearted, quiet, caring woman who carries with her all that is magical about her home. Her mural wonderfully depicts the colors and iconic architecture of Guanajuato. The mural is aptly named "The Streets of Guanajuato."

I have witnessed dozens of people shooting photos of themselves in front of the mural. It is the perfect backdrop to photograph images that make it appear as if you are journeying through a cartoon reality. The mural is great. I love it!

This giant mural, 24 feet tall by 53 feet wide, is the largest public art piece of its kind in downtown Ashland. This international art piece is a public acknowledgement of the spirit of cooperation, both locally and globally. When we reach out to our closest friends, in this case our fellow artists in our sister-city in Mexico, we are reaching out to the big world. We are embracing our shared humanity by pulling our countries closer together. We are building bridges rather than walls.
Tell us about the new souvenir booklet the market has created. Where did you guys come up with this idea?
We keep an eye on what other artisans markets are up to. Last year one of our members brought in a souvenir booklet from the Portland Saturday Market. It featured many of the artisan members of that market, a map, and a directory. Everyone on the board of directors of the Lithia Artisans Market loved this idea. We determined that we would pursue the feasibility of producing our own booklet for the Lithia Artisans Market.  After three months of hard work, we are very happy with the results.

The booklet features affordable advertising for our membership, as well as a number of small feature articles. We also highlight the live music you find every weekend at the market. The 2016 Souvenir Booklet is available at the market and at many outlets throughout the valley including wineries, Science Works, the Chamber of Commerce, and the Shakespeare Festival. The booklet is also handy for finding your favorite artisan at the Lithia Artisans Market. The artisan directory section of this booklet makes it an invaluable resource when you need to get in touch with a local artisan for a specific project or custom order.
For this seasons lineup you have a number of new artisans. Please introduce us to a few of them.
Since the last time you and I sat down to chat, we have at least 30 new artisans. I've been the manager of this crew for five years now. In that time the market has become bigger and much younger. One of the key aspects of a successful marketplace is keeping things new. Without new members the market eventually withers. You need new people, new ideas, and new energy in order to thrive.

If the model is an attractive one, and a profitable one, then new artisans are excited to become part of the guild. When the market is chugging along with a revived sense of purpose, that energy is contagious. It becomes like a magnet drawing new creative souls into its midst. The market is cruising along right now. I'm personally super excited about the future of this marketplace.

Our youngest member at the market is a mere 23 years old. Rachel Fisher is a very talented artist who paints animals of all kinds in bold, vibrant colors. She has her own way of seeing the world. Her images are sharp, yet playful, and set against psychedelic backgrounds that cannot be ignored. She specializes in custom pet portraits. Her work brings a smile to your face. She is a wonderful addition to our guild of artists.

Pottery is a timeless art-form that has always been well represented at the market. Unfortunately, fewer young folks take on the hard task of making pottery as a career. Last year we gained a very productive, ever evolving new potter to our ranks. Lisa Eldredge has a solid grasp of the fundamentals of pottery. She produces utilitarian pieces we all need like mugs, plates, and vases. Her pieces are earthy, fun, and decorative. However, it is the artist side of her that is the most intriguing. I get the sense that she wants to push buttons and make people think. She recently did an entire show at the Ashland Art Center depicting images of critters mounted as if they were trophy pieces. These are playful, yet realistic 3D images created in the medium of clay. The catch to these pieces of art is that these are the kind of animals you would never imagine mounting as a hunting trophy. I love it when people push the envelope. Lisa does just that.
Live music is always an important part of the market.
Yes it is! Over the years we have made some changes that have dramatically improved the quality and character of the live music scene at the market. All music played at the market has to be original tunes. In other words, the music you hear at the market has to be in line with the mission of the organization. The mission is to provide a viable venue for artisans to make a living selling what they make with their hands. That mission is the same for musicians. We provide a venue for musicians to play original music to a captive audience.
Marcus, please talk more about about the originality that can be found at the Lithia Artisans Market.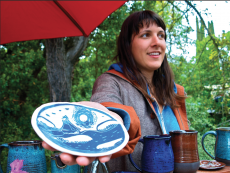 Everything you see at the market is created by the person who is selling it. No imports, no mass produced products. We hold true to the artisan tradition of producing high-quality, hand-crafted wares that will stand the test of time.

The Lithia Artisans Market is a juried art and craft show. In order to become a member of the guild you have to demonstrate that your product is original and well-made. One of the things that sets our market apart from other markets are the strict guidelines that make admission into the market a challenge. We are looking for professionalism, originality, quality, and authenticity. As market manager, I try to step prospective members through the proper hoops to assure that their presentation to the jury committee goes as smoothly as possible. With that said, I would say that a bit more than 50% of those who present their art-form to the guild are accepted as new members of the market.
It sounds like you guys are having a great year so far.
We are indeed! Even with a wet spring, we are off to one of the best starts I can think of. The economy seems to continue to improve despite the fact that this is a presidential election year.

I attribute our solid start to the quality of art and craft you will find at the market. Folks who have been members for years are continually improving their artforms and bringing new products into the market. Members are constantly challenging each other to step up their game. Encouragement from peers seems to improve creativity and that in turn improves sales.

When the market is rolling along it continues to roll. Simple laws of motion. Things in motion tend to stay in motion. My job as the manager is to get that ball rolling. If it slows down, I give it a push. When we all push each other we all do better.
How do you see veteran artisans continuing to evolve at the market?
This is one of the most encouraging things I have witnessed recently at the market. Folks who have been members for years are taking it upon themselves to take their art to new heights. It is easy to get complacent, even when you are leading the life of an artisan. When you don't continue to evolve as an artist then your craft begins to feel stagnant. When you are uninspired, the work shows.

I have taken it upon myself as the manager and artisan advocate to push my friends to challenge themselves to reach higher. There is no good reason to spend this life being ordinary. Even when our craft seems "good enough," that is no excuse to linger in mediocrity. With all the mass-produced stuff in this world, authentic, unique workmanship is becoming rare. At the Lithia Artisans Market we are gifted with rare talent.

Here are a couple examples of what I am talking about.

The Hat People have been making quality hats for over 30 years. Jim and Carol Young are from Talent, Oregon and have been members of our local artisans market forever. You'd think that after 30 years there would be no new tricks. However, within the past couple of years Jim came up with an entirely new idea for a hat. He calls this model the "Leaf Corps Hat," a play on words associated with the Peace Corps. The idea of the hat is simple but effective. A pointed brim with interesting stitch work sets the hat apart from others. It is a hat with a cause. It even has a motto: "Helping Heal the Planet." Very intriguing and super fashionable.

Karina Mendoza-Wittke is the owner of Alma Mia Jewelry. Her booth is often set up by Mix Sweet Shop on the corner of Main Street and Calle Guanajuato. She has been a jewelry maker since she was 9 years old and a member of the market since 1994. In the last couple years she had ideas in her head she could not manifest because she lacked some tools and knowledge. Undaunted, she enrolled in metal-smithing classes at Rogue Community College, gained the know-how she needed, invested in some new tools and equipment, and set forth to turn her ideas into reality. Today her booth is vibrant with new energy and new designs. Really great new jewelry from an artisan who has been in the trade for over 30 years.

That is the kind of thing I am witnessing all over the market. I could name a dozen veteran artisans who have recently made huge strides forward in their work. Never stagnant, always evolving.
Please share more about the heart and soul you witness in the artisans.
I believe that one of our newest members wrote about this very eloquently in a recent issue of our market newsletter. Sunny Lindley of Sundial Arts wrote about what it means to be an artisan. She put it this way…

"Artisan small business owners are a rare breed of soulful characters favoring creativity over compliance, uniqueness over fitting in, and tedious handwork over mass production. The act of creating is taking a step toward soul life during the full light of the workday. The desire to make a thing is motivated by the sense of an in-dwelling creative force that infuses all of life. Within it is a connectedness and a vulnerability that each artisan shares, having put their inside on the outside again and again. Artisans make because they must, like eating, sleeping, birth and death, creation is necessary to the artisan's life. When you shop the Lithia Artisans Market, you are being invited into that intimate experience."
I agree 100%.
Learn More:
Lithia Artisans Market of Ashland
Calle Guanajuato, Weekends March-October
lithiaartisansmarket.com
facebook.com/lithiaartisansmarket