Interviews
4th Annual West Coast Country Music Festival – Greensprings 2016
Now going into their 4th year, the West Coast Country Music Festival has grown into a small-but-mighty music event. Attracting music lovers from all around the country, the West Coast Country Music Festival is a blast from the past. Keeping an emphasis on friends, family and classic country music, you won't want to miss this year's event. Put together and hosted by the Modern Roots Foundation, I spoke with Dee Fretwell about about her love of music and passion for keeping it alive with the West Coast Country Music Festival.
Dee, thanks so much for speaking with us today and congratulations on celebrating your fourth year at WCCMF!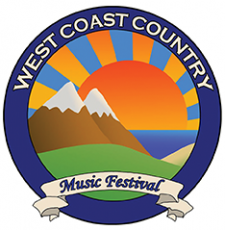 I am so excited that we are back for our fourth year! This festival is one-of-a-kind, and we've really watched it grow into its own.
I'd love for you to talk about your appreciation for music and some of your original inspirations for pulling together this great event.
Because of my dad, I grew up listening to all of the country greats. He was a true fan of the Merle Haggard/Willie Nelson/Waylon Jennings sound and we shared a love for a particular Porter Wagoner/Dolly Parton duet album that I still listen to today. That iconic sound from that era is unlike the country music made today found on most radio stations. But we are lucky to find folks around who play with a dedicated intention to keeping it simple, classic, and country. There's very little interpretation in the sound, no dressing it up to appeal to the modern market of today, it's just country music!
How have you gone about choosing and bringing in the bands that you have featured at the event!
The festival started four years ago through a conversation I had with our good friend Caleb Klauder, and he's back with his country band this year for another appearance at the festival! Portland-based, Caleb is known for his classic sounds both in country and old time music, and he tours with his both of his bands internationally. We are also excited to bring a dear friend all the way from Nashville, JP Harris! He is straight-up honky tonk. JP delivers it clean and clear, and I can't wait to have him here with us. More locally, the New Autonomous Folksingers are also joining us again as musical hosts. They have played together for over 16 years and have really refined their craft into this beautiful, classy delivery of nothing but pure salt of the earth country tones. But you can't honky tonk all day, and when we can, we love to get local bluegrass favorites Eight Dollar Mountain onstage with us! In addition, Rainy and the Rattlesnakes will continue to blow our minds, as their wisdom as teenagers runs deep through their classic bluegrass approach. Festival favorites Miss Lonely Hearts out of Santa Cruz and Steep Ravine from the Bay Area will also be with us!
You've made your event perfect for families.
I've never wanted to host an event that I couldn't bring my kids to, and this is no exception. In fact, our daughters have performed on stage there a few times with the Creekside String Fiddlers! The ability to create a family-friendly event, with the emphasis on good old fashioned fun through music, food and more is amazing. We love the music, but our WCCMF community is what is what drives us to do this each year.
What do you see attendees most appreciate about WCCMF?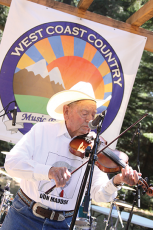 We stand out because we are really simple. The WCCMF is not too complicated. There's one stage, some awesome music, great food and beverages, and a place to relax-dance-celebrate with each other. Easy!
Dee, tell more about your interest in classic culture.
The music just resonates with me and how I grew up. It reminds me of simpler times, when all that was needed to create some celebration in the house was a few guitars and my dad with his brothers. At times he could even convince my mom to join in on the piano. You see, my parents each rode opposite sides of the music spectrum. My mom was a classic pianist playing with the LA Philharmonic at 16 years of age. My dad was a C&H supervisor who played, smoked and drank like a good outlaw country music fan in his spare time. You couldn't have asked for genres to be farther apart, and yet jam nights in our house are some of my most favorite memories as a kid. And here I am now, hosting a classic country music festival with a 6 year old who asks for classical music to fall asleep to. If only my parents were alive to see this today, they might not actually believe it!
Share some of the feedback you have received from attendees with us.
Folks really seem to enjoy it, and that's what matters most. We work hard to ensure that attendees can count on the music always being great, the food tasting delicious, and the beer awesome. I was excited to hear from an attendee who came last year that it resonated so sweetly with her and reminded her of a hometown music event she used to go to annually. So this year, she's hosting a mini family reunion at the festival! Too fun!

You've also kept ticket prices really affordable.
Part of keeping it simple involves wanting to keep the prices low. It's true I won't be able to afford some top-tiered names to come the festival, but that's not what we are about. And honestly – musicians appreciate the scene so much that they have been really amazing at wanting to play for the sake of playing music and being a part of a great event, and not because of the money or prestige (neither of which we can offer much of). We also really, really appreciate our incredible sponsors. Without them, we wouldn't be able to do this. It takes an entire community to host a festival, and we have one of the best communities around.
Please talk about the location of the event and the community of the Greensprings.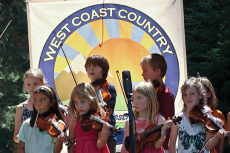 Many years ago, I had dinner at the Greensprings Inn. I fell in love at first sight, and spent many months up there living, working, and really growing to love what that area is about. I consider Diarmuid, Pam and Paddy family and I'm sure many others do as well. It's what happens when you spend time up there. We are really lucky to have the McGuires as partners in this.  The community itself is also incredible. They work really hard to keep everything running up there, from a school, to a volunteer fire department, to the restaurant and lake accommodations. They fight to protect the land and they are a really, really important part of Ashland and the Rogue Valley.
When is the event?
August 13th, 2016.
How can we buy tickets?
Tickets are available at the Music Coop, Hilltop Music, and online at www.brownpapertickets.com
Any last words or comments you would like to share with our readers?
Thank you, thank you for supporting the WCCMF! Spending a day together dancing and loving life on the top of a mountain every year is our most favorite time of year, and we can't wait to do it again with everyone soon!
Learn More:
ModernRoots Foundation / West Coast Country Music Festival
Modern Roots Foundation
541-227-3227