Articles
5th Annual Mystic Garden Gathring Festival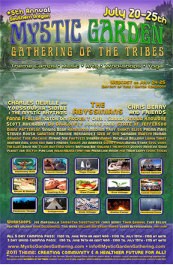 The 5th Annual "MYSTIC GARDEN GATHERING OF THE TRIBES" is a 5 Day Event on 25 acres in beautiful Southern Oregon at Lake Selmac. Theme Camps, Music, Visionary Art, Workshops, Yoga Camp and "A Day Out of Time" Webcast highlight this extraordinary event. Musical artists "The Abyssinians, Charles Neville with Youssoupha Sidibe, Chris Berry, Fanna Fi-Allah" and many more grace the stage! Speakers Joe Marshala, Samantha Sweetwater, Swami Beyondananda and many local luminaries ad to the Mystic-mix! Organizers have made "The Mystic Garden Gathering" an affordable event for all with 3-day camping passes starting at $100 and 5 day camping passes at $130. Day passes from $25 weekday to $40 weekend available at the gate. Tickets online at: www.MysticGardenGathering.eventbrite.com
Emerging out of the former "Mystic Garden Party" is the "Gathering." A dozen visionary event organizers are on-board in support of this new "Mystic Garden Gathering of the Tribes." Our mission is to showcase consciousness leaders of our larger community and offer an experience of "evolutionary culture" in action at the theme camps. Music and celebration till midnight on main stage and all night at the Casbah keep the vibes high. This is a no alcohol event but one that supports "Creating Community and A Healthier Future for All."
In this age of mass entertainment and disconnectedness, Mystic organizers see a need for individuals to have a community building experience. The theme camps are "edutainment": both entertaining and educational! As we shift from over-stimulating to inner-stimulating we create balance in ourselves and our community. The camps feature cutting edge teachers of yoga, meditation, ecstatic dance, visionary art, sound healing, indigenous wisdom, ceremony, raw foods, healing arts, women's empowerment, singing, druming, sufi dancing and children's creative play. This is an educational and engaging experience, infusing a pop culture with life-affirming information in a fun and creative fashion.
3 or 5 day camping passes are available to those who would like to immerse themselves in this evolutionary culture event. Lake Selmac in Selma, Oregon is a popular vacation destination for many seeking relaxation and rejuvenation. The 25 acre location provides shaded camping and sunny swimming sites. Hot water showers are available to campers. This in conjunction with all day events and music create the atmosphere of a village with many choices ranging from quiet walks to ecstatic dance.
High vibe music has always been a corner stone for all of the Mystic events and "The Gathering" will showcase musicians from many styles and locations. Artists from around the world and locally bless the stage with uplifting and inspiring rhyme and sound.
World roots harmony vocals trio "The Abyssinians" headline on main stage for "The Gathering" The Abyssinians Band was formed in 1968 by founding members Donald Manning, Bernard Collins and Linford Manning. It was in 1969 with their release "Satta Massagana , a Rastafarian hymn based on the Ethiopian Amharic language, that launched them into the ranks of Reggae music greats. "Satta Massagana" became one of reggae's most popular songs; becoming an anthem that was heard on the radios, in the dancehalls and in the churches of Jamaica.
Musical genius Chris Berry, a widely celebrated Mbira player, singer, percussionist, and songwriter, has sold over 1 million albums in Africa. Since his return to the United States, he has been playing main stage at some of the biggest festivals in the country, and collaborating with some of the most recognized musicians in many different genre's from all over the world. Music first touched the Grammy award winning Chris Berry as a teen living in the heart of Zimbabwe where he carefully learned the indigenous rhythms of Africa on the sacred Mbira His ability to speak out against the tyranny of the Zimbabwean regime through the art of music won him overnight success across the country and in the World Music market, bringing his music around the globe. The "Afro-pop Superstar" is a multi-instrumentalist with grace on Mbira, the hand drum, as well as a gifted singer-songwriter whose voice is often compared to Sting.
Headliner Charles Neville's experience on saxophone has included him in rhythm & blues, funk, jazz, be-bop, popular and even American Indian music. Always exposed to music in the Neville household, Charles started playing saxophone before he reached his teens. Charles, Art, Aaron and Cyril of the "Neville Brothers" joined in New Orleans with their uncle Big Chief Jolly. There they recorded "Mardi Gras Indian Songs." "The Wild Tchoupitoulas" band emerged with all brothers working together for the first time. He also recorded and played with the American Indian group called Songcatchers. He formed his own group called Diversity, which features a mixture of jazz and classical musicians. Charles headlines for "The Gathering" with Youssoupha Sidibe, a Grammy nominated Senegalese West African Kora (african harp) player.
For information or tickets go to: www.MysticGardenGathering.com.