Interviews
106.3 The Valley – A New Radio Station True to the Music
The Valley 106.3 can be heard over the air from Grants Pass to Ashland, Jacksonville to Butte Falls. You can also stream The Valley live worldwide at their website www.thevalley.fm. Playing a steady and diverse stream of music, The Valley takes pride in offering the best of your favorite lifestyle tunes with less repetition. Listeners also enjoy interviews, insight, and commentary that keeps them up to date with the Rogue Valley community, as well as activities from local music events to local celebrations.
In today's interview I spoke with The Valley 106.3's morning show host Paul Gerardi and station manager Bill Ashenden to learn more about all The Valley 106.3 has to offer!
Paul and Bill, thanks for taking the time to speak with me today. To begin with, please continue my introduction of "The Valley." What sets you guys apart and keeps your listeners tuning in for more?
Paul: I think first and foremost, it's the music. I love the music on The Valley, and love to talk about it. We are the most diverse music radio station in the Rogue Valley, offering everything from indie rock to blues, singer-songwriters, reggae, and even a little bit of country music. There's very little that you won't hear on The Valley. The variety of music is outstanding. We cast a wide net.

Bill: Paul hit it on the button (no pun intended), it is the music that sets us apart. That's why we have the slogan "True to the Music."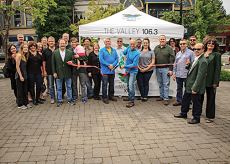 Bill, what led to the decision to create The Valley 106.3?
I have worked in radio since 1980, primarily in the Portland market. When I joined the team at Bicoastal Media nearly 3 years ago, our team discovered a significant programming hole in the market for a music station like The Valley. The sophisticated nature of the musical tastes of the residents here in the Rogue Valley reinforced this programming opportunity. Our approach with The Valley is multidimensional: play more music with a deeper playlist (we currently have over 4,000 songs in our library), help support the community, help advertisers grow their businesses, and be live and local to better serve our listeners.
The Valley will celebrate its first birthday soon. What has the reception from your listeners been so far?
Paul: We're very pleased how enthusiastically the Rogue Valley community has accepted this young radio station. Right from the start we instituted The Valley Comment Line where we invite our listeners to e-mail us at music@thevalley.fm, or Facebook us at 106.3 The Valley. Dave Scott, our afternoon host, and I ask our listeners every day for their input on how we're doing. We want to grow this radio station together by keeping those lines of communication open.

One of my favorite stories to tell about the comments we've received is an e-mail from a young woman who bought a dial tune radio to take with her on camping trips. She brought the radio home and was playing with it, tuning it up and down the dial, and she landed on The Valley, on what she calls "this eclectic blend of awesomeness." I love that phrase. It describes what we do so well. She is now a daily listener of The Valley 106.3 along with Jefferson Public Radio, which, incidentally, is where I was before I started doing mornings at The Valley. I hosted Open Air for a couple of years. But, back to the story. A while after she found us, she happened to give her mom a lift to a doctor's appointment and told her mom that she had found this new radio station that she really liked, and her mom got really excited because she had found The Valley too! Two generations of the same family finding our radio station almost simultaneously! I think that goes a long way to describe the wide range of interest in The Valley 106.3. We have such gratitude for our listeners, and the fact that they are moved to tell us their stories.
Paul, I'd love to hear more about your role as the morning host of The Valley!
Where do I start? Let's see, I get up each morning at 3:30am, I'm at the radio station by 5am, and I crack the microphone the first time just after 6am. Before I go on the air each day, I dig around to find news, community events, and weather that I think will interest The Valley listener, and I also research the morning's music. That's one of my favorite things actually, staying up-to-date on where music, all kinds of music, is going and what music is being presented by the local music scene here in the Rogue Valley. We have a Concert Calendar that includes all kinds of music that airs daily. I also talk about all the stuff that The Valley is doing, like our Valley Wine Stops where we visit wineries, our Pub and Grub card which is kind of like a club card that saves you money when you visit your favorite breweries, and we also recently gave away a dinner for four and tickets to see JJ Grey and ZZ Ward at The Britt. I also do a feature each day called the Vinyl Vault where I get to drop the needle on an actual record, turntable and all! And I do interviews too, it's a great way to talk to interesting people about interesting things and be informed at the same time. It's a goal of mine with The Valley Morning Show to have a local connection with what's happening in music, theatre, art, and even sports here in the Rogue Valley. That's one of the main reasons we're doing our Valley 106.3 Wine Stops, to meet our listeners face-to-face and forge a deep connection to the community. We're always brainstorming to create events, on-air and off, that involve the local community and engage our listeners.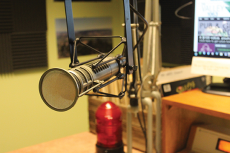 Paul, you often get a chance to interact with your listeners and fans. What types of feedback do you receive?
We get all kinds of feedback. Part of my job at The Valley is to check and to respond to emails that we get through music@thevalley.fm, and to be an administrator for our Facebook page. Dave Scott posts on our Facebook page too. We often say on the air that we're big boys, that we can take criticism just as easily as compliments. Most of the feedback we receive is positive, listeners say that they're glad they found us, that our radio station is just what the Rogue Valley needs, that we're a breath of fresh air on the airwaves, and that we play music that they can't find anywhere else on the radio dial. We also receive emails and Facebook posts from our listeners about artists and songs that we don't currently play but that they would like to hear. We take these types of communications very seriously. I pass the comments along to other members of our music committee, and I am proud to say that we have added songs to our music library because our listeners have asked us to. We have also received emails about artists that our listeners think we might be playing too much of, and there has been times we've backed off because of those communications. It's all about the music. It's all about talking together as a community.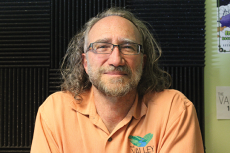 Paul, music seems to always have been a part of your life. Please say more.
I am blessed to have had wonderful parents. My mom loved words and did crossword puzzles constantly. She could knock out a New York Times crossword puzzle in no time, and they're tough. My dad was an accordion player from before I was born, and by the time I was eleven he had taught me to play a little bit of guitar. I can remember sitting around the dining room table at an early age with family and friends, singing Italian folk songs and country music. Dad was a big Buck Owens and Hank Williams Sr. fan. So when, in the fifth grade, I started to listen to rock music and at the same time asked to learn to play the trumpet, my parents simply said that they would get me a teacher as long as I would put in the practice time. Not a word was said about me diverging from what kind of music that family was listening to. I am very lucky that my parents always supported by creative endeavors. It was a great exercise in personal discipline too, practicing an instrument and seeing the result of getting better at something. It's a framework that's lasted my whole life and still drives me, like striving to do a continually better job as an announcer on the radio each day when I walk into The Valley's studio for an air shift. The arts are good like that, expanding creativity and talent all at the same time. So, the trumpet lessons led to a college education in music, which led to a degree in Radio and Television Broadcasting, which led to many years of being a Music Director in both commercial and public broadcasting. My first professional gig in radio was at an eclectic rock radio station that I grew up listening to in Orlando. That was 1979, and I still have some records from when I worked at WORJ. I got to play one of those records on the Vinyl Vault a few weeks back. Thirty years later that record found its way back to the airwaves! As a young man, I got to listen to a radio station that played a wide range of music which broadened my horizons and helped me be a free thinker. Looks like I've come full circle working at The Valley. Now I have the honor of presenting a wide range of quality music that hopefully broadens the musical horizons of folks here in the Rogue Valley.
Let's talk more about the musical selection that is available on The Valley.
Paul: Plain and simple, The Valley 106.3 is an eclectic blend of diverse and quality music. No bells, no whistles, no annoying shtick from the jocks. Dave Scott and I both really do love music, and we both play instruments. Dave is a drummer, and I am a performing songwriter with guitar as my accompanying instrument. We both have a good idea of how to present music on the air, how to be informative in describing the music, and we're in communication with each other every day to make sure we're on the same page in how and what we present on the airwaves.

The Valley 106.3 defies genre descriptions, really. But we're all human, and we like to try to put things into categories. We have these cool drink coasters that we bring to our Wine Stops. The front of the coaster has The Valley's logo, and on the back is a list of a just a smidgen of the artists that we play, and there are literally hundreds of artists in our music library. I have one here, let me read off a few names (grabs the coaster): Imagine Dragons, Adele, The Black Crowes, The Black Keys, Amy Winehouse, The Eagles, Hozier, Duffy, The Beatles, Ben Harper, Ben Folds, Eric Clapton, Bob Marley, Coldplay, Chris Isaak, the list goes on…. a lot of Rogue Valley radio stations have three or four hundred songs in their library, we have thousands. That way we don't have to repeat the same songs over and over again in a short period of time.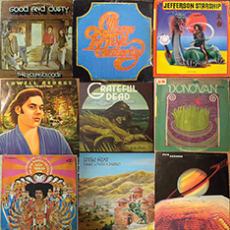 Less repetition sounds great.
Yes, our goal is to bring you quality and diversity in music. The Valley 106.3 is here to stay. I'm sure that as we grow through the years, The Valley will only deepen and become even more rich musically.
Bill, you've made sure to keep The Valley actively involved in the community by sponsoring and participating in local events. Please say more.
We have aligned ourselves with many great causes, a brief list includes Relay for Life, one-time events like "More than a Survivor, More than a Story," a national traveling exhibit that was held at Southern Oregon University's Stevenson Union Art Gallery which dealt with the issues of sex trafficking, The Oregon Wine Experience which supports the Children's Miracle Network and small charitable events. We really try to help as many causes as possible, and new alliances are always being discussed with our team.
Paul, tell us more about the Vinyl Vault. What have you enjoyed dusting off and hearing again?
That was Bill's idea, and I'm so glad he thought of it! In the days leading up to getting the Vinyl Vault on the air, Bill would walk around the radio station with a big smile on this face, saying "We're gonna start dropping the needle on vinyl soon!" It's great fun. I'm dating myself, but I was around when all we played on the radio was vinyl, complete with cueing up records and having a record skip or stick every once in a while on the air. I still have vinyl at home too. You have to be invested in the experience of playing vinyl. You listen to one side, and then flip it over and play the other side. You have to pay attention and tend to the turntable when that well-used copy starts to stick and plays the same phrase over and over. And you get to lose yourself in the liner notes of those big album jackets. It's literally an act of discovery. I've nothing against compact discs or a digital music library in a computer. I have all three kinds of libraries at home and love to create and save a playlist in a music software system so that I can revisit the experience at another time, but the dynamic range of vinyl is the best. What have I enjoyed dusting off? Man, there's so many. A few that come to mind are Moody Blues "In Search of the Lost Chord," Eric Clapton "461 Ocean Blvd," Bill Withers "Still Bill," the Sea Level self-titled debut album, Jackson Browne and David Lindley live and acoustic at The Bread and Roses Festival of Music, and Joni Mitchell live with the Pat Metheny Group. I also look forward to getting some new vinyl releases on the air very soon. Vinyl is alive and well!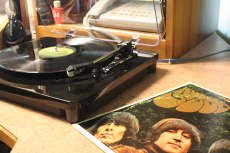 Paul, earlier you mentioned that you like to do interviews. What are some of your favorites so far?
Shawn Mullins immediately comes to mind. He's such a great guy, lighthearted, funny, and honest too. We dug into his time as a solo artist, his early experience listening to Amy Ray of the Indigo Girls give a talk about music at his high school and how it inspired him, his collaboration with Pete Droge and Matthew Sweet in The Thorns, and he was almost brutally honest about working with lyricists that write wonderful lyrics but can't carry a tune. He was totally open and honest, and very passionate about his life's work as a musician. Inger Jorgensen and Jeff Pevar were also great. They're very eloquent, and they do so much musically for the Rogue Valley community. I learn something from every interview I do, from every person I talk to.
Bill, what are some of your goals you have as you continue to grow The Valley?
Again, with the philosophy of 'Live and Local" we have been able to see the impact of how a radio station can align itself with a community and make a tremendous impact. All of our five Bicoastal Media stations have the same philosophy: we want to represent Southern Oregon. By having local talent, like Paul, on all our stations, we can embody the lifestyles of our Valley.
Last but not least: Paul, if you were stuck on a desert island alone, what would your top 10 songs be?
Ha! That's like choosing between your children. This is in no particular order:
Bruce Cockburn – Last Night of the World (or) Pacing the Cage
The Beatles – Across The Universe
Tom Jones – Tower of Song (Leonard Cohen cover from his album "Spirit in the Room")
Beck – Heart is a Drum
Steely Dan – Any Major Dude
Foo Fighters – Times Like These
Radiohead – High and Dry
Jackson Browne – Doctor My Eyes
Jayhawks – Save It For a Rainy Day
Jefferson Airplane – Wooden Ships
And I would really hope that I'd have my guitar with me…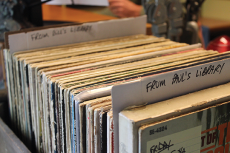 Are there any last thoughts or comments you would like to share with our readers?
Paul: All of us at The Valley are full of gratitude for our listeners, some of which have been with us since our first day on the air last August 3rd, and we thank you for making The Valley part of your daily life. If you haven't heard our radio station yet, please check us out! You can hear The Valley at 106.3 in Medford, at 105.5 in Ashland, and at 105.9 in Grants Pass.

Bill: We want to thank the Rogue Valley for such a great response, keep listening as we evolve the station.
Learn More:
The Valley 106.3
3624 Avion Drive
Medford OR. 97504
541-494-4195