After graduating from college on the East Coast, future winemaker Carla David was torn between pursuing work in her field of study and apprenticing at an organic farm. She chose farming and to pursue her love of plants and herbalism. When she and a friend made their first batch of plum wine together, the idea of winemaking as more than a hobby got rolling. She began trying recipes she found for dandelion and elderberry wines, eventually getting so excited that she was making a different wine every month with whatever was in season.
After several years of practice and experimentation, in 2007 she officially opened Wild Wines. Slowly starting out by selling her wines at farmer's markets and the Ashland Food Co-op, her wines are now sold in 45 stores and restaurants throughout the state of Oregon and online.
The growth of her business over the past 9 years has been slow and steady. A US Department of Agriculture matching funds grant, awarded to Wild Wines in 2012, helped see production expand from 275 cases to 600 cases a year.
With the general rise in consciousness about where our food comes from and how it is grown, Wild Wines seems to have found a perfect niche for those seeking a local, ethically harvested and handmade product. At the same time, by focusing on wines made without grapes, Wild Wines' unique varieties offer a novelty and array of unusual offerings sought by wine enthusiasts seeking a natural wine made without the addition of sulfites and other chemical additives, and surprisingly dry, not sweet wines.
We spoke with Carla to learn more about Wild Wines and her plans for 2016.
Carla, thanks for doing this interview with us today. I looked back and the last interview we did was way back in 2007. You've come a long way since then.
Yes, it's true. What began as a fairly naïve business venture, with very little capital and future projections, operating out of my garage in Ashland, has now become a greater beast! While the business is still quite small, I have expanded my production, built a new facility and tasting room, and am more widely distributed throughout Oregon. I am still the backbone of the business, but I absolutely require help at harvest times, bottling times, and with general maintenance around the winery and grounds. I have not yet become big enough to require any full- or even part-time employees. I would really appreciate and benefit from having a business partner, but that person has not yet come into the mix.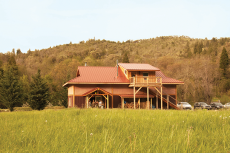 I'd love for you to take us back and tell us a little bit about your own story of getting started in creating Wild Wines.
Basically, my passion for the outdoors and being with the plants is what got me started. I was always out hiking, enjoying natural wonders, identifying and collecting plants, and learning about the medicinal and utilitarian properties of the plants. The winemaking is an extension of my philosophy of food as medicine, but in the beverage sense. I always preferred to have herbal teas and cook with herbs, or eat nutrient-dense foods and when I started making wine, it was a way to utilize the abundance provided by nature and create a beverage that was intended to be a tonic as well as an enjoyable social beverage. Fermentation also makes the nutrients and medicinal properties more available to your body, and potentizes the medicine.

At the time I began, I lived in town, and I liked that I was able to create a product almost entirely derived from materials sourced from the wild. The wine selection back then was more medicinally focused, with varieties such as red clover, and lemon balm, as well as several that I continue to offer, such as blackberry, elderberry, elderflower, oregon grape, rosehip and dandelion.
You now have a winery license, dedicated property, and your very own tasting room.
Yes. The winery and tasting room building process was long and complicated, mostly because of the permitting process, but was finished in stages between 2012 and 2013. This is the 4th season with the tasting room being open, and I am definitely seeing more and more visitors each year. The farm is expanding as well, we are now growing a 1/4 acre of raspberries for wine production, as well as aronia berries, Oregon grape berries, rosehips, currants and elderberries. Part of the intention in growing the plants onsite is to bring the harvest closer to home (though I still rely heavily on the wild harvest), provide an educational component for visitors, and to ensure an abundant harvest in years where the wild harvest might be insufficient or not available in quantities I would feel good about harvesting ethically.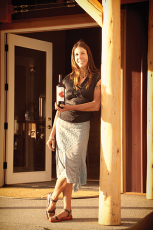 You have always been very committed to the quality of your wines. Please say more about the time, care and attention that goes into all the work you do.
I am committed to organic and sustainable practices. There is no legislation that requires alcohol to have nutrition facts panels, or ingredients listed. A lot of people don't realize that there are more than 100 additives that are legally allowable by the Tax and Trade Bureau to be in your wine. Some of them are naturally derived, but the majority are not. I start with quality fruit– organic, or wild-harvested, and use only organic sugar, and organic, or at least GMO-free yeast, in the production of my wines. I also use an organic yeast nutrient, and that's it. I use potassium metabisulfite for sanitation purposes only, never at bottling. My wines are not intended to be cellared for years, they should be drunk within 4-5 years, and stored as all wine should be stored — preferably in a dark, cool environment with minimal temperature fluctuations, on its side, or upside down, so the cork maintains its seal.

When I use the word "handcrafted" to describe my wines, I really mean that — my hands are literally involved with each step of the process. There is no bottling line or machinery involved. I am present and watchful of the quality of the fruits and berries to be harvested at the peak of ripeness, and during the fermentation process I am taking notes and tasting often. In the tasting room, I am there to answer your questions and provide a personal experience.
Carla, how do you go about choosing the wine that you want to make and what have been some customer favorites?
The wines that I make are mostly fruits, berries and flowers that are available locally, with the exception of the ginger wine. While a mango wine might be delicious, I am more interested in supporting local farms, or being able to grow or gather what I need myself. I get requests for huckleberry wine often, and rhubarb, but I just can't do everything. I have my own personal favorites that I might like to do someday, like a cherry wine, or a kiwi wine, and I have done a pomegranate wine before which was quite amazing. Right now, raising my 2-year-old daughter is my priority, so I have less time and inspiration for attempting new things. I am also interested in producing hard cider. Somehow I got started doing the ginger wine and it was a hit, so I continue to do it, even though ginger is not locally grown. Customer favorites are Dandelion, Blueberry, Elderberry, Blackberry.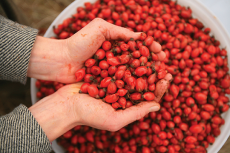 How might you describe the experience of tasting Wild Wines compared to standard grape wines?
Firstly, I want to say that our wines are dry, not sweet. For whatever reason, most fruit wines are known to be syrupy sweet, which don't appeal to me, and I find most of my customers would agree. I have a hard time overcoming this assumption, unless people actually taste the wines and see for themselves. Each wine is different, just as each grape varietal would be different, and within each varietal there will still be differences resulting from each winemaker's style. I really want the flavor and taste of each fruit, berry or flower to speak for itself. Instead of tasting sugar, you are tasting the pure essence of the fruit, or experiencing the aromatics of the floral varieties. The whites, Dandelion, Linden Flower and Elderflower, are the most delicate, and subtle, very light. The reds, Blueberry, Raspberry, Blackberry, Elderberry, Oregon Grape, and Aronia Berry, as well as the Peach, and Rosehip, have more depth and character, due to their fruit content and the more complex flavors and constituents present. People always ask me what is my favorite, and while I am more partial to certain varieties, I would have to say, without a doubt, that each wine has a mood, a time and a place, or a food pairing, that might influence my choice.
All of your wine batches are handcrafted. Please walk us through the process.
After the materials are gathered, they are usually frozen until I am ready to begin the process. Then, each material has slightly different post-harvest handling and preparation, for example, the elderberries need to be de-stemmed, and peaches need to be pitted and quartered, and dandelion flower petals are plucked from the calyxes. Raspberries and blueberries are easy, they just go right into to the fermenter. Then water is added, organic unrefined cane sugar, and wine yeast. The fermentation begins and is monitored, taking Brix readings with a hydrometer, checking the pH, and when the fermentation is complete (1-2 months), the liquid (wine) is separated from the solids (must) using a bladder press. The wine ages in stainless steel tanks for a year or more, and the wine is "racked" every few months until bottling. "Racking" is the term used for separating the clean wine from the dirty wine by allowing the solids (fruit material, dead yeast, etc.) to settle out, and mechanically pumping or using gravity to move the pure, clean liquid to a another sanitized container or tank. The wine is finally bottled: clean empty bottles are sparged with nitrogen gas to displace any oxygen contact with the wine, and a 6-spout gravity filler fills the bottles and the semi-automatic corker inserts a cork. Labels are applied with a manual labeling machine.
What are the new summer hours of the tasting room?
We are open May through November, Fridays, Saturdays and Sundays, from 12-5pm, or by appointment. We are family-friendly, so you can bring your kids, or your well-behaved dog. We offer outdoor seating and an outdoor stage for our summer music events.
What wines will you be producing this year?
Dandelion, Elderflower, Linden Flower, Peach, Oregon Grape, Aronia Berry, Blackberry, Elderberry, Rosehip, Ginger, Blueberry and Raspberry.
Carla, where can customers purchase your product?
Come out to see us at the tasting room, or at the Grants Pass Growers Market — you'll get a more personal experience and you can taste the wines. But you can also find our wines locally at Ashland Food Co-op, Market of Choice, Shop N Kart, Medford Food Coop, Gary West Meats, Ray's Food Place locations, Gooseberries, Grants Pass Downtown Liquor Store, Hidden Valley Market, Ruch Country Store, Jacksonville Mercantile, Peace of Pizza, Taylor's Sausage, and Diggin' Livin' Farm Store.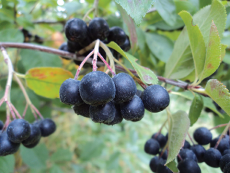 Thanks for doing this interview with us today.
Thank you! I hope you'll have a chance to come out to the tasting room sometime soon. We have a great lineup of events this summer. All events are free admission, and family-friendly and food and drinks will be available for purchase. You can find out more by liking our Facebook page, or subscribing to our email list from our website. I had a really fun video made this year which shows the winery, and highlights various aspects of the harvest and production process, so have a look at that, too.
Summer Sundays Music Series
6/26: Alice DiMicele, 4-8pm.

7/31: Misner & Smith, 4-8pm.

8/21: The Meriwethers, 4-8pm.

9/25: Dumpster Joe, 4-8pm.

"Green Drinks" Presentations

7/20: 7-9pm. Creating Pollinator Habitat. Suzie Savoie

8/10: 7-9pm. Houses of Straw; Building for Climate Change and Sustainability.

9/14: 7-9pm. The Young Farmer Movement: The need to train the next generation of farmers and ranchers and get them on the land.
Learn More:
Wild Wines
4550 Little Applegate Rd, Jacksonville
(541) 899-1565