Back in the days when LocalsGuide was a mere sixteen pages I would run around town snapping photos of luxury sports cars. I would then share these with Aaron Bloch who would write a monthly Car of the Month column. It was one of the original and most followed local columns which I fully attribute to Aaron's vast knowledge of cars, car history, wit and humor. We had a pretty good time, even scoring a ride or two in some very fast cars. Over the past 11 years Aaron has continued to grow Aaron's Autowerks located at 4556 South Pacific Hwy. in Phoenix.  I caught up with Aaron at the shop today to talk cars and to learn more about the secret to his success.
Aaron welcome back and congratulations on your 11th year hear in the Rogue Valley!  How are you doing?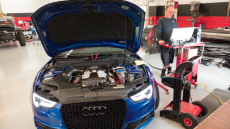 Thanks?, and thanks? to all our customers for their support. It's hard to believe we've been doing this for over a decade.  We love being in Phoenix and we love what we do. I have a dedicated crew and we are growing every year.
Aaron, what factors do you see contributing to the success of Aaron's Autowerks? What philosophies and practices have you instilled to achieve and maintain this standard?
First and foremost we are car people. Cars are our passion, not just our job.? With regards to philosophy, it's simple, ?we just fix things the way they need to be fixed. We've earned a lot of trust by doing things this way. We try to break down the stereotypes that still plague the automotive repair industry.? It's important to us that our customers are comfortable with who we are and what service we are providing for their car. Aaron's Autowerks is a family business and? customer service is always a ?top priority. We go out of our way to give people rides and? we have a loaner car available for a nominal fee. We are very open with people in a relaxed environment.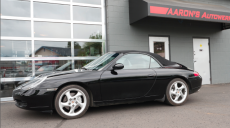 Aaron, please introduce us to your team.
I've been very fortunate to have extraordinary? technicians and staff.  I currently employ 4 ASE certified technicians and a service advisor. I treat my technicians with respect and they work hard for me. We've also? apprenticed quite a few high school students? over the years. We're proud to be able to pay it forward in this manner and it's enjoyable for me to see them learn and grow.
 Will you please share some of your favorite testimonials with us?
A few of our google reviews say a lot about who we are:

 "?Hands down this is the place to take your foreign vehicle in Southern Oregon. Their service and professionalism are unmatched. Aaron and Doah do it right. Thanks guys."

 "Great service and friendly staff. Quality work, very knowledgeable and the cleanest auto shop I have ever seen! Also they have a wonderful lobby to hang out in if you have to wait with free Wi-Fi, coffee and tea, pool table, TV, etc."

" Friendly and very knowledgeable staff. Great customer service. Reliable work."

"We have been taking our vehicles to Aaron's Autowerks for the last few years. We have been very pleased with the quality of the work, the knowledge of the staff and the honest assessment of vehicle issues. They have repaired or resolved many a problem to our vehicles in timely fashion, and calling us if something unexpected arose. We will be loyal ongoing customers knowing these people run an honest shop".

"Aaron and his team are the best! The lobby is clean and comfortable and even has a pool table, coffee and a bowl of candy! I always know that I can expect a fair price and an easy to understand explanation of what needs to be repaired."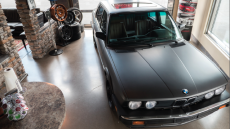 You guys are the only shop that I know has a pool table.
We get people who just come in to visit and talk cars?. We have a welcoming lobby with? Wi-Fi and? coffee and yes, a pool table!. I wanted to create a comfortable atmosphere for our customers, should they have to wait. We have a play corner with toys for the kids and People magazine too?.
Another unique aspect of your shop is how immaculate it is.
This comes from my aviation background. Aircraft hangars are always spotless and well organized and I've brought this discipline to my shop.  It's important to have a clean and neat work space, especially when jobs get large and complex.
Aaron, please tell us about the services you are providing.
We work on all imports and specialize in German makes.  We perform all repairs and ?recommended services, including? alignments and oil changes. For our customers looking to get a little (or a lot) of performance out of their cars, we offer performance enhancement options. We do a lot of performance modifications to suspension and brakes as well as engine enhancement and tuning.
Aaron's Autowerks also holds some special accreditations.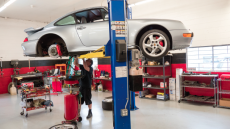 We are a GIAC Dealer known for their Engine Management Tuning?. We are also proud to be ?a Dinan Dealership. Dinan is known world-wide for their aftermarket ?performance upgrade programs. This is big city stuff that we have brought to the valley and many of our customers really appreciate this.

We also feel the environment is important and we recycle as much as possible. Oil and oil filters are recycled as well as coolant, scrap metal and paper products.
?You guys have developed a reputation for working on high performance cars.
Like I said, we are car guys, but we don't discriminate.

?Whether you drive a Porsche GT3 or a Subaru Outback, we'll work on it!
One service you highly encourage is the PPI (Pre Purchase Inspection). 
YES?!  It is always good to know what you're buying.  Well worth the effort and nominal expense.? I have seen many times emotional car purchases turn into expensive heart aches that could have been avoided had the car been inspected prior to committing to buy. I always recommend a PPI no matter where the car is being purchased. If the car is not local look for a shop where the car is and have it inspected.
Aaron I'd love to hear more about your own a back ground and love for cars.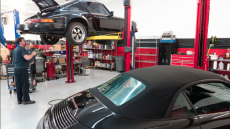 As a boy growing up in Los Angeles you get submerged in car culture. My neighbors were always tinkering with cars and motorcycles and I loved to watch. I grew up playing with L?egos and Erector sets. Then I moved on to taking bicycles, even toasters ?apart. My grandmother  was always baking and her mixer would get full of baking flour causing it to slow. I would take it apart, clean it, and miraculously put it back together! She was always so grateful and I was rewarded with her famous chocolate chip cookies. I've always had a general fascination for all things mechanical. This evolved into a love of cars and motorcycles.  After graduating high school, I attended an aviation tech-college and began a 20 year career maintaining and repairing corporate jets.?
These days your own boys are helping you in the shop.
Yes! ? My boys have grown up around the shop and I've got them working here this summer. They are doing clean up, trash duty ? and some mini-bike rehab. The nuts don't fall too far from this tree.
Do you guys have any special projects planned?
BMW engine swaps are very popular these days and I've been bit by the bug.? I'm currently installing an M5  engine in my 1986 5-Series BMW. The transplant involves removing the 170 horsepower 3.5 liter 6 cylinder and replacing it with BMW's 5 liter 400 horsepower V8. Should be a fun car when it's done. Family and business make this a long term project but I'm determined.
I really like what you are talking about and would like to mention that you have also trained and mentored many other students who have wanted to learn more about cars and mechanics. 
Yes, my good friend is the auto shop teacher at Ashland High School. I check in with him from time to time ?for prospective candidates.

It's important to me to give young people an opportunity to learn, both mechanics and what it means to have a job and be responsible. We support a lot of fundraisers at the schools as well.
Word of mouth has been wildly successful for you. Please say more.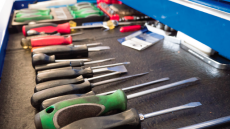 We've done a lot of experimenting with advertising and have always found that word of mouth is the best form of advertisement. If a customer is happy with the service we provide, they are going to tell a family member or friend about their experience.

I host a technical seminar for the local chapter of the Porsche Club of America (PCA) once a year, early spring. The club always seems to enjoy these seminars and it's a good way to kick off the driving season. We also have an event we co-host with Snikwah Motor Werks, German Cars and Coffee! We meet up on the second Saturday of the month in the Brammo parking lot. German car enthusiasts show up to have coffee and donuts and share their love of these cars. We say German cars but anything that is unique and exotic usually will show up.
When will the next German Cars and Coffee event be?
We will meet on July 8th, from 8am until 11am.  Hope to see many old friends and new cars on the scene.  There will be lots of VW's, BMW's, Porsche's and Audi's. Everyone is welcome for coffee, cool cars and donuts!
What are some of your favorite memories from the past 11 years?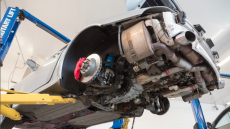 I have gotten to know many great people in the Rogue Valley and it's always fun to run into them outside of work. We have great customers and many have become good friends.
I imagine moving the shop to its current location had a big impact on your business.
Our old location was definitely off the beaten path but we did well there. We needed more work and parking space and our new location provides that. We are very visible being right on South Pacific Highway in Phoenix and business has grown as a result. The city has been very supportive and easy to work with and we like being in the heart of the Valley.
Finally, any last thoughts or comments you would like to share with us?
I appreciate the opportunity to share my story with the Locals Guide and a BIG thanks to our customers!  We look forward to many more great years ahead.
Learn More:
Aaron's Autowerks
4556 S. Pacific Hwy
Phoenix, OR 97535
(541) 535-1355
www.AaronsAutoWerks.com