Doing great things are never easy. Just ask Dan Durant and David Newton about their recent undertaking of restoring 95 N. Main Street, home to Brothers' Restaurant, an Ashland institution of more than forty-one years. It took vision, tenacity, and teamwork to power through the myriad of hoops. From the pragmatic challenges of how to restore a building originally built in 1888 to diplomacy with neighbors, employees, contractors and subcontractors. 
The project, completed this past June, was recognized on May 16th with a Distinguished Architectural Preservation Award by the Ashland Historic Commission.
I met with Dan to congratulate him for his great work in Ashland as well as to hear more about his day job, active owner of  Brothers' Restaurant. How exactly did he pull off this feat?  I am not sure… and to make it even more amazing, in the 18+ months of construction Brothers' Restaurant was only closed for one day!
Dan, thanks for being here today. WOW and congratulations! How did you do it? This must have been a marathon of a year for you and David.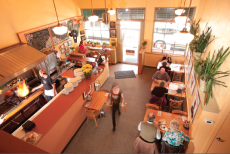 Hi Shields. First, thanks so much for inviting me to talk with you – it's been three years since our last interview. There have been a lot of changes since then. The restoration of the Brothers' Restaurant building is, by far, the most difficult thing I have ever done. There were times when it seemed like everyone was against me – but, with the encouragement of close family members, friends and employees, I just had to persevere every step of the way. With all that behind me now, I can step back and look at this accomplishment with great pride. You can imagine my delight when the City called to tell me that the Ashland Historic Commission was going to present me with a Distinguished Architectural Preservation Award.
Please take us back and tell us about how this project first came about and the decision process you went through before embarking on this journey.
Sure.  We bought the Restaurant in 2007 and have enjoyed great success.  I feel like I truly found my calling (for the third time in my life) in being the Proprietor of Brothers'.  It was quite a struggle to re-invent myself after my last career, so I decided that I wanted to make sure that Brothers' continued to be successful long into the future.  In about 2014, I was concerned about the condition of the building.  There were three really run down tiny apartments on the second floor above the Restaurant.  It was not uncommon for a pipe to burst only to have water gushing out of one of the light fixtures in the Restaurant's mezzanine.  I have memories of working until midnight with plumbers and drywallers to make sure that we'd be ready to open up the next morning.  I decided that I had two choices – move the Restaurant or buy and do a complete restoration of the building.  Since moving a successful restaurant is always a risky proposition, I would need to talk the previous owners of the building to sell it to us.  They finally agreed and we purchased the building in 2014.
This would preserve the future of Brothers' and be a great opportunity to change the building from the eye-sore that it was to the Grand Old Lady that it is now – something that Ashland could be proud of.
The building was built in 1888 and has been several stores over the years.  It was an electric supply store, a gift shop called "The Witches Cauldron," among other things.  Brothers' Restaurant has occupied the space since 1976.
The restoration led to the some colorful and memorable moments. Please share a few.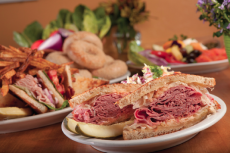 When the Mayor presented the award he started out with "Bees, Bats and Bloomers."  That's a catchy phrase coined by the architect, Matt Small, of Kistler + Small + White.  During the demolition phase of the project we found a bat's nest inside the brick wall near the roof line – they were in hibernation at the time.  Wanting to save the bats, we carefully knocked them into a cardboard box.  I think there were about a dozen bats in all.  I called the Wildlife Images Rehabilitation and Education Center in Grants Pass and they were happy to take them.  So, David got in the "Batmobile" and transported them.
Further into the demolition, we removed the floor boards only to find about a 4-foot section between the floor joists of pure honey.  No bees – just lots of honey.  The contractors filled as many jars as they could before cleaning the area.
Next they found a pair of ladies bloomers, circa 1900(?) which was used as insulation around an exterior door jam.  The contractors hung it on a wall at first, but every time they turned around, they got spooked by the ghostly silhouette, so they took it down.
I'm not going to ask you about the challenges you faced with this endeavor but rather I would like to hear about your greatest moments of success.
The week the stucco went on the front of the building was a pretty big moment.  When the metal medallions, Roman numerals and the birdhouses were installed, it was like icing the cake.  We have a historic photo of the building in the Restaurant.  In that photo, there are three birdhouses on the front of the building.  Matt decided to use this historic element by placing two birdhouses up on the parapet.  That meant that I needed to find a local artist who could create them out of ceramics.  That person was Max Reinhardt, Adjunct Professor of Sculpture, Photography and Video at SOU.  After Max completed the birdhouses, there was some kind of explosion in the kiln and they were destroyed.  So, he had to make them twice!  The birdhouses are only decorative – no birds allowed!
As a part of the building you also create a luxury condominium.  Tell us about it.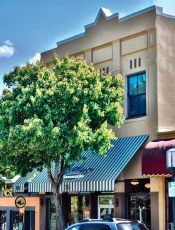 When we decided to take on this project, I had to decide how to use the second floor.  I didn't really want to be a landlord, so renting was not appealing.  I thought of a vacation rental, but having owned a B&B for 11 years, I was done with that chapter of my life.
The cost of this project has been astronomical – so the plan was to condominiumize the building and sell the upstairs condo to pay for the restoration.  So, what was 3 apartments is now a two bedroom, two bath condo, which, as of this writing is currently for sale.
Dan and David, congratulations once again for not only your award and recognition but also for helping to keep Ashland looking great.  You've made an investment in our community both in restoring the building as well as in running an amazing restaurant. We wouldn't be the same without you!
We have lived in Ashland since 1993.  It is a very special place to live for so many reasons.  It has been a pleasure to be a part of the community for all these years.  It is especially rewarding to be a part of downtown with our beautiful new building and, of course, the "institution" that is Brothers'.
Dan, something that I have seen and that has always set you apart from the pack both in your interactions with me and with your ownership / leadership of Brothers' is the quality of relations you are able to form with others. You truly have great people all around you. 
From David, to Raliegh Grantham, my best friend and General Manager, and the whole team I get lots of support.  I couldn't do it without each and every one of them.  I choose great people and am grateful for their loyalty and friendship.  I want to be around kind, caring and respectful people – put us all in one room and how could you fail?  I write sixteen or seventeen paychecks every week.  It feels so good that the Restaurant is able to contribute to their livelihoods.  The locals provide enough traffic all year long that we don't have to lay anyone off during the off-season.  We are grateful.
I'd love for you to share more about the original formation of Brothers'.  As I understand, it was created by two best friends?
The Restaurant was created in 1976 (the year I graduated from high school), by two best friends.  They thought of each as brothers, hence the name.   One of the most common questions that people ask me is "Are you one of the brothers?"  I tell the best friend story and also share that because I have four brothers, it seems fitting.  Now that my own best friend and I are running the Restaurant, I guess the name has come full circle.  The good vibes continue.
Dan please introduce us to your awesome staff.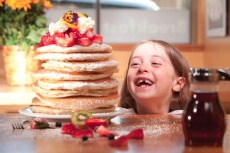 In addition to my General Manager, I am fortunate to have two other fabulous young people helping to run the Restaurant.  Lyle Owens has been with us since 2008 – he started as a dishwasher and today he's the Kitchen Manager.  He ventured away from Brothers' twice.  Fortunately, he came to his senses and came home to Brothers'.  Jessica Ofenloch is our Floor Manager.  Together these three can run the Restaurant without me.  You often hear that restaurant owners don't "have a life."  I am so grateful for these three who make it possible for David and me to be able to travel and to take care of ourselves.
I feel that we have such a great group of servers, hosts, dishwashers and cooks.  We are like a family.  As if putting in an eight-hour day of running up and down all those stairs isn't enough, the staff often chooses to hang out with each other after work – I guess they really like each other, right?
Every summer I throw a catered appreciation party at Emigrant Lake.  We enjoy the water slides, volley ball, horseshoes, good food, drink and comradery.
Many customers continually comment on the quality of Brothers.  What is the secret to this success?
Consistency is one of the greatest challenges any restaurant faces.  How do we do that?  Long-term, happy, well-paid employees is key.  If there is a revolving door of employees at a restaurant there simply can't be the consistency that is required to be successful.
Would you mind sharing some recent testimonials with us?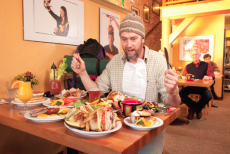 "Right on the Main Street of Ashland and surrounded by eateries. You have to try this little gem. Upstairs and downstairs seating. Eat in or take out options. The server recommended a savory scone instead of regular bread and so glad I gave it a try. It was absolutely delicious and light.  Then came a huge breakfast of fresh eggs and crisp bacon and perfectly cooked hash browns.
My daughter ordered the lox and bagel. The plate was immense with onions, capers, olives, cream cheese, pickle and smoked salmon. If you order a separate bagel, it is plenty for two. Very pleased with our attentive server too. Give this place a try!!"
"We eat at Brothers on every trip to Ashland. Good Food. Good service. A mainstay for Ashland for many years."
"Great location in downtown Ashland. They have a wonderful fresh menu that is reasonably priced, great wait-staff and a warm welcome atmosphere. Certainly worth the stop-by when you come to Ashland for a play or for a relaxing couple of days."
Now that the building is finished, what are your hopes for the long term future of Brothers'?
After the last goal of 18+ months of construction, my next goal is to relax, enjoy and do what we do best – work together to create and serve delicious and nutritious food to the community and its visitors.
Dan thank you very much for doing this interview with me today.  Do you have any last thoughts or comments you would like to share with our readers?
In a word, thanks!  My experience has been quite a journey that I'm looking forward to continue to enjoy with all of Ashland – we wouldn't be here with YOU!  Thank you – we are grateful!
Learn More:
Brothers' Restaurant
95 N. Main St., Ashland, Oregon
BrothersRestaurant.net
541-482-9671