AddLife is a premier interiorscape plant company creating innovative green spaces for clients.  After 35 years in the Bay Area, we are thrilled to be in the Rogue Valley.  We recently merged with Forever Green Interiors, and together we are the number 1 plant company in Southern Oregon. Conveniently located in the Shoppes at Exit 24, we have a beautiful design studio to welcome clients and vendors by appointment. At AddLife we offer custom plant design and interiorscapes for clients – whether it be in your home or business.  Some of AddLife's clients include 7 of the top 10 technology companies in the country. In today's interview we speak with AddLife President and Owner, Lorie Townsend and Mandi Wight-Bartz, Southern Oregon's Branch Manager.
Welcome Lorie and Mandi, and thank you for taking the time to speak with us today.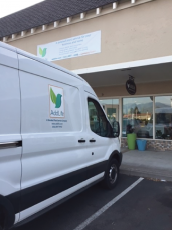 It's a pleasure to be featured in the Locals Guide, which we have been reading for many years now.
Lorie, to begin with I would love for you to g ive us a little history behind your company and its leadership and innovation in the fields of plantscaping.
Well thirty five years ago I started out with a watering can and a gardening apron, building AddLife with just a few of us, installing and maintaining plants in companies in the Bay Area where I grew up.  Now I am thrilled with how AddLife has grown and expanded with innovative plant design that we have the privilege of creating for our clients. I say constantly "who gets to do what we do?" I have such a great appreciation for the clients who allow me and my team to create innovative design with plants to create beauty, harmony, and interest in all kinds of environments.
Lorie and Mandi, please enlighten us to all to what is possible in plantscaping.
We love creating beautiful vibrant interior spaces that are welcoming, calm, and lush and induce positive emotions and warmth within us.  Nature and plants make such a difference in our beings, even if we are unconscious about it. There are so many studies about the positive effects of plants in environments, including offices and hospitals. Benefits can be helping recovery times of patients from surgeries, helping them get off medications faster, and having employees feel more valued by their employer. All of this just because the employer took the time to install plants in the office space. Designing vibrant plant spaces is our passion, whether the design is simplistic, classic, or intricate and detailed.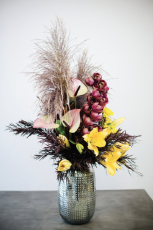 The potential really seems unlimited.
Yes it is and it's all up to the imagination of the designer.  There are so many innovative structures and materials, décor pieces and containers – now that the sky's the limit and it's all created around the space and the desires of the client.  Often time people think they may want plants, but have no idea of what to do next.  And they don't know what's possible.  We love to show them, so everything we do at AddLife is custom.  Some people hear the word 'custom' and think 'expensive' but it simply means we design specifically for the space.    
Mandi, how are you working with clients to meet their expectations and dreams?
First we meet with the client and see their space. Then we talk about any specific things they like, don't like, or need to have accommodated for the space – for example, they can have plants only in certain areas due to light constraints, or drafty areas in vestibules. Southern Oregon is a very different climate than the Bay Area, so plant choices need to be made based on the differing temperatures from summer to winter.

In some environments we must make sure all plants are non-toxic if eaten for various reasons – be it a residential client who has pets, or a memory care facility where there are patients with dementia.

Every environment is different with specific needs and we accommodate whatever the client requires. From there based on budget, plant desires or color choices, (for example we have clients where container choices match the color of their logos), we start the design process.
Currently your services are available to both commercial and residential clients here in the Rogue Valley. 
Yes we do have commercial and residential clients and both offer different opportunities in regards to plant care and design. Installing and maintaining plants in a client's home is a very personal experience and we really become a part of their lives on a weekly basis – they are like family, as are the plants we care for – and this is true about the plants in commercial environments.  Our care specialists who maintain our clients' accounts each week love the plants they care for – it's a key component to the success of AddLife and it's intrinsically important.  Lorie always says "the plants are in charge" and maintaining a plant from week to week is like caring for someone you love, to a lesser degree of course, but plants respond to being cared for, dusted, cleaned, fertilized, watered, and pruned and it's great to have the feeling that the plant appreciated that you took the time to care and make them look beautiful.  That answer went more the way of plants… but it's key here.  Our design abilities are certainly one important part of our success, and caring for the client's needs is the top priority, but at the basis of it all is the health of the plants.
Mandi, please tell us more about your new space in the Shoppes at Exit 24.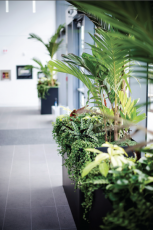 Our design studio here at the Shoppes at Exit 24 has really become the design flagship of AddLife.

Walking in and seeing our living plant wall and plant design and decor will immediately help clients have a feel of the possibility of how their space can look and feel.  We welcome clients by appointment for a personal one-on-one meeting to sit down with us.  First off, we prefer to meet with the client in their space as that's where it will all happen, however, we understand the effects on people who visit our design studio and how they feel when they enter.  I had a client come in the other day to the studio and say, "I want my home just like this".  Well that's enough for me to know our design studio is doing the job it was 'designed' to do!  The vision of the design studio is all Lorie.  Her creativity and style is second to none. When she designs a space I love to watch her.  It just flows out of her.  She has the innate ability to walk into any space and see the it with plants and the receptacle they should be placed within, be it a living green wall, wall planters, plants in containers, floral design, terrariums, or even our preserved moss walls, which are extremely popular and that are all custom designed specific to the space.
Lorie as part of your expansion into Southern Oregon you have joined forces with Forever Green Interiors.

I fell in love with Ashland and the Rogue Valley over 20 years ago when I started to come here for vacation with my husband.  I met Mandi way back then. However, it was only in the last few years we began to talk about the possibility of expanding into Oregon.  After doing some market research, we found that Annie Wicklund was looking to move into retirement after many years of successfully owning and operating Forever Green Interiors and wanted to pass on the reigns, and so I jumped at the opportunity.  Annie groomed four incredible care specialists who I am so proud are with us.

Their skills, knowledge, and customer service are top of the line and they have made our entry into the Rogue Valley seamless.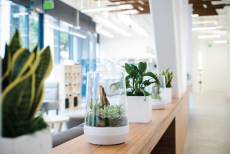 'Mandi will you please introduce us to your local team here in Southern Oregon.
We have an awesome team here in Oregon!  Lorie is our President, who commutes between our Oregon and California offices, and who I work closely with on a day-to-day basis.  Sharon Farwell is our Operations Supervisor and is responsible for the operations at AddLife of scheduling and caring for our clients.  She is a magnificent plant specialist who we all turn to to understand why a plant does this or that or looks this way or that way. She is our go to gal! Then we have 4 other experienced and well-seasoned care specialists to care for our client's plant environments.  We all love what we do, meet regularly to talk about plant care, new plant installations, how to make a client's plant environment better.  Feedback from our care specialists in the field is very integral to our success. It's all about communication, communication, communication. In house, we also create beautiful plant arrangements, including orchid bowls, floral arrangements, terrariums and succulent bowls. Keeping the design studio well maintained with new, creative arrangements takes a lot of time and attention. Susan Thrasher, who moved up here to Oregon after 27 years of experience working at AddLife in California, does a wonderful job of caring for the beauty we create at our design studio and for client's alike.
Mandi, can you please tell us about some recent projects AddLife has worked on?
We recently installed plants at a local car dealership in their service department and showrooms. Having never had plants before, the transformation and improvement in the warmth of the service lounge was obvious. My friend went to have her car serviced at this dealership and called me to say, "I love what you did!  It so totally changed the space".  This objective response is everything – as well of course, as the client's satisfaction!  We also custom designed a preserved moss wall with a redwood, Pacific Northwest design for a client in Grants Pass.  We had a specific deadline as they had a launch opening they wanted to have their plants, orchid piece, terrariums and moss wall for.  Well the moss wall really drew a lot of attention and wowed everyone!
This must be a very gratify job to always be creating beautiful interior spaces.
It sure is.  The feedback from clients and observers alike is invaluable for us, as well as the internal pride and joy you feel when you look at the plant design you have created.  I am personally so proud of AddLife, and everything that Lorie has created from the ground up.  I get as excited for us up here in Oregon and our plant designs as I do when she shows me the latest designs and installations in the Bay Area.  Lorie was the youngest member to be inducted into our industry's Hall of Fame and when you see AddLife's groundbreaking work, you know why.   
Mandi, can you share with us some specific benefits that result from plantscaping one's space?
The obvious benefits are plants clean the air and remove toxins, and create warmth and harmony in a space.

But it's endearing and satisfying to hear the feedback of clients who just love that one particular plant or moss wall or greenwall we created, and how much it has added to their environment.
Lorie and Mandi, it seems that your work can range from conservative to very cutting edge. Please give us examples of both.
Our designs are created to meet the satisfaction of the client. The design can be a plant in a container, a custom design moss wall, a custom design planter, or a reception floral piece, such as an orchid bowl.  We create beautiful orchid bowls that we regularly update based on the season or for a special event for a client.  Of course the innovative greenwalls we design can require technical expertise to execute if it's a wall that is plumbed in, with a timed drip system, etc., or if it is a tray wall that is drilled into drywall, you have to understand the weight of the plants in the receptacle with water and soil.  Our largest greenwall we have designed and installed to date is 75 ft long and 14 ft high, fully plumbed in and we worked diligently with the architects and engineers of the building to design and install this beauty.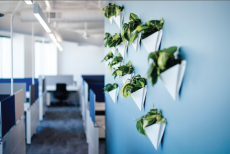 What are some considerations that go into dictating the design of a plantscape?
Number one is the space itself based on light, area, traffic, what is the space's purpose? Is it a waiting room of a medical clinic? An office space? A meeting room? A hallway? A home?  All of these factors can immediately give you many answers and solutions for your design.

There is the client's budget – sometimes that's known and sometimes it's not provided, and we provide options designed to meet a small, large and anywhere in between budget!
Lorie, what types of commercial projects are best suited for your company?

We are a full service plant company.  So as well as being plant designers, maintenance and service is deeply important to us.  Most of our commercial clients like us to do everything from the design, installation, and maintenance, which we really aim for, as we are plant specialists.  One of the things we sometimes hear is a client who says they will look after their own plant maintenance.  Well we pretty much know most of the time where this leads… people who are not necessarily trained in regular, consistent plant care will not have the best outcome for the plants and therefore the environment.  So we ask that clients let us take care of the plants, wherever possible.  We have the ability to execute any size of project, so really we welcome all projects!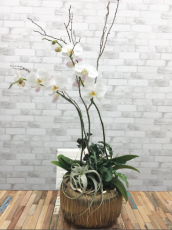 Lorie and Mandi what is the next step for any of our readers wanting to learn more?

We invite people to make a appointment directly with Mandi either by calling our design studio (Tel: 541 897 4442) or by emailing mandi@addlife.com.  There are also many examples of our work on our website www.addlife.com for people to see some of what we can offer.