Hersey Health Care offers compassionate, knowledgeable medical care to patients of all backgrounds and ages in Ashland, Oregon. Originally founded by Dr. Sylvia Chatroux, the clinic has served Ashlanders for more than 20 years. Along with her outstanding team, Dr. Sylvia was joined 4 years ago by Tara Frazier Rice FNP, a long time Ashland resident and board certified Family Nurse Practitioner.
As a patient of Hersey Health Care, you have the power to choose your own balance of traditional and alternative medicine. Specific attention is given to providing the highest level of personalized medical care and attention for all patients with Sylvia and Tara sharing the practice to provide accessibility to their patients.
In todays interview I speak with Sylvia and Tara to learn more about the unique synergy and vision that they share in working together at Hersey Health Care clinic.
Dr.Sylvia  and Tara, thanks so much for speaking with us today and for doing this interview.
Thank you. We are grateful for this opportunity to share more about who we are with the community. Our staff has been able to form many meaningful long-term friendships and relationships with our patients over the past 20 years.

Thank you for this opportunity to reflect, and share more about both who Tara and I are as practitioners. We would like to discuss and highlight the different roles Tara and I both play in making Hersey Health Care the amazing clinic that it is. Ashland and the Rogue Valley has grown so much over the past several years and we are eager to also introduce ourselves to new folks and families here today.

Sylvia: I decided to pursue a career in medicine after being inspired by Dr. Sydney Handleman, a psychiatrist in New York City where I was raised. He was my mentor and I initially went to medical school to become a psychiatrist. During the course of my training, Family Practice became the stronger calling for me. I still very much love to do a little counseling in the office when the need presents itself. Dr. Handleman helped his patients function better and more fully via Psychiatry. I strive to achieve the same goals via Family Medicine.

Tara: I come from a long line of medical practitioners. My grandmother was a midwife in the 1930's, my father was a cardiothoracic surgeon, my aunt and my cousin are nurses. I cannot remember a time in my life when I was not interested in medicine. When I was a teen I would even watch my father perform surgeries.

I started out my career as a pre-med student, but in my 20's I found my path in the field of nursing and this became my passion. Nurses bring a unique perspective to healthcare, focusing on all of the contributors to a patient's health including physical, mental, emotional, social, and socioeconomic. After receiving my BSN from OHSU, I worked in the Rogue Valley as a nurse for 17 years before deciding to pursue my degree as a Family Nurse Practitioner. I finished my training through OHSU and started practicing 4 years ago.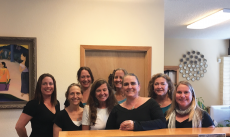 Sylvia, you and Tara have been working together now going on 4 years. How did you first meet and what inspired you to choose Tara?
I recognized in Tara an exceptional practitioner. She is honest, thorough, compassionate, kind and highly intelligent. She is very skilled and educated. She is curious and interested to know her patient's outcome. She follows through for her patients. Not every practitioner works this way. She takes her work to heart. With this type of integrity one can insure a better outcome for one's patients.
Tara what clicked for you and what prompted you to join up with Sylvia in Hersey Health Care?
I have lived in this community since 1993 and had always heard great things about Dr. Sylvia being an excellent practitioner, and was also loved by her patients. Staring out, I was looking for a small practice where patient's can expect thorough, compassionate, and individualized care. Sylvia's practice is a beautiful example of this. My dream has always been to become a part of a more intimate type of practice like the one Sylvia has created instead of working for a large corporate organization. I feel so lucky that we found each other!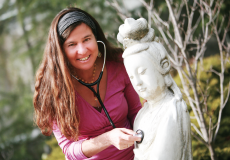 Sylvia what are the key considerations that you have always prioritized when building your practice and choosing your staff?
I have always strived to create a balance for the staff and myself- a balance combining professionalism and productivity with creativity and warmth. My staff are amongst my favorite people. They are, above all, compassionate and willing, indeed eager, to help others. They are each gifted with intelligence, capability and a kindness that makes all the difference in our work together. We function as team.
Tara, a special synergy has formed between you and Sylvia at the Hersey Health Care practice. Please say more.
As a practitioner I was looking for a very specific type of practice environment and Sylvia certainly has created that environment at Hersey Health Care.

I could never be comfortable just doing the minimum, I always strive to go above and beyond, both as a healthcare provider and as a member of this healthcare team. Very quickly after meeting Sylvia, I realized that she practices medicine in the same way, always going above and beyond.

Over these 4 years of working together we have formed a unique alliance that is beneficial both to our patients and to our team as a whole. We have mutual respect for each other's varied background and experience. We work together as colleagues to provide the best patient care possible. Sylvia has been a physician for over 30 years. I am fortunate to have such an experienced clinician as a resource. We enjoy and benefit from consulting with each other in regards to our patients' care.
Sylvia, when we first started talking you mentioned that one of the key priorities for yourself is to have a good work and life balance.
The biggest risk for any doctor is physician burnout. The studies show that this is directly related to work overload. When I first opened my practice in 1994, my husband and I had a 1 year old and a 4 year old. I missed my girls even though I loved my work so I always worked a modified schedule. I no longer have young children at home but I find great joy in spending time in nature, creating art and doing other things outside of work. I love both my work time and my free time. Everyone in the office works approximately three quarter time so that each individual can present their best self to the team and the patient and then also to their own families. We strive for quality of life for our patients and I believe that we, ourselves, must strive for this in our own personal lives.
Tara how has this model of work helped to support your life?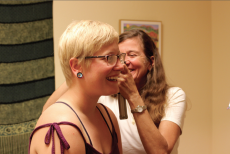 As the mother of three teenage boys I appreciate the way we have set up our partnership so that we can each find a balance in life between work and family. Working with Sylvia as a partner allows me time to pursue some of my other interests such as spending time outdoors camping and traveling with my family. My family is very important to me and spending time with them rejuvenates me. This allows me to give my most attentive self to my patients because I have been able to replenish myself and provide the same self-care that I recommend to all of my patients!
What a great perspective. I imagine your staff plays a very crucial role in this support network as well.
Tara: Our staff truly is amazing. Earlier I talked about going above and beyond and truly every member of our team comes in to work every day with this attitude.

I have worked in many different settings and unfortunately I have not always seen the type of response one would hope for when a patient calls needing help. In some practices there is an attitude that "that is not my job". But this is never the case at Hersey Health Care. A patient who is scared and vulnerable needs a compassionate voice on the other end of the phone. And that is what our staff provides day in and day out for our patients.

Sylvia: Yes. We have two highly trained nurses in our office as well as our gifted medical assistants and managers. We are a team of eight women with a common mission. We strive to provide the best individualized healthcare to each of our patients and are driven by integrity, skill and compassion. We are very happy and proud to work together and strive to make a difference in our community.
The overall setup of your health clinic appears to be very well thought out and intentional. Tara, how has this environment enhanced your own effectiveness with patients?
Being blessed with such a knowledgeable and compassionate staff at Hersey Health Care has allowed me to serve my patients in the thorough and compassionate manner that I envisioned when I started my career as a health care provider. One example is that we always try to get patients in the same day. This is important to me as I believe patients deserve care in a timely fashion. Another example is that we do not turn out phones over at lunchtime. This allows patients in need to reach us anytime throughout the business day.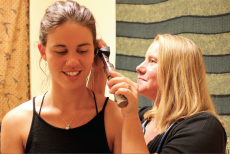 Sylvia, your practice sounds very much like concierge medicine.
We are not following the concierge model but we have designed our clinic to be very accessible. Of the 300 working days there are probably just a handful days when there is not a practitioner available. Our patients know that if they call us, we will make every effort to see them urgently that same day, even if it means our workday is extended.  We check on sick people with follow up phone calls and we try our best to tend to our patients in the same way we would tend to our loved ones. Between the two of us and our staff, we make every effort to avoid delays in treatment and to follow through with individualized holistic care.
Tara, you have a focus on Functional Medicine and Nutritional Therapy that you bring to the practice. Please say more.
I have not studied functional medicine formally but have been interested and curious in this field and have been learning a lot through independent research. I like to work with people on their health as a part of their whole being.

This includes medication as times, but also nutrition, sleep, stress, exercise, and supplements. There is a lot of data out there on how the synergistic effects of all of these aspects of ones life can affect people's health over time. I strive to help my patients achieve balance in their lives. For example, a person can eat an organic diet with no processed foods but if that person smokes or isn't getting enough sleep or fails to address toxic levels of stress they aren't going to see as much of a benefit. I encourage meditation, acupuncture, massage and counseling when appropriate. I also like to check blood levels of vitamins and make sure we are addressing any deficiencies that might be present. In addition I try to work with people on socioeconomic stressors. If they need work leave, or help with transportation that also gets addressed at our visits.
Tara, please tell us more about specific areas of focuses you enjoy doing at the clinic.
I enjoy working with all of our patients. We see everyone across the lifespan and that keeps our practice challenging and exciting. All of our patients have unique needs and struggles. Getting to know them over these last 4 years I continue to feel honored to learn their stories and to help them achieve their healthcare goals. Many people don't realize that the scope of practice for nurse practitioners in Oregon is vast. We are able to provide a full range of medical care to our patients including prescription medications. Specifically I work with patients to manage chronic health conditions such as hypertension, diabetes, asthma, depression, and heart disease to name a few. I also provide physical exams, women's health, sports physicals, lab reviews, contraceptive management, mole removals, and acute care including acute illness and injury. I do it all! I also love working with adolescents. They are just starting to branch out in terms of finding their individual way in the world and to start making their own health care decisions and that is an exciting time to help guide them.
Sylvia and Tara what types of patients do you see your practice best serves?
Sylvia: We love to work with all sorts of folks. It is especially rewarding to work with a patient who is striving towards better health and is eager to make life style changes to get there. We are happy to share our education and experience to help folks get closer and closer to their healthiest best functioning self. We ourselves strive for the same in terms of our own desires to achieve optimal health and happy functioning.
I can imagine that you both have been able to form some very special relationships with your clients over the past many years.
Tara: It is a pleasure to follow and know our patient's through the years and it is an honor to become a part of their lives, meet their families and experience some of their joys and losses through the passage of time.
Please tell us more about your intake process and also your ability to quickly see and attend to patients in a very personalized and humane way.
We are available by calling the office at Hersey Health care at 541 482-7047. We are in the office from 8:45 until 5:15 weekdays including through the lunch hour to respond to your questions. For established patients with an emergency there is a 24 service to consult a practitioner.
Are there any last thoughts or comments each of you would like to share before we conclude?
Sylvia: Ashland is a beautiful caring community.

Our role as practitioners is to help each other and others with our skills, training, experience and compassion to fully benefit from good mental and physical health. From this, spiritual health, joy and community can blossom.

Tara: Once again, I feel truly honored to be a member of this unique healthcare team that offers such excellent patient care and a full range of services. And I feel honored that our patients entrust me to help them achieve their optimal health.
Learn More:
Hersey Health Care
400 West Hersey St.
Ashland, Oregon 97520
541-482-7047
www.DrSylvia.com