Interviews
All About Parties: Party Supplies and Event Rentals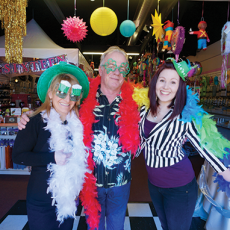 Jerome Brown, the owner of Grants Pass Equipment Rental, is a fourth generation Oregonian. He opened the first dedicated party store in Grants Pass back in 2006. At that time demand for excavation equipment was in a steep decline. Most of it was sitting idle, biodegrading. Grants Pass Equipment was already renting tables and chairs and moving up to a dedicated party store seemed like the right thing to do.
Starting a store was a lot of work. It was quite awhile before that first store started to roll. Soon there were repeat customers coming back. Some of the folks as far away as the coast were looking for party supplies they could not find elsewhere.
    
All About Parties offers a wide selection of items for birthdays, baby showers, weddings, anniversaries, and holiday events. At All About Parties, it's all about you! They can help make your event something to remember, whatever it might be.
Jerome thanks for speaking with us today and thank you very much for bringing your store to Ashland.
Thank you Shields! We have received such a warm welcome and response from the community. The original store was started in Grants Pass in 2007. It took a long time to get settled. Soon we saw repeat customers coming back for more. After watching Ashland for a while, it seemed like a great place to start a second party store. Walker Street Plaza is a perfect fit for what was needed. Both stores offer a wide variety of decorations for baby showers, birthdays, anniversaries, weddings, graduation parties, and special events. All About Parties is all about you and the service we provide our customers. We want your party to be an event to remember.
Please introduce us to your staff.
Our team consists of so many people. I would like to take this opportunity to introduce everyone out in the spotlight and behind the scenes. Let us start with our wonderful company manager Brandi. Soon after she started working for me as the office manager I pretty much threw her at the party store which was like a room full of tigers and locked the door. It wasn't long before she made the tigers purr softly. She helps run the show for both stores from Grants Pass. Leonard is our customer service and coordinator at Grants Pass Equipment Rentals. We would be lost without him. Juan is the man running the store in Central Point, All About Rentals. He keeps most of our larger rental items in order and helps with setting up for deliveries. Donnie and Mike are our go-to guys for Delivery and Pick up. If you rent anything from us you are sure to meet them! We have two other lovely ladies in our Grants Pass party store, Joanie and Mariah. Joanie's best quality is her customer service and setting up your rentals. She makes sure you are covered with our huge inventory. Mariah is amazing at making balloon columns and bouquets that people immediately fall in love with.

The ladies at All About Parties in Ashland are definitely party-motivated. They want to make your event shine. Amy and Laura enjoy working with our customers, helping them with simple decorations or the whole deal from setup to tear down. Amy is a long time Ashland resident. She is very talented and has a natural eye for balloon arrangements. Amy also handles most of the graphics we need done: posters, price guides, Facebook, coupons and more. She does a great job at laying out a new graphic on the spot.

Laura is a fairly new Ashland resident. She and her family recently moved here from her native home of Italy. She has a great personality that meshes very well with our customers, especially brides planning a wedding. Laura has a great background in wedding and event planning. Soon after meeting Laura you know you have arrived at a whole new level; a totally new way of presenting your event. We are the team of people with the driving force behind the big party network.
Laura and Amy will you please give us a tour of your store?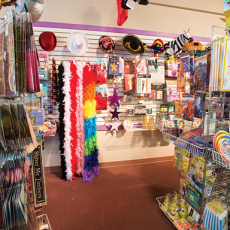 Laura: When you enter the All About Parties store in Ashland it is an opportunity to allow your imagination to run wild with ideas and emotions for your important upcoming party. The colors, the dinner table set with elegant dinner settings and unique martini glasses, the hat section with colorful feather boas, the bridal area, the birthday area; all designed to stimulate your creativity.  One visit is not enough to take in all that is on display.

Amy: I totally agree with Laura! When you walk in the doors, the first thing to notice is how much we have! Starting at piñatas of all kinds hanging from the rafters, balloon decor, party and costume supplies, and samples of items we rent. The table at the front features our china, glassware, utensils, linens, chairs, and knick-knacks. This is a good way to get ideas flowing for planning a wedding. At the very front of the store we display a few of our serving accessories. This leads into our cupcake, candle, and cake section. We have all those little goodies to make that special party festive, including doilies of different kinds and colors. On the opposite side we have current event themes such as Easter or St. Patrick's Day displayed. In the themes we carry banners, plates, cups, napkins, decor, ceiling and wall hangings, fun gift items, and costume pieces. We also carry a couple of local vendor items. We have Mini and Tini Top Hats by Amy Michelle Kincaid. We are also setting up Yasmine's personalized invitation area where you can see examples of the beautiful invites and place cards she makes.

On the counters we carry wine glasses with such saying as "Queen of Everything", mugs, goofy wine corks and shot glasses, hand purses, candies and candles, and gift wrapping supplies. There is an entire wall of table covers, plastic ware, paper plates, cups, and napkins. I refer to it as the rainbow wall because we have several colors. In addition, we have an eco-friendly section with our recycled paper goods. In the middle of the store we have all the themed sections starting at the bridal sections, to birthdays and baby showers. All of our themes contain all the party supplies including paper ware, games, centerpieces, table covers, invitations, favors, and more. Some of our themes include Bridal and Baby showers, Bachelor and Bachelorette parties, numbered birthdays, Sweet 16, Anniversary, Disco, 60s and 70s, Graduation, Licensed such as Hello Kitty or Mickey and Minnie Mouse, princess and fairies, Teenage Mutant Ninja Turtles, Lego, Dinosaur, Pirate, Animal, Safari, and so much more.

Displayed in the back is one of our gorgeous wedding arches with leaf and grape decor. Next to this we have our paper lanterns and fluffy decorations, streamers of every color and animal print. There are hats of all kinds that anyone is free to try on. My favorite is the jester hat. Behind the counter is where all the fun happens! We have a plethora of colored and designed latex balloons. We can make anything from simple balloon bouquets to arches and columns. Our colorful filing cabinet contains over a hundred different foil balloons! My favorites are the dragon and the pirate ship. Just walking around the store you will always notice something new. This place gets you in the mood to throw a party or decorate your house.
Laura, how can your store help me organize and plan a party?
We are here to ensure that whatever you imagine for your party becomes a reality.  We have the inventory to meet your every need, but more important, we are here to listen and provide with suggestions that will ensure that you have an unforgettable event.
Laura, as The Wedding and Event Planner can you talk about some of the experiences that you are bringing to All About Parties?
My 25 years of experience of being involved in international weddings and events in phenomenal locations is at your service. By listening to our customers I can apply my best concepts to create their dream, which is the fundamental key to a successful event. One thing we feel deeply about is that All About Parties is really all about you.
All About Parties can provide chairs, tables, tents and stages as well?
Yes we can plan any event up to 300 people. If your event is larger we will work with you to get just what you need. We can even help plan for events with poor weather. We have a large variety of tents and heaters that are great for the outdoors with this Oregon rain.
Amy, what are some of the most unique items you can find at All About Parties?
There are so many to choose from! The ones that stand out the most for me in the rental department would be our chocolate fountain or gold isle standards with red velvet rope dividers. In the store for retail I would say our customized invitations by Yasmine or the hand-made Mini and Tiny Top Hats. Many of the items in our store you cannot find anywhere else in Ashland and sometimes not even in the valley!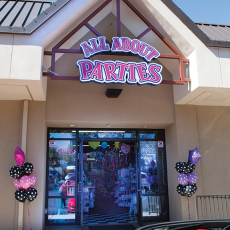 Laura, how about the biggest mistake people make when preparing a celebration?
The most common mistake is leaving details to the last minute. It is so much more fun and effective planning out every single detail in advance so that the day of the actual event is a real celebration.
Any wild parties in Ashland?
Laura:  Wild Parties in Ashland?  Of course! However, I always respect and protect the privacy of our clients. I am not letting out any secrets if I mention the incredibly successful New Year's Eve event and Saint Valentine's event at the Armory that All About Parties was involved with.  They were absolutely unique and wonderful.

Amy: Yes! The biggest one we have worked on so far was the New Year's Eve event at the Ashland Armory, The Bootleggers Ball. We decorated for the event with a grand display of balloons. At midnight we did a 1,000 balloon drop and had 2 confetti cannons. It was a great time. Curious Conspiracy did a wonderful job of putting everything together, and we got some great feedback and business from it. For Valentine's Day, we sponsored the Armory again for Love on Bourbon Street. We hope to be doing more events with them as the year progresses. We love working with our customers to make their event just as perfect as they envision it.
Jerome do you have any good party stories or jokes you might like to share?
I always do! A while back, Brandi made a balloon order for a woman. It was a large balloon order that she put in. However, she sent her husband to pick up the balloon order. Brandi suggested using some weights to hold the balloons down and keep them from flying out of the car. He refused stating he could handle it, and when he got home over half the balloons flew out of the car! He decided not to mention it to the wife. This led to a phone call to Brandi from the woman saying she did not get all the balloons she ordered. Brandi was confused because she was the one who did the balloon order and gave them to her husband. The wife then asked her husband again what really happened. He confessed to the whole thing! Poor guy! We got her those extra balloons, and we all know who went to the dog house that night!
Laura, can you give us a run-down on parties and celebrations that we can plan for?
I cannot list all of them, because our clients come up with new interesting reasons and themes for parties all of the time. Here are just a few of the ideas: Weddings, Birthdays, Graduation, Bachelor/Bachelorette, Summer Dinner Party, Winter Skiing Party, Impress the Mother in law with incredible Dining Party, Caveman Party, Wellness Party, Wine Tasting Party, Super Bowl Party, Don't like sports Party, You Deserve A Surprise Party, Over The Hill Party, Rafting Party, Post Theater Party, Award Party, Oscar Party, Single Party, Poker Party, Cigar and Whiskey Party, Fund Raising Events, Dancing Party, and many more, including any more that you can invent.
You also rent supplies for divorce parties?
Ha ha! We sure can. We have our Equipment Rental in Grants Pass. All About Parties will bring to life any theme a customer wants, including renting an excavator.  Whatever the occasion, we can make your party a success.
Ha! That is pretty good. What are some other interesting ways All About Parties meets a unique need in Ashland?
Amy: We are very unique being the only party store in Ashland. I have been told on multiple occasions where customers that have gone to Medford or online, could not find what they were looking for. Then they heard about us and came in just to try one last thing. We were able to get them what they needed or find a great alternative! So many customers have said to me how happy and excited they are that we are here. It is a great feeling when people find what they are looking for and are truly grateful for our presence here in town. Because we are a local business we know how to give true customer service with a smile. My personal goal is to have everyone who leaves our store smiling and satisfied with their experience.
Birthdays!
Our most popular item for birthdays is balloons. However another big hit is our tiaras and sashes. We have necklaces, rings, hats and all sorts of items to bring attention to the birthday boy or girl. One of my favorite ideas so far from a customer was rolling up 1 and 5 dollar bills tightly and putting them into clear or see through balloons then blowing them up with helium. The money does not weigh down the balloon and makes a unique way of getting money as a gift! Cake is a must for a good party. We have great cake pans that you can rent such as Winnie the Pooh and Buzz Lightyear. You can put those cakes on one of our cake stands that we rent. For the top of your sweets we carry candles in glow in the dark, relighting, colored flame, numbers on sticks, and themed ones such as Darth Vader or Hello Kitty. For cupcake lovers we have many different colors and designs of cups, flags and even mini umbrellas. We have kits with candles, flags, and cups. You can always rent one of our cupcake holders to spruce things up. Popular items for decorating are banners that have an "add an age" feature, centerpieces, and signs. Paper lanterns or hanging fluffy decorations are on high demand. Balloon air creations are always a fun addition to a party. Piñatas are a perfect item for kid's birthdays or even a 21st birthday. I have helped people come up with ideas other than candy for them. For the kiddos any kind of party favor, confetti, money, rings, necklaces, and toys are great fun! For a 21st birthday I have seen people put in money, joke items, mini alcoholic beverage bottles, and gift certificates. Everyone has a birthday at some point during the year. We are here to help you make that special day as fun as possible!
Finally, would you like to share any last thoughts for our readers?
Jerome: Whether your event is an elegant reception for a large crowd, or a more casual party for friends and family, All About Parties can help you plan a memorable event.

Laura: You are special, and there is only one of you. Any special event or moment of your life can and should be celebrated in the most joyful and enjoyable way possible to ensure that this moment remains important and special to you and your friends and family.  The celebration and your event should be as unique as you are.  That is why we are here, and that is what we do. Remember, All About Parties is All About You.

Amy: Everyone is welcome at All About Parties and greeted with a smile. We are here for you!
Learn More:
All About Parties
579 Walker St. Ashland
(541) 488-7790