Interviews
Julie O'Dwyer: Julie O Design at the Ashland Design Studio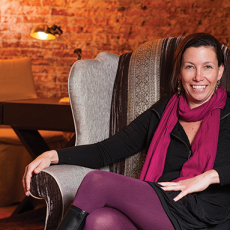 Conveniently located on bustling 4th Street, next to Noble Coffee, the Ashland Design Studio has been created as a resource space for new home design, remodeling and renovation. Opened by architectural and interior designer Julie O'Dywer the space provides valuable access to local building, craft, and trade resources. From choosing a local wood worker, contractor, or architect, to seeking finishes, fabric, and furnishings this is the new place in town. Expert advice and portfolios are on hand to assist you in getting the best results possible. One of the most challenging aspects of her work is that because of its private nature much goes unshared. And while one can read and look at design magazines and websites it's not until you have the opportunity to work with an expert that things begin to change. 
Having relocated her design firm to Ashland 11 years ago, Julie O'Dywer brings with her an exquisite blend of visual aesthetic mixed with elegant form and functional balance. She is an actualizer, with a special skill of being able to take multiple streams of creativity, then merging them into one final experience/ creation. As much an artist as a designer, Julie O brings out the best in all her work… and her clients.
Julie O received her architectural degree from the University of Arizona with an additional year at the Royal Academy of Architecture in Denmark, then spent 15 years working and traveling for some of the top architectural and design firms on the East Coast. In the early 90s, she relocated to San Francisco arriving at the right time and the right place to start the growth of one of the Bay Area's top design firms that would go on to lead the dot com interior design revolution. She has worked with corporate and private clients from around the world.  While up until now much her work remains privately guarded for her clients alone, you can now step into the Ashland Design Studio, a space dedicated to bringing out the best design the valley has to offer.
Julie O thank you speaking with me today. Congratulations on the opening of the Ashland Design Studio!
Thanks Shields!  It is great to be finally giving Julie O Design a real home in Ashland.  My design business has followed me for years but now I get to share with the public all the work I do, the projects I have, the  resources that I have assembled and hopefully to inspire anyone starting down the road to a new home or remodel.
I am curious to learn more about your original inspiration behind the creation of the space.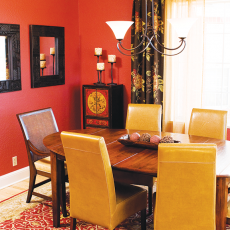 The Ashland Design Studio comes from the idea of a place for the collaboration of talent and abundance of quality.  My last "real" studio was my design firm in San Francisco about 15 years ago.  It was developed with a foundational idea that the more creative ideas were shared the better each design would become.  It is the idea of "a rising tides lifts all boats."  Since I have been in Ashland, I have felt that the design and building community hasn't had a shared place for design resources and inspiration.  Design centers are fabulous and common aspects of most large cities, and this is a small town.  But we still all want to find new products, experience different materials and explore creative solutions.  That's the goal of the Ashland Design Studio.
Julie O part of the nature of your work is that it can be very private. Now with the Ashland Design Studio locals can come in and have an experience that wasn't available to them before.
It's all just magic. :-) But seriously, I think that is a pretty accurate description.  As a professional architectural and interior designer, I take my years of experience and practice, find simple things, refine their presentation, give just them just the right amount of sparkle and bring it all together in way that was not imagined before. Ta-Da!
Please talk about how your own experience of space has been shaped by your access to the great works of others.
Design has been in my life FOREVER.  Really!  My father is an architect and I grew up in his studio; both as a playroom and as a classroom.  He started me on my path, and from there I was hooked.  I spent time studying in Europe for my architectural degree, traveled when ever I could, and worked all over this country and abroad.  What has always amazed me is that the truly great works of design are inspiring not just because of their look but because of the context in which they were formed.  I remember walking into a church in Finland that was designed by Alvar Aalto and understanding the reality of context.  I had studied this church extensively in school and it was an inspiring array of wooden trusses that seemed to float above an undulating concrete wall.  When I visited the church in person, it fully lived up to the awesomeness of its photos but what I saw then was where it was located; deep in an old growth forest just at the top of a rocky knoll.  I realized that this great architectural design was inspired by the context of its surroundings.  That was what made it truly amazing.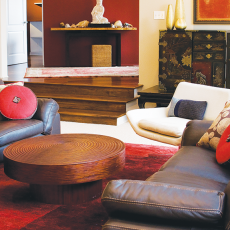 Can you tell us more about your own family and early upbringing?
My family is great!  I have an amazing partner, two blossoming young daughters and a spirited step-son.  A lot of what has formed my artistic perspective came from my own upbringing though. My father is still practicing as an architect and my mother has moved from the role of educating youth to educating the community about public land.  My parents were fundamental in my love of design and particularly the appreciation for fine art.  Every Christmas and birthday, my brother and I would be given a work of art as a present.  They knew that art needed an educated audience to understand its importance and to create the dialogue with the artist.  I am so lucky to now have an artist close to my heart, Kevin Christman.  Kevin is an inspiration to me and to so many other working artists.  It's pretty special to be witness to that kind of magic.  It's always a joy to share the impact of art with my clients.
Please give us a tour of your new space, its features, services and opportunities.
This sweet little studio has been in the works for over a year.  The location was the first inspiration.  I have always loved the 4th Street area of Ashland.  It feeds my need for mixed use urbanism and a close knit community.  I knew that I had to have my studio in this area it just took some time for the space to become available.  Brian Dunagan of DEI Engineering and I have our work desks in the back of the studio space; nestled up to a beautiful expanse of an old brick wall.  The front of the studio is loosely divided into a meeting space and resource library.  The meeting space has pin up boards and plenty of space to spread out drawings and materials.  We are offering this meeting space up to local builders, contractors, real estate brokers and other designers as a neutral but supportive place to meet with clients to discuss a project.  The resource library will be divided into three main sections: Materials, Products, and People.  There are lots of samples to look through, catalogs to peruse, and reference material to help answers some questions.  And of course, there are lots of comfy chairs to sit in.  We are planning to have monthly design presentation that will be open to the public that show all the different aspects of design and building.  Last but not least, we have a large scale printer coming that will provide reproduction of drawings for the local building trade professionals.  Okay, really last and definitely not least; Brian also owns the Ashland Wine Cellar so there is a nice little wine bar tucked away for the special occasions.
I can't wait to come and see the space in person, do I need an appointment?
I love the buzz that is already happening with the studio.  People are peaking around the paper on the window, whispering outside the door and in general just wanting to know what is going on in here.  We are having an Open House on April 11th and would love for Ashland to come by and take a look. It doesn't hurt being located right next Noble Coffee so stopping by with your cup of coffee is truly welcome as well.  If we have a meeting or a presentation is in progress, we will have a sign on the door but come by again or call if you would to make an appointment. I want this to be an open studio that the public witness how some of these crazy design things come together.
As an interior designer and architect what do you enjoy most about working with your clients?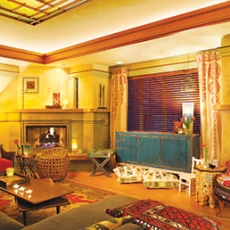 I really like all my clients so much.  I mean I really like my clients.  They are all so unique talents and full of life.  Getting to know who they are; the story of their lives, the quirks, preferences, passions that make them who they are; and then how to make their home or space become a reflection of that unique experience.  That's the best thing.  I am proud that most of my work comes to me from referrals; it means that I have made something memorable.  My clients are all experts in their fields and so they appreciate my expertise with design.
Tell us about one of the most unique projects you have had an opportunity to work on?
There was this one client that was such a joy to work with.  They were a highly successful couple that had traveled the world, managed challenging jobs, and raised a great family.  They had settled down in Ashland so their daughter could attend high school here and then decided that this was where they would want to finally slow down their pace of life.   The crazy thing is when I first met them their house was stacked full of boxes and piles of the mementos of their travels, but not a stick of furniture.  Not even a folding chair!  The husband was like 6'4" and all he could do was stand around his living room.  It was comical.

What was great was that they knew that they didn't just want to find any old thing to work.  They wanted to find the right things that would make the house feel purposeful.  My challenge was to create an artful container for their collection of life.  There was a collection of bedoiun ceremonial knives, Eastern European embroidered hats, German crystals and a crazy selection of shot glasses from the CIA.  This truly was rich with context.

They finally did get all of their furniture, including a really big, really comfy chair.  It was a success and they loved to be able to live in the house.  The best comment I heard was that they felt that each unique object in the space was subtly in conversation with all the other elements, just like a graceful dinner party.  That's just what I liked to hear.
Home owners and residents in the Rogue Valley won't necessarily have the same opportunities that you have had. How can the Ashland Design Studio change that for them?
They may not have had my experiences but they have had theirs.  That is what I really try to bring out in each of my projects.  It's a well designed reflection of what makes someone who they are and inspires them to be their most joyful.  What I bring to the process is a careful eye to pull it all together in a unique manner.
I am curious to learn more about your own experience. It seems like timing has played a huge role in your life for you. Tell us more about that.
My dad told me something when I was young, "You will have at least 10 unique careers in your life."  He was trying to influence me to pursue a career different than architecture.  I know he wanted me to see the uncertainty of my future as a problem, but I took it as an invitation.  If I follow what I love then more doors will open not less!

A favorite book of mine is "The Tipping Point" by Malcolm Gladwell.  I think it explains so clearly the process that has been part of my life.  Find your passion, pursue it with joy and determination, allow for the flexibility of change, seek the experience of others, and be ready when the opportunity comes.  I have always loved art and design and its impact on humanity great and small.  Each new challenge of my life I have been awed by the power of the intention that I set, how the things I need show up in amazing ways and the crazy talented people I have gotten to work with.  All of that is getting rolled up into this Design Studio. It is a joy to be here each day and I can't wait for you all to stop in.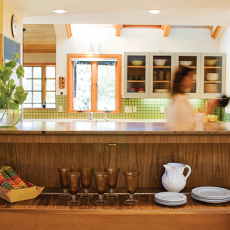 As a great synthesizer of both people, places and things, what do you see as some of most powerful benefits for the Ashland Design Studio?
It's kind of like the cook that is only as good as the ingredients they use.  I have been fortunate to meet, work with, and support some incredibly talented craftsman, contractors, builders, and designers.  The Ashland Design Studio is where unique resources can be found and explored to create even more unique ideas. Part of my daily routine is to respond to all the calls and emails that I get from all kinds of random sources, "Do you know a guy who can…? Have you ever heard of something that will do such and such?  Where can I find that thing I just saw on some magazine?"  If I don't have the answers it sure is exciting to help find the person that does.  I like that my life has had so many twists and turns.  Each one brings new discoveries to share.
Finally thank you so much for bringing this wonderful opportunity to Ashland. Would you like to share any last comments with our readers?
Thank you for making this platform available to our community and to the local businesses.  I hope the Ashland Design Studio can also make a positive impact for this community.  I'll leave with my favorite quote, "The world is always ready to receive talent with open arms."
Learn More:
Julie O Design
Ashland Design Studio, 287 4th Street, Suite #1
Julieodwyerdesign.com
541-488-6843