2Yoke Design is a multidisciplinary design firm specializing in residential and commercial interiors that emphasize wellness and financial prosperity for both the home and workplace. 2Yoke Design believes that well-informed interior design has the potential to foster a deeper connection to the built environment; one that is supportive to the dreams and goals of its inhabitants. Their design philosophy is rooted in the expression of natural materials and organic, place-based design solutions, that support those striving to secure optimal health and sustainable wealth in their lives. Their full-service design offerings include: architectural & interior architectural consultation, custom furniture & lighting selection, event design, art consultation, color consultation, finish material selection, furniture procurement, personal shopping, project management, staging & styling.
2Yoke has offices both in Ashland, OR and Brooklyn, NY and has recently completed two projects at the Cowhorn Vineyard and Garden, a Biodynamic™ vineyard located on the Applegate Wine Trail of Southern Oregon. In this interview we speak with Brienne Wasmer the founding Principal Designer at 2Yoke Design about how 2Yoke can help enrich your path of wellness and grow your business.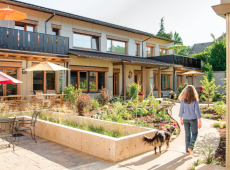 Hello Brienne! Last time we spoke, you were completing design work at the Cowhorn Vineyard and Gardens, in the Applegate. How do you feel about the outcome of that project?
We are excited to report that the June opening of the Cowhorn Tasting Room was an enormous success! We worked in collaboration with the project team, including the owners Barbara and Bill Steele, to create an elevated wine-tasting experience for members and guests. Some patrons have likened the experience to visiting a gallery space, where the Biodynamic™ process of winemaking is showcased as a rotating collection of High Art.

Our design efforts in the Tasting Room are ongoing, as we continue to integrate the core design vision of a visually compelling, sustainable and toxin-free environment, now fully realized in the interior architecture, into other aspects of the vineyard's persona—such as web identity, event planning, artwork display, signage and educational materials.

We have also had the pleasure of curating the finishing touches in the Cowhorn Vineyard Estate Residence. In 2014, our team began working with the owners to select warm, nature-based materials to complement the classic, captivating fixtures that came to define the space. The interiors were fine-tuned with artwork and decor that fully reflects and supports the sustainable, unified lifestyle and ideals of the vineyard. We are looking forward to the residence being featured in the December issue of 1859 Oregon's Magazine.
We discussed the underlying ethos of your firm being wellness design, bringing healthy habits for the body into a supportive built environment. Brienne, what specifically brought you to this "health-centric" focus in your design work?
My special interest in supportive, healthy spaces, began in my late teens after my father was diagnosed with an aggressive terminal illness. Over the course of his treatment, I was exposed to many healthcare environments, ranging from the typical sterile hospital room and bleak doctor's office, to alternative health clinics, each branded with their own unique messages. I couldn't help but notice the impact these spaces had on their inhabitants —patients, loved ones, and health professionals. While certain lighting conditions and color applications lent themselves to enhancing health and wellness, for example, others worked against this goal. And in some of the worst of cases, the lack of thought put into design seemed to aggravate the healing process which is counter productive, to say the least!

In college, finding a path through grief, I sought self-care through yoga and other alternative health practices. As an architecture and design student, I gravitated toward sustainable design solutions that support not only the natural world, but also the well-being of humans in indoor environments, where we are said to spend nearly 90% of our time.

To this day, I am awed by the parallels between good spatial design and good health. Just as we can create mental, physical, and spiritual blockages in our own body and may seek to open and flush those energetic channels, the built environment may experience similar energetic conditions. Most folks will tell you when they feel good or bad in a room, but they have a difficult time pinpointing the reason for discomfort, let alone identify the design strategies needed in order to shift the mood of the place. I find it fascinating to identify and correct these spatial dynamics.

The transformation of space, using strategically-placed architectural features, color, furniture, etc. is an exciting process, the aftermath of which resonates with all who come to inhabit the space. We are committed to helping people achieve their objectives, and approach the design of physical space as a powerful method of aligning clients with their goals. Over the years, we have been honored to design health-conscious homes, yoga studios, wellness and health clinics, farm-to-table restaurants, ergonomic workspaces and co-housing communities.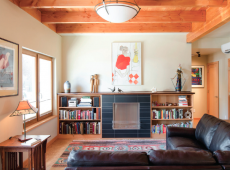 Southern Oregon has a generous number of alternative health practitioners. How do you see 2Yoke addressing the needs of this community?
There are nearly one hundred listings for alternative healthcare practitioners in Ashland alone, and 2Yoke Design is excited to serve this community. Working on the Breathe Building, an Earth Advantage Certified community health center in SE Portland, offered us the opportunity to curate a holistic expression of Wellness Design that encompassed multiple businesses, including Portland's largest and most sustainable yoga studio, an alternative healthcare clinic, childcare facilities, and the Fern Kitchen, a farm-to-table cafe. Through this project we helped realize a synergistic creative approach, resulting in a unique integration of sustainable design and construction, paired with yoga and wellness.

Fern Kitchen's core tenet is a commitment to provide grab-and-go options for busy people that are want healthy, locally-sourced, and lovingly prepared food. We ensured that the circulation leading to the pay station was informative, made food options easy to navigate, and saw that the company ethos was clearly communicated in a flexible showcase wall, featuring baskets of rotating seasonal fruits and vegetables, along with credits to the farmers that grew them. In this manner of composing the signage, along with the other interior considerations, we often bridge the gap between graphic design and interior design (commonly referred to as Environmental Graphics), which ultimately contributes to the success of a business.

On a larger scale, we enjoy conceptualizing how these seemingly practical design and construction moves can have a larger impact on community health. When we streamline and balance the circulation or energies within a space, for instance, we put the people within it in a more comfortable and supportive environment. They are then able to carry that good energy into their day, into interactions with other people, and into the world at large. It is our belief that simple and healthy design principles can, and should, be the foundation for all built environments with conscious decision making and deliberate intention underlying all decisions.
In regards to established alternative health care professionals, or other small businesses with little capital to finance aggressive renovations, how would you advise them to move toward with a more health-enhancing environment for their clients, customers, employees, and even themselves?
Fears about the economy and viable financial restrictions should not inhibit people from re-envisioning their living and workplaces. Our company recently assisted Yoga Union, in SE Portland, to put together volunteer events to ameliorate costs and secure reclaimed materials, which aligned with both their value system and the budgetary requirements. Simple changes, like color choices, furniture procurement and placement, and the consideration of feng shui and vastu principles, can make a huge difference in how people work, play, create, and heal within a space. We have transformed living and working spaces for people with big and small budgets alike. Each project, regardless of its size and scope, is an opportunity to put our skills and passion to work for the betterment of the community as a whole.

Additionally, investing in professional design services often leads to increased business revenue, as customers or clients are more likely to frequent your establishment, recommend it to friends and effectively grow your business. The relatively moderate costs associated with intelligent and well-informed design, can lead to substantial payback in the long run. Moreover, 2Yoke offers design services to all non-profits and small businesses within the Health and Wellness community at a discounted rate.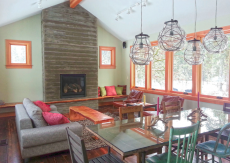 How do you see your firm's ideology informing the design of residential spaces?
As we discussed in our last interview, the home is a person's most vulnerable and authentic space. We see the design of the home as a profound opportunity to best express and care for oneself. Our work strives to design living spaces with a focus on protecting, nourishing, and inspiring the people who love them. In residential design specifically, our approach is likely to address one or more of 2Yoke's healthy home requisites: optimized indoor air quality (effective ventilation, filtration and moisture control), access to safe and clean drinking water, provisions to support proper nutrition & fitness, appropriate and comforting electric light with positive effects on circadian rhythm, visual acuity, alertness, mood and cognition, thermal and acoustic comfort, and mental ease.

The last principle, mental ease, is the most customizable to suit the unique needs and tastes of the homeowner and can result in a wide-range of design strategies ranging from an in-home meditation space for one's emotional health to a state-of-the-art security system that serves to put worry at ease. We are especially fond of providing access to fresh air, natural daylight, and vistas to nature as they represent low-cost design strategies that have long term health and happiness benefits. The above standards, coupled with our commitment to wellness, manifest in living spaces that complement and support the environment, differentiate the property from the commonplace, increase financial value, enhance health benefits, increase energy, creativity, productivity and promote restful sleep.

On a larger scale, we are conscious of changing demographics in this country, and more specifically, at home here in Oregon. New building types and development practices, more specifically that of residential design, are not conceived in a vacuum. The housing evolution is informed by the socio-economic changes and trends within society. For example, in Ashland, the median age is 42 and 17.6% of the population is 65+. In Medford, the median age is 43.9, with the 65+ population at 18.4%. As baby boomers begin to age, their goals and desires shift toward financial and familial concerns. Alternative views of retirement are being analyzed and weighed, which is creating a trend toward communal living, multi-family and shared housing in the population.

One example of this alternative approach to retirement communities, is the Ankeny Row project in SE Portland, which 2Yoke Design provided architectural consulting and interior design services. The six-unit urban infill project in SE Portland features the latest trends in urban green living and cohousing. The Cohousing Association of America defines cohousing as following:

"Cohousing communities are intentional, collaborative neighborhoods created with a little ingenuity. They bring together the value of private homes with the benefits of more sustainable living. That means residents actively participate in the design and operation of their neighborhoods, and share common facilities and good connections with neighbors. All in all, they stand as innovative and sustainable answers to today's environmental and social problems."

Together with the late architect Daryl Rantis, 2Yoke composed interiors, for each of the six homes that meet the highest standards in green design. Every home is Earth Advantage Platinum and Forest Stewardship Council COC certified. Additionally, all of the buildings are designed as Passive Houses, meaning they will produce all of their own energy from rooftop solar arrays, allowing them to use Net-Zero energy. The residents of Ankeny Row share similar values with 2Yoke and were eager to extend the intention of sustainability into the character of their homes with carefully-selected furnishings, plumbing and electrical fixtures. We guided each owner individually through the selection process to ensure these items reflected this communal vision, as well as their own style.
What other trends are you seeing in the residential market?
As the baby-boomer population ages, many are exploring early or semi-retirement options. One brilliant and popular solution to address these trends is for individuals to invest in existing residential properties to create shared housing with other like-minded individuals. Alternately, you see many people converting existing garages and basements into viable rental properties, or ADUs (accessory dwelling units, also known as an in-law apartments), thereby generating passive income to fund semi-retirement or early retirement dreams. Typically, that same baby boomer population considering semi-retirement also has a watchful eye on the care of aging parents. ADUs are a wonderful way to meet this growing need, as well as increase the value of one's home investment in the process. The supplemental accommodations tend to be smaller than 800 square feet and can greatly benefit from providing indoor-outdoor connections to make the rooms feel larger, as well as detailed consideration and planning of furniture and storage, so as not to overwhelm the small spaces.
Can you give us some examples of the considerations and benefits that go along with "building small"?
Absolutely – a couple of years ago, we dove head first into the puzzle of compact living on a project where the owner, a recent empty nester, decided to construct a detached ADU that she would move into in order to rent out her 3-bedroom home for a significant profit. The catch was she not only wanted to move herself, her partner and her dog, but also her home business, a very successful online jewelry company! 2Yoke Design was able to organize the architecture of the 750 square-foot space into a living space, including a kitchen, dining lounge, bedroom and 1.5 half bathrooms, as well as a full-time metalworking shop. For most of the year, the owner needs to host up to four workers in her cozy creative space. Suffice it to say, every inch of that space had a specific purpose and was planned for with great detail to serve her needs.

In a current project of ours, a middle-aged couple with grown children and the owners of a large turn-of-the-century home in the valley, have contracted us to convert an existing two-car garage into a viable rental property for the short term. The long-term vision is to designate the in-law unit as dwelling unit for their aging parents, when needed. They see the passive income from the ADU as additional funding for their planned early retirement, and hope to offer caregiving alternatives to aging parents, with future assisted living needs. The planned interior architecture and finishes throughout the ADU, although generating a more European space-conscious feel, will parlay eloquently to the adjacent Old World parent building. We are very excited about this trend, as it fits within our heart-centered approach to architecture and design, and allows us to support families when moving through these life stages with graceful intention. We look forward to counseling others on how best to take their current investment in their homes and optimize it to create passive income short-term, along with options for future retirement and familial care-giving.
Brienne, why did you choose to settle in Southern Oregon and how do you see 2Yoke Design contributing to the overall design industry in this region?
After graduating from University of Oregon with a Bachelor Degree in Architecture and a Masters of Interior Architecture, I was asked to join a mid-sized firm in downtown Portland, OR. Many years later, and to my surprise, I found working long hours behind a desk, which was located in a basement with little access to daylight, to have a deadening effect on my creativity and general well being. I began exploring Eastern philosophies of medicine and spatial planning. Once I learned the power that design, especially interior design, can have on our daily experience of well being, I knew that I had found my calling. I began to devote my talents and energies to optimizing health and wellness in the built environment. 2Yoke Design emerged during this dynamic period along with new professional opportunities, ones that would allow for more fulfilling personal growth.

After several years in Portland, and countless trips through Ashland on business, it became clear that Southern Oregon best aligned with not only the company's ethos, but my personal passions and lifestyle. After that realization, I made the decision to base our company here and, years later, I am so proud to call this sweet spot on the map my home.

Southern Oregon has not been immune to the migration of people to the Pacific Northwest, and 2Yoke is eager to contribute to a positive path for growth. We seek to preserve the qualities which make this area attractive to new and existing residents alike, recognizing that change is on the horizon, both commercially and residentially. The opportunity to meld a high quality of life with inevitable progress is an exciting, albeit, challenging prospect. There is a strong sense of place and identity here, and local designers, builders, engineers, and contractors alike are working together with a common respect to preserve the spirit of the place. We are honored to be part of this community and invest ourselves in building a future for Ashland, and surrounding communities, that maintain its charm and accessibility, yet fosters innovative ideas aimed to sustain healthy growth in the long term.
What do you see as the benefits and challenges for your firm being based out of Ashland, OR?
As with many small communities, working in Ashland presents small hurdles, mainly relating to the seemingly limited availability of goods and talent. With offices on each coast (Ashland, OR and Brooklyn, NY), we are uniquely positioned to overcome these challenges with ready access to a wide variety of materials and resources, including direct access to emerging products within the industry. Our far-reaching network of vendors and tradespeople spans from San Francisco, to Portland and the East Coast. That said, we are committed to using local materials and trades, whenever possible, and we aim to consciously stimulate Southern Oregon's local economy. Additionally, the local trades we work with (custom glass, upholstery, millwork, metal work, etc.) can get booked out quickly these days. We are always on the lookout for new tradespeople to add to our pool of references. We are savvy, resourceful, and not shy about encouraging collaboration and information sharing. With the help of our extended network, we can successfully navigate the seemingly shallow waters of local supply to reveal the hidden gems just below the surface: tile, lighting fixtures, furniture, upholstery, art and decor. The hunt is the fun part!
Can you give us a brief description of one of your current projects, and tell us about some of the design considerations you have offered your client?
One of the up and coming projects we are most excited about it is an office space for a non-profit organization whose mission is affordable student housing. Because this office will be occupied by professionals and students alike, we have the opportunity to present a playful and engaging material palette that reflects the brand, the ethos, and the spirit of a mixed-needs community. We are fortunate to have yet another client that sees the value in prioritizing green products, such as eco-friendly carpet, natural cork flooring and reclaimed furniture.

Additionally we are taking this newly branded company and merging their identity with the tactile and interactive environment. Their brand is suggested through use of the color blue, which weaves its way around the office, showing up in unexpected ways, such as the inside of a cabinet, to elicit a delightful surprise and reinforce the company's enthusiastic office culture.
I know your firm has enjoyed sustained growth over the past four years, and you mentioned projects in Portland, Southern Oregon, San Francisco and throughout the United States in our last interview. How do you plan to grow your business in Southern Oregon, specifically?
We are pleased to announce the opening of our new 2Yoke office downtown! Designer Julie O'Dwyer has invited us to join the collaborative workspace at the Ashland Design Studio. This move provides us with an amazing opportunity to learn, collaborate, and share resources with a well-respected community member and colleague. The space doubles as a resource center for the local architecture and design industries, as well as the perfect creative environment to continue the growth of our company, design vision, and brand. Likewise, through our existing local projects, we have had the privilege of working with so many wonderful and talented people with focused design visions and core values that reflect our own. We aim to maintain and grow those relationships, as we add more families and businesses to our ever-growing community.

As part of this effort to foster community with our work, in 2017 we plan to launch an educational component to our services. We aim to hold workshops & lectures for and with the community, and to incorporate wellness design resources into our website. We are excited to start the process of implementing new and modifying existing community outreach efforts, so that 2Yoke may better share our talents and continue to be an active, positive force in the design community, on both small and large scales.
What is the next step for readers who would like to learn more about your design offerings and involvement in the community?
Our office, housed within the Ashland Design Studio, is located at 287 4th Street, in the historic Railroad District. The Studio will be open for festivities during the upcoming First Friday Artwalk, on December 2nd. Swing by to discuss your design project, or to enjoy some refreshments, local artwork and good company. Additionally, Brienne offers weekly Restorative Yoga classes to the community through the Rasa Center for Yoga & Wellness.
Learn more:
2Yoke Design
Ashland Design Studio
287 4th St, Ste 1, Ashland
(503) 754-9945
Web: www.2yokedesign.com
Instagram: 2yokedesign
Facebook: www.facebook.com/2YokeDesign