Conveniently located on bustling 4th Street, next to Noble Coffee, the Ashland Design Studio has been created as a resource space for new home design, remodeling and renovation. Opened by building and interior designer Julie O'Dywer, the space provides valuable access to local building, craft, and trade resources. From choosing a local wood worker, contractor, or architect, to seeking finishes, fabric, and furnishings this is the new place in town. Expert advice and referrals are on hand to assist you in getting the best results possible. One of the most challenging aspects of her work is that because of its private nature much goes unshared. And while one can read and look at design magazines and websites it's not until you have the opportunity to work with an expert that things begin to change. 
Having relocated her design firm to Ashland 14 years ago, Julie O'Dywer brings with her an exquisite blend of visual aesthetic mixed with elegant form and functional balance. She is an actualizer, with a special skill of being able to take multiple streams of creativity, then merging them into one final experience/ creation. As much an artist as a designer, Julie O brings out the best in all her work… and her clients. 
Julie received her architectural degree from the University of Arizona with an additional year at the Royal Academy of Architecture in Denmark, then spent 15 years working and traveling for some of the top architectural and design firms on the East Coast. In the early 90s, she relocated to San Francisco arriving at the right time and the right place to start the growth of one of the Bay Area's top design firms that would go on to lead the dot com interior design revolution. She has worked with corporate and private clients from around the world. While up until now much of her work remains privately guarded for her clients alone, you can now step into the Ashland Design Studio, a space dedicated to bringing out the best design the valley has to offer.
Julie, it is great to speak with you. It sounds like you have had a busy year.
Yes, it has been: professionally, personally and with my community. Being part of this rich fabric of Ashland opens up many avenues for my skills and talents. I love that I get to share that with your readers.  It is always enlightening to reflect back on what you have accomplished and where you want to go next.

Personally, I have watched my two daughters grow into amazing young women, professionally my business is making an significant impact on the local building and design industry, and my involvement in many local organizations like, the Board of Directors for the Ashland Food Coop, Architects in Schools, AIFF and the Splinter Group, keep my schedule very full. I think it is important and rewarding to be part of many organizations that make Ashland a great community.

I started the Ashland Design Studio three years ago and is has not only become the home base for JulieO Design, but many other design professionals. The resource library is used by building professionals, designers, architects and homeowners to expand their knowledge and access to both local and national sources for products, materials and people. We are so glad to have become a fixture in our neighborhood as part of the hub of the Railroad District. I plan to be here for many years to come.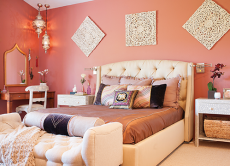 You also just received a design award for one of your local projects. Tell us more about that.
I am so excited to represent Southern Oregon and our design community with the Structure + Style Award for Best Interior Design of an Entertaining Space. Most of the award recipients were from the metropolitan area of Portland or Salem. It is great to have the talents in our area be recognized on a larger platform. Local architect, Carlos Delgado, was the other recipient from Southern Oregon, and I am proud to be in such great company.

My project was pet named "the Man Cave." The project started when my client asked to have a getaway room designed specifically for a restored vintage billiard table and his other interests. That seemed unique enough but then we had to layer into the project a wine cellar, TV lounge, guest room, and storage… oh and some really unique works of contemporary art! The room was a semi-basement so we embraced the cavern and made it as rich and luscious as we could imagine. The walls are clad in barn wood and suede paint; the ceiling is painted copper; the floor is cork to reduce sound; the doors were made from old wine barrels and antique leaded glass; sliding barn doors were clad in recycled steel that revealed closet storage for guests; and each piece of furniture is unique unto itself including a velvet tufted, sleeper sofa and antique leather club chairs.  

The project was filled with one-of-a-kind objects. A bar table made from wine barrels, a lamp made from a vintage toy truck, curtains made from french embroidery panels, window sills and shelves made from salvaged wood, and a family heirloom brass bed frame that became a work of art.  We even custom designed a cue rack from a turn of the century brass garden fountain. All of these made and sourced locally. Coleman Creek Construction, Raven Woodworks and Basilica Industrial were part of the project team and helped bring my vision to reality. I am so proud to have all their hard work and talent as part of my team. The project will be featured in the October Issue of Oregon Home and will be featured on my Houzz website where you can see the before and after photos as well.
What other types of projects have you been working on?

My projects seem to always run the gambit from commercial to residential to one of a kind. Each one is an opportunity for me to bring a unique vision to life for the client. The projects go from small: custom designed pillows; to large: design for a million dollar nightclub in a casino complex in Arizona. Currently, I am working on a restored Victorian home that will be a clinic but keeping its homey feel; a couple of major kitchen remodels raining from budget conscious to a chef's dream come true; a new entry deck and patio that will update the architecture of a modest track home; a master bedroom expansion for the needs of an aging couple; and a full house remodel that will take the house down to the studs and update all of the finishes and fixtures. My expertise in "Man Caves" is also continuing with an "Irish Pub" that is being completed in a home in Medford.

Even with all of these projects, I still like to help out the home owner that just needs a little advice.  What color to paint their home?  How to best layout a family room of furniture? Or finding the right window covering that meets all their functional and design needs.  Good design advice is always worth the time and money.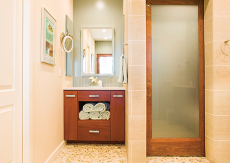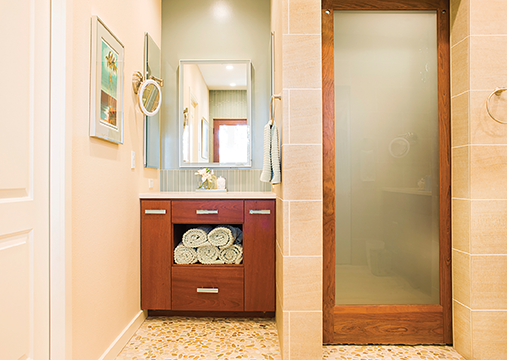 Much of your work is very unique. Where do you find the materials you work with?

Sourcing materials and products is one of my biggest challenges.  Southern Oregon does not have many of the design sources or showrooms that you can find in larger cities.  I travel frequently to Portland, the Bay Area, and multiple trade shows, throughout the West, each year to stay on top of the treads and sources for design.  We are limited in some ways here by what is commercially available but there is a wealth of talented artisans and craftsmen.  

In each of my projects, I focus to bring into the team, people that care deeply about quality and design. I use local artists to add a one-of-a-kind approach, or to create a unique piece that will never be duplicated. Our Northwest region is home to so many amazing materials and products and it is important to utilize and showcase them in my designs. In each design project, the emphasis is to bring out the true character of the materials and a deeper appreciation for the use of the object or space. I strive to make sure that not one of my projects looks like you could just order it out of a catalog.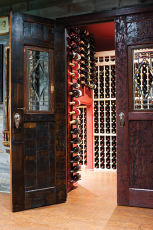 JulieO you do both commercial and residential projects.

Yes. My design background is primarily in commercial architecture. I studied Architecture with a minor in Environmental Psychology in school and have used those studies as a basis for my design of spaces for people. My work included office spaces and buildings for law firms, venture capitalists, research scientists, businesses and educational institutions. Design is as much about the physical space as it is about the perceived space. I have been fortunate to have worked on projects of all scale and size that focus on both.

Each design project is a challenge of melding the physical constraints, functional needs and esthetic vision of the client. A successful project is one that creates that special blend seamlessly and with a touch of inspiration. Commercial projects can have a larger impact but residential projects make each decision personal. I love them both.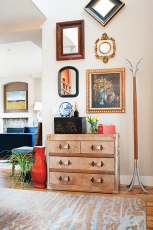 What are some of your signature trademarks you have become known for? 
I really don't have any design trademarks, so to speak.  I work for my clients and help them to bring out their vision in a way that is comprehensive and unique.  I want each project to reflect the client, not me.  It is their home and they should feel that in every way possible.  

My designs have become recognized more for how I incorporate all aspects of design into the project.  From the structure of the building to the feel and touch of the materials.  With years of experience as an architect, I design each space to work functionally, structurally, and esthetically.  My designs incorporate planning, materials, products, lighting, views, energy efficiency, durability and most importantly a sense of beauty.
How does the project process work with you and your clients?
The first step is making sure that client, project and I fit. Each client has different needs and wants and hopefully I can meet those but sometimes they just need some small design help and then referrals to a crafts person to complete the project. Other times a whole team may be needed to accomplish the project and I look to my most reliable design partners to help make the team successful. This can be the builders, crafts people, other designers, architects, engineers, and/or consultants.

Helping match the clients needs and wants with the contractors, constraints of budget and time can be difficult. After working in this business since I was a kid, I have been on job sites large and small and have learned to understand that both the owner and the builder have issues that need to addressed. Really great design projects come from the experience of working together as a team and utilizing the talents of each part of that team.

I start each project by asking the client a lot of questions about what has been decided and what they want to achieve. Do they know their budget and time constraints?  Do they have a clear design vision or are they open to being inspired? Is this their forever home or do they have short-term goals for the project?  Who will be making the decisions and approvals so that our communication is clear and consistent?  What makes them happy about the project and what do they have concerns about?

Once we have a clear scope of work and some preliminary information about timing and budget, I develop a proposal that outlines the phases of the project with the deliverables and an estimate on the time and fees.  Each project is unique in its scope so some can be accomplished by just utilizing my time hourly and some projects need a more detailed plan to completion.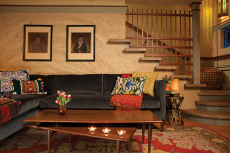 You are a unique blend of both interior designer plus architectural designer.

I prefer to call myself an interior architect but most people don't understand what that means. Interior architecture is a holistic approach to space. Incorporating the building systems and structure with the functional and budgetary needs and then layering on good design knowledge of materials, finishes, and products. The spaces we inhabit and create are multi faceted and benefit from expertise that understands all of the complexities. My role is to understand all the facets and get the best experts involved to solve the problems.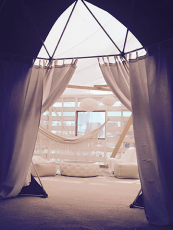 Please tell us about your favorite types of projects.

I love projects that stretch my imagination and inspire people with awe.  My Dome of Fulfillment project for Burning Man last year is one of those kinds of projects. It started with an idea and then developed into a space that stopped people in their tracks. We created a series of interconnected pavilions that were used as an oasis in a place that is challenging to be in and to build at.

The front pavilion was wrapped in alternating panels of wood and mirrored glass and then topped by a white tent roof.  This pavilion was the entry and was inspired to create a sense of calm and tranquility in a chaotic environment. The interior was white, from the roof to the floor. This not only created a sense of serenity but blended with the expanse of the playa beyond.  The mirrored panels gave the occupants a view to the outside but shielded them from the eyes of a passerby. In the night, these roles were reversed and the occupants became the visible scenery to everyone that passed the pavilion. My greatest compliment about this space was that every one that entered started to take their shoes off because they felt is was a sacred space.

The rear pavilion was an expansive golden dome. This was the beating heart of the project. It was open to the geodesic structure that was mimicked with a cascading light sculpture in the center. The walls were used as projection screens for a changing display of digital art that pulsated to music and the energy of the people that gathered. Everything from morning yoga to healing sessions to late night dancing happened in this space. It was constantly filled with people and yet never felt compact.

This project was the result of the work of some amazing locals: Dome Guys, Brooksea Construction, Lake North, Basilica Industrial and some amazing Burners that worked tirelessly to see it come to life. You can see more photos of this project on my Houzz site.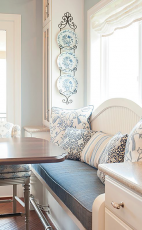 Julie you've always been a huge advocate for supporting local and incorporate this into your business in many ways. Please say more. 

I think supporting local businesses and crafts people is one of the most important things I can do as a small business in Ashland. I not only utilize their skills and products in my projects but I refer them to people that want to have something really special for their own project. Supporting local art, music, crafts, food, materials, and talent always comes back tenfold. I couldn't do most of my amazing projects without a lot of help and skill.  And they are a lot of fun to work with!

I hope that your readers come stop by and see more about what I do and how I can help lead them in the direction to solve their design needs…or just stop by and have a cup of coffee on my front bench!
Learn More:
Julie O Design
Ashland Design Studio, 287 4th St. Suite #1
www.julieodwyerdesign.com
(541) 301-5234