Interviews
Mark & Andrea Hutto – J. Austin Coin & Jewelry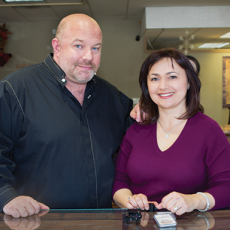 Mark and Andrea Hutto are second generation coin and jewelry dealers located here in Ashland, Oregon. Their store J. Austin Coin and Jewelry specializes in gold and silver bullion, collectible coins, diamonds and high-end watches. They also sell a variety of fine and vintage jewelry.  This year marks their third year in business here in Ashland with a combined 34 years of expertise between the two of them.
Together Mark and Andrea have traveled the world making it their business to deliver the highest level of customer service to their clients. What is the secret to their success? How do they navigate the often difficult world of coin and jewelry buying? And why is establishing trust and credibility always of the utmost importance?
Hi Mark and Andrea, thank you for doing an interview with us today. Since we last spoke you have opened a new shop in Grants Pass, and the Ashland store is approaching its third anniversary. What else has been going on?
Yes we are very happy with the Ashland store and its success. Many local people as well as out of town travelers have visited and done business with us. Since we last spoke we have begun to offer gold and silver bullion investments to the public as well as more services related to jewelry and we now offer some of our wholesale diamonds to the public. In the last year we also became NGC certified coin dealers allowing us to have third party grading on more substantial coin collections for sale as well as being able to offer this service to the public.
What has customer feedback been as they get to know the two of you and begun to do business with you here in Ashland?
We have many people walk by the shop and wonder what we do. We try to make it obvious with our exterior signage but our neighbors tell us that people still inquire. Traffic in the shop is good, so this means word is spreading. Once a customer who has been buying or selling at another shop comes into ours, they generally stay for many reasons. We are very respectful to our customers and are comfortable answering their questions. Many of our clients have no idea where to start and need some help. Also, people find us not only to be friendlier than the shops in Medford, we pay more and offer more services. Our process of determining an item's value is very transparent. This builds trust and repeat business.
What are some of the biggest differences between doing business in the two communities?
Grants Pass is interesting – a bit wild west in the county, with every man or woman for themselves, but I have noticed people there are a good judge of character and can make decisions and can discern when someone is being honest or not. It makes it a great environment for us. Ashland is a wonderful city and I don't say this out of criticism, but some people here tend to be more distrustful than in the rest of the valley. Many of our customers are earned by what we call the slow grind, where a customer comes in two or three times and prices us then wastes their time and gas going to Medford to price them. Once they have settled on the idea that we are just as good or better, they become loyal. The fact is the larger cities are almost always less competitive. Also here in Ashland you are more likely to be dealing with a shop owner which adds to the experience and knowledge base.
I had not considered this before, in-fact I had assumed the opposite. I think it is very interesting and I can respect your stance on this as a local business person. It certainly takes trust from all sides to create prosperity and build long term relationships in a local community.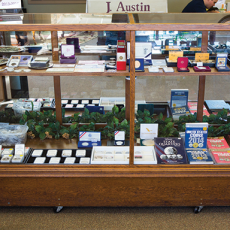 It is very competitive out there so we stay up to date on prices to keep us competitive not just locally but at a national level. Customers often do not see the insanity of driving around as being counterproductive so you can't just match what they pay in Medford, you have to pay more and sell for less so any person will find it worthwhile to see you when they get back. If you are only the same, they will simply sell it in Medford once a Medford shop confirms we were in fact telling the truth regarding value the whole time.   We find it a little humorous that while some Ashland residents choose to drive into Medford to do business we have many loyal and happy customers from Medford and even Central Point, who drive out to Ashland to see us.
Andrea, what is your process when working with customers and establishing trust?
The key to any business is just be honest. Be fair with people and the trust element will establish itself. We have been in this business for a long time, so we understand the importance of it. My co-worker Sarah and I love educating the ladies on how to invest in precious metals or teaching them about coins. It is very gratifying to see that not only men, but women from all age groups are taking charge of their own finances.
Mark, coin collectors can be interesting individuals. As you have had the opportunity to get to know them, would you mind sharing any funny or unique stories with us?
I have a friend who used to buy silver on the cost average basis, meaning he made his purchase spread out over years to average out his costs. He started buying silver coins with half of his monthly income over a decade and a half ago (about $2000). When prices jumped he found himself sitting on over 3 million dollars. He sold near the top of the market, so he actually made money instead of just protecting against inflation. Most buyers don't do this, they simply buy and hold.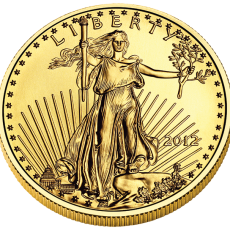 Mark, what's the deal with bullion? About a year and a half ago we were up in the $40 per ounce range and now we've been hanging at around the $20 per ounce level.  
In 2013 the metals market was over-sold. The price right now could be a good opportunity for buying, but I always suggest never buying more than you can afford. This keeps you from being forced to sell if you have a difficult month financially. Most customers we advise to only spend their extra income not their core income. Metals are a protection against inflation or other economic catastrophe, they are not an investment. That said, I think a position of 1000 ounces of silver is rather conservative and I myself set it as a minimum goal when I was in my 20s.
Last year we published a little story about a local $20 double eagle gold coin from the late 1800s that had been dug up in a field outside of Ashland. What other interesting treasures have you had come through the door recently?
We recently had a cousin of Winston Churchill's come into the shop to sell some items from his family estate. We were given permission to use their connection to Churchill for this story. The family itself is from New York and has many connections in the diamond world, but they chose us to sell their stone, a 3.2 carat antique cushion cut diamond first given by his Great-Great Grandfather a Steel Baron who lived on 5th Ave. The diamond was badly damaged from over a century of use and needed to be re-cut. The final product was a 2.7 carat diamond that closely resembled the original. The customer gave us a book outlining his family history and from that we discovered the lady who wore the stone first dined and traveled with the nobles of Europe until the outbreak of WW I.
Let's talk about Diamonds. I'm not sure that everyone knows yet that J.Austin is actually a great place to buy and sell diamonds. In fact, if I am not mistaken…someone just got one as a special Valentine's Day gift…. hint-hint?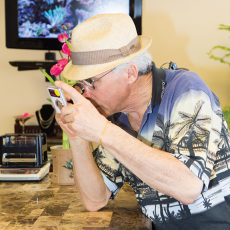 Well, I wasn't going to mention this part, but it was quite thrilling watching my wife Andrea oversee the process of having a diamond repaired, G.I.A. certified, and finally set into a Tiffany style solitaire so that she could properly market it – only to watch her face when I told her I wanted her to have it! You see we were both students when we first met, so we got married with simple gold bands. I had never been intrigued enough by any diamond – until this one came along – to consider giving it to her. Andrea was quite humbled by the gesture, but she told me that the most special part was not the size of the diamond, but how much thought I had put into picking the right stone.
How about watches?
We purchase Rolex, Omega, Patek Phillippe, antique pocket watches and finer gold watches. We also offer watch repair and servicing.
Mark, if someone has something valuable that they might want to sell, where do they start and what is the biggest mistake people make when beginning the process?
The biggest mistake is not having a game plan on selling an item. If you are just walking in to see what it's worth but don't have a figure in mind, you might be wasting time. If you are still attached to an item, we will actually not buy it from you. It is not our job to convince people what to do with their valuables; we are here to offer the service of buying. If you ask us if you should sell something we are going to ask you if you are attached to it or whether you use it.  It's a simple question with a simple answer. If you have an old sterling flatware set you like and you don't need the money, please don't sell it. If you are not using it and want the money out of it you might decide you want to sell it, but have a concrete plan that is respectful of both your time and our time. You can investigate any items value online, everyone in the world knows about eBay, including us. I see this as a common mistake where a person might think we have no clue eBay exists and bring in a collectible item that sells there for $1 hoping we will give "Antique Roadshow" prices. On the contrary, if it's selling on eBay for $1000 we assume you know that and make the offer accordingly. The big eBay catch is you need to look at closed auctions with bids to get a final price.  The asking price on an unsold item is rather meaningless. With many watches and gold jewelry items and especially diamonds people fair better at our shop than online. If they didn't we would not be doing as well as we are.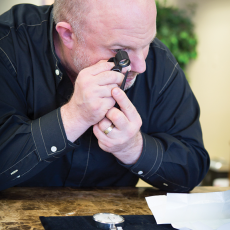 Any favorite testimonials or interesting stories you might want to share with our readers?
We had a customer who did some spring cleaning and brought in several items to sell. She thought she would get some extra gas money for an upcoming trip. Let's just say, she walked away with much more than a tank of gas, because we paid her what her items were worth, not what she was willing to settle for. We love to surprise people with great news.
Last but not least… You guys have hit the ground running here in Ashland. What have you enjoyed most about being business owners here in Ashland?
We love our neighbors! It has been so much fun being next door to Sauce Restaurant, watching Tara and Brad's business grow along with our own – there is a lot of crossover, we actually have customers who combine their trip to our store with eating lunch next door. It is also great being in a town small enough where our Chamber members have the time to come in and say hello regularly.
Oh, I almost forgot to ask you about jewelry repair.
Absolutely, we do that too. We offer same day cleaning and free repair estimates. Whether you need a simple ring sizing, a more complicated antique jewelry restoration, or you want to design a new special piece, just come in to our shop – we are two doors down from Radio Shack in the Ashland Shopping Center.
Learn More:
J. Austin Coin & Jewelry
1642 Ashland St. Ashland
541-482-3715
http://jaustinco.wordpress.com/