Interviews
J. Austin Coin and Jewelry Celebrating Six Years in Ashland!
Now celebrating their 6th year in Ashland, J. Austin & Company have distinguished themselves as Ashland's Premier Gold and Silver Bullion dealers. Offering competitive pricing with a vast depth of numismatic knowledge, the company works with locals from all around the region. They are an internationally renowned diamond brokerage registered on Dun & Bradstreet and hold numerous certifications from the most prestigious organizations in both the coin and diamond industry. J. Austin & Co. also purchases scrap gold, sterling flatware sets, and silver jewelry as well as antique photos and original early American artwork. Located in the Ashland Shopping Center next to Sen?r Sam's the company is locally owned by Mark and Andrea Hutto.
We met with Mark and Andrea to catch up and to hear more about the unique advantages and position that J. Austin has earned themselves here in the valley.
Hi Mark and Andrea, thanks for taking the time to speak with me today and congratulations on celebrating your sixth year here in Ashland.

Andrea: Thank you for your continued interest in our company, and thanks to our ever-growing loyal customer base! I really enjoy working in Ashland because we meet so many interesting people from all over the country as well as many parts of the world.  Most of our clients find us through our participation in the community and recommendations from their friends and family. 

Mark: We appreciate their support of our business. Local support has allowed us to expand our shop to include many more services.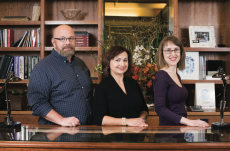 How has competition in the valley enhanced your business?
Our reputation is critical to being successful. We are thrilled to have earned the trust of the local community through providing the highest customer service blended with the best selection, competitive pricing and our global network of connections.  

Andrea: We treat our customers with respect regardless of the scale of the transaction. Before we opened our shops to the public, we used to only deal with other businesses, so we are used to treating everyone as equal business partners where we both mutually benefit.
Word of mouth seems to bring customers from far and wide to J. Austin. For those who do not yet know you, tell us about some of the services you are offering. 
We have many clients that come from Northern California because of our competitive prices on Gold and Silver Bullion, as well as for the prices we pay for gold and diamonds. Many of these customers come to Oregon to shop in Medford, but they always make time to stop in our Ashland store. We have developed many good relationships over the years. We also get many people from the other side of the valley as far away as Central Point. Most of the customers who live north of Central Point visit our Grants Pass Shop. Medford has been a significant source of clients for us. We recently inherited some customers on the recommendation of Lawrence's Jewelers who retired recently. They enjoy the quality of work we do, as well as the fact that we offer both Estate and Retail appraisals on coins and jewelry. We also have a strong local customer base here in Ashland that we have cultivated over the years. Ashland was at first a tough town to venture into. Even though we are long time locals that founded our company here in the 90s, breaking into this market was more difficult than expected. Time has been on our side, and many people have discovered that we have a lot to offer, plus our parking is excellent. I encourage anyone who has not come in to meet us, to do so and discover why our business is growing.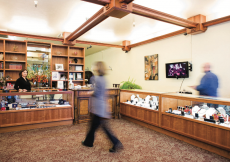 Would you please share some recent customer testimonials with us?
Andrea: We have restored several wedding sets lately that were previously unwearable. One of the ladies said her wedding set looked brand new again after we replaced several diamonds, re-built prongs, sized and polished her rings. She was so excited to be able to wear them again after thirty years. The purpose of jewelry is to enjoy it, and it always makes us proud when we hand someone a treasured piece after giving it some TLC.
I really like your new location; I bet it has provided an excellent space for high visibility.

Andrea: We made the transition to the new corner within the Ashland Shopping Center in February. Moving the shop four doors down was a lot of hard work, but we love our new space.

Yes, we are still seeing a lot of new customers from Ashland who are discovering us for the very first time. It is so cute when someone peeks through the front door and says: "Welcome to the shopping center!" We always tell them thank you, but we were on the opposite corner for over five years prior to our move; often we have a nice chat about what caused them to stop in or the services we offer.

In my experience everyone out there has at least one watch that needs a battery, a ring that doesn't fit, or a box of coins or jewelry they inherited and don't need any more. They see our bright windows and realize that they can do something about those projects. Often they come for one thing, and as they meet us and enjoy their exchange they bring something else in later.

Mark: Many people say that shopping local is important for them, but the reality is, if people feel they can get better service in Medford or even the Bay area, they will go there. We make sure we are competitive enough that this does not happen. Also, no one is going to sell scrap gold or diamonds in Ashland if he or she can get just a few dollars more in Medford, we are very aware of this and strive to make sure those dollars stay in our community. Dollars spent here circulate here and compound the wealth locally and increase the standard of living for everyone.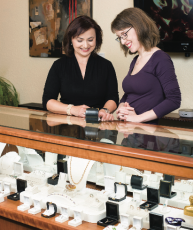 I think it's important to mention that you also have a sister shop located in downtown Grants Pass. How are the two stores different and do the interests and needs of the community vary much from one another?
Mark: Having two shops at opposite ends of the valley enables us to offer a much larger selection of coins and jewelry for sale. We have earned an extensive network of customers who visit us regularly to see what is new in our cases. We noticed a great trend in recycling: many of our customers have been taking advantage of being able to pay for new jewelry pieces by selling us their old broken or unwanted pieces.

Our Ashland shop, or J. Austin South as it has been nicknamed, has excelled in the custom pieces they have been creating for the people of Ashland. You might be surprised at what we can create for you with our jewelry-cad/cam technology.

Andrea: I have noticed that the Grants Pass shop has become quite the bridal secret.  The more experienced buyers have recognized the excellent prices we offer on unique and impressive wedding jewelry. More of our clients have been asking for Southwestern sterling, so Grants Pass has introduced a whole new case specializing in Native American silver pieces.  Both shops have an incredible variety. We have been able to buy even more items thanks to having two locations. Just because it may not sell in Ashland, it does not mean it will not in Grants Pass and vice versa. This flexibility has increased the variety of what we can buy as well as the price of what we can pay. In fact, we are the only shop of our type in the valley with two locations.
Mark, a new service you are offering involves the buying and selling of early American artwork. 
Mark: We had a customer from the Klamath Falls area bring us a couple of original charcoal paintings of General Robert E. Lee and his beloved wife Mary Custis Lee. During the process of authenticating the pieces, we discovered that the customer was not only related to the famous general, she also had a connection to the Lewis family of the Lewis & Clark expedition. At the time she had no idea!

As a dealer, we get better rates for our customers from all the major auction houses because we handle the customer service for those same auction houses on the local level. So, for higher value items we can help local owners market their pieces on the national and international stage. At this time the market is soft for art and many types of collectibles, so it is more important than ever to get those pieces in front of the right buyers. Not every venue works for every piece and presentation and historical provenance play a role in prices achieved. There are also other factors such as the geographical location of the live auction event and the time of the year. Do you sell in the Spring or the Fall? These are answers that one cannot find alone. If it were as easy as putting an item on eBay or consigning to any large auction house, we would have little value to the public as a dealer in antiquities and numismatics.This is our business, and it is our job to offer our clients a better value where we are able.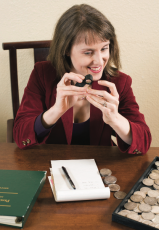 Andrea, what types of items are you currently buying in J. Austin?

Andrea: Precious metals are the common thread in everything we buy, but we are always seeking coin collections. The older, the better. 1964 and earlier US silver coins, and just about anything from the 1800s has some collectible value at this point. Condition and demand are critical when determining market values, and that is what we specialize in.
Do you have any tips for coin collectors wanting to sell their collections to you?
Andrea: Yes – PLEASE DO NOT CLEAN YOUR COINS! We saw a couple of collections this summer that were destroyed. One gentleman had several Morgan silver dollars that had excellent detail, but he decided to shine them up before bringing them into the shop. Unfortunately, that mistake cost him significantly.
Your shop in Ashland has a professional, very low pressure and approachable environment. I always enjoy coming in, whether it's for a couple ounces of silver, or just to say hello.
Andrea: We have the advantage of being locally owned. As a customer, you get to work directly with one of the owners at each of the shops. We have worked to make our Ashland showroom as comfortable as possible, it embraces an old-world business feel. While you wait you can sit in a comfortable chair, have a cup of tea or water and enjoy our virtual fireplace. We take the time to answer questions and guide you through the process, so there never has to be any remorse or lingering fears.  We are here for the long haul, not the quick sale. Often if a customer has doubt, we encourage them to shop the items around or go home and think about it. We want solid transactions and the excellent references that come from those dealings.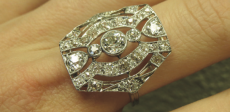 J. Austin is very comfortable handling a large variety of projects from the sale of estate collections to buying placer gold.

Mark: Yes, we manage collections of items from all over the globe as well as just about anything of tradeable value that comes in locally. Also, our staff is as exciting as our clientele. We have several people that speak multiple languages. Andrea and I, for example, started our business in Europe after the fall of the Iron Curtain. On staff, we have diamond and coin experts, jewelry designers, one of our team members has over a decade alone in the estate auction business. We also have a top notch Italian jewelry designer that works for us from his Villa. I kind of envy that guy.
Over the past several years you have worked closely with several local charities. What are you helping them with?

Andrea: Several local charities have approached us over the years, and we help them assess retail prices on donated precious metal items and fine watches. Also, occasionally they receive high-end items in their donation boxes that may not achieve their real value in our market – we then step in and help broker those items in the appropriate venues. Charities are a major part of a healthy community and helping them achieve maximum value for their work not only helps them but helps all of us. We are connected to the community in many ways and the more value we can bring to it, the better it is for us as well. There is nothing more satisfying than that circle of prosperity in my opinion.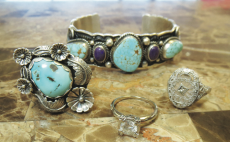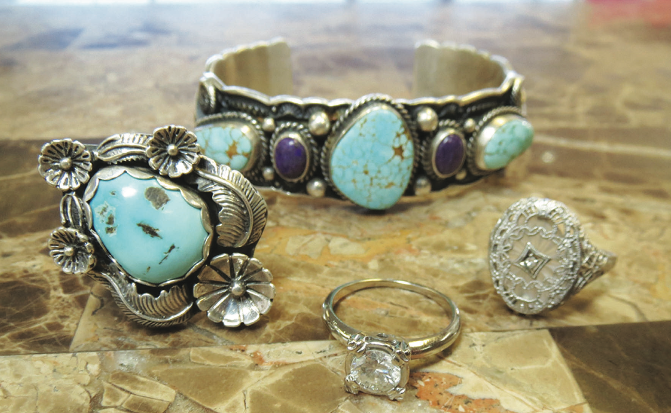 Andrea, please talk about using bullion as an investment strategy.

Andrea: Generally speaking, when we talk about precious metals we speak in terms of insurance or a hedge strategy as opposed to a speculative investment. People come to us for several reasons. The most important one being the ownership of physical metals over paper receipts indicating you have metals somewhere. Customers want to know in the event of major economic issues they can access their gold and silver. The second reason is related to privacy. Many people do not want their information sitting in some online database for a decade or two. With the online security issues our country is facing, those savvy enough to put a portion of their money in metals, don't want to compromise their safety in the process. Also, if someone intends to put a portion of an IRA into precious metals, we can help them do that. You can invest pre-tax IRA money into precious metals. You would decide how much money to allocate, then call us and set up an appointment to learn the details.
Mark, you have always been very competitive with your pricing. 
Mark: It is important to stay ahead of the curve when it comes to pricing. The assumption is if someone wants to buy 100 or 500 ounces of silver he or she want the best deal he or she can get. The choice is simple from our perspective. Give them the best offer you can, or don't do business at all. There is no in between in this business. People always price check your offers against the competition, and if you are not competitive, you do not get the transaction.
What are some of the benefits of buying directly vs buying online?
Mark: We spoke about the privacy issue earlier, but there is one more issue that people may not realize with online transactions. Not only is there a record of your transaction sitting on a server somewhere, but there is always the fear of bankruptcy during the transaction process. One of the largest online bullion dealers went out of business owing customers more than one hundred million dollars in undelivered bullion products. One day they were in business taking orders, the next day no one answered the phone. Because of this, you want to deal with someone local whom you know, trust and actually see.
J. Austin has worked with some fantastic estate collections and has some great gifts available for both men and women.

Andrea: From classic diamond stud earrings to one-of-a-kind antique pendants, none of our jewelry is cookie cutter. We have seen all the trends from classic to contemporary and after years of working with customers both as buyers and sellers we curate our collection to inspire and please. We can also help you find something interesting for the gentleman in your life.
Mark and Andrea thanks for speaking with us today. Do you have any last thoughts or comments you would like to share with our readers?

The holidays are upon us. If you are still shopping around for that perfect gift, stop by and give us a try! We are open Monday through Friday from 10 AM to 5 PM. We also offer appointments on Saturdays.

Learn More:
J. Austin Coin & Jewelry
1632 Ashland Street, Ashland OR 97520
www.jaustinbrokers.com
541-482-3715