Interviews
J. Austin Coin & Jewelry – Andrea & Mark Hutto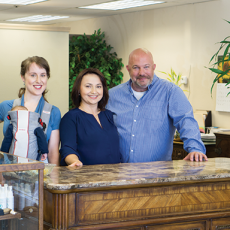 It takes many years of hard work, dedication and customer care to build a successful business. Running a coin and jewelry store here in Ashland, Oregon has been no exception for local owners Andrea and Mark Hutto. With a key emphasis placed upon building trust as well as careful and considerate expert attention, Andrea and Mark have found their niche. The world of precious metals, jewelry and diamonds requires the utmost attention. Andrea and Mark Hutto are now moving into their 5th year of business with J. Austin Coin & Jewelry in Ashland. We headed down to the shop to catch up with them and to hear the latest in the coin and jewelry world.
Thanks so much for taking the time to speak with us today. I'm very pleased to hear that your business is doing so well here in Ashland, please tell us about it.
Ashland is amazing. We have learned you don't have to live in a big city to do big city numbers. We are very excited at how much traffic has grown in the Ashland shop. At this point most people who have lived in Ashland for over five years know that we are the go-to business for gold and silver bullion, coins, and selling diamonds and estate jewelry. Those who don't know about us are simply not paying attention.
Andrea, can you tell us about the key services you provide here in Ashland?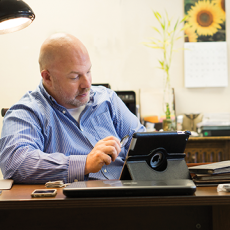 Actually, that is a pretty exciting list: we are now one of the largest diamond brokerages between San Francisco and Portland, something very few people would expect to find here in the valley. The store also handles a lot of investment metal trading, as well as buying scrap gold and silver. We offer help with Estate Strategies and Estate Appraisals on both coins and jewelry, and we also do full service jewelry repair.
You also have items for sale, I see the number of display cases you have has also grown.
We try to keep the selection in the shop unique and interesting for our customers. It's Ashland, so this can be a challenge as people here are ready for anything. We have an ever changing stock of estate jewelry and watches, which often include brand names such as Tacori, Tiffany & Company, Chanel and Rolex – our customers can find really great buys in the estate section. In the bullion section we carry American Eagle silver and gold coins (which are unique in the fact that they have a dollar value to them on top of the precious metal value), as well as South African Krugerrands, Canadian Maple Leaves, Australian and Swiss gold bars, and the ever popular silver rounds.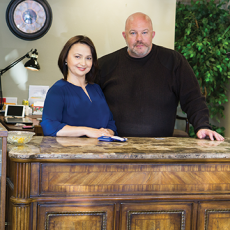 Mark, other than being the only coin store in Ashland, what has helped to set J. Austin apart from others in the business?
Between Andrea and I we have over 35 years combined experience. Our motto is to put more money in the customer's pockets, as we firmly believe that the more money we put in the community, the more money will come back to us. But what distinguishes us the most is "girls buying coins." If you are a female and have ever faced having to go to the car mechanic you probably wished you could have a girlfriend there who could explain the process. It is very similar with coins, which has been a male dominated industry. In our shop Andrea and Sarah, who are more than happy to explain the process to the customer who just inherited a coin collection and would like to sell it, or to the lady who wants to widen her portfolio to include bullion gold and silver investments, handle most of the transactions.
Over the years you have made a considerable investment both with the LocalsGuide and other media outlets, staff training and the time spent with your customers to provide education. What are some of the most misunderstood aspects of your business?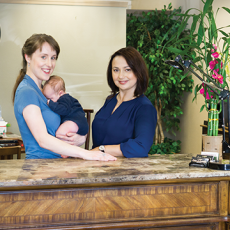 We really enjoy what we do here, and all the interaction with the public. I would say the single most misunderstood aspect of our business is that most people still think we are a pawn shop. We are diamond and precious metal brokers. We buy Antique jewelry, Native American jewelry, as well as basic scrap gold. We are considerably different from a pawn broker, who loans money out with the expectation that the customer will pay back the loan and get their item back. We maximize the amount of money a customer can receive for their specific items based upon true market value, not just a fraction of it.
I can only imagine that you also run into the mentality that in the larger cities the payout is higher.
Yes, the second most misunderstood aspect is that they can go to Portland or San Francisco and get more money for their items, than from us in Ashland. In fact, businesses in those big cities have a much higher overhead, and they simply do not have as much competition per capita in this niche market. When we first opened our doors to the public people would not trust our quotes, so they would use our expertise in pricing their items, then drive to Medford and try and negotiate a sale.
This has changed considerably over the years, as people who experienced higher payouts with us have told their friends and family members about us. The word of mouth referrals have grown exponentially; in fact it is now the number one way we reach our customers.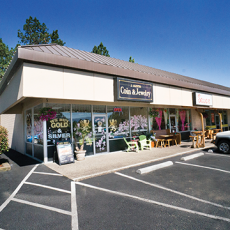 Andrea, what have you been most pleased with in establishing J. Austin in Ashland?
This town is a great place to live. I love the atmosphere, the energy, and the environment. We meet old time Ashlanders, as well as people from all over the world that have flocked to Ashland. Sometimes I feel that we learn just as much from our customers as they learn from us. And, we are located right next to Sauce, one of the best restaurants in the valley!
I remember back to our first interview together you and Mark were really young when you met and did a lot of traveling together. You were also buying and selling collectables. Have you had a chance to do any traveling lately?
Oh yes, Mark and I celebrated our 18th wedding anniversary last month! In the nineties we really were just kids traveling all over Europe buying Antique pocket watches, Ancient coins, and all kinds of memorabilia. It is a passion of ours to travel and learn about new cultures. In fact, we just got back from Nicaragua, where we visited the historical city of Leon that has a wonderfully rich heritage, beautiful churches and artifacts. Mark showed me many of the sites that he had visited before we were married.
Mark, what are you focusing on these days?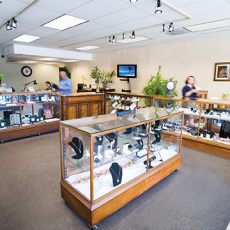 I spend a lot of time in the Grants Pass shop, finding more ways to stay competitive, always looking for new contacts and niche markets where I can help my customers. For example, Dubai and Israel have opened up new doors in the jewelry industry. Many customers come back time after time and I really enjoy the comradery and the relationships we build.
Aside from the day-to-day shop sales, J. Austin also provides advanced services such as Estate Appraisals, bulk bullion purchasing, and brokering of larger, high quality diamonds.
Yes, we often see estates with very large coin collections in excess of a $100,000. We recently had a very large estate come in from Hawaii – there seems to be a strong connection between Southern Oregon and the Hawaiian Islands. We are equipped to handle those large estates. We buy a wide variety of items, so customers are not forced to shop their jewelry with one business, their diamonds with another, and coins and banknotes with yet again someone else. We offer really accurate estate advice, and can help people put together a sound plan to make sure that their valuables end up in the hands of the intended recipients, and because of this we have a lot of customers who seek us out when they decide to develop an exit strategy.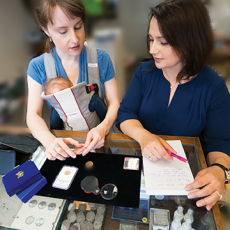 What is the best way to connect with either of you to learn more?
Mark and I are both workaholics, and we are often in our shops. We are very open to answer questions once we understand what your exact needs are. Please call ahead to make an appointment if you want a written Estate Appraisal, or if you have a large collection or need a private showing, as your privacy is important to us. We often do not charge for general advice and verbal overviews are typically done for free.
Mark, a few years back you told us the story of a gold coin that was dug up in a local cornfield. Can you share a new story with us?
Absolutely! We always have unique (sometimes even strange) items come into the shops. We recently had a wonderful collection of original photographs and various artifacts come in from the Alaska gold rush of the late 1800s and early 1900s. It included a pair of baby moccasins, part of a carved Macedon tusk, as well as tokens from the general store from Cleary, Alaska that would supply gold miners in the late 1800s. People who are familiar with the history of Cleary, Alaska know that the town burned down in 1907, and artifacts are extremely uncommon. However, some people from Southern Oregon are direct descendants of the Sourdoughs, who during the gold rush spent time up there and conducted business. It was fascinating to see these photos of the places and the people. One photograph is of a Yukon football team back in 1904, it is interesting to see the low level of technology of the time, particularly in Alaska. We published some of these photos on our website www.JAustinBrokers.com for the public to see, you can also see some of them on our Facebook page if you scroll down far enough.
One last thing, I heard that a tiny, new staff member has joined your ranks, how is that working out?
Sarah had a healthy baby girl on April 4th, and Eleanor has been coming to work with her mom every day. Our regulars really seem to enjoy visiting with the baby, and she already seems to favor jewelry. This is a perfect example why we love Ashland: we can conduct serious business without having to take ourselves too seriously.
Learn More:
J. Austin & Co.
1642 Ashland St., Ashland
541-482-3715
www.JAustinBrokers.com