Interviews
La-Z-Boy Furniture Galleries – Locally Owned – Allen & Lisa Pfeifer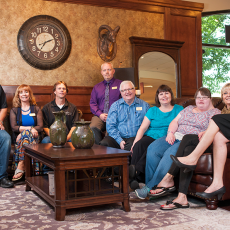 Locally owned La-Z-Boy Furniture Galleries is located in Phoenix, Oregon next to the Home Depot and across from the exit 24 shops. La-Z-Boy is family owned and operated by Allen and Lisa Pfeifer who opened the store in late 2007.
The gallery features a wide selection of over 400 products ranging from couches to clocks and mattresses to ottomans. Globally recognized as a brand of comfort and durability, legend has it that once you have owned a La-Z-Boy furniture piece you will never want anything else. We met with Allen and Lisa to discuss their commitment to excellence and the secret to their success here in Southern Oregon.
Allen and Lisa thanks for taking the time today to do this interview with us. This is actually our second interview and I would like to thank you for giving us an update. Often times larger companies take a more distant role in our community, choosing to do business but not often showing the more personal side.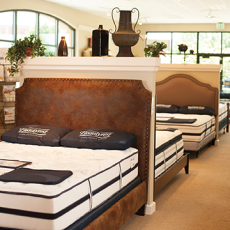 Thank you. We enjoy being part of Southern Oregon. It's important to us to give back to the local community. We try to help as many local organizations as possible. Through La-Z-Boy Inc. we are supporters of the Ronald McDonald House Charities. But on a local basis we've supported the Boys and Girls Club, local Boy and Girl Scouts, local youth sports teams, DSASO, and many others. We love being in Southern Oregon and enjoy all that this area has to offer. Also even though we are a part of a global brand we ARE locally owned and family run. We have also owned the La-Z-Boy store in Bend since 1999, so we understand smaller communities and how to be part of the local community… so thanks for reaching out to us to offer us the opportunity.
Excellent. Allen, you and I had a side conversation which was not directly related to this interview. We discussed how you came to choose to work with the La-Z-Boy brand in the first place. You shared with me that your family had many opportunities to consider but when it came down to it La-Z-Boy was simply unrivaled. Will you tell us more about why you choose to be a part of the La-Z-Boy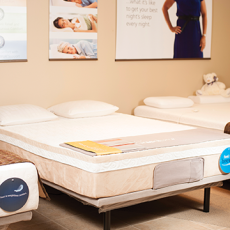 Company and why you brought this store to Southern Oregon?
Quite simply said, there are lots of companies out there that make furniture but NOTHING could come close to La-Z-Boy. From selection to quality of product, brand recognition, customer appreciation and loyalty, we wanted to get behind a product we could really support and believe in and that was La-Z-Boy.
Lisa will you tell us more about the La-Z-Boy experience from your perspective?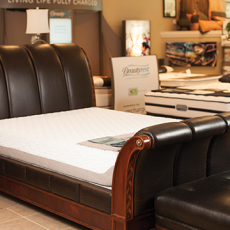 La-Z-Boy represents comfort and quality… we stand behind everything… our sales people are trained well. We want to make sure everyone who walks out of here is 100% satisfied.
Allen you mentioned that one of the challenges you face with La-Z-Boy is simply letting everyone know that it's not just about recliners.
YES!! We have over 400 different products. Of course La-Z-Boy all started with recliners which worked its way into the fabric of American folk lore over the past 60 years… but the company is so much more.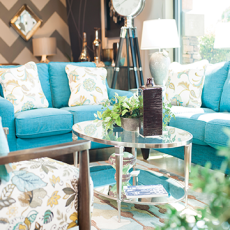 Will you give us a tour of the products you have to offer?
We feature genuine La-Z-Boy upholstered furniture. This includes everything for your Living Room or Family Room. Couches, Tables, Rugs, Lamps, Recliners, Power reclining furniture. But, in addition to that, the one department we have that many people don't know about is our Mattress Gallery by La-Z-Boy. We feature a large selection of mattresses from Tempur-Pedic and BeautyRest. We have mattresses to fit all budgets. We want our customers to be comfortable all hours of the day. That's why our motto is "Live Life Comfortably."
Your store is HUGE… how do you keep up with it all?
YES… we love having so much space to share all of this. Our sales team likes being able to show the complete La-Z-Boy line. We have an awesome team here who knows our products inside and out plus we are always keeping things fresh. Allen travels 2x per year to furniture market in High Point, NC, choosing new products to pull in.
Customers often shop online before coming down to the store… how does this affect your business?
Absolutely the internet plays a huge role for people to find what they want then to come down to the store and actually try it out. There is nothing like experiencing the La-Z-Boy brand. Plus we often times have more items than are available online and if we don't have what you are looking for we can usually get it within a few days from our other store or special order direct from the plant.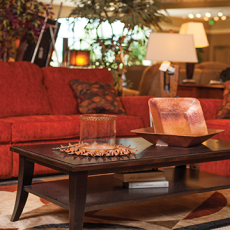 Allen, will you say more about the quality of La-Z-Boy products?
Sure… We are proud of La-Z-Boy quality. We want to make sure everything goes out perfect to each of our customers. But, if there is an issue, we are able to stand behind it with one of the better warranties in the industry. The issue we have is getting potential customers to understand the difference in our furniture that other manufactures don't have. Unfortunately with furniture, 80% of the differences are on the inside. You only see 20% of the differences on the outside. What is different on the inside is the 80% that you can't see. That's what we need to explain. We get customers in daily, that have a 25 year old recliner, and they can't decide if they want to replace it yet or not.
I'm sure you get to hear some funny stories about why or when people finally decide to upgrade their furniture.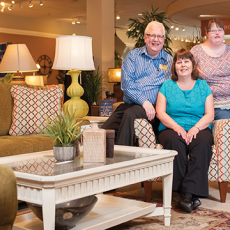 Yes… it is odd.. people will update their cars every 5 years or so.. but can keep furniture items for 25 plus years. We like to try to help people before the springs are popping out.
Lisa, will you tell us about how your sales staff works with individuals to build a nice collection for their homes?
We love helping customers get comfortable. We work on being a "No Pressure Zone" so our sales team is trained to assist our customers in picking the items that will make their lives better. Sometimes that is a whole room, other times it may be just a single mattress or a single chair. All of our sales team are full time professionals, which have completed La-Z-Boy Peak Performance training on all the products we carry.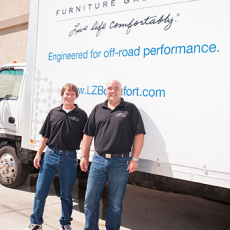 How does payment work for people wanting to purchase larger collections?
We have several options. We accept most major credit cards. But we also have financing available through Synchrony Bank. Our financing always has a 12 month-no interest option. On many of the bigger holiday periods we may have no interest terms of up to 36 months. We also can do lay away. Oh, and we still accept cash.
Can you please share some recent testimonials with us?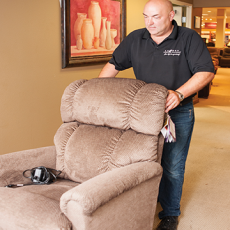 We enjoy seeing good reviews from our customers. We do surveys with all our customers at the time of purchase, and at the time of delivery. Here are 2 of our most recent responses.
"The salesman was excellent. Presented the merchandise, demonstrated the features, explained the warranties and then let us explore on our own. The salesman checked on us periodically to see if we had any questions but never pressured us. The whole process was very relaxed and easy."
"Judy the sales associate was amazing. She was attentive; knowledgeable then would give us some time to look and experience the different styles then would be right back to check on us. She is the sole reason we decided to make the purchase during the initial visit."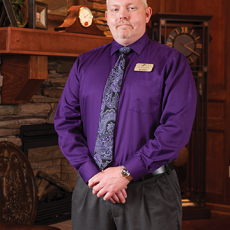 La-Z-Boy has reached beyond the store alone. You all are also sponsoring "The Best Seats in the House" for the Medford Rogues baseball team.
This is just a fun thing we are doing with the Rogues. If you go to a Rogue game this season, you could get the chance to sit in two of our Larsen Reclina-Rockers in The Best Seats in the House. They are the most comfortable seats at the park, and the best location. We've been having a great time supporting the team, and enjoying the games. We go to most of the home games, so maybe we will see you there.
Last but not least… any final comment for today's interview?
Yes, The freeway overpass construction in Phoenix is a good thing! I know it can be intimidating to some people, but we are still easy to get to. Come down and give us a visit and say Hi! We will be excited to show you around.
Learn More:
La-Z-Boy Furniture Galleries
3343 N. Phoenix Rd., Phoenix
I-5 at exit 24
541.535.5242
La-Z-Boy.com/Medford