Interviews
Andrew Markham – Banyan Tree Landscape Construction LLC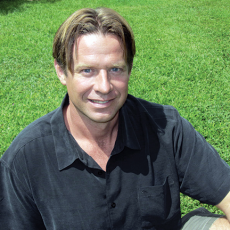 As you drive around our community, pay particular attention to how our dwellings extend themselves outward into intricately carved and crafted garden spaces.  Do you notice the artistry and craftsmanship that are displayed so vibrantly within these Ashland landscapes? While many gardens are secreted away behind fences and hedges there are plenty of gems to be enjoyed for all to see; Ashlanders take pride in their exterior living spaces, and it shows!  Such inspiration fuels curiosity.  
Oftentimes, you might find yourself wondering who created these beautiful works of landscape design and construction.  Generally, there are no signs or business cards that will lead you to those who crafted these gardens.  Some are many decades old, but many such gardens have been built through the past decade, and can be credited to Banyan Tree Landscape Construction, LLC.  Locally owned by Andrew and Victoria Markham, Banyan Tree provides all aspects of landscape construction, including installation of soils, plantings, irrigation, lighting, metalwork, and carpentry along with a special interest in crafted masonry work.  Banyan Tree's primary focus is working with individual homeowners throughout the Valley; they are keen to help you realize your outdoor garden dreams.
From a simple stone seating wall along a walkway to an elaborate entry patio, Banyan Tree prides itself in providing only the highest level of craftsmanship and quality.  Walking down a path with Andrew Markham at a recent custom masonry project, he stops to point out two stones cut and fit perfectly together.  "This is what Banyan Tree represents to me…excellence!"  And it was true…these small details truly emanate and demonstrate a mastery. "We have had the opportunity to grow here in Ashland, largely by word of mouth.  This year we step forward to serve a larger audience.  It is time to share some of our work that goes relatively unseen behind stone walls and hedges."  I met with Andrew Markham and his lead project manager James to conduct this month's interview.
Andrew and James thank you for meeting with me today. To begin with, congratulations for doing the great work you do in our town! You have helped to contribute towards one more aspect that makes Ashland an outstanding place to live.
Thank you Shields. We feel the same about the LocalsGuide. We really owe a special thanks to the local community for giving us the opportunity to create such lasting beauty in the Rogue Valley.  This community has not only supported our business but our family as well and we are forever grateful. I (Andrew) have spent a lifetime in the field of landscape from mowing neighborhood lawns at 10 years old to working at a nursery in high school, to getting my BA in soil and water.  I began Banyan Tree Landscape 9 years ago just after my first son Banyan was born.  I think like most men, we have an inherent desire to leave behind a legacy for our children and a landscape company is a viable path, not only as a surviving business but a real lasting visual display of beauty in our landscapes.  So from the start the motto has been the word resilience.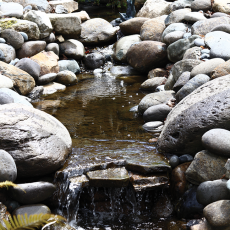 Pride and craftsmanship are evident….and as you point out we are super fortunate to live in a community which also appreciates and values these qualities.
When you put something as well done and cared for as Lithia Park in the center of town, it radiates beauty and thoughtful intention throughout the valley.  From the artist's display on First Friday Art Walk, to the Shakespeare's theatrical performances, to the backyard gardens and healing sanctuaries, the Havurah, the Buddhist Temple, Siskiyou School, John Muir School, the Labyrinth at the Episcopal Church, Ashland Community Food Store, the Halloween parade, and the list goes on.  It's great to be a part of this community and continue to contribute to its beauty and appeal to both locals and visitors.
Andrew you have had the great fortune of assembling a top notch team to work with you here at Banyan Tree.
Yes, wisdom and mastery don't come easy in the world today.  I have a keen eye for and interest in both.  So I set my course by listening and observing the leaders in the industry; learning from both successes and mistakes.  I quickly realized it would take me a lifetime or more to become a master stonemason, or a good decade to get a degree in landscape architecture so I set out to find people that held these skill sets to be a part of the team.

James is our latest addition, coming on board at critical time in my life in the spring of 2013.  He brings a level of seniority and expertise to the company that, again, would take me another couple of decades to earn.  He has a fascinating history in the international landscaping world stretching from the Columbia River Gorge to the Middle East, Europe and Iceland. His value to Banyan Tree clientele is his ability to come up with the appropriate design and construction method to suit any situation, though the handling of affordable materials in unique ways.  James has brought a much needed wisdom and professionalism to Banyan Tree and has become a dear friend and mentor.
I think the chemistry of your team is really a key point you make. Landscape design and construction must be like an art.
We are a small and cohesive group of builders; each member has a mastery skill, while being also cross trained to support the other skill sets (soils, excavation, irrigation, masonry, etc.). We work on both small and large projects, sometimes multiple projects at the same time. Our 'guerrilla' tactics allow us to move fluidly from one job to another.  This methodology translates into cost savings for the client. It is senseless to arrive on a job with half a dozen shiny new machines, when a few shovels will take care of the task at hand.

A very important element in the company profile is our relationships with local Landscape Architects; many of our construction projects begin on their drawing boards.  We have worked with KenCairn Landscape Architecture on numerous projects over the years, as well several as some from Laurie Sager, and Bonnie Bayard.  We have nurtured these relationships making sure that we build their designs to the suggested specifications. In the course of construction design changes may occur for various reasons.  We maintain a dialogue with the landscape architect to make sure that such changes meet their approval; and that we give credit where credit is due.
I am truly impressed with Banyan Tree's stone workers Carlos Garcia and Mario Cortez. They do some awesome work and you simply don't see this every day.
These two are extraordinary in every sense of the word.  Certain skills can be taught by a book, others by a teacher and others only from a true love of the art.  This love is so evident in every masonry project that Carlos and Mario step into bringing a craftsmanship that is unsurpassed in the Rogue Valley.  We are also fortunate to have Jeremy on board who brings his expertise in city and TID irrigation, his skills in earth moving, planting, and just genuinely having the right attitude to get the job done from beginning to end.
James, I understand that you have had extensive experience working in the residential, commercial, and industrial sectors, both domestically and abroad on many amazing projects. What have been some of the most important lessons you have come to learn in your years of experience?
My portfolio is comprehensive and diversified, a few examples include:
• The reconstruction of a bombed out coral reef beneath the Red Sea.
• New parks on reclaimed land in Holland.
• Mediterranean courtyards incorporating the ancient with the new, spanning street level alcoves to rooftop hide-a-ways.
• A Cliffside dwelling along the percept overlooking the Columbia River Gorge with hanging gardens that hugged the sky.
• A city block of dilapidated warehouses, transformed into living and working garden spaces.
• The re-creation of Victorian gardens, Japanese gardens, Pioneer log-cabins, woodland gardens.
• A high-walled estate converted into an outdoor restaurant surrounded by straw bale walls, rammed earth walls, and metal & wood screens that were deeply veinated by flowering vines.

From these projects these come four of my most valued understandings:

Listening ears:  Listen to the client; hear what their needs and desires are; what their short and long term uses for the property are; and what their budget expectations are?

Cash rules:  Anything can be designed & built, with skill, experience, and a flexible design mind. Don't import pink Verona marble when the budget calls for brick.  Mastery in design & construction provides us the ability to sculpt and contour the activity areas surrounding the property, a good design will allow for a choice of materials with which to work; such material choices directly affect the costs.

Measure twice, cut once:  Efficient critical path insight into staging a construction project will greatly help to minimize wasted time & materials; this translates into a lower overall expense to the homeowner.  Many bids today are either underpriced (hurting both the contractor and ultimately the client), or overpriced to cover 'unforeseen'expenses.  Sound planning, budgetary control, and a professional group with the 'bona fides' will help all parties.

All projects are sexy:  Whether replacing a worn out walkway, or building the hanging gardens of Babylon, all projects have inherent opportunities to provide function and beauty.  Scale is irrelevant to the creative mind.  All projects require a thorough evaluation into the site requirements, function(s), and beauty.  The process requires an evolution of interactions between the builder, client, site, and budget.
Resilience is a huge corner stone of the Banyan Tree work ethic and philosophy. Please say more.
Let's consider a 10 dollar shovel that lasts one year, and a 30 dollar shovel that lasts ten years.  Where does the value lie?  Resilience is value based and environmental.  Resilience is forward thinking and built on solid foundation.  Our resilient approach considers the wear and tear of time and allows for modernization and necessary maintenance to survive the times.

For example, in irrigation systems virtually all the pieces and parts have a lifetime.  At some point each valve, controller, and sprinkler will need replaced.  We design our systems knowing this, we use special techniques and fittings to allow for ease in repairing and replacing necessary parts in the future.  So often this is not the case. It is disheartening to walk onto a new job and have to tell the client their irrigation system is in complete disrepair and needs to be redone.  This is not the case with our irrigation systems, concrete patios or rock walls.  We build to last and that's the most environmental approach I can imagine.
James, will you please share with us some samples of your work, pointing out any special areas of detail you feel especially proud of?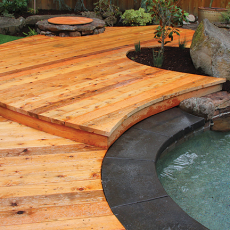 I am especially fond of a curvilinear deck we designed to connect a rear entrance to an existing pool.  Mortared flagstone would have been great, but the price point can often be out of range.  We worked closely with the client to match the budget and needs to design and install this unique at grade deck within budget.  I think it's a perfect example of how we approach our clients with solutions, having their needs and best interest in mind.

Of course, I have to feature some of Carlos and Mario's extraordinary masonry work.  This picture shows a flight of 17 steps extending down from a second story to ground level on a sloping backyard.  These brother-in-laws hand pick each stone for a given job from the local quarries.  Stairs of natural stone are a unique challenge in that they need a standard rise and tread for each step, but no stone is the same.  Not to mention the extreme slope and lack of access to this site.  Amazing work, guys. And to top off the staircase, Beth Dolmos fabricated a hand rail, and the homeowner put together a few custom accent lights which really was the icing on the cake.

One of our larger projects posed us with this customer challenge:  "I have been living here some 25 years and it's up to you.  I want to come home and say 'Wow!'  If not, I'm going to find a new place to live."  So for "WOW" we chose to plant a crescent of some 200 heathers.  Wait! Not just 200 heathers, but 35 different varieties which will provide color—from icy silvers, to flaming reds, to soft purples and golden hues—and interest year-round.  It never stops.  Not to mention the finely laid basalt retaining walls and Pennsylvania Blue-stone walkways and mortared stairs.

Below we see how small construction details turn your standard, necessary deer fence into a functional and architectural structure, by choosing the right stains and complimenting the architectural design of Mike McKee—at essentially the same cost as any other deer fence in town.  I think the quote of 19th century architect Augustus Pugin, is appropriate, "In pure architecture the smallest detail should have a meaning or serve a purpose."
Are you currently taking on new projects and if so what type?
I consider each project as a sum of the attention paid to its details, and the layering in of multiple uses for each element introduced; each tiny space built to unfold into the larger, encompassing activity area(s). It has a lot to do with the choreography of space; no matter the scale.

Today I am very happy to meet with individual homeowners; I am fond of this community, its residents, and the cozy properties scattered throughout the hills and creek sides of the Rogue Valley.  Outdoor space is important to us Ashlanders. Visit our website to request a consult/estimate or simply call and we will get back to you.
What assets does Banyan Tree bring to the table when working with large scope projects here in the valley?
As suggested earlier, size doesn't matter…It is how you perform with what you've got!

Sometimes we juggle four simultaneous small- to mid-range projects at the same time.  It is a relief to work on a larger scale project; constantly moving men, equipment and materials from place to place while maintaining a constant dialogue with multiple clients is challenging.  We insist on quality craftsmanship whether it is a 3-day project or 3-month.  The challenge of, say a high-end residential project with multiple activity areas, allows us to perform our craft in perhaps a more seamless manner; to catch our breath, so to speak.

The key is in project management; the choreography in moving skilled craftsman and materials. And, experience in field design; to augment pre-construction design drawings as issues or opportunities arise. I cannot begin to tell you about how often, during the course of construction, something delightful or unexpected arises.  Such opportunities separate the seasoned design builder from the chaff.

Years of training have provided us with the ability to problem solve quickly and effectively, drawing from a storehouse of experience.  Many builders will shut down a project and wait for a signed 'change-order,' when a field decision can be made instead.  Such delays are expensive and frustrating for all parties.  It is having the design, construction and business background that distinguishes Banyan Tree from the competition.

Larger projects come to us from time to time. Most of our work is mid-scale residential.  This has been primarily a factor of humility, relying on word of mouth referrals to make ourselves known.  The majority of the 'larger residential projects' are 'above the boulevard;' on hillsides overlooking Ashland.  Word of mouth does not seem to flow uphill—thus, this interview.  As the saying goes, "We're coming out."
Can you please give us an overview of specific services that Banyan Tree provides?
We are licensed as what is known as an "All-Phase" landscape company.  We have built our team to have an expert in each field.  Below is a list of our services:

• Irrigation Design, Installation, and Modernization
• Hardscape: Natural Stonework, Pavers, Block retaining walls, Pavers, Concrete, etc.
• Woodwork: Decks, Arbors, Trellis, Fencing, Pergolas
• Landscape Site Preparation and Excavation
• Landscape/Low-voltage Lighting
• Water Features, Recirculating Streams, Fountains etc.
• Landscape Maintenance (lawn care, plant care, leaf removal, etc.)
James, what has the feedback been from your customers?
Everyone loves Carlos, Mario and Jeremy! They have been working here in the Valley for quite awhile; we are fortunate to have them with us these past years.  Many people think that landscapers are foreign workers in an old pickup truck that show up at your home to tidy things up or pile some stones into a retaining wall for a few bucks.  This perception is flawed in so many ways I would not know where to begin.

Like any skilled craft, landscaping requires a thoughtful and creative mind, a strong back, a good attitude, and years of experience.  Our customers are always amazed and delighted by our men, their craftsmanship, and the finished product.  We always give more than the contract calls for; after all, we are there for the customer.

When we are called out to meet a new customer we spend a lot of time with them and the site before presenting an estimate.  We take the time to break the costs down into understandable components.  We take the time to sit down and review the design and related costs with them. Oftentimes, we are not compensated for these efforts.  But, whether we are rewarded with a contract or not, the customer has been well informed and prepared to make budgetary decisions that prior to our involvement they were in the dark.  We have always been thanked for this extra effort.  As said, our work comes from satisfied customers who refer us on to their neighbors.  This says a lot, I believe, about who we are.
Finally, what is the best way for us to learn more about your projects?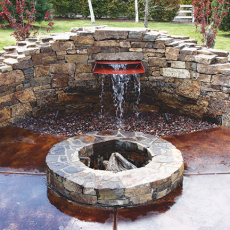 Visit our website to see a detailed portfolio of our work.  You can also schedule an appointment for a free consultation and estimate.  We are loving social media—our Facebook page has been a fun way to keep the community updated on our current projects and offer local landscape related information.  Like us at www.Facebook.com/BanyanTreeLandscape to keep up.  We promise to keep it interesting and real.  We are currently creating a series of videos to help our clients see examples of our work and decide from the vast array of directions we can take with your landscape.  We will be sharing those both on Facebook and our website.
Learn More:
Banyan Tree Landscape
541.944.0943
BanyanTreeLandscape.com