Interviews
Milagros Fresh Mexican – Making Miracles One Burrito at a Time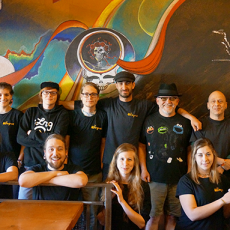 Located in the Siskiyou shopping center next to Market of Choice, Milagros Fresh Mexican offers great food at a fair price. Restaurant owner Michael Rozenfeld goes out of his way to purchase fresh, local, and organic ingredients.  Where many contemporaries choose to make their salsa out of canned or factory-farmed produce, Rozenfeld stays committed to providing his customers with only the highest quality ingredients, such as hormone- and antibiotic-free meats, as well as organic rice, beans, and tofu. In addition to a traditional lunch and dinner menu, Milagros also offers a tasty and varied breakfast menu, including fresh eggs, bacon, and roasted potatoes.  Rozenfeld has taken the restaurant above and beyond by introducing after-hours events on Fridays and Saturdays, with a full bar and live music from both local and traveling bands.  We headed over to the restaurant to speak with Michael and get the inside scoop.
Michael thanks so much for speaking with us today. How have things been going and what's new at Milagros?
Of course.  First, we'd like to thank everyone in the community for their support.  We're coming up on our two year anniversary and they are a big part of that success.  Things have been going great.  We've got a great staff, an awesome new mural, and live music every week.
Can you tell us about some of your menu highlights?
Our salsas are 100% made in-house. We roast and grind our own spices, we roast the tomatoes, the peppers, and the tomatillos right here to make the salsas as fresh as possible.  We make our own chips every day, with salt and fresh lime juice to make them stand out.  We've also introduced ceramic plates, pint glasses, and silverware for our dine-in customers so we produce less waste and use less paper.
Fresh, local ingredients are a cornerstone for your restaurant. Can you say more about that?
I believe in providing customers with the best food available.  Except for the peppers, all of our produce comes from Oshala Farms, a local, certified-organic, and family owned farm.  Not only are they able to provide us with high-quality ingredients, we are able to support a local business, which is very important to me.
Not only is the food great at Milagros, but you also have excellent prices.  You then offer student specials and breakfast specials.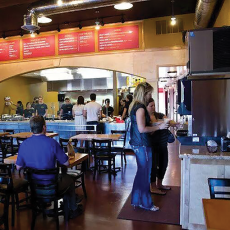 Yes we do.  Students can get two carnitas or tofu tacos and a 20 oz. drink for five dollars.  We offer this special all day and to all students, not just local ones.  We also offer a five dollar breakfast burrito and a five dollar lunch burrito, so there's always a less expensive option that doesn't skimp on flavor or quality.
Let's talk about your new addition of live music.  How has that been going?
So far it's been going great!  I have a passion for live music and for bringing more live music to Ashland, so it's really exciting.  We've got both local and traveling bands booked through June and some in July. In May, we have both Indubious and Taarka performing here.
You are also serving alcohol after hours, is that right?
Absolutely.  We have a full bar and drink specials.  We also serve free chips and salsa and keep our whole menu open.
Michael, tell us about your awesome staff.
Where do I start? A number of our staff has been with us since day one, through all the rocky patches of starting a new business, and most have been with us for over a year.  They've stayed friendly and consistent with our customers and have even memorized some of their orders.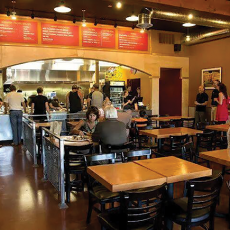 Milagros has established quite a regular base of local customers. What keeps them continually coming back?
Consistency is really important.  We keep our food good and our service friendly.  Reviews on Trip Advisor keep saying that we're clean, that our service is excellent, and that our food is delicious.  They like that we use fresh ingredients, and they can taste the difference.
Quite honestly, I think that in addition to your great staff and awesome selection of food, it really boils down to the quality of the ingredients.
That's what I'm saying.  Not only is it important to me as a chef to use the best ingredients I can, it's important to the customers.  We want people to feel good about eating our food.  We want them to come back.
Tell us about the quality of meats you are using.
Our chicken comes from Draper Valley Farms, which is a Pacific Northwest farm.  The chicken we get has no antibiotics, no hormones, and no preservatives.  Our beef comes from Painted Hills Natural Beef in Wheeler County, OR.  It's all-natural and hormone, antibiotic, and preservative-free.
You also have an amazing new mural!  Can you tell us a little bit about the inspiration behind this?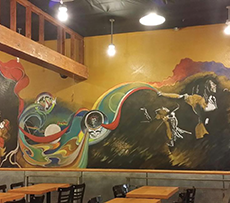 Thank you!  The mural is inspired by my love of music, but it was Don Sutton who was able to bring it to life.  We plan to tattoo the whole restaurant and really make this place unique and original.
Milagros has also worked its way into the heart of the community by providing a great variety of catering services.  Can you tell us a little more about that?
A large part of our catering services are for medical offices, business lunches, graduation parties, and even weddings.  We offer full service as well as a full bar, or we can just drop the food off and let the guests help themselves.  We also cater concerts and other events at the Ashland Armory, again providing a full bar.  We also make sure we always have vegan and gluten free options, in addition to our more traditional choices.
Are there any other unique services you provide that you would like to tell us about?
We have a very accommodating menu, which is very important, especially in Ashland.  It's very easy to work around dietary restrictions here, whether you're vegetarian, vegan, gluten free, or paleo.  We have plenty of options, not just a salad like some places.
When is the best time to come into Milagros?
It really depends on what you're looking for.  The food is always great, but for example, breakfast is only served until eleven.  If you wanted a quieter atmosphere to eat in, late afternoon is best.  If you're in a rush and don't want to wait in line, we've always got internet orders– just go to www.milagrosashland.com, order and pay online, and your food will be ready for you when you come to pick it up.
Do you have any last comments you'd like to add?
I just want to thank the community again for their support, and my staff for all the effort they've put in. This has been my dream and I couldn't have done it without them.
Learn More:
Milagros Fresh Mexican
1465 Siskiyou Boulevard, Ashland (next to Market of Choice)
541-708-0190
www.milagrosashland.com