Interviews
Carolyn Allman, ASID, NCIDQ – Principal Allman Design Group – 29 Design Showroom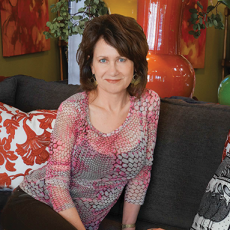 Introducing Carolyn Allman, a long term resident of Ashland, the Principal of Allman Design Group, and the owner of 29 Design, a 2000+ square foot Interior Design Showroom, located conveniently in the heart of historic downtown Medford at 29 South Grape Street.
 
For the past twenty years, Carolyn and her team have shaped the lives of countless Southern Oregonians through the creation of beautiful spaces. At the heart of Carolyn's success exists a passion for facilitating great partnerships that are both unique and collaborative.
 
One example of Carolyn's uniquely collaborative nature has been the pairing of her Interior Design firm with her professional showroom, 29 Design.  The showroom plays host to some of the best design resources in the valley, while Allman Design Group has developed a clientele that covers Southern Oregon and beyond.
 
I spoke with Carolyn about her professional history here in the Valley and got a full tour and introduction to 29 Design Showroom!
Carolyn, thanks for taking the time to speak with us today, and congratulations on all that you have accomplished! Please take us back to give us a little background to how it all started.
Thank you for the opportunity to be a part of Ashland's LocalsGuide!  My family and I have called Ashland home since 1993.  I am the youngest of six from a family of builders in Bakersfield, California.  I was raised in the country, in a small town called Greenacres.  And yes, it is the place to be!  We always had a huge garden, an orchard, raised our own chickens, beef, pork, lambs… and I was on my horse daily.  It was a wonderful way to grow up.  I attended college at CSU Sacramento but didn't finish, married and had three children.  Life passes fast with little ones, but when everyone was in school, I found myself thinking about returning to school myself to pursue a degree in Interior Design.  I took a few JC classes that were disappointing, and then attended a lecture with a prominent Architectural and Interiors firm.  I learned more about the profession of Interior Design, what it really encompassed and that confirmed my direction.  I wanted my degree in Interior Design, and that meant commuting to a school with an accredited program.  I talked over the idea with my husband and he said, "Sure, as long as the laundry is done, house is clean, meals on time, and the kids are cared for!"  Ha! I researched schools in close proximity and found that CSU Fresno had an amazing design program.  I traveled there and met with the head of the department who told me that it would be impossible to live that far away and commute, the program was grueling and I would need to move there.  That was impossible!  I managed with the help and support of my husband and children, to make the commute 2-3 days a week for four years.  When I graduated I was given a special award, "Most Likely to be in Class, Even Though She Lived Two Hours Away!"
Eventually you moved to Ashland where you raised your children and set out to start your own design firm.  Had you ever owned or run a business before?  What was it like?
My extended family (grandparents, sister, and parents) began to migrate to Southern Oregon starting in the 60s.  My husband and I spent many wonderful vacations here with our children before making our move to Ashland in 1993.  I had researched local design firms and hoped to find a job working for an architectural firm like the one I left in Bakersfield, but I was told repeatedly that I needed to move to a large city with more opportunities.  I met with Jan Patterson, the owner of Ashland Interiors, and she was sorry but said there just wasn't enough business to hire someone.  I thought it might be better to work in Medford, since it was central to Southern Oregon.  I interviewed with Fran Wing, who was renting a space with several other interior and architectural firms at Westside Livery Stable.  It was a wonderful building, a 1906 old livery stable, how appropriate for a horse lover! It had been purchased in 1983 and transformed into an Interior Design Showroom with rented design studios on the upper level.

After our interview and many "just checking in" calls, Fran hired me part time.  I loved the design collaboration that happened in the building, teaming on projects, sharing resources… so I set up a phone line for $20.00 per month and began pursuing my own projects.  I was able to work for Fran and several other designers for several months.  One day my phone line rang!  It was a call from a person who was looking for a designer for a large project in Merlin.  I was so excited to set up an interview with this potential client!  That excitement soon began to fade, as I then listened to every other firm in the building receiving the same call and scheduling their interviews.  Somehow I was the one chosen for the project.  It lasted for years, allowing me to hire an employee, Diane Shenk, and rent a space of my own in the building.  I will always be grateful to that client.  I had never had my own business.  My husband, who had run his own business, and I spent many long hours figuring it out.  I asked for advice from every design firm I knew, and even bought an hour of time with a few.  Some of the best advice I received was from Marlys Weinman, the owner of Interiors at the Livery Stable.  She told me, "Just do what you do best and hire the rest."
As I have listened to your story I cannot help but notice that you are an amazing collaborator and networker. You are also very dedicated and passionate about what you do.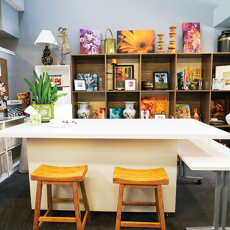 I love my small town life, my family, friends and I enjoy the diverse field of Interior Design.  Working in this building has always been wonderful, in 2004 when Diane and I were thinking of creating our own design studio and showroom; I wanted to make sure that I was still close to all the resources here.  The Old Livery Stable was the first studio in Southern Oregon to have degreed professional designers! Throughout the years it has been home to many professionals architectural and interiors, which have created award winning projects within its walls. We spent months looking at different locations, planning layouts, and contemplating budgets.  I knew that the Westside Livery Stable was for sale, but it was four times what we were allowing for our property budget.  It was also much larger than my firm needed.  The only way we could make it work, would be to have the support of the design community.  We purchased the building in 2004 and began a campaign to demonstrate to the design trade the benefits 29 Design could offer.
Great relationships and partnerships have also been a huge part of your success here in the valley.
Relationships whether personal or professional, are essential for everyone. We all have different skill sets, strengths, and weaknesses.  Southern Oregon is home to some of the most amazing talent!  The individuals we have teamed with want to live here, so their commitment is strong.   They know that "word of mouth" is extremely important in an area this small.  Allman Design Group has now been in business for over 20 years.  We have had the opportunity to partner with architectural firms, contractors, and craftsmen on so many wonderful projects:  commercial, hospitality, health care, residential, new construction and remodels.  We love the diversity and the process!

My father was a wonderful builder, my brothers were both General Contractors, and there was always building going on at my house, so I have a special admiration for builders.  They are the trade that brings our drawings and planning to life.  I am most flattered when we get a call from a new client saying, "Our builder just told us to call your firm to work out all the details, then he can give us a price."  Although many are very good at helping you make decisions, contractors unless they are "design-build," do not make their living designing, they make their living building.  So when you call a contractor "or two" to give you a price, they can give you "numbers," but what is the basis for those numbers?  If you work with an interior designer, they work with you to plan your project:  provide drawings, select materials, design cabinetry, tile patterns, etc.   Contractors appreciate that their clients have a finished format of all the information that is needed to provide them with a number and timeline.

I believe that one of the best investments a homeowner can make is to team with an interior designer prior to building.  Plans come to us from all backgrounds, some from qualified professionals and some that are not.  In the two decades that we have been critiquing space plans for livability, we often find challenges that we can improve.  It helps the homeowner to have us add existing and new furniture pieces so they can rest assured that everything will fit as they are anticipating. It is so much easier to make minor adjustments before building starts.

Residential kitchen design has been a mainstay for Allman Design Group since the beginning.  Many times when working on the plans for a new home, we will begin programming with the kitchen.  We find that the decisions required there answer so many of the programming questions for the whole house.  The appliances that are being considered give a real clue to the budget; the amount of detail sets the tone, and so on.  If the kitchen is the center of the home, shouldn't it above all else be well planned?  We have designed amazing kitchens that really work for their owners.  Kitchens are very personal; they can be small or large.  While my husband and I were recently building a home, we lived in our rental with 530 square feet for a couple of years.  The small kitchen I designed for that rental property twenty years ago was still very efficient and we had wonderful gatherings there…  But the large kitchen for the new house is so amazing and the room where I feel most comfortable.  It fits our home, our lifestyle, and our extended family.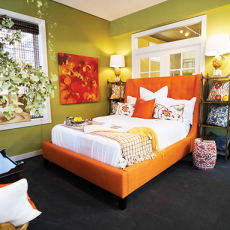 Carolyn, when you were first deciding on a place to open your business you choose downtown Medford as a place to be more centrally located and available to the entire valley. How has this worked out for you?
When I started my business I thought Medford would be a more central location, and that has been a good decision.  Pulling projects and talent from all of Southern Oregon, not just one small town, has been very valuable.  Medford is an easy drive from either direction, and we don't have big city traffic.  Although our firm has worked on long term projects where we traveled for weeks at a time, we would all much rather work locally and go home to our families each night.  I am happy that two of my three children still live here.  And I now have three grandchildren close that are three, two, and one!  My daughter is a fourth grade teacher at Walker Elementary in Ashland, my eldest son does construction in the valley, and lives in Medford, and my youngest son is finishing his Master of Arts in Teaching in Portland. Even though I wish we had moved to Southern Oregon even earlier, I love that this is where they grew up and choose to live now.
Please talk about how the whole is greater than the sum of its parts and why you created the 29 Design Showroom?
The previous owner of the building had given the showroom the name 29 Design, after its address 29 S. Grape St.  It has always been open to the public and to designers, but I wanted/needed to take it to the next level.  Once we purchased the building, I compiled a list of every designer in the area.  There were many who worked from their homes and some who I had met by working in the building for the previous decade.  I believed that I was the best person to keep this building a great resource for all of us.  I had worked in the building a long time; I knew its strengths and weaknesses. I was a designer, and I knew what designers needed from a resource center.  I loved the building and wanted it to be a place where all of us could learn, grow, and share.  I organized an evening get together, and sent an invitation to everyone on my list.  We had a good turnout, about fifty designers.  I presented my vision of what I thought could be accomplished, if we could all get behind this great resource.  The showroom would offer trade discounts and provide all the resources designers need daily.  It would be a place where designers could bring their clients to work on projects, utilizing our large work tables, the conference room to meet with architects, contractors, and fabricators.  We would have monthly Lunch and Learns to provide knowledge on an ever changing industry.  I had so many ideas!

Looking back, I think it was the perfect time to buy the building and pour my extra time into developing its potential.   My husband traveled often and my children were on their own.  I spent many long evenings here after working on design projects.  With the help of my husband, family, Diane and her husband and many others, we cleaned and reorganized the building.  We tossed years of accumulation, changed the layout to be more functional, ordered new furniture and product lines.  We wanted 29 Design to have a fresh start.

We just celebrated our tenth anniversary as owners of the building and 29 Design.  A lot has happened in those ten years: the impact of the internet on local businesses, the recession with so many companies in our industry closing; and the early retirement of many designers due to lack of work.  Allman Design Group has been fortunate.  We were able to stay steady with many long term clients, as well as new projects during the recession.  That also enabled us to keep the showroom viable for everyone.  We all scaled back, worked harder, and kept remembering the light at the end of the tunnel.  We found that to keep the showroom open we needed to expand our scope of clients to include a larger group.  We began marketing to home and business owners.  We reached out to fabricators:  upholstery, window treatment, and bedding fabricators.  We encouraged them to use our showroom resources for fabrics and trims.  Many found it to be much more beneficial to use our resources than it was to maintain their fabric lines, closed their showrooms and starting sending their clients to us.

Today I am more excited about 29 Design than I have been in many years.  We have a wonderful Showroom Manager Laura Joyce, who has become a great partner in creating an atmosphere of customer service and productivity.  She is a design enthusiast, and has a wonderful talent for helping everyone.  She works daily with designers helping them to find the right resources, checks stock and pricing, orders samples, places and tracks orders, and arranges for deliveries.  She is not only a very creative person, she is good business partner.  Designers feel that they have a partner, an employee working here that handles the details, leaving them more time to do what they love… Design!

She is equally great with homeowners.  Whether they are looking for furniture, wall coverings, window treatments, or area rugs, Laura is there to help.  Many times homeowners are looking for lines that can only be found through designers, they can bring in a photo and she will find the source.  Homeowners might be looking for fabric for a chair they would like to recover.  That sounds like a simple task, but we have rooms full of fabrics.  Laura quickly educates them on what they need to know to find the best choice.  She talks with them about their budget, durability, finish choices, etc.  They can bring in items to match, check out books to take home, or order larger samples to try in their rooms.  She does all of this with patience and enthusiasm, it is an open building and I can hear how much fun they are having!  She is a fabric junkie and they leave thanking her for helping them navigate what can be an overwhelming task.  There is never a charge to use the showroom, or Laura's time, and she always remembers everyone's name!
Carolyn you have an amazing team of individuals around you. Can you please introduce us to them and the roles they play?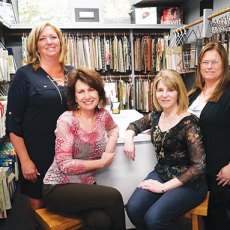 When I began my business in 1993, I never imagined that I would still be in this building twenty years later.  The credit for that goes to the people who have helped along the way.  Number one is my husband.  For thirty five years he has supported me: going back to school, starting my own business and buying the building!  I couldn't have accomplished any of it without him.  Next on that list would be Diane Shenk, ASID, and our Senior Designer. We have worked together for nineteen years!  Diane's organizational skills, problem solving abilities, and creativity are the best possible.  In the two decades that we have worked together, we have developed a collaborative process that is a benefit to everyone. We both studied together and passed the NCIDQ (National Council for Interior Design Qualifications), became professional members of ASID (the American Society of Interior Designers), and have such chemistry that I feel great joy knowing that when my time comes to step down, Diane will run this business with ease.

Maria See has been our CAD operator and assistant designer for the past ten years.  She provides our clients and their builders with the documents to support our designs, project manuals, specifications, details and photographs.  She processes orders, follows up, checks in shipments, keeps clients informed about timelines and is an amazing back up for Diane and I. Traci Thomas is the bookkeeper for 29 Design, Allman Design Group and Westside Livery Stable.  She is a great asset.  Bookkeeping is an area in our business where being creative is not as valued!   Traci is organized, efficient and has exceptional attention to detail. Laura Joyce, as I mentioned before has taken the role of Showroom Manager to new heights.  She is very organized, friendly, knowledgeable, and has wonderful customer service skills.  Her business background and computer knowledge have been especially valuable.  Great advice Marlys, "Do what you do well and hire the rest!"
Laura, as Showroom Manager, would you please give us a tour of 29 Design?
Whenever someone comes in to 29 Design, I make sure they feel welcome and at ease.  Our foyer opens into our showroom vignettes—mini-rooms which are styled with furniture, art, accessories, plants, lighting, and area rugs.  This allows visitors to experience for themselves what can be achieved with our product lines, and provides immediate visual inspiration!  We've brought spring 2014 to life in our current vignettes, with gorgeous saturated color on our walls, accessories, and upholstered furniture.

I love to introduce newcomers to the array of resources we offer through our Interior Design "Library," so our tour would progress into the studio areas of 29 Design: Furniture, Accessories, Wall Coverings, Carpet, Area Rugs, Fabric, Leather, Trimmings, and Window Treatments.  Each area includes a work table and seating, so customers can relax as they look through our catalogs and product samples.

If a new visitor has a specific project in mind, I'll get them started by asking questions to define their product needs. This allows me to select the pertinent catalogs/samples for their review, and makes the use of our Resource Library easy and efficient.  Each work table is stocked with the forms we use to request samples or "check out" our resources to the customer.  These services are offered free of charge, and no appointment is necessary.  I'm here to help!
Carolyn please tell us about your Lunch and Learns that you host at 29 Design.
We have had a wide variety of "Lunch and Learns" for designers monthly since 2004.  Recently we have reduced them to be quarterly. We provide lunch, set up a classroom for designers to enjoy a great meal while they are learning about new products, watching slide shows on new lines, trunk shows from traveling reps, passing around amazing new fabrics… They begin at noon and end at 1:00, so designers don't have to make a big time commitment.  But many designers come early or stay late to work or bring projects to review with the presenter.  There has never been a fee.  Our only request has always been to purchase the items that are found in the showroom, through the showroom.  That is the only way a local business can stay in business.  We appreciate the support that we have received from local designers.  Interior Design is about seeing, touching, combining items… it is a very tactile business.  The closest showrooms that are comparable to what we have created here are hours away.  With continued support we hope to be here for years to come!

We started hosting Lunch and Learns for homeowners a few years ago and it has been a big hit.  The format is the same but we focus on topics that are geared toward homeowners.  We called upon the relationships we had built with the design community and their expertise.  We have had designers present topics on Kitchen Design, Creating Outdoor Rooms, and Creating Your Personal Style.  If you are interested in being notified of future events give Laura a call, she would love to keep you in the loop.
What other opportunities do you offer to the community at 29 Design Show Room?
Over the past decade we have tried just about everything to bring designers, contractors and homeowners into the building.  Designers and the community can use the conference room for meetings.  We have had fall and spring markets with reps and goodie bags.  We have had Feng Shui presentations, Green Building presentations, and "What to Wear If you were a Window" presentations.  One of the most memorable events was "Speed Dating with a Designer."  Ten designers signed up to provide a five minute consultation with potential clients.  The homeowners could bring a drawing or picture of one design dilemma and would have five minutes to explain and get advice.  When the bell rang, the homeowner went to the next designer with their same design dilemma, and so on through all ten designers.  It was a great event and everyone had a chance to meet and get a feel for the approach of different designers.

I recently gave a presentation, "Simple Steps to Creating a Beautiful Interior That Will Heighten the Quality of Your Life," to a full house at the Spring Home Show.  For those of you who missed the event, we will be repeating it at an upcoming Lunch and Learn.  If you are interested in attending, give Laura a call for the details.
With over twenty years experience what are some of the key services that you are pleased to offer to both commercial and residential customers?
Allman Design Group is a comprehensive firm, with a staff available for small or large projects. Whether commercial or residential, design for a professional is a sequential process based on skills acquired through education, knowledge and experience.  Without those skills, it can be a frustrating and costly struggle to keep ahead of the daily decisions of a project.  There is nothing worse for a client, than going through all of the sacrifices we associate with projects, than to have the final results be less than what they had hoped.

Studies show that most individuals hire a designer for their creativity, and we are a very creative firm; but creativity aside, without great service even the most creative firms fall short.  The key services that we provide have been built on planning and implementation.  Our clients tell us that the greatest benefit to them is having a resource; a creative, knowledgeable, dependable team that can provide professional guidance throughout the project with the multitude of decisions that need to be made.  Projects and styles may be diverse, but the quality of the client's experience should be positive and consistent.
Obviously you really enjoy what you do. Are there any special moments that a customer can experience in 29 Design that you particularly enjoy?
The building is an open floor plan and my office is on the upper floor where the hayloft used to be.  I love to hear individuals come in the door and the friendly way that Laura greets them!  In our industry, in large city (to the trade) showrooms, many times when you enter the showroom you must first show your business card and credentials, it can be intimidating.  Laura makes everyone feel right at home and is happy to help each person find the right piece of furniture, fabric, area rug, wall covering, window treatment or whatever item is on their list.
Tell us about one of the coolest projects you have been able to assist with this year.
Let's see, we have had a good year, how about a couple?  We finished an incredible remodel on a townhouse in Sun Oaks.  The home was very modest and dark, but the individual who lived there wanted something that really made her happy.  The new space plan did just that!  We remodeled the kitchen, baths and living room: this included all new materials, furniture, beautiful window treatments, lamps, and accessories.  You wouldn't recognize the "before photos." She was so happy that she had an open house inviting everyone!  Everything but a few small accessories was found at 29 Design.

Diane finished a truly memorable "Hollywood Regency Style Theater," in a new home that she has been working on for several years.  Some of the highlights are:  purple upholstered velvet walls, ceiling and walls with custom panels in silver leaf, black and white, and an intricately designed inset area rug.  It is stunning!

And since you mentioned "cool," after finishing the interior for Motorcycle Superstore, we were hired to design the interior for Go Kart Hero!  Every building has an interior!  We will be photographing our recent projects soon, so you can see those on our website.
How about any recent customer testimonials or feedback you have received?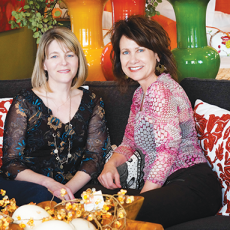 We receive praise and thank you cards often, and really appreciate someone taking the time to "thank us" for doing our job.  Here are a few for 29 Design that Allman Design Group has posted on their website:

"29 Design is a wonderful resource for the Design Community.  They offer a treasure trove of fabrics, wallpapers, furniture, and accessories, as well as a comfortable location to bring clients.  For homeowners without a designer, 29 Design offers outstanding assistance in putting together a comprehensive and professional finished product."

Helen Stanley
Interior Resource & Design        

"29 Design is a wonderful resource for me and my clients when selecting window coverings. Their relationship with Hunter Douglas and the support from the 29 Design Showroom makes the sales experience comfortable and rewarding.  As a designer, I can take advantage of the many offerings in the showroom, and I enjoy the ongoing education, which is timely and diverse."

Gina Heckley
Idea House Consulting

"The design resources at 29 Design simplify my job!  It's wonderful to have local access and excellent pricing available for my clients.  The showroom management is supportive, responsive and valuable in problem solving.  I'm more efficient and my clients save money!  Win-win!"

Cheryl Von Tress
Cheryl von Tress Design Group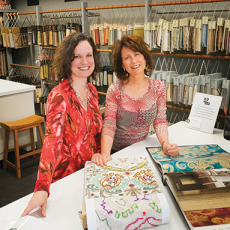 Laura, what would you say are some of the best-kept secrets of the 29 Design Showroom?
Although we've been well-known to local interior designers since 1983, many homeowners have yet to discover our resources.  As the Showroom Manager, I'm here to help design enthusiasts bridge the gap between the beautiful rooms they envision and the "nuts and bolts" required to realize that vision!  Designers know that they are not limited to off-the-shelf home décor, and often create custom pillows, window treatments and furniture to suit their clients' taste and lifestyle.  At 29 Design, anyone can shop like a designer!
OK, I know I forgot to ask you something… what was it?
You forgot to ask about our hours!  29 Design is open Monday through Friday 10-5. Allman Design Group is open Monday through Friday 8-5.
Finally any last words or comments that you would like to share with our readers?
If you have made it all the way through this article, I thank you for taking the time to read my story!  If anything that you have read sparks your interest, come in and visit the showroom!  It is a candy store for those with a passion for Interior Design!  If you have a project that you would like to discuss with Allman Design Group, please give us a call.  We would appreciate the opportunity to team with you.
Learn More:
29 Design Showroom and Studio
29 S. Grape St. Medford
www.29designshowroom.com
541-858-2929
Allman Design Group
29 S. Grape St. Medford
www.allmandesign.com
541-772-9296