Interviews
Anytime Fitness Club Culture with Sherri Strandlien
All of us experience the highs of life. Finding a new love in your life,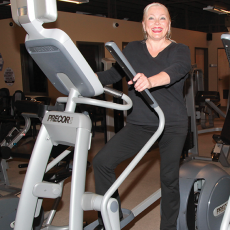 deciding your life purpose, starting a new gym! Don't waste any opportunity to be your very best. If something is worth doing, and the end goal is amazing, there will always be struggle along the way. Find the passion to care about your mental, physical and spiritual health. Come to Anytime Fitness and start feeling the difference the minute you walk in the door!!
It was a cold and snowy day in 2008 when Sherri Strandlien pulled her car into Ashland.  She was moving to a new town far away from friends and family.  She was on a mission to open a new business, a business that most people in Ashland had not heard about, a location that was unknown to herself.  And though she has had over 25 years in business management, retail and sales, she would find this new venture as the most engaging and fulfilling opportunity she has done to date.  Five years later Sherri calls Ashland home and her business is alive and thriving!  Anytime Fitness is located at 1505 Siskiyou Blvd. (behind Market of Choice).  Anytime Fitness lives up to its name by offering all gym members twenty four hour anytime access.  Sherri has worked hard to create a unique gym culture that is both professional and relaxed.  When you walk into the gym you are warmly greeted.  The "I am so happy you are here" kind of greeting.  The club is very clean, the colors are warm and inviting and the equipment is state of the art.  It feels private, yet open and friendly.  Sherri will promptly provide you with everything you need and her genuine personality will make you feel immediately comfortable.  Many Ashlanders choose Anytime Fitness for its 'club culture' (that good feeling they get from the club) thus making it their go-to space for fitness, fun and emotional rejuvenation.  I headed down to the gym to visit with Sherri.  We spoke about her gym, the creation of a positive gym culture and Sherri's own life as both a mother, community member and an entrepreneur.  
Sherri, I am curious what crossed your mind that cold and snowy day when you first moved into Ashland?
Something happened during my 1,600 mile drive from MN to OR when I was cruising along the Columbia River towards Ashland.

I felt like I was coming home more than leaving home.  I will never forget that moment.  Then I drove into Ashland and my first thought was, "Wow, this is just like the winters in Minnesota!"  What was I thinking? I thought I was moving to a much more mild climate and I could hardly believe my eyes.  Ashland had 10" of snow and semi trucks and vehicles were all lined up on the freeway and in town.  I wondered if folks here go ice fishing just like we do in Minnesota.  How would I ever be able to build the fitness club and get it up and running in 6 months if the weather here was just like where I had  come from?  (Snow doesn't leave in Minnesota sometimes until the end of May or early June!) However, since then, I have come to know and love the wonderful climate and seasons that living in Ashland has to offer.
You opened Anytime Fitness with your long term friends and business partners.  Please tell us how this opportunity came to be and your initial reaction when they proposed that you go into business with them.  
My friends had been thinking about places they would like to retire someday.  They decided on Ashland, OR.  They were excited to relocate from Minnesota to Oregon.  We were having dinner one night together and they told me the news about their future plans.  I was happy for them.  "Sounds like a wonderful place," I said.  "Yes, it will be a great place to live," they responded, "except there is not an Anytime Fitness there like we have here in MN."  "Oh, that's too bad, you will really miss the Anytime Fitness club here, then."  Well, they had been thinking about that and they had an idea they wanted to share with me.  "We want to know if you would be interested in moving there about a year or so ahead of us to get an Anytime Fitness club started in Ashland?"  Thus, the journey began.  Well, here we are today and we all live in Ashland now.  We love it here!
Opening Anytime Fitness was all encompassing.  Talk to us about the process of being welcomed into the community, building trust and where you are today.  
Opening a new business that was unfamiliar to Ashland and myself being new to the community was like a double challenge.  I just decided to lean into it and to push my way through any struggles.  It was the hardest project I had done to date because it involved so many firsts.  We did the build-out in the vacant bowling alley.  Many folks have memories from years of bowling there.  Community folks were excited to see what was going into the spot next.  As the project was progressing people would walk over and stop to tell me stories of when they were kids bowling here or having birthday parties here.  Now, five years later, some of those same folks have great memories of being a member of our gym.  I want the great memories to continue.  I have worked hard to build trust and communication with my members so that they feel like Anytime Fitness is the missing ingredient that will make their lives better.  I have created an open door policy with my members and they can count on a smile from me!
Sherri, you have quite a bit of business experience under your belt.  What experiences and qualities in yourself prepared you best for this adventure?  
I have three grown sons that all played sports in high school and college.  I also coached various sports while tutoring elementary and high school students.  I have always enjoyed fitness.  My experience in managing other businesses throughout the years has helped me the most.  I graduated from college late in life with a business management degree.  However, it has been three words that I have partnered with over the years to become the person I am today.  Just do it!!  If you just do it, guess what?  It's done.
After opening the gym you immediately set about creating a healthy gym culture.  Please tell us more about this? 
I fully believe that your emotions cause you to behave a certain way.  Conversely, I also believe that your behavior can cause an emotional effect.  This observation from 19th century philosopher William James backs up my point:  "You do not run from a bear because you are afraid of it, but rather you become afraid of the bear because you run from it."   Your actions trigger emotions, whereas emotions don't always trigger action.  You are probably motivated most days.  You want to be better, stronger, more successful, give more, do more, be more.  But what happens?  Hours become days, become weeks and your motivation hasn't translated into the big actions necessary to reach your vision.  I want members to adopt the notion, "If I do it, I will believe it."  Taking action is the hard part.  I want members to become 100% committed to their goal and to feel motivated to do so when they come into my gym.  If they need to come into the office and talk about something that will help them get that motivation then I do my best to help them.
What are some of the key trademarks of Anytime Fitness? 
24 hour access is huge!!  Members can come and go at any time of the day or night.  Holidays, weekends, it doesn't matter.  They can work out in a secure environment with great equipment, private bathrooms and showers, personal TV's on cardio equipment, great parking, great rates and also get unlimited access to all Anytime Fitness clubs through the country.
Sherri, please talk about your own involvement in the club. 
I have been managing the club since the day we opened five years ago.  I supervised the build-out and opened the doors on August 16th 2008.  I haven't left the building since (just kidding)!  Well, not very much anyway.  I have gotten away to see family from time to time and now that I am a grandma I get pretty excited to spend time with my grandchildren.  I always have my cell phone on for members and the security company to contact me during unstaffed hours.  Now I am appreciating the opportunity to become the owner/operator of the club.
You have three sons and they were a big encouragement to you when you decided to move to Ashland and open this new business.  Please tell us about them and the advice they shared.  
I called all three of my sons and asked them their opinions about making the move to Ashland and taking this opportunity.  They all told me I should do it!!  They asked me if I didn't do it, would I have any regrets?  I said yes, I think I would.  Then, you should try it, they said.  They told me they would be there for me whenever I needed them.  My sons are 30, 33, and 36.  My oldest son and daughter-in-law and grandson live in Germany.  He works for a large computer company as an architect design engineer.  My middle son and daughter-in-law and granddaughters and grandsons live in Minnesota.  He is a Certified Registered Nurse Anesthetist.  My youngest son lives in Washington and works for a large company as a chemist.  I treasure my relationship with all of them!
I loved hearing you talk about how you do gym exercises on Skype with your grandkids.
Yes, skyping with my grandchildren keeps me active in their lives because we live so far apart.  I like to do puppets with them, sing with them and we even do exercises together over Skype.  It so funny to watch them learn how to do jumping jacks, and pushups and sit ups.  Even learning how to do stretches on the floor.  Most of the time we are laughing and having a good time.   My four your old granddaughter has running shoes and she likes to run with her dad now.
Talk about some of the relationships you have formed over the past five years because of your involvement at Anytime Fitness.  
I have been blessed with some very dear friends here in Ashland because of the club.  Dedicated members have become like family to me.  I have enjoyed holidays, weddings and fun outings with many members!  I am very grateful to all of those who have spent time with me sharing moments of their personal time to include me in their lives.
Customer service has always been a high priority for you as a business manager and owner.  Please say more. 
Customer service is the number one priority in any business.  Reaching across the table to capture the connection between you and the other person is the direct link to member loyalty.  Running a successful business isn't easy.  My mission to make every member feel like this gym is their second home and they enjoy coming.  I want people to talk about this gym because they love it here.  I want people to talk about me just as lovingly as they would their own family.  Because the gym environment involves so many personal areas of attention I have used my customer service skills more here than any other business I have been in.

I want my gym to have a positive reputation.  I need the support of my members.  Without them I wouldn't have a business.  I want to provide great service to them.
In getting to know and love Ashland what has impressed you the most with the community?  
Ashland is how it should be.  There is a little bit of everything here.  It's that small town feel with the great city culture.  It's like my club culture only 20x the size.  Folks in Ashland love their city.  The community wants to see Ashland stay strong and feel the closeness of working on goals together.  Ashland gives community members a reason to want to get out there and share their story.  Many real world examples are right here in Ashland and contribute to the draw that so many people feel here including me!
Sherri, talk to us about the future of Anytime Fitness.  Where is it going and what do you have planned for us?  
I want to continue to grow and offer members more variety in equipment and health and wellness options.  I would like to open an Anytime Fitness Express on the other end of town so that folks working downtown or living on the opposite end of the current club can enjoy a quick workout with a few key pieces of equipment.  This would be another convenient option for members.  I plan to continue working at becoming the best gym we can be for our members!!
You offer a free orientation with a trainer for all new members.  Can you please tell us more about this?  
We currently have seven wonderful trainers at Anytime Fitness.  All new members are able to have a free orientation to the equipment when they join.

We want you to feel comfortable coming into the gym no matter what fitness level you are.  Working out is personal and we want to help you with that journey.
Sherri, what is the best way for someone to learn more about Anytime Fitness?  
Well, the BEST way is to come into the gym so I can meet you!  I will show you around and answer any questions you might have.  You can get free guest pass time to try out the gym so that you feel good about making the right decision.  You can call me on the phone or go to our website to learn more about us.
Any last thoughts or comments for our readers?
People have options.  I want members to know this is the gym for them.  I want this to be a great experience for them.  I love my members and my life is richer because of them!  Sometimes they are my coach, they inspire me and give me the motivation to keep doing my best. I never know what tomorrow may bring.  Many times I have overcome adversity and didn't know what the outcome would be.  I have done a lot of wash, rinse and repeat in my life trying to figure out the right formula.  I have learned I enjoy the CHAOS of running a gym.  Organized chaos is better and bobbing and weaving and never settling and taking a moment to reflect on where I have been and where I am now.  I realize I wouldn't have it any other way and no matter what stage of chaos I am in I just want to enjoy the ride and remember to embrace life!!
Learn More:
Anytime Fitness
541-708-0136
www.anytimefitness.com
1505 Siskiyou Blvd.