Interviews
Ashland Artisan Emporium A Treasure Hunter's Dream Come True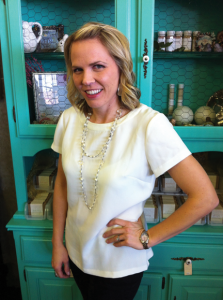 Whether you love to hunt for local treasures or enjoy collecting, crafting, and selling your own treasures, Ashland Artisan Emporium is your dream come true. With more than 200 local vendors, this amazing store is home to Ashland's largest and finest collection of all things new and old, handmade or factory made. You will find something new every time you step through the door, just make sure you have the time to take it all in. People have reported getting lost in time, emerging with shopping bags full of oddities and collectibles hours and hours after first arriving at this magical place. This month we took a trip to the Emporium to experience what everyone is talking about. We met with Michelle Christian, founder and creator of this amazing space in Ashland.
Michelle, thanks for taking time out to give us a tour of the Emporium.
Michelle, can you start by talking to us about the creation of the Artisan Emporium. How it started where the idea came from?
I wish I could say the idea to open a fantastic year-round indoor artisan market was all mine, but it wasn't my idea at all. I had been a real estate agent for 7 years when my father hatched this idea and asked me to help him start this business in the old DJ's Video space located inside the retail shopping center he owned. He knew that Ashland was filled with creative people that needed small affordable spaces to sell their creations and collections. Retail space is pretty expensive here, so he thought it would be great to provide lots of little affordable spaces instead of one giant space.  I thought so too and was excited about the possibilities. I got to work immediately trying to re-create the 17,000 square foot space and finding vendors to join us on this adventure. We took possession of the space on October 1, 2010 and we opened for business one month later, at about half capacity. By December of that year, we were full! I also gave birth to my third daughter that same month. It was a whirl-wind few months to say the least.
It seems that life threw you another challenge shortly after opening, didn't it?
Yes, you could certainly say that. My father unexpectedly died on March 5th, 2011 – a little over 4 months after we opened. This left me utterly devastated. I had always looked to him for support and advice – and I felt abandoned and overwhelmed in an instant. Luckily, I had met some wonderful women through the opening of the store who really stepped up during this crisis to support me, and keep the store running seamlessly while I tried to heal. There were a few weeks in the beginning when I didn't even think I could keep the store open. But after a lot of thought, I realized that he wanted this place to exist and so to honor him, I decided to buckle down and make it work somehow. My dad was an amazing man, strong and stubborn, and always taking care of those around him. He was the most generous and giving person I've ever met. He gave me this chance to make something great and I couldn't just walk away from that opportunity.
With a new business, the death of your father, and the birth of your third child, you were really left with your hands quite full. How did you manage all of it?
In the very beginning I had my younger brother by my side to help manage everything, and I am grateful for him. And I met some amazing women who signed on as vendors and became much more than that. They really helped me through that rough time; they rallied around us to keep things going while allowing both of us a time-out to breathe and grieve. They started out as vendors, but have become so much more than that. Through the love of my family, the support of my amazing husband and the team of women that work for me, I have never felt stronger. I believe in AAE and what we can provide to the community. I believe that there is a need for something like this. It's been almost two years since my dad died, and I finally feel like I can breathe again and I have more energy to put back into AAE. I am always hearing great comments from people that may have just stumbled upon us or from vendors that really enjoy having their own space to design. It's given a lot of people an opportunity to showcase their items in Ashland that probably wouldn't have been able to before. The positive feedback has really motivated me to keep growing and pushing myself, even when I feel overwhelmed by the work load or the struggles that come with running your own business as a mother of three. It makes it all worth it. I know that my dad would be proud of where we are today.
The Emporium just celebrated its two-year anniversary in November and you are now busier than ever. You have more than 150 vendors now. Can you take us on a tour of some recent additions?
Sure! The fun thing about AAE is that we change daily, literally! We do have vendors that have been with us from day one, like Babyducks  – a booth offering organic baby products and hand knit baby socks and hats. Then we have recent additions, like a team of women offering yarn at unbeatable prices and vintage signs and baubles that they have gathered throughout their travels. We have a great vendor that creates signs and décor for the home and has a great eye for design. We also have a devoted vendor who handcrafts greeting cards for all occasions. These cards are crafted with love and are usually less than you'd pay for a mass-produced Hallmark card. Why buy anything else? We really do keep it local here. But that doesn't mean you have to pay more or settle for anything less than high quality. We have gorgeous Persian rugs, furniture, home décor, vintage clothing, and handcrafted clothing made from organic and hemp based fibers. I could go on and on…We have a lot of vendors who have businesses elsewhere and needed an "outlet" for items in a different part of town. I have also had vendors that were in business but couldn't afford the overhead of their own store – so this has become a perfect spot to offer their inventory as well. The best part is that it's all under one roof in a central location.
Local treasure hunters can literally spend hours in the Emporium. What are they finding?
I am glad you asked. I frequently hear customers say, "I've been here for hours, I will HAVE to come back. Once customers step through the door for the first time, their eyes light up and they realize that this won't be just a quick stop-in. Most customers have no idea that we are so large and that we have so much cool stuff! We are not just another antique mall or in-door flea market. Our vendors are amazing artisans and collectors that care about what they are selling because they have either made it or collected it over their lifetime. I am always amazed by the things people bring to the cash register. We have beautiful antique dishware and cooking utensils. We have antique books and magazines featuring the history of Ashland. We have handmade magnets made from scrap metal and locally made artisan chocolates. We have vintage jewelry repurposed by an artisan, antique rugs and even a saddle or two. You really never know what you will find on any given day. You just have to come in and look!

I constantly overhear customers saying "wow!" or "holy cow, it's huge". But don't let that scare you! It's all one level and organized much like a grocery store. We are organized and clean, one thing that sets apart from a lot of collective markets. But while we are large, I really strive to maintain a funky cool boutique vibe with good customer service. One customer told me that we beat the stores in Berkley! Another customer told me that she had been having a really sad day, someone close to her had just died, and she was able to step through our doors and totally forget her sadness for an hour. What more could I hope for??! I believe in retail therapy – especially when you are shopping local and supporting the community you live in. It gives me a great excuse to shop every day. Yesterday I found a really great pair of designer jeans for a fraction of the retail cost!
What has been the most interesting treasure or antique to walk in or out the door?
Oh goodness, there are a few things. The one thing that pops into my mind is an old "potty" chair. I am sure there is a more appropriate term – but the general idea is that it's a chair and a chamber pot in one. I don't see many of those. We also have two old carosel horses that belonged to the original Mark Anthony hotel downtown.  We also have a dragon made out of old bicycle parts and at Halloween we had an antique bottle with a condensation mark inside that looked just like a spooky ghost.
You also have a really great staff. Can you tell us a little bit about them?
I adore my staff; at this point I don't even consider them employees, they are like family. They keep this store and my life together! Without them, I would be lost. What sets them apart from just another employee is the fact that they all truly care about this store. My manager Becky is the best. She is smart, friendly, and eager to help with anything. She also keeps me motivated to get everything done. Keeping up with vendors coming and going is a full time job in itself. Becky's exuberance and energy is unmatched. Susie is the manager on weekends and is always there with a helpful smile. My employees are also vendors, so they have an appreciation and an eye for displays and for helping other vendors succeed. They also care about the customer's experience and will go above and beyond to make sure everyone is taken care of.
What's in been like to be able to form relationships with so many vendors?
It's been amazing to meet so many talented people. I am not an artist myself, and I don't even necessarily think of myself as creative, so it's been fun to see the amount of talent that lives in this valley. Before I had such a great staff I admit that I was overwhelmed at times, trying to keep everyone organized and happy. Now I have a strong staff that helps me do that, leaving me time to raise my three girls as well.
Can you tell us about special plans you have in store for the Emporium as you move forward this year?
Each year we have grown and changed. Like anything else, if you want to succeed – never stop striving to improve. It's a New Year and I have been energized to make AAE even better. We are currently working on a new design for the front of the store and I am always seeking out new ways for my vendors to promote their own booths. If each vendor brought a friend or two in, and they brought a friend or two in, and then they tweeted us out or posted on Facebook, pretty soon everyone would know about us! I am hoping to provide more opportunities for vendors to learn how to succeed.
So are there any best kept secrets you would like to share with us?
Sometimes I feel like we are our own best kept secret because we aren't located in the typical downtown area. I am hoping to change that. We are off the beaten path a bit, but isn't that usually where you find the best stuff? We have virtually an entire book store here as well with over 5,000 titles on hand. We have comfy chairs and free wi-fi. There is no pressure to hurry up and get out. Find a good book, a comfy chair and stay awhile. We don't want to rush the experience. Treasure hunting takes time.
I understand that you might currently have a waiting list for the Emporium. Do you have any suggestions for vendors wanting to vend at the Emporium?
Sure! We see new vendors monthly and the ones that succeed are the ones that treat their booths like their own small store. Each booth needs to be tended to and loved on weekly. This keeps customers coming back for more. The items need to be interesting and affordable. If you are considering becoming a vendor, come and talk to us. We always have info on hand and you can find it on our website too. Ashlandartisanemporium.com. Also, you don't have to be an artist or an artisan of any sort. We are open to all people who have a desire to sell great things! That's important.
Any last comments or thoughts for our readers?
I just want to say thank you to the community for supporting us and for being so positive. My staff and I are so excited about the future. We can't wait for more people to find out about us. I am always learning from my customers and vendors. I know we have come a long way and that we have a long way to go, but we are all on this beautiful journey together. Every time I walk through those doors I think of my dad and I know that he'd be proud of me, and that's all I ever wanted.
 Learn More:
Ashland Artisans Emporium
1670 Ashland St
Ashland, OR 97520

541-708-0577
http://www.ashlandartisanemporium.com