Articles
Excellence in Foot and Ankle Care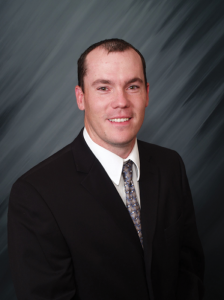 Introducing Dr. Justin Johnson of Ankle & Foot Specialists of Southern Oregon. Located near El Tapatio Restaurant and Butler Ford. Dr. Johnson is Ashland's go to podiatrist.
Dr. Johnson was born and raised in south eastern Idaho. He graduated from Idaho State University in Pocatello,Idaho in 2001 with a degree in Zoology. He received his Doctorate of Podiatric Medicine from Des Moines University College of Podiatric Medicine and Surgery in Des Moines, Iowa in 2005.
He completed his podiatric surgical residency training as well as research fellowship at the Swedish Medical Center and Harbor view Medical Centers in Seattle,Washington in 2008. He was fortunate to train under some of the most respected foot and ankle surgeons in the world. He was also able to complete an AO Foot and Ankle Trauma fellowship under the direction of Professor Hans Zwipp at the Universitates Clinikum in Dresden,Germany with emphasis on care of intrarticular fractures of the calcaneus.
Dr. Johnson's philosophy begins with conservative, non-surgical treatments and only advances to surgical treatments when other avenues of care have failed.
Dr. Johnson specializes in rearfoot and ankle reconstructive procedures with special interest in ankle and subtalar joint arthroscopy, total ankle replacement surgery, as well as forefoot reconstructive procedures including bunion deformity correction. Dr. Johnson's comprehensive care involves not only the surgical aspect alone, but preparing his patients for successful outcomes focusing on the most rapid recovery, the best pain control, the longest lasting results, and the most satisfied patients.
The Ankle & Foot Specialists of Southern Oregon is one of only a few centers in the state of Oregon that perform total ankle joint replacement surgery. Dr. Johnson and his staff are striving to establish the premier foot and ankle center in southern Oregon, by providing not only state of the art care, but also a comfortable, professional environment for his patients.
Dr. Johnson and his wife Melissa have three children and reside in Ashland,Oregon. His family enjoys the many wonderful outdoor activities that are found in the beautiful state of Oregon. Dr. Johnson is an Associate of the American College of Foot and Ankle Surgeons and belongs to the American Podiatric Medical Association.
We spoke with Dr. Johnson today to learn more about his practice and work as a foot and ankle specialist.
Dr. Johnson, thanks for speaking with us today. How common are foot and ankle injuries and what are some common conditions you are treating? 
Yes, I am excited to introduce my practice here in Ashland.  Our practice prides itself in treating a full-spectrum of foot and ankle care, from simple conditions that many of us have experienced with our feet, but we also treat  complex surgical issues as well.  My staff and I enjoy getting to know our patients, it is particularly rewarding to see our patients go through the process of having a very difficult problem and seeing them through to complete resolution of whatever problem they are having along with preventative measures to prevent recurrence.
As you have had an opportunity to train with some of the best foot and ankle specialist in the world what were some of the key qualities you noticed and then adopted for yourself?
Yes, I was very fortunate to have the opportunity to train under some of the most respected physicians in the world in foot and ankle care. One of the common threads that seem to span across many of these physicians is their ability to educate their patients, as well as the progression of these physicians in the care of their patients. Medicine is certainly an evolving science and one of the things that I really try to incorporate in my practice is evidence-based medicine In hopes of obtaining the best possible outcome for my patients. We provide state of the art conservative care for our patients which I was able to develop under experienced physicians throughout the world.
You work very closely with your staff to make the patient experience as comfortable as possible. Can you introduce us to your staff and tell us more about your clinic? 
My staff and I enjoy getting to know our patients. We really pride ourselves in making the experience here as pleasant as we can. We do understand that when a patient does present with a problem, we try to make a difficult situation as comfortable as we can for them.

As for my staff,  I have been practicing here in Ashland for nearly two years, I have two invaluable medical assistants Shayna and Erica. Both of them are certified medical assistants, and do an excellent job as our patients know.
Shayna, can you speak about the common procedures that are treated at the Ankle and Foot Specialists of Southern Oregon?
We provide care to a wide variety of patients throughout southern Oregon and beyond. We also treat a wide age group as well; we see pediatric patients as well as the adult population. We treat athletes though out the region as well as collegiate athletes from Southern Oregon University as well. We do perform a fair amount of office based procedures here in the office as well. We also work closely with insurance carriers as well to provide custom functional foot orthotics as well to our patients.
Dr. Johnson, what is the complexity of detail required when working on someone's foot or ankle?
Well the foot and ankle are very complex. There is approximately 30 bones in each foot which constitutes nearly a third of the bones that form our entire skeleton. I truly believe that the best way to treat a condition is to understand the root of the problem. Many of the conditions that I treat are due to our feet compensating mechanically for deforming forces that can in many cases be very subtle. These factors over time can lead to abnormal mechanics and may lead to the onset of pain, discomfort, and as can be attested to by anyone that has had foot or ankle pain, a very prominent limitation in activity and life style.
I presume you are a fan of puzzles?
Yes, truly one of the things I enjoy most about foot and ankle care is  being able to investigate a particular problem, And as I stated before, investigating a particular cause of the problem.  I truly believe that to be a  requirement to be able to understand a solution to a particular problem as well.
What are some of the most complicated procedures you have preformed and then how common are these?
Typically the injuries that we see can range from simple sprains and strains of the foot or ankle, as well as tendon injuries. I hesitate to say any injury to the foot or ankle is simple because too often we see injuries that are dismissed as being simple can lead to longstanding issues. We treat fractures of the foot and ankle as well. Most fractures that we see results from either a fall from a height or a rotational type injury of the ankle.
Erica, can you speak about the range of clients you work with?
When I first began working in this area of the medical field I didn't realize the vast range of patients I was going to work with. I never thought I would see a young adult, let alone a child in a podiatrist office! It's nice to see such a variety of age caring for their feet, after all, they do carry us throughout our life.
Dr. Johnson, what are some types of conditions that children might need assistance with?
I really enjoy treating children. We treat a wide variety of issues that we commonly see in children including plantar warts, along with ingrown toenails. One of the more common things that we also treat in our practice is pediatric flatfoot deformity. We treat this deformity conservatively however if conservative care should be exhausted we also treat this deformity surgically as well which in my experience really improves the quality of life in these children. We also treat a fair amount of juvenile bunion deformities.
Your clinic also specializes in preventative care. Can you give a quick overview of what this entails?
Preventive care I believe is crucial in the care of any patient but is particularly important in our diabetic population. Preventive care in this population can prevent complications including ulceration or amputation further down the road. Also, in many of our patients that have abnormal foot mechanics preventive measures can certainly prevent further injury to their foot and ankle as they age.
You are also working with runners?
Yes we certainly see a fair amount of runners. We certainly see an active population here in the rogue valley, and many of them have at one time experienced foot and ankle pain. I have found a common sense type of approach to both abnormal mechanics and running specific injuries Once again, I have found that getting to the root of these patients issue or abnormal mechanics certainly helps to have a successful outcome.
Erica, can you tell us where you are located and then how to go about setting up an appointment?
We are located at 1661 Highway 99 North Suite 201 in Ashland. We are near the Bear Creek Medical Plaza on the north side of town. We like to say that we are conveniently located near Interstate 5, which makes it very easy for our patients to find us from around the region.  We are also conveniently located for our patients here in Ashland as well.

There are several ways to contact us for an appointment. Our Office number is (541) 482-4924. Our office hours are 9am to 5pm, Monday through Friday.  Our website contains valuable information at  www.ashlandfoot.com
Any last comments for our readers?
Yes, we look forward to providing state of the art treatment, as well as being a valuable asset to our community for many years to come. My staff and I look forward to continuing to establish the premier center for foot and ankle care in Southern Oregon.
Learn More
Ankle & Foot Specialists Of Southern Oregon
1661 Highway 99 North Suite 201
Ashland, OR 97520

Phone: (541) 482-4924
Fax: (541) 488-1732
www.ashlandfoot.com