Interviews
Ashland Chamber of Commerce – Shop Local – All Year Long, Being Thoughtful in Your Purchases
Shop Local – All Year Long
Being Thoughtful In Your Purchases
We've all heard the phrase 'Shop Local', well what does that really mean and how does it directly impact our community. I went behind the scenes of Ashland to speak with Dana Preston, Membership & Business Development Director of the Ashland Chamber to discuss and explore the concept. I discovered much more than I initially imagined. Shopping local is deeply rooted in the Southern Oregon culture. Many businesses are first or second generation family-owned businesses while others business play an active role in maintaining a healthy business eco-system.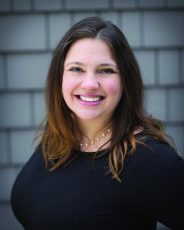 Dana, hello and welcome to LocalsGuide. Of the many people in Ashland you are one of the ones who continually has your finger on the pulse of our Business Community. How are we doing out there?
Thank you, Shields, for reaching out. Ashland's business community is vibrant and engaging. There is such a spirit of entrepreneurship in Ashland and you can really feel it at the pulse of the business community.
As part of your job at the Chamber you are not only encouraging shopping local as a seasonal practice but as a yearlong life style.
Absolutely! The holidays are a wonderful time of year to really sit back and think about how you shop and how important it is that we spend our dollars in the Ashland community. We have several exciting independent retail businesses that do a great job at offering fun gift ideas for your holiday shopping needs. But, it's bigger than just the holidays. Shopping local helps keep Ashland vibrant all year long. While our visitors certainly make an impact on our Ashland businesses, it is important that they feel the local support as well.
Something that you mentioned to me that I found interesting is that local business owners really depend on local customer feedback and relationships.
One of the great things about our local business owners is that they are our neighbors and friends. We run into them in the grocery store or at a coffee shop. They are here locally and always listening to their customer base and responding to what they are looking for.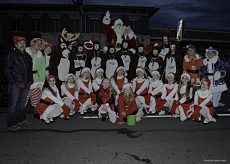 I think this is really important in Ashland because we have a very collaborative business ecosystem in which we all continue to raise the bar for one another.
It's really important that our small businesses work together, collaborate and see one another as partners and not competition. At the Chamber, we are always looking at different ways to bring businesses together for events and promotions. It's really great to see businesses working together!
Dana tell us more about your role and the role of the chamber that goes into supporting the local business community.
The Ashland Chamber's mission is to enhance and support the local economy and helping to provide the amazing quality of life we have in Ashland. We do this in a lot of different ways through our main community events (Festival of Light, 4th of July and Children's Halloween Celebration) and by bringing businesses together to network and build relationships. Additionally, we work with business through thoughtful analysis of industries to find trends and challenges, and see how we might support them in their endeavors.

The Ashland Chamber always encourages our community members to shop local and really think about where they are spending their dollars. During the holiday season, while we are on the hunt for gifts to share with family and friends, it's even more important.
I think everything we are both talking about points directly to quality of life.
Ashland's quality of life is unmatched, and it didn't just occur by happenstance. A lot of people have worked hard over generations to support the community and build Ashland to what it is today. Part of how we can help maintain this is through being thoughtful in where we spend our money and really taking the time to support our local businesses because they are such an important part of our community.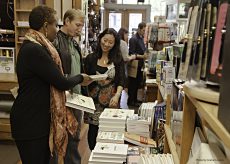 Dana there is really a huge philanthropic arm to the Ashland business community that is directly connected to shopping local. Please say more.
Our local business owners are very philanthropic and often do a lot of things that support community non-profits that not everyone sees. For example, last year the Ashland Chamber's Retail Task Force created Give Back Wednesdays. On Give Back Wednesdays, participating businesses are donating a portion of their sales to three different local non-profits. This was something that these businesses wanted to do to benefit the local community, it was their idea! I think that is something really special and unique to our Ashland business owners.
Dana are there any stores in particular you enjoy shopping at in Ashland?
I love that I can find just about anything I need by shopping in Ashland. Especially for the holidays! I can find fishing, outdoor AND specialty kitchen gear for my husband, a unique piece of jewelry for my mom, specialty yarn for my favorite family knitter, new book ideas for my dad. I can really find any gift I need for the holiday in Ashland, and it makes me feel good knowing that I'm supporting people who give back so much to our community year-round.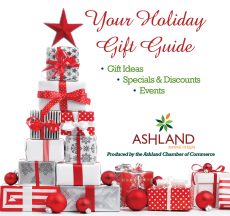 Ok, Dana… I know you are kinda famous in the business community and a curiosity I have is how many names you have memorized of business owners here in Ashland?
Hahaha! I could name a few! Well, I have been with the Ashland Chamber, first as an intern, since 2002. It has been awesome to meet the business owners I have met over the years and its especially awesome when I get a chance to see a new business really thrive in this community. I have even seen two people meet at our weekly Greeters meetings, fall in love and get married. That is what Ashland is all about. Building a strong community, creating connections and forming lasting friendships. We should all be so grateful to live in a community that values relationships.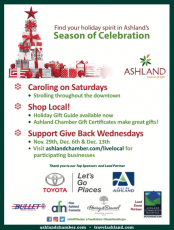 Are there any other thoughts or comments you would like to share with our readers?
I have mentioned a few times how important it is to shop local. The Ashland Chamber has a great tool for you to find inspiration and ideas for gifts in our local community, the Holiday Gift Guide.  The Chamber created it four years ago with local businesses. It has great gift ideas and some discounts for you to explore this season. If you haven't received one, stop by the Ashland Chamber office and pick up your copy today!

We hope that everyone has a happy and safe holiday season and we appreciate you all for being a part of what makes Ashland so special. See you in 2018!
Learn More:
Ashland Chamber of Commerce
110 E. Main St.
www.AshlandChamber.com
541-482-3486