Interviews
Lithia Artisans Market – 13th Annual Holiday Market – Briscoe Artwing
For the past 13 years Briscoe ArtWing has been exploring the creative process in community. From the hosting of it's annual Midsummer's Dream Art and Music Festival, to the Artists in Residency program, to the launch of their annual Holiday Market, the Briscoe ArtWing is a beacon of creativity for artisans everywhere.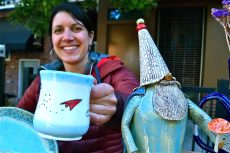 Marcus, thanks for being with us here today to tell us all about the upcoming events at the Briscoe ArtWing.  Can you start by giving us a little bit of history and background to the Briscoe ArtWing and the Lithia Artisans?
The outdoor market along Ashland Creek started in the fall of 1983. Way back then Guanajuato Way was sort of a mess — lots of brambles and garbage, a forgotten back alleyway. Today Calle Guanajuato is a thriving public space during the warmer months with our own Lithia Artisans Market of Ashland (LAMA) open every weekend from March thru October.

The Briscoe ArtWing was an idea that came into being in 2005 when the Ashland School District decided to decommission the Briscoe Elementary School. The Lithia Arts Guild took on this public space as a project and turned 6 of the classrooms into artist studios. At the same time we ventured into our first Holiday Market. That was 13 years ago!
A comment I have heard time and time again is that the quality of craftsmanship is truly outstanding. Please say more.
I think that is the key to the success we are having at the artisans market. The quality at the market is not a random thing. You have to present your items to a jury committee who decides if the products are an asset to the market. Because of this process the folks who become members have already been screened for their quality of workmanship. When talented craftspeople come together the quality just seems to keep improving over time. People inspire people and soon enough you look around and everyone is on their game. It is really cool to see that synergy in action. I love it!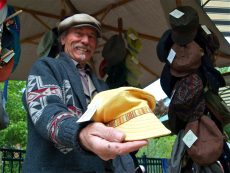 Can you give us a walk through and introduce us to some of the vendors who will be showing this year?
Lavelle Foos is one of our most senior members. She makes copper pendants in the old Navajo tradition, working at an anvil, hand-pounding the pieces into works of art. She is an inspiration for the next generation of artisans, a mentor to the young. She is connected to the ancient ways and the earth. As Lavelle points out, when you are working with the elements of the earth, and working with basic, time proven techniques and tools, you can physically feel as though you are part of a tapestry of timeless consciousness. When people talk about the lost arts they are talking about the kind of art and craft that Lavelle and others at the market are still holding on to. Her pieces are precious, simple, well crafted and made to last a lifetime and beyond. True craft.

Amy Goddard is a native Ashlander and a well travelled folk artist. She is multi-talented, bringing to the market a line of skin care products as well as her prints, puppets, and sundry other folk art pieces. Like the show itself, Amy's booth is familiar, comfortable, and full of imagery and things that makes you smile. I love what she creates and the energy she brings to our markets. Simple and well crafted. Art from the heart.

The Hat People of Talent Oregon are a great example of a small business model that has stood the test of time. They make wool and cotton hats in the classic style of the newsboy caps from a bygone era. Their hats are legendary in the Pacific Northwest craft circuit. Jim and Carol Young have been a part of the Lithia Artisans Market from the beginning, 30 plus years ago. Jim was one of the main reasons that the Briscoe ArtWing exists as we know it today. Tirelessly, Jim has been an advocate for the artisan community for the entire time he has been making and selling hats.

Lisa Eldredge is a potter who joined the market three years ago. She is relatively new to the role of professional artisan. I have witnessed her growth as an artisan. Every time I see her setup she has come up with a new idea, a new glaze, a new texture. She is always evolving her art-form. Her art is functional, durable, and beautiful. I love drinking coffee from my Lisa Eldredge mug as part of my morning ritual.

These are four examples of the over 40 artisans you will discover every weekend in December at the Briscoe ArtWing Holiday Market.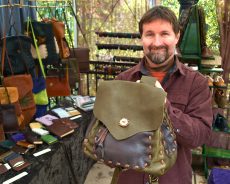 Marcus you've mentioned that the Briscoe ArtWing Holiday Market is one of your favorite shows of the year. Please say more.
It is the last opportunity of the year to get together with my artisan family and sell our wares. The show has a super comfortable, cozy vibe. There is always coffee brewing and an interesting conversation to be had. By the time we set up to sell at Holiday Market, we have been setting up and selling our wares for a solid 9 or 10 months. The season is winding down and you can feel the pace slowing. It feels like a long hibernation is just around the corner and that feels comforting.

There is lot of trading going on between the artisans. That is fun.

The community of Ashland and beyond really comes out in support of this event. We are so grateful to live in a community that supports the arts. It is one of the main reasons I moved back to Ashland as a young adult and have been here ever since.
You personally have now been participating for more than 23 years in the market. What changes do you see that are on the horizon?
Young people are coming up with new artisan businesses and are eager to make their own way on their own terms. I see passion and desire in these new artisans. This gives me hope that the artisan model of self-reliance will persist.

The artisans market is an old model that has been around as long as folks have been making handcrafted functional and ornamental items. To continue to push the envelope of creativity it will be up to the next generation to carry that torch.

The lost arts will not perish if the young people take on the task of pushing the art forms into the future.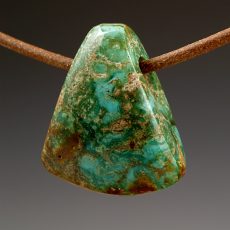 I love to hear you are inspiring new artisans. Many young entrepreneurs including myself have gotten their starts as artisans and some of my favorite memories are of the relationships and friendships I formed with vendors such as yourself.
We are a unique breed for sure. Old cliches ring true. "Birds of a feather flock together."

I see the artisan community here in Ashland as one big family. Like any family we have our issues with each other. However, also like a family, we work through it, show compassion for one another, and come together often in celebration of our uniqueness and our art. This community acts as a safe haven for many and, also, as a mirror at times. Sometimes we need to see a side of ourselves that might be hidden to us. I have often been inspired by my fellow artisans to look at things with different eyes or with new knowledge. This artisan family has really helped me grow as a craftsman and a human being. 
Over the years you and I have talked about the importance of community and about the special relationship to community that artisans have in growing it. Please say more.
It is about empowerment. When you own your own artisan business, making your own products and income, then you are empowered by the process. You have dollars in your pocket to pay for rent, food, the necessities and beyond. When a guild of self-empowered artisans come together to form a market then you have an empowered community. This is vital to the health and well-being of the community and everyone in it. 

Artisans are the ones sharing their lives through their art and stories. I've talked to thousands of people coming to Ashland over the years and not only myself, but every one of the artisans has touched the hearts and minds of visitors. This place, Ashland, is a magical place and the artisans market is part of that magic.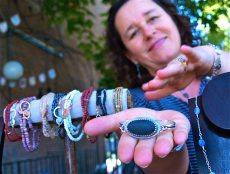 Marcus, let's talk more about the tradition and practice of gift giving. What does this really symbolize?
Giving and receiving of gifts is an ancient tradition. A meaningful gift tells our loved ones that we honor and appreciate them. When we gift something unique and handcrafted we are also supporting the passion of the artist who made the item. We are connected to the item by means of the person who made it, the story it tells. Many of the items you find at the market are full of meaning and tradition. Ask the artisans about their craft and they will tell you all about it.
So much heart and attention has gone into the creation of the works the artisans have created. Tell us about some of the items that you have your eye on this holiday season.
Katrina Meister is a fine artist at the market and another native Ashlander. I really love her koi fish paintings that she does as cloth banners. I find her pieces to be calming.

I am equally impressed with the stone cutting and silver settings of my friend Dan Clark of Pine Tree Jewelry.

Dan is a purest in his technical approach, and an artist thru and thru.

His Oregon picture jasper pieces are amazing. You have to see them up close to appreciate them.

Trace Taber is know as the Oregon Spoon-man. He will be showing his wooden spoons and kitchen utensils again this year at Holiday Market. He uses local wood to create functional, beautiful items that make really nice gifts.

I love the honeys and candles made by our friends at the Wild Bee Honey Farm.

We have a new chocolate maker joining us this season. Yum!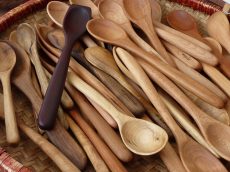 A vital role I see artisans demonstrating for children, as well as adults, is the creative process. Not everything is perfect and in fact it is very wabi-sabi and this is probably one of the most important aspects of life.
Everything you find at the market is imperfect in its own perfect way. One of a kind is the way of art, the way of the artisan. Everything is a work in process, much like people. Giving people a creative container to grow within is key. The market acts as a container, a place for the individual artist to feel at home, and thereby actualize their potential as a professional artisan.

We are a family-friendly marketplace. Everyone is welcome. Youngsters are inspired when they meet the people who make the things they are seeing or touching. The connection is real. The byproduct of the market is that the community and world at large is more connected through the items we make, purchase, and trade amongst ourselves.
Last, but not least, can you give us an overview of what you have planned for this years event?
Over forty local artisans are coming together to share what they make in a cozy, family-friendly environment. Handcrafted jewelry, woodwork, clothing, fine art, hats, lamp-worked glass, leatherwork, and so much more.

Live music daily featuring local singer-songwriters. I'm super excited to have The Brothers Reed joining us again this year, as well as Son Ravello, and The Maybe Sometimes. See our website for a complete music schedule.

www.lithiaartisansmarket.com

Complimentary cider and cookies are available, a DIY gift-wrapping station, and a weekly drawing for a $50 Gift Certificate happens every Sunday afternoon. You must fill out a free raffle ticket to enter.

Entry to the event is FREE to the public!

WEEKENDS   SAT 10-6    SUN 11-5.

(Closing at 2pm on Christmas Eve.)