Articles
Ashland's Big Town Hero is satisfying big appetites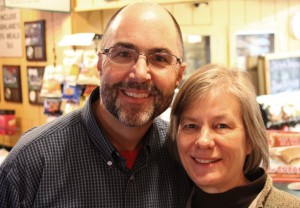 Big Town Hero has been serving the Ashland community for more than 20 years. It has developed a reputation for excellence among its extremely loyal customer base. Part of a 30-restaurant Oregon franchise, Big Town Hero bakes it's famous bread daily from only five basic ingredients. It also offers generous portions of meat, cheese and veggies to create sandwiches that satisfy the biggest appetites.  We spoke with the new franchise owners, Camron and Linda Clarkson who took over this past May.
Camron & Linda, thanks for taking the time to speak with us today and to tell us more about your restaurant. Can you start by telling us about one of defining aspects of your restaurant which is the fresh baked bread?
Our baker has been arriving at Big Town Hero early every morning for more than 15 years. She starts the process with whole wheat and white bread loaves. Our ingredients are simple — flour, oil, yeast and just a tad bit of sugar and salt, mixed with water.

After mixing, kneading and rolling the loaves, she proofs them for an hour before baking in our oven. She bakes 6-inch, 8-inch and 12-inch loaves, as well as bread bowls. Even our Paninis are freshly baked.

Our baker also creates cheesy garlic bread by adding real Cheddar , Swiss & Provolone cheeses to the mix, and then rolls the dough in Parmesan cheese. We also make onion bread by adding onion flakes to the dough.

A new offering is our gluten-free bread. We realize that there is a tremendous need for gluten-free bread in our area, but getting the right consistency and good taste had been a challenge. We believe we have finally conquered this challenge, and we are welcoming feedback from our customers.
Camron, can you give us a little snap shot of your own experience in the world of restaurant and food?
I started working in fine dining while attending high school in Portland. Then I completed a culinary apprenticeship in Eastbourne, England at the 5-star Grand Hotel, before graduating from the Culinary Institute of America in Hyde Park, NY. In my early career, I worked at the Biltmore in Phoenix and Harrah's in Reno, and even as a culinary instructor at Scottsdale Culinary Institute .

But the for the past 18 years, I worked for Sodexo and Marriott in college and corporate dining. This is where I really picked up the skill in understanding people's needs for a satisfying meal that carries them through their very busy day.
Since taking ownership of both the Ashland & Central Point locations in 2012 what has impressed you most with the Big Town Hero?
The restaurants are a good fit with my own values around quality and freshness. We serve quality meat, cheese and veggies on our sandwiches. The produce and meat are always fresh. Our salads are made at the time you order them– not pre-made. So you receive them as fresh as possible.

I have also been impressed with the employees who work for me. The crew in Central Point have been there for nine to 10 years. They have really been teaching me about the business.
Camron, will you please give us a little bit of background as to what a Hero is, where the name originally comes from and what types of sandwiches you usually create?
The name originated in Italian communities in the Northeast and refers to sandwiches that are made on homemade bread and large enough to share with family and friends—very much a full meal.

This was the original name for what became known as submarine sandwiches. However, the HERO still holds the distinction of being the original and premier quality among sandwiches, and always served on baguettes that are handmade from scratch.
Linda, you have taken steps to expand upon the meaning of Hero one step further will you please tell us more about the "Local Hero Program" you have started in our community?
When you walk into the restaurant, you'll see a large wall mural that captures sayings such "True Heroes Rise to the Occasion", "Heroes are made of the right stuff" and "Discover the hero within." It uses descriptions that we would normally use in describing the heroes in our lives.

The heroes who rise to the occasion are really the heroes among our customers.  We want to honor and recognize the heroes in our community. So now when you enter one of our restaurants, you'll be able to see the photos of our community heroes — people you may even know. They are heroes for Big Town Hero.
Camron, since you guys are owners of both Ashland and Central point locations how are the two shops different and how are they alike?
The two sandwich shops are like our two kids. They are very different, almost polar opposites, but both are part of one big family. Having the both of them adds more spice and interest to our day. We appreciate the strengths that each one offers, and in many ways they balance each other out.
How about specialty sandwiches?
Ashland wants a sandwich all to itself. So we created the Ashland sandwich made with Rogue Creamery blue cheese, roast beef and Greek dressing.. It's the chef part in me that wants to bring unusual ingredients together to create an all new taste.

That's why I created the  Dogoba Panini. You have your choice of Smores, made with Dagoba chocolate, marshmallows and graham crackers or the Double Chocolate Oreo, made with Dagoba milk and dark chocolate and Oreo cookies. And yes, they're made on freshly baked Panini bread.
Camron will you talk about your motivations in taking ownership of both Ashland and Central Point sandwich shops?
Owning a business has been a long-time dream. When I was living in Durango, CO, I started working with the Small Business Development Center to create a business plan for a quick service restaurant. I wanted the experience to work on my own and use my time and energy for my own business.

So we started looking at businesses shortly after moving here in 2010. And we had been watching Big Town Hero for sometime before it finally became available last May. We feel very fortunate to have this opportunity.
Linda what is your favorite sandwich?
Very berry turkey. I enjoy cranberries combined with cream cheese and turkey. I know other sandwich shops have created something similar, but Big Town Hero seems to have the right combination.
Will you tell us a little bit more about your family and something you enjoy doing together?
We lived and raised our kids in Colorado for about 11 years. I'm originally from Oregon and we always talked about moving back to the Northwest. We believed this area offered some great opportunities.

Our kids, Catie and Nathan, attend North Medford High School. Catie works in the Ashland shop during the summer, and Nathan has been helping out at the Central Point location. It's great to be working with both our kids. I just love it.
Camron, do you have any special plans in line for this winter / springs sandwich menu?
Yes, we will continue to offer specialty sandwiches in Ashland. In the next week, you can order a specialty veggie sandwich  made with sprouts, garlic mayo and avocado on whole wheat.

We are always making custom sandwiches to order. In fact, we have so many fresh ingredients to work with that we can make as many as 300 different combination. Just let us know what you would like to order. 

We take phone orders at any time, and if you give us enough notice, we could deliver. Call us at 541-488-1523.
Finally any last words you would like to share with your readers?
We  really enjoy being a part of the Ashland community, the Ashland chamber and serving the local businesses, students, workers and families. Our favorite time of the day is greeting our customers and talking and getting to know  them. We really look forward to them returning for another meal or sandwich. It's fun to be a part of their daily lives.