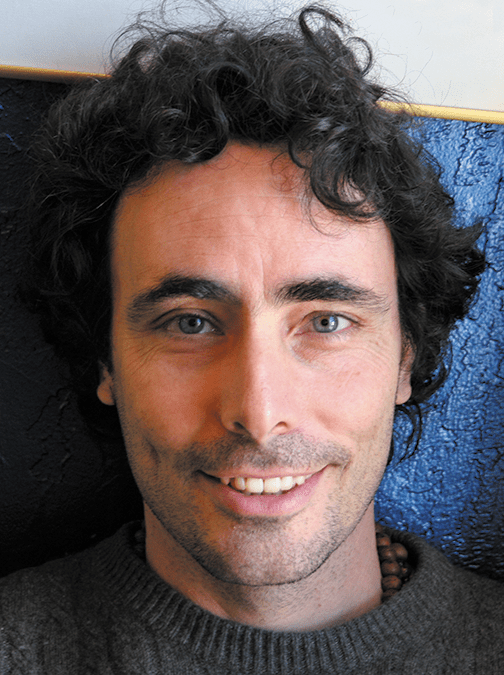 David, thanks for speaking with me today.  Let's dive right into our discussion on website design.  What types of websites are you building these days and why?
Thank you, Shields.  I recently completed sites for a wide range of businesses, namely:  authors, book publishers, a real estate company, a tango teacher and a vacation rental.  I also created a number of sites for artists.  The similarity is not so much in the type of business, but in the sensibility of the owner.  I tend to work with people who care about having a professional, visually pleasing site, one that reflects their personality and that of the business.  They often have a good idea of how they want the site to look, but cannot articulate it.
Your background as an artist and your interest in education has given you a special opportunity to help your clients.  Can you please tell us more?
I went to the Museum School in Boston and graduated with a fine arts degree in painting.  I have been working in the visual arts my entire life. This brings an acute visual awareness to my website designs.  Because of my art background, I love the creative collaboration that develops when I work on a website.  Many designers find it tiresome when clients get too involved in the creative process and decision-making.  I invite this.  It gives me a chance to work creatively with others.  This is a welcome contrast to the solitary process of painting.  The business owner knows her business better than anyone else.  Even if she has no artistic or design sense, her ideas are of the essence.  My job is to translate those ideas into a site that is well organized and visually stunning.  The educational component is also an important part of my work.  I build my websites with Wordpress.  It is a platform that is easy to update.  I teach each client how to make updates that are relevant to his site. Clients often come back to me for ongoing support.  I fix things that they are having trouble with and/or teach them how to make these changes themselves.  They choose how much they want to learn and how much they want to turn over to me.  I recently taught my first class on Wordpress.  There was a lot of interest and requests for more classes.
Often times someone who wants to create or launch a new website may have been thinking about it for some time.  What are your best tips for pulling the project together and getting it done right, the first time?
This is true.  I often talk with people who have been meaning to build a site for months or even years.  They just don't know where to start or have started and became stuck.  Many people think that they should be able to build their own website.  The reality is that they just become overwhelmed and it hangs over their head, never getting done.  It is very satisfying for me to finally see these websites go live.  The first step in getting unstuck is often to admit that you need professional help.  Your buddy's nephew who is in college and knows about computers might not be your best bet.  There are many aspects to think about when planning your site.  What do you want people to do once they get there?  What do you want to say?  What functions are important?  How can you make your site more accessible to search engines?  What type of images will work best?  I will map out the process for you.  I will walk you through each step.  You will have homework.  If you haven't written your content, you will need to work with that.  I can tell you what is needed, help you organize and guide you through the process.  People come to me and realize they do not have to figure it out on their own.  I love watching them just relax, knowing they are being taken care of.
Can you walk us through a sample project?
I always offer a free consultation. This is where we meet each other, talk about the project, and see if there is a fit.  The next step is providing a quote.  This is a very important part of the process because it is where expectations come into play.  It is very important to me that I meet a client's expectations for the price I quote.  I write up an agreement that details exactly what is included in the quote.  When we decide to work together, we have a more in-depth conversation about the website.  I gather as much information as possible, ask questions to bring out the client's vision, and offer ideas of my own.  I then come up with an overview of the site and a plan for its completion.  I like to take at least two weeks to work on the first draft.  This gives time for ideas to gel and for the basic design elements to come together.  During this time, there is often communication between the client and myself.  I then present an initial draft of the site.  The major design elements are there for the client to review.  I ask him to give me a list of changes he would like to see.  I complete these changes and present the site for a second review. My quotes always allow for these two rounds of changes and revisions. This ensures that my client ends up with a site he can't wait to show the world.  When the site is complete, I sit down with the client (in person or over the phone) and walk him through the steps needed to update his website.  This is often enough for him to maintain the site.  I am always available for future support.
David, I get the sense that you really enjoy working with your clients through their entire experience.  Tell us about some of your favorite aspects of each of the phases that you describe above.
Yes, I really enjoy getting to know people.  I feel honored to help them represent the endeavors that they are so passionate about.  I also find the collaborative creative process exciting.  Collaboration is, to me, the essence of a great working relationship.  My ideal clients have a good idea of what they like.  My technical know-how and a creative vision make it happen.  It is also very satisfying to know that I am providing a smooth, enjoyable experience.  There are so many aspects of a person's business that only they can do.  When it comes to creating a website, I can save A LOT of time and frustration and streamline the entire process.  That feels good!  When the site is finished, I see a client's increased confidence.  They have a renewed sense of pride in the business they have created.  I can't help feeling proud as well.
In your experiences what are some of the biggest challenges individuals face when taking on a website?
As I mentioned, some people I talk to are in overwhelm and just don't know where to start.  Others have had awful experiences with past web designers who did not listen to them.  They felt they had no control over the project.  They were afraid to give up and lose all they had invested in that designer.  Some of them finished the site, but didn't like it at all.  This is why I take so much time finding out what my clients want and how they envision their sites.  My quotes also allow for revisions.  A client can say, "I love the colors and the background but I want to play with different fonts."  Knowing that I allow room for these revisions creates a sense of trust and relaxation.
Any additional tips or tricks we should be aware of?
Internet users are not known for their patience.  Studies show that we give a website only a few seconds to convince us that it is worth our time. I am very aware of this when I design a homepage.

I break down the essence of the business into visually accessible information that a visitor can digest in a moment.

A visitor should be able to look at that homepage and instantly determine what you offer.  She should quickly get a sense of your approach and what makes you different.  A highly professional presentation is also essential to keeping visitors from moving on to the next site.
Can you walk us through a few of your recent projects?
Judith Pavlik Photography

Judith Pavlik specializes in photographing babies, children and families.  She wanted her site to be playful and to showcase the different facets of her work.  Portfolio pages allow visitors to scan thumbnails, enlarge them, and scroll through the full sized images. – www.judithpavlik.com
Exterminating Angel Press
The Exterminating Angel Press is an independent book publisher located in the Colestin Valley outside of Ashland.  This was a technically challenging as well as visually rewarding project.  I combined two blogs and an outdated Joomla site into a single, redesigned WordPress network site.  Tod Davis, the founding editor, wanted a simple, elegant look that brings to mind the literary character of her business. -www.exterminatingangel.com
Conway Real Estate Services Inc.
Tod Davis of Exterminating Angel Press recommended me to the owner of another press in Pasedena, CA.  I created her site and she recommended me to a relative who works in real estate in LA.  Matthew was really fun to work with and has an impressive portfolio of properties that span the Greater Los Angeles Area. – www.theconwaycompany.com
The Ashland Art Center
My art and design studio is at the The Ashland Art Center.  I was asked to redesign their website.  The center needed a site that could be easily updated by the volunteers who maintain it.  Wordpress provides the perfect platform for this.  The site contains a page each for over 120 artist members! – www.ashlandartcenter.org
Dreamweaving Designs
I redesigned this site for Jo Ann Manzone, an accomplished fabric artist who lives in Ashland.  Jo Ann wanted a spacious layout that prominently featured many images of her work.  The homepage has a slideshow of her wearable art.  There is a simple, but complete Wordpress ecommerce component. – www.dreamweavingdesigns.com
David, can you give us an idea of price range and packages you offer for website design?
My starter package begins at $950 and includes all the essentials to get you up and running with a beautiful website.  This includes: premium Wordpress theme with custom CSS alterations, blog, SEO keywords, email signup, Google Analytics, and a tutorial on how to add new pages, posts and content.  I also create custom packages with more elaborate designs, extensive content and advanced functionality.
You mention above that you have built websites for Vacation Rentals, Artists, Authors and Book Presses.  What other areas of expertise would you like to work with?
I like to work with people who really care about visual presentation.  They want their website to create a space that reflects their personality.  I would enjoy working with wineries because of all the beautiful photos that I could play with.  I would like to create sites for boutiques, because boutique owners have a highly developed sense of ascetics.  I would also like to work with healing practitioners, speakers, and Bed & Breakfast establishments.
David, your work also includes website updates and modification. Will I need to call you every time I need an update to my website?
If you already have a Wordpress site, a redesign may be considerably less expensive than starting from scratch.  I help a number of people to update and manage Wordpress sites that I did not build.  This is usually a mixture of training and making changes myself.  Again, I educate and empower people to learn to do as much as they want on their own.
Do you offer ecommerce sites?
Yes, I offer options that match the complexity of the project.  They range from paypal buttons to comprehensive Wordpress ecommerce platforms, to solutions suitable to full-blown ecommerce ventures.
How does one go about learning more and having you create a website for them?
 Visit my website. Look at my portfolio. Read my testimonials. Call or email to talk and schedule a free consultation.
Learn More:
Ashland Websites
541-292-1042
www.ashlandwebsites.com
david@ashlandwebsites.com