Interviews
Nick and Laura Carpine – Taking You To The Top
Nick and Laura Carpine are the owners of Integrated Elevator Services. A unique and independent elevator installation, service and repair company located right here in Southern Oregon. With a focus on both residential and commercial elevators and lifts, Integrated Elevator Services offers the expertise of a big city elevator company with local availability and pricing. Unfortunately in the past many elevator owners or anyone considering installing an elevator or lift, had to pay exorbitant travel time fees to work with distantly located elevators companies. That alone is enough to make anyone want to take the stairs.  Well, not anymore; Integrated Elevator Services has been serving the Valley for 5 years now and handles commercial and residential accounts that span our Southern Oregon region. In this interview I spoke with Nick and Laura about their company and the world of elevators, lifts and more. We also discuss how can an elevator keep you living in your home longer, increase the value of your home and provider overall greater quality of life. 
Nick and Laura, thanks for doing an interview with the LocalsGuide. I never knew we had a local elevator repair company right here in the valley.
Thank you for the opportunity to introduce ourselves in the Locals Guide.  We have been here for several years now and many people are pleasantly surprised to find out we are local company. Many of our new customers are referred to us by existing clients.
To begin with, please introduce us to your company.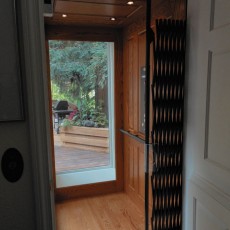 We started Integrated Elevator Services in 2009 to supply a need for quality and affordable elevator installation, repair and service in Southern Oregon.  Nick has over 25 years of experience in the elevator trade.  As a local and independent company we can focus on quality, craftsmanship and outstanding customer service for our customers throughout the region.
Nick, you had originally spent many years working with larger elevator companies on all scales of project.  What aspects of the industry did you want to capture when starting your own company?
I started my apprenticeship in the elevator trade in Portland in 1989 through the National Elevator Industry Education Program.  I was lucky enough to stay employed by the same elevator company for over 22 years before starting Integrated Elevator Services.  As an elevator technician I have worked on some pretty spectacular jobs, exotic locations and supplied elevator installation and service to some pretty amazing buildings and homes throughout the Northwest and South Pacific.  I will speak more about this throughout the interview.  I have been fortunate to meet many interesting, amazing and very successful people along the way.  Our goal with Integrated Elevator Services is to focus on our customer's needs here in Southern Oregon.  Our priorities include focusing on quality, craftsmanship and attention to detail in the installation, repair and service of elevators for our communities and friends.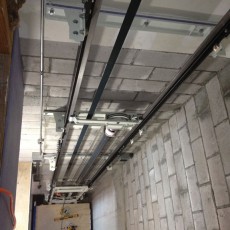 Laura, talk to us about the regulations involved in the elevator industry. 
Safety is by far our company's number one priority.  The State of Oregon and the elevator trade require individuals to be highly trained and highly skilled.  Nick is in a fortunate position because of his years of experience and education.  He has worked in all aspects of the elevator trade over the years and has logged numerous hours in elevator safety meetings and attended numerous OSHA classes throughout his 25 year career.  The State of Oregon requires proof of mastery annually.  They require continuing education and familiarity with the constant elevator safety code changes as they become adopted.  Working on elevators is unique in itself but the risk involved in working on elevator machinery needs to be treated with respect and caution.  Elevator technicians are constantly exposed to live machinery, high voltages and high pressure hydraulic systems.  We think all required continuing education hours logged are well worth it for everyone.
Nick, Integrated Elevator Services is providing services for both commercial and residential accounts across Southern Oregon.  Could you give us a brief overview of the types of services you are providing?
We install, repair and service residential and commercial elevators.  Many people with home elevators like to have routine service visits once a year to make sure their elevator is working safely and efficiently.  Older equipment may require more frequent visits to keep up with the age and usage of the elevator.  Commercial buildings, unlike a home elevator are required by the state of Oregon to have annual elevator safety testing.  We offer annual maintenance and service agreements that can be tailored to the specific needs of our residential and commercial customers.  This last year has seen an increase in home elevator installations. We offer a wide variety of elevators and lifts from different manufactures.  New home elevators are becoming quite a beautiful and modern addition to a home.  Even dumbwaiters are becoming more common in modern day homes.  Either way, it adds value to a home and opens up the market to prospective buyers if you ever decide to sell your home.
Laura, up until now many people have only been able to find you guys via word of mouth. This has led to many paying top dollar for services that otherwise could have been done locally at a better price.  Can you talk more about this?
We still come across people that have hired someone from Portland or even Washington State before they found us.  This can get very expensive if problems are intermittent or parts need to be ordered and a return visit is necessary.  We are often available for same day service and in many cases can arrive within an hour or so.  Because we are an independent and a local company our rates can be 50% less.  We know people are looking for homes with elevators, or thinking about installing an elevator in their current home.  Using a local company can certainly keep costs down.  These days it's not uncommon to know someone with an elevator or lift in their home.  Tell them about Integrated Elevator Services.  We are here to help and answer any questions they may have.
Nick what have been some of your favorite commercial projects to work on?
Locally we take care of many commercial elevators and lifts in the valley including the Ashland Springs Hotel, Country Willows, Martino's, Macaroni's and The Loft. We have been working with Ashland Public Schools, Medford Plaza, churches and nonprofit groups between Ashland and Grants Pass, to name a few.  There are many more elevators in Southern Oregon than people think.  Most people don't tend to notice elevators until they stop working.  Being an Elevator Mechanic has given me a great opportunity to meet many people and business owners in our community.
Can you specifically tell us about the benefits of adding an elevator into your home?
An elevator will of course add value to your home and open up the real estate market for prospective buyers.  Another reason is that some people do not want to move from their beautiful multi-level homes in Southern Oregon.  Installing an elevator in your home can give you peace of mind.  You will be able to stay in the home you love without any restrictions.  Some people enjoy the luxury of not having to carry groceries, laundry and even furniture up and down stairs.  Others want to be prepared for the future but in the meantime enjoy the modern appearance and convenience an elevator brings to a home.
So, this solution is not just for seniors who may be thinking about having an elevator installed in their home. Their children can also be considering what benefits an elevator can bring as well.
In many cases we get customers inquiring about elevators and lifts because an aging parent or loved one will be moving in with them.

Making a home comfortable and accessible can be a great gift of independence for the ones we love.  Installing a home elevator can often be more cost effective than the daunting task of selling and moving into another home.
Nick, you have been able to work around the world installing, maintaining and building custom elevators.  What have some of your coolest projects been including local?
It has been an interesting and exciting trade to work in.  In the past, I have worked on some really big projects in some pretty amazing places. I have worked on the home elevators for one of the founding members of the Microsoft Corporation in Seattle, WA, the Boing 777 building in Everett, WA and Government Buildings on the Marshall Islands in the South Pacific, to name a few.  Locally, we just completed the installation of a new custom glass elevator in an Ashland home.  This was a beautiful home to begin with and the addition of a glass elevator made it a really unique addition to their home.  Plus we made some good friends in the process.
Laura, what are some client concerns that usually come up when considering purchasing an elevator and how does your company assist in overcoming these?
There is a range of concerns I hear from customers pertaining to the cost of an elevator, the many options and choices available and how to choose the right manufacturer that closely fits their needs and preferences. We assist customers from the very beginning of the project.  We work closely with architects and contractors supplying them with specifications and parameters to ensure a quality installation.  We represent many manufactures and can help customers choose the right elevator for the right price.
Nick, can you describe the scope of elevators you have worked on and are seeing around the Valley. 
Most people don't think about elevators in Southern Oregon because they don't see high rise buildings in the valley.  The scope of elevators here is really no different than in a large city just on a smaller scale.  We pretty much have all types of elevators here in Southern Oregon.  The majority of residential and commercial elevators in the valley are of the hydraulic type.  We are also seeing a large demand for the installation, repair and service for wheelchair lifts, stair lifts and dumbwaiters.

Over the years we have installed and maintained many types of these units. We also want people to know that we promote environmentally sound choices that are safe and healthy for people and the environment.

We encourage our customers choose food grade hydraulic oil and lubricants to keep their elevators running clean.  We offer high quality food grade hydraulic oil, lubricants and machine cleaning agents.
How do we go about setting up an appointment and learning more about your company?
Start by giving us a call or inquiring on our website. We are happy to answer questions, mail or email brochures of the many different products we offer and install.  We can also come to your home or building and offer a free consultation or survey.  We appreciate your time with us and hope to hear from you soon.
Learn More:
Integrated Elevator Experience Services LLC
541-210-7164
www.IntegratedElevatorServices.com