Articles
Blue Toba: Authentic Indonesian Food Comes to Ashland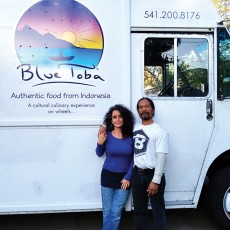 Blue Toba is the first Authentic food from Indonesia to come to Ashland, and surrounding area.  Chef Birong, a resident of Ashland for 28 years, is native to Indonesia, born into the Batak Tribe of Lake Toba, Sumatera, the largest, most beautiful Lake in Indonesia. We bring spices, only found in Indonesia, back from local villages so that we can offer you Indonesia's most famous dishes that will keep you coming back for more. Hand and heart crafted with a mortar and pestle, Chef Birong brings the multi-layered depth and beauty of Indonesia into every dish he makes.
Co-owner of Blue Toba is Leslie Caplan, Chef Birong's wife of eight years.  They met in Ashland after Leslie lived in Bali, Indonesia for seven years delving deep into the language and culture, which became an integral part of who she is.  There is no mistake that after living all those years in Indonesia, she would move to Ashland and meet Birong, one of just a handful of Indonesian's in this area.
For years, Leslie and Chef Birong dreamed of bringing the cultural depth and experience of Indonesia to Ashland.  They wanted to merge the most beautiful parts of their love for Indonesia to their home here in the Valley, which is bringing people together, outdoors, to gather in community and offer food that is marinated in thousands of years of tradition and culture into every bite.  After years of hard work, they were able to combine their resources and purchase a pristine, sparkling class IV stainless steel kitchen Food Truck and launch their dream into a beautiful offering for the Rogue Valley.  And here they are! Bringing it directly to you, with their big- hearted love for bringing two worlds, from polar opposite hemispheres, together into a true blue cultural culinary experience on wheels!
Availability:
Ashland Grower's Market every Tuesday throughout the season
(Extra Farmers Market Parking at Science Works)
Medford Grower's Market at the Commons every Saturday all season
Talent Evening Market for dinner and Live Music every Friday night all season
Blue Toba is also available for Events, Private Gatherings, and Catering
Using fresh local produce, Painted Hill Beef and Smart Chicken for healthy, conscious food with integrity.
Contact: