KSKQ is our Rogue Valley's community radio station. Commercial free and here to serve you.  KSKQ provides locally programmed shows that share and promote the true diversity of our community. In today's interview I speak with KSKQ volunteers about the station's history, mission, and future here in Southern Oregon and streaming to the Universe.
KSKQ, please tell us about yourself.
We are an independent, non-commercial, all volunteer Community Radio station originally established in 2004 to offer a media platform to alternative voices distinct from those of our culture's corporate-controlled media.
Describe how KSKQ has come a long way in the past 13 years.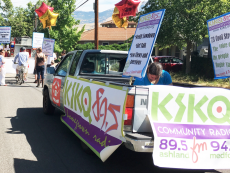 The Multicultural Association of Southern Oregon (MCASO) obtained a low-power FM (LPFM) construction permit in December 2004. KSKQ (sounds like Siskiyou) originated streaming over the internet in June of 2005. We hoisted a 100-watt antenna on a donor's property on Old Hwy 99. Later we moved from a garage into our first studio in the A Street Arts Building. In 2008 the MCASO was awarded a construction permit for a transmitter at 89.5 FM, with an antenna location on Table Mountain. We set out to raise funds and worked hard to rehab an old fire tower and turn it into a transmitter station. In fall of 2011, the MCASO received a Non-Commercial Educational license, which is what eventually lead to KSKQ broadcasting at 560 watts from Table Mountain overlooking Hyatt Lake.

The transmitter, which lives atop the old fire tower, originally ran off a propane generator. Delivering fuel to keep the station on was not easy, particularly November through April. It took 6 months in 2011 but KSKQ volunteers were able to jackhammer and shovel a 30" trench 165 feet through solid rock to connect to a transformer and plug into electricity. We were broadcasting at only 18 watts so next we set out to obtain and install a monstrous radio antenna capable of utilizing our full broadcast power, 560 watts. Three more years of fundraising and hard work and we reached full power. Then even at 560 watts, there were a few areas in Medford where our signal did not reach. We needed to lease and install a special translator that broadcasts at 94.1 FM. More fundraising, work, and mountain rides up Roxy Ann Peak this time, brought us to where we are today. KSKQ can be heard from Yreka to Rogue River, and from the mountain lakes to the Applegate.
KSKQ is all about building relationships and bringing people together. Please talk more about how you facilitate community building.  
We live here. We care about the valley. We are invested locally. Our volunteers attend events such as community meetings and city council meetings to report what's going on. We reach out to local non-profits and help them to produce their own programs. One example is our collaboration with Southern Oregon Climate Action Now (SOCAN) to produce a short program called Climate Capsules that highlights threats to our climate and offer ways in which the community can get involved. We offer opportunity for community to request we make a short public service announcement, a thirty second spot describing their current project or event. We share the voice of the people in the Rogue Valley. Another example is the live broadcast from the Tuesday Growers Market. Programmer Dave Munson hosts Farm Talk. He interviews our neighborhood crafters and growers live, on air. Many programs address local issues, sharing concerns and making connections. KSKQ treasures the friendship and trust we have developed with our listeners.
What differentiates KSKQ from JPR?  
KSKQ is a Community Radio station—of and by the people of Jackson County. We are an independent, volunteer-run station carrying syndicated programming not heard on JPR, such as Democracy Now! and Alternative Radio. KSKQ provides a hyper-local focus on Southern Oregon happenings and concerns. Nowhere else can you hear locally produced talk shows such as The Green Show Show, Honey Culture Radio, Girl Talk, We the People, Farm Talk — to name a few. You can hear your neighbor reporting the news or mixing tunes including your favorite musical genres. We feature interviews with Rogue Valley residents. We cover local events in detail. We broadcast live events. Our programming is controlled locally. As Programmer Andrew Mount, host of Rogue Regenesys, points out, "community radio is capable of challenging every assumption about where we are and where we are headed." We, together, can do that!
Who are on the KSKQ team, and what are the roles they are playing?
The KSKQ team is built of 85 volunteers: programmers and other people who contribute a variety of skills. Day-to-day operations are overseen by a Station Manager and a 5-person Management Committee. The weekly program schedule is maintained by the Program Director and a Committee. The KSKQ News and Public Affairs Collaborative gathers, writes and reports. A Fundraising Committee and Underwriting Coordinator work to keep the organization afloat monetarily. Policy is guided by the Board of the Multicultural Association of Southern Oregon. KSKQ's community broadens to include members of organizations and public entities who contribute content and further grows to include our thousands of listeners. Most of all, our programmers are the ones who make the station tick. Without their creative input and unique perspectives, we would be just another media outlet.
KSKQ, please tell us about volunteer opportunities at the station.
We always welcome volunteers to help out at the station, greeting visitors, answering the phone, taking and relaying messages, and checking the mail. Right now we could really use a person to coordinate with local artists and host benefit concerts and other special events. Data entry operators during our Spring and Fall pledge drives would be an asset and we would appreciate help in tabling at various locations in the valley and everyone please spread the word about KSKQ. We've been seeking a newsletter editor for our digital newsletter and if you're interested in reporting the news, join our news team. If your LocalsGuide readers want to help, direct them to our website (kskq.org) and download the volunteer form, found under the "Support" menu option.
KSKQ is currently running a crowdfunding campaign. Please tell us more about this.
As a completely volunteer-run radio station we've gotten as far as we can. The next logical step towards fulfilling our mission and be sustainable into the future is to raise the funds for paid staff. The board intends to hire an executive director, who can focus full-time on maintaining and strengthening our station. This paid employee will also provide leadership for our 90+ volunteers to ensure sustainability and success as we grow. Please visit http://youcaring.com/kskqfunding to donate to our crowdfunding campaign. The goal is to raise $65,000 by the end of the summer.
KSKQ, tell us about your programming.
Our programming is driven by our mission to produce community radio that empowers the residents of the Rogue Valley, builds sustainable and resilient communities through the exchange of ideas, and celebrates cultural diversity. Our news and social justice programming began with Democracy Now! We were the first radio station in the Pacific Northwest to broadcast this signature program and we continue to bring you Democracy Now! every weekday at noon. In addition, we've added a wide variety of programs covering local, national and global issues that affect those who face far away corridors of power, be they discrimination, racism, war, or environmental destruction. Several programs are repeated between 6 and 7am the following morning. A sampling of shows include Law and Disorder, Alternative Radio, Radio Ecoshock, Peace Talks Radio, and This Way Out. Locally produced shows include the Brain Labor Report, Rogue Regenesys, and the Weekly Lowdown.

Our schedule emphasizes news and talk radio throughout the morning and early afternoon. From mid-afternoon and into the evenings our listeners enjoy music delivered by live hosts. We feature nearly every genre from Reggae, Latin, World, Punk, Alternative, R+B, HipHop, Rock, Jazz, Techno, Jam Bands, Indigenous music, Underground Sounds, Metal, to iconic classics spanning the decades. If your tastes lean towards Classical, tune in Sunday mornings. Our signature morning show, KSKQ in the Morning, broadcasts every weekday from 7 to 9AM. A variety of hosts following the same format bring you music, news, weather, short informational features, plus local events and guests. Check out our schedule online at kskq.org!
KSKQ, tell us about the community effort that goes into creating and promoting a show.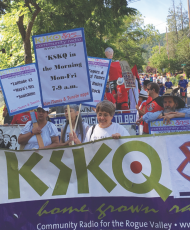 Programs on KSKQ are carefully selected to enrich our community. Aspiring on-air hosts submit a program proposal that specifies the nature of the show as well as their previous broadcasting experience. The proposal is evaluated by the program director in consultation with the programming committee. If the proposal meets our needs, it is accepted. Once accepted, the new host goes through extensive training, shadows other hosts and puts in volunteer hours at the station. Once on the air, programmers are encouraged to promote their own show and to promote on the air and in the community. Some create and distribute flyers and business cards to attract more listeners. Our volunteers have opportunities to help create events and community outreach, sharing in KSKQ's ongoing effort to increase listeners and financial contributions. To further our inspiration and to inspire others we are happy to now be offering each term at SOU an OLLI course that teaches hands-on community radio skills.
What are some of your favorite memories from the past year at KSKQ?  
Our high-energy music fundraisers hosted by nationally-known rock 'n roll DJ, Rev. Derek Moody. The recent Programmer Parking Lot Party at the station which engendered a rapidly budding community spirit and enjoyment of our team's unity. The growing number of live remote broadcasts is exciting and there's also the new person who walks through the door, and asks us about community radio, or the phone call or email from a listener, who tells us how much the liked a show. Finally, the many listeners who called in during the pledge drives and supported the station. We couldn't make radio without them.
 Tell us how "real people" and "non-commercial" are part of the KSKQ experience.
KSKQ is truly free from external control because our station is run by people in the neighborhood, people that you meet each day. Non-Commercial Educational licenses like KSKQ's may only be held by non-profits. Rather than running advertisements, we share and introduce our listeners to local businesses that support community radio. There's no corporate interest or influence. Everything you hear on KSKQ was produced or selected by our volunteer programmers. We are not beholden to far away interests who determine playlists or content. We offer uniquely diverse programming provided by a wide array of radio hosts. Our programming is insightful, poignant and doesn't shy away from controversial topics.
What does KSKQ see as the future of terrestrial radio?
The future of terrestrial radio lies in community-based radio stations, like KSKQ. With internet streaming and music subscription services, traditional commercial one-genre music stations will have to emulate the streaming format, cut back on live hosts and broadcast automated playlists determined far away from the listener. Community stations that offer local and regional information are helping people connect. Terrestrial radio is happening now; it's a real time connection. Through live local radio we get together, spend actual time together, in real-time, pure non-commercial. KSKQ is the voice in your heart.
What is on the station wish list right now?
Our most immediate need is a professional broadcast console. We need a Station Engineer and Underwriting Coordinator. We're working towards hiring a General Manager and could use donors to the crowd funding campaign. A long-term dream would be a better studio facility, maybe a house that offers more space to conduct training sessions, community meetings and interviews.
How do people tune in?
89.5 FM Ashland, Oregon, 94.1 FM Medford, Oregon and streaming at KSKQ.org
Would you like to give a shout out to some of your long-term sponsors and patrons?
Thanks to McKenzie River Gathering (MRG) Foundation for supporting KSKQ Community Radio so it can support justice in our community! Thanks to McGuire Industries for providing technical assistance as we went from propane to electric. Thanks to the MCASO, always. Community (radio) Rocks!
Are there any last thoughts or comments you would like to share with our readers?
Check out our website, tune in, and listen. If you see something is missing it is probably you.
Learn More:
KSKQ Community Radio, 89.5 FM Ashland, 94.1 FM Medford
P.O. Box 67, Medford, OR 97501
330 E Hersey Street Ste 2, Ashland, OR 97520
www.kskq.org
541-482-3999
info@kskq.org