Interviews
Chris Lopez Summit + Fields Level Up: Ashland Men's Style Takes on a New High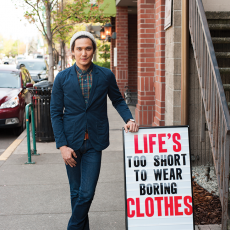 Summit and Fields is a men's clothing store located conveniently at 116 Lithia Way in downtown Ashland. The shop resides directly across the hall from Ashland's very popular Café 116. Founded and opened by Chris Lopez, the shop hosts a variety of modern, yet classic clothing and offers many styles that are simply not available elsewhere in Southern Oregon. I headed downtown to meet up with shop owner Chris Lopez to learn more about his store and fashion sensibility.
Chris thanks so much for meeting me today.  What a great shop you have here!
Thanks, Shields. I'm very excited to share more of what we're doing here in Ashland.
Chris, what originally inspired you to open Summit and Fields and how have you gone about choosing all the products you bring in the store?
The store is inspired by the modern man.  It's where the outdoors guy meets the downtown gent. Being in Ashland, the store reflects that culture and attitude into our mix and attitude.
You describe your store as curated… can you say more about this?
I carefully pick each piece with our clients' needs in mind working closely with the reps and designers to bring in a cohesive collection. I saw that this approach makes it easier for guys to shop and build their wardrobes. The shop carries a lot of staples as well as special pieces to spice things up.
Describe your clientele for us.
We have guys of all ages that come in; from high schoolers to guys in their 50s. I like to think that the products are ageless and focused more on quality and fit.
Your clothing lines are sophisticated and worldly… How does that fit in Ashland?
The Ashland guy is very sophisticated. We have amazing theater, restaurants and the outdoors which makes the shop feel right at home here in Ashland.
You like to encourage your customers to build their wardrobes piece by piece. Please say more.
I like working closely with clients to make sure they have a very versatile wardrobe. I want to maximize each piece and know how to add on to what they already have.
For you, paying close attention to detail counts; give us some examples.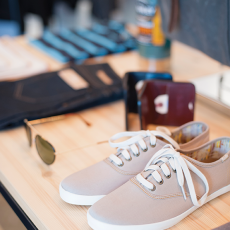 A lot of guys have a great relaxed aesthetic. However, a few little details really do make a lot of difference. Sizing and fit is definitely on the top of the list. Also, a quick hem on a pair of pants will work wonders.
Tell us about your own enjoyment in bringing in these products to Ashland.
For me, looking at the collections and picking which items to bring in is a very fun and creative process. Each season starts with a distinctive vibe and I go from there. Another plus is that I get to meet and work with a lot of amazing people around the country and learn more about the industry.
You take a lot of pride in your shop. Please talk about the pride men can exhibit and how you seek to support the best they have to offer.
Men can exhibit pride by striving to look their best.  Fashion isn't just for women. Men need to take control of their wardrobes and step up their style game.  The women in their lives will appreciate it. We have clothing and accessories curated to bring local men to the top of their game without depleting their wallets.
Chris, a unique aspect in you is that you seem sincerely appreciate the dialog and conversation you have with your clients. Please tell us more about that.
I absolutely love knowing who my clients are; where they're from.  It gives me more insight to what their style is. This is what's great about Ashland.  We have such a tight-knit community.
Now, as I understand it you only carry a limited supply of each item for each product?
I want guys to come in knowing that there are only several pieces of a garment in town.  I really want to promote individuality. Also, I want the shop's inventory to be current with trends, so when someone gets a shirt, say — today and flies out to LA/NYC tomorrow, they'd fit right in.
How are we doing out there in Ashland?
I think guys here are doing quite well! We have a very sophisticated community and having been here for our first year, we definitely appreciate all the support.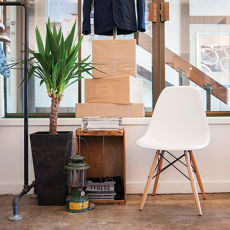 You yourself are very sharply dressed. Tell us more about what you're wearing today.
Thank you! I'm wearing an unstructured, navy blazer and a plaid shirt by life/after/denim as well as Atelier THVM denim.
When you go hunting for new products what do you look for?
Quality and longevity are definitely a factor.  Also – colors, shapes and patterns always play up. I definitely like to bring in an occasional piece (or two) that takes us out of our comfort zone.
In your opinion what makes a man?
What makes a man is a sense of independence and adventure.  The modern man creates his own path and takes pride in what he puts on his back.  It's about being put together in an effortless, casual way.
Let's talk about complete make-overs.  You can help to transform wardrobes, you have also have been known to work more directly with your clients even bringing clothes to their home directly.
Once in a while we'll have a guy that just wants a fresh new look; we definitely are very eager to help out with that! As for home service, we do extend that service to clients provided there is a minimum purchase each season.
Let's talk about gifts… where can you help in this department?
We have a great selection of bags and small leather goods that are crafted here in the northwest. The apothecary lines we carry are also huge favorites. The shave kits and watches are hugely popular.
You also carry sunglasses and watches…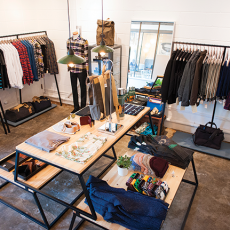 We're proud of carrying a lot of brands that are made in America but we are also equally ecstatic about carrying Super Sunglasses that are handmade in Italy as well and watches that are made in Sweden.
Chris, can you tell us a little bit about your own background; where you're from… what has your experience been in the world of fashion?
I was born and raised in Manila, Philippines and my time there definitely influenced my aesthetic and outlook. My background has really been with food service, working in restaurants for that last few years. Working in fashion and retail has always been on the back burner but when the opportunity came, I knew it was time to switch it up. I still have dreams of one day doing both at the same time.
Name a few of your favorite brands of 2013 and who should we keep our eyes on for 2014?
American Heritage lines like Filson and Red Wing Shoes are always on top of the list. The smaller independent tailors, denim companies and design studios cranking up amazing garments are definitely the ones to watch. I'm ecstatic that we carry some of them like Taylor Stitch and Atelier THVM to name a few.
What is your favorite city to visit and stores to peruse?
I definitely have a soft spot for New York City. The energy and diversity of the city is astonishing! I love strolling around the city and getting inspired by the culture. Shops like ODIN, Dover Street Market and Hickorees are definitely a must visit.
What are you reading now?
I'm currently reading Jess Walters, "Beautiful Ruins: a Novel."
Chris, give the guys in Ashland a top 5 list for how to up their game.
1. Buy something that fits. The fit is essential. It doesn't have to be too tight or too loose.
2. Explore pattern and color.
3. Invest in key pieces (like good coat, denim or a good pair of boots – you'll have them for a while).
4. Up your sock game. It's a great, unexpected way to show some personality.
5. Groom. Find a good barber or stylist. Use product.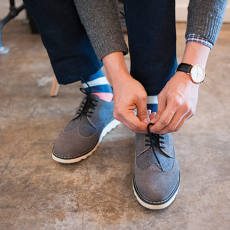 You go out of your way to meet the needs of your customers and those who have discovered Summit and Fields and love it. What do you have to offer that simply can't be found anywhere else?
We offer unique style that you simply can't find in department stores.  Summit + Fields is a small boutique.  It's the kind of store you'd typically only find in larger cities.  We buy our clothes in small quantities so you can be assured you won't run into dozens of other people wearing the same stuff.  And most of the products we stock are crafted in the United States from smaller local designers and manufacturers.
Learn More:
SUMMIT+FIELDS Men's Shop
contact@summitandfields.com
summitandfields.com
(541) 941-2946
Photo Credit: Ezra Marcos (more photos from this shoot at ezramarcos.com)