Interviews
Coleman Creek Construction: Renovating the Process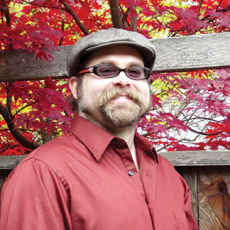 Everyone's heard horror stories about cost overruns and the delayed completions of home improvement projects, which has resulted in remodeling industry professionals suffering a poor reputation when it comes to accountability. Michael Hodgin is a General Contractor committed to shifting common perceptions of the industry as well as the experiences home owners have with builders.  For 14 years Michael has been working closely with dozens of Ashland residents to build, remodel and restore their homes.  He and his team at Coleman Creek Construction have developed special expertise in restoring historic homes and are strong proponents of supporting local businesses and practicing sustainable building principles. In this interview we get Michael's thoughts on what home owners need to know as they get started on a new project, and how Coleman Creek can help.

Michael thanks for speaking with us today.  In your experience what is the biggest mistake home owners make when hiring a general contractor for a renovation of their home?  What sets Coleman Creek apart in both execution and style?
I think the biggest mistake home owners make is in how they approach hiring a contractor to begin with.  The general misconception is that you should get three free bids before you hire a contractor.  The problem with this approach is that even if you have design plans, each contractor is going to structure an estimate in a different manner and the homeowner will often not get an apples-to-apples comparison.  Furthermore, the saying, "You get what you pay for," often holds true.  Contractors aren't typically able to provide comprehensive, well-researched estimates when they're competing for free with two other contractors for what is often a matter of "lowest bid wins."  The cost overruns and delayed completions we've all heard stories about are very often the result of change orders and allowance overages that could have been avoided had the estimating process been allowed to be more thorough.  Our approach is to become a homeowner's ally – to work with them on maximizing their investment rather than rushing to getting a signature on a vague contract where initial estimates are really just hopeful guesses.
Talk more about the home as an investment.  This is something you have both practiced yourself and that you take seriously for your own clients.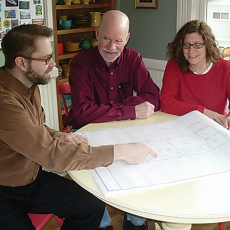 Well, when making any kind of investment one needs to look at the big picture.  In the initial phone call we have with clients we ask a series of questions that help us make sure we have the big picture before proceeding.  Every potential client comes to us at a different stage of the planning process and we feel like it's our professional duty to listen to where they are at and to make sure that they feel supported going down the right path.  For instance, I had a client come to us wanting to remodel their house to accommodate a growing family.  It became clear to me as I listened to their needs that selling that home and buying the right home was going to be a better investment for them; their house was old and needed upgrade services, and they weren't attached to the neighborhood.  They hadn't even thought about moving.  But sure enough, when they looked at home prices they found exactly what they were looking for and selling their home and moving was ultimately a better investment for them.  Some would say I lost a sale by steering them away from a remodel, but by being their ally WE gained an ally.  A couple of years later they referred us to some friends that turned out to have a really nice project for us. Over the past 14 years you have worked to create what you are calling the Coleman Creek Process – a path and plan that you follow, keeping both clients and project on course for success.  Tell us about it.

When I started my company as a 25-year old, I set out to build beautiful projects and enhance peoples' homes.  I did and was fortunate to have been successful right out of the gate.  As my company grew and I learned the way the industry worked, I felt on more than one occasion that I finished a beautiful project that enhanced the lives of a family, but when the project ended, everyone was "relieved" rather than excited!  I had one client say to me, "I absolutely love everything we picked and the craftsmanship you put into our home was immaculate, but if I knew it was going to take that long and cost that much I probably wouldn't have done it."

I was devastated by this comment.  When I reached out to more experienced contractors they told me that this is just how it works – clients should know that if they pick expensive finishes, the job is going to cost more and take longer.  While I understood the logic behind this, I had to wonder – weren't we the professionals?  Don't we have a responsibility to our profession to anticipate the pitfalls, to help clients avoid feeling disempowered in their decision-making?  I decided that there had to be a better way and that way needed to really include the client in the building process so that they're not only happy with the final outcome but thrilled that the process was clear and enjoyable, with few surprises. The Coleman Creek Process was born out of what I saw as the industry's need to make sure client decisions are made not as individual, isolated choices but as part of a larger context.
Predictability is key!
Yes, bringing a sense of predictability and order to what otherwise could be a chaotic experience is key.  With so many decisions to make that are interconnected – from suppliers to subcontractors, material finishes, green product research, color choices, and so on – the overwhelming number of decisions can be a source of stress for a client.  Our process tracks those decisions and makes it easier to communicate about things that are going right and, more importantly, what is being done when things go wrong.  In a seminar I attended with over a hundred contractors, the presenter opened with asking the group how many had ever said to their client, "If everything goes right then…"  Every contractor raised their hand.  Next he asked, "How many of you have ever done a project where everything went right?"  Not a single hand went up.  Having a predictable process and a predictable stream of communication goes a long way toward making the building process a success from start to finish.
Why is it that you can have two contractors do the exact same job, achieve the same results and yet the experience can be as different as night and day for customers?
Ah, we're really getting down to the heart of why the Coleman Creek Process is so important.  I recently consulted with a client who had been working with another contractor but had felt so in the dark that she enlisted me to talk to before she proceeded further.  She reported that every time she asked a question it was answered with, "Don't worry about it…I got this!"  While the work was done professionally for a fair price, she didn't like to be told to not worry about it.  All of my clients want to be a part of our process and when they give the tour of the finished product to their friends and family, they take ownership of what was done and why they made the decisions they've made.  I've done countless tours where the owner says, "I'm not sure I like this aspect and didn't know it was going to be that way but the contractor decided it was best. I'm not really sure if we wasted money doing it that way."  I cringe when I hear this because this is so prevalent and accepted in our industry.  If that same client worked with a contractor that had a system in place to discuss the details and how they affect the overall investment, they may well have ended up with the same end result, but their story would include a sense of empowerment and ownership of the final product.
Tell us about some of the success you have had with the historic renovations in the Railroad District.  I understand you won an award?
Yes, I have always loved old homes and as the years have gone by I have been lucky enough to work on several in the Railroad District. In 2012 I was approached by some wonderful, like-minded clients who had recently purchased a home on Oak Street. We worked together to plan and design their home in a way that maintained the integrity of the original structure while meeting their comfort needs.  The Historic Commission recognized us with an award for a Historically Compatible Residential Addition.  We were able to make the front of the home look nearly identical to the original and the addition in the back made a smooth transition from old to new.  This is the second such award we have received and hope to receive another one for 2013 for a historic home we just renovated on B Street.
Pride in workmanship has always been a key motivation for you.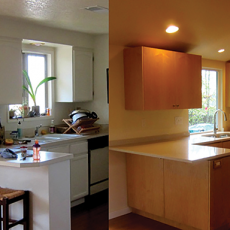 Yes, workmanship has always been important to me and one of the main reasons I like working on old homes.  I am continually impressed when I see the craftsmanship in old homes because the tools and skills used at the time were so much more intricate than what we do today.  As we've moved towards living in a disposable society the skills of master carpenters are becoming lost.  We really have no apprenticeship program for young people to learn these skills anymore.  Today it seems more like we "assemble" homes than build them.  When people walk into an old home there's a certain feeling that is experienced and it is very satisfying…it's the feeling of care and attention to detail instilled by the original builders.  When I do an addition on an older home I am not so much trying to fool people into thinking what I built today is a hundred years old, but rather trying to create the same feeling that emanates from the original structure.
Can you tell us about 2 or 3 of your recent projects?
While I have been working in the Railroad District for the last 3 years on 5 different projects I also recently finished a newly built home on Coleman Creek Rd. as well as two projects in Quiet Village.  The new home on Coleman Creek was exciting to work on because my clients were so creative yet practical.  The home featured radiant heat floors, completely built-out master closet with washer and dryer, media room with arched ceiling for sound optimization, a Heat Recovery Ventilator, creative tile work, and a Clear Doug Fir interior trim package.  While the house currently only has satellite internet access available, we designed and wired the house for a future automated experience.   With a designated location for a future computer and centrally located "Home Control Panels" they will be able to not only control the systems from within their house, they will also be able to use their smart phone from a distance and turn up the hot tub, or turn on the lights and unlock the door if house guests arrive home before they do.  The two projects in Quiet Village offered a different challenge.  It is not surprising to find modest retirees and new families alike that love the area but find the homes uninviting.  The age of the houses built down there are all getting to the point where they need some TLC and a bit of a re-vamp.  The challenge there is not to over-improve the house while still making the home more inviting.  It's surprising what can be done for a modest investment.  After we finished the first home by vaulting the ceiling and redesigning the kitchen, the next door neighbors saw what could be done and had us out the following winter to vault their ceilings as well.
Michael, please talk about custom, new-home construction. This is something you specialize in as well.  How should a client prepare when entering this process?
For us there is nothing like the blank slate of designing a new custom-built home.  While we definitely love the challenge of customizing a home around a client's specific needs, we are also able to help people that are more comfortable with a semi-custom home, whether due to investment consideration or simply because they are intimidated by a large scope.  Either way, the process starts with us listening and asking questions and then applying our experience to help guide the client to the decisions that best suit them.  My experience is that most clients that we've designed custom homes with had a picture in their head of what they wanted, but sometimes lacked the vocabulary to express the vision.  By listening and asking questions we are able to educate our clients and give them the distinctions that allow the design and vision to come to life.
You mention that you have worked with many of your clients over a long period of time and in fact many become your friends.
I think most Rogue Valley residents would agree that the community established here is a big part of what makes this place special, and even more so in Ashland, which is where we are based and do at least 75% of our projects.  When working with clients within our Process we develop close working relationships, and personal ones as well.  We have ground breaking ceremonies, weekly in-person meetings, regular phone calls, mid-job celebrations, and move-in parties.   We invite neighbors and family and build memories as we build homes.  But when the project is over and we move on, we're not really done.  We come back a month later to see how things have settled in and then again at one year to see how things are holding up.  We even have clients that hire us every spring to do tunes ups and maintenance, which we are always happy to do.   Inevitably, we start talking about family news and common interests – this definitely builds the personal relationship. It's not uncommon for me to see at least one client when I am out on the town or grocery shopping, and it is awesome to feel like I'm seeing a member of the Coleman Creek Family.  What I've found is that my genuine interest in their well-being during the time we spent together is reciprocated and that all my past clients are vested in Coleman Creek's success.  This is how I have managed to maintain a busy schedule for 14 years on primarily word of mouth advertising.
Michael, lastly will you give us a full overview of the services you provide and how someone might start working with you?
We are a full-service construction company with design capabilities.  We like to work with people through the whole process from concept to completion on remodels, historical renovations, custom and semi-custom homes, as well as smaller projects like bathrooms and kitchens, decks and fences.  While half of our clients come to us for design and build services we do enjoy working with other designers and architects and encourage people to contact us before they finish design so that we can integrate the Coleman Creek Process early on in their experience. We feel that it is imperative to start with a comfortable investment amount that matches a job scope and then design accordingly. There are far too many finished plans out there that have been tossed due to the scope not matching the investment amount available, and this can be very defeating.  We've been honing and continue to develop our process in hopes that working with us is easy.  A simple phone call to 541-482-2299 gets the ball rolling – we'll set up a 15 minute conversation to hear about your project.  Then, if it feels right to continue, we will send you an informative document called "24 Factors to Consider When Choosing a Contractor" and a list of references for you to review. Then we come to your house for a more in-depth chat about your needs and how we might proceed.
Any last comments for our readers?
I realize that we are trying to change the dynamics of how the construction industry works, and that change can be daunting.  I am also aware that Coleman Creek can't meet everybody's needs and that our industry as a whole needs to elevate the bar. I am excited to be working with Dan Jovick from Jovick Construction, Jason Eaton from Conscious Construction, Architect Carlos Delgado, Landscape Architect Kerry KenCairn, Interior Designer Julie O'Dwyer, and a few others to create a group of like-minded industry professionals who are really interested in bringing a high level of integrity to local building projects. I'm hoping your readers will keep an eye out for our future group events. Readers are also welcome to contact me with their thoughts about what is lacking from our industry.  We'd like to understand what issues homeowners most struggle with so that we're able to develop an educational program (home tours, seminars, etc.) addressing those issues.
Learn More:
Coleman Creek Construction
248 Walker Ave., Ashland
541-482-2299
Colemancreek.com