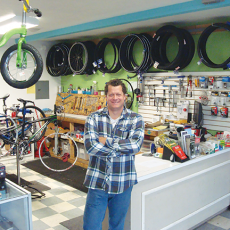 When a bike shop owner ends their day by riding their bicycle, you know you're working with someone who has a passion for what they do. Tim Schurr, owner of Ashland Bicycle Works (ABW) in Ashland has been riding bikes for as long as he can remember.  This year he rode Cycle Oregon's week long (505 mile) bike ride in Central Oregon.  While riding, he earned money via pledged donations to benefit two non-profits serving underprivileged and abused youth.  On top of this Tim has played an active role in outfitting many local companies with their own bicycle commuter fleets.  These can be seen at Standing Stone Brewery, Rogue Federal Credit Union, Rogue Creamery and more.  Ashland Bicycle Works maintains a wide selection of kids, mountain, commuter and road bikes along with consignment bicycles and all the accessories to outfit any rider.  ABW provides quality repair service as well as specialty services like wheel building, suspension service and professional bike fittings.  I met with Tim to talk bikes, and to explore the shop.
Tim thanks for speaking with us today. I am curious if you can tell us about your first bike and part of the inspiration of your love for bikes?
My first bike??  I don't remember the model or anything like that; just that it was red and had a hard metal seat.  When I was a child I used to take everything apart: radios, small motors and bicycles.  I started to learn about bicycle maintenance when I was delivering newspapers.  You had to be pretty self reliant at 6:30 in the morning. I have always seemed to have a bike and rode everywhere growing up.  Once in college, I started to work in bike shops and have never looked back.
Your shop has been serving Ashland now for several years. What do you see as your top priorities when meeting the needs of local customers?
Yes, we have been in business for 5 years and I can say that our focus is asking questions of our customers so that we can best serve their needs. We really try to engage our customers instead of just randomly suggesting a bike that isn't specific to their intended use.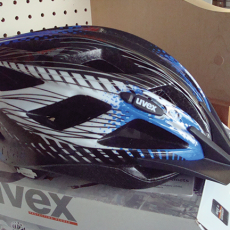 You offer a large variety of bikes for all types of cyclists. Can you introduce us to them?
The bicycle industry has really embraced the specific needs of practically every cyclist by creating a huge variety of bicycles.  We are best known as a family shop which allows us to carry quite a variety of those bikes.  Our main brands of bicycles at the store are Kona, Raleigh and Torker who have some wonderful models of road bikes.  Most of our road sales are endurance road bikes, meaning that they are a little more comfortable on our chip seal roads and allow you to sit more upright too, yet they hardly lose any performance. You can get them in carbon, aluminum, steel and even titanium.  We also have a good selection of the commuter/fitness/recreation bicycles.  This seems to be a popular category with the college students as well as the young (and young at heart) professionals to get around town or to work. Ashland is certainly known as a mountain bike destination because of the quality of trails we can enjoy in our watershed and surrounding areas and Kona produces some of the finest trail bikes you can get.  They don't come from a racing background so their bikes perform great for the rider who wants something with superb handling and great technical ability without compromising integrity just to save a few ounces.
Ashland is known as something of a bike-Mecca with many people owning multiple types of bikes. What are some of the bike rides you enjoy the most?
Well the trails that we have in the watershed are awesome and I love to ride up Hitt Road and ride the Menace/No Candies trails.  They are challenging and less used than the other side of the watershed. I find that more of my riding is done on the road and one of my favorite rides is to ride out through Jacksonville to Ruch and then on up Little Applegate Road. From there you can turn at Buncom and head either back to Jacksonville for something to eat before riding home or if time is short head for home on Pioneer and Dark Hollow Roads. If you are more of the adventurist type, riding at Brown Mountain on mountain bikes is really fun. It's not far and the terrain is excellent for riders of any ability. I also like to ride up to Green Springs Inn for breakfast and then deciding where to ride from there… across to Dead Indian for a great 60 mile loop or riding Keno Access Road for a longer, more remote ride.
You have a map in the shop that shows many of these places to ride in town.
Oh yes, actually we have a few maps to direct people to the trails or onto the roads less traveled. We'd be happy to help you plan out a ride for your abilities.
This year will mark the second year that you were hired by SOU to teach their bicycle maintenance class, but you have spent years as a bike mechanic and instructor.
Well I have spent close to thirty years in the bicycle industry managing bike shops or working for manufacturers.  When I moved to Ashland twelve years ago I taught at United Bicycle Institute for several years and really enjoyed helping people understand their bikes better and train them to become home and shop mechanics. I continue to teach for an International Public Safety organization at their annual conference and now at SOU. I have been fortunate to have worked with some of the best mechanics, product managers and bicycle professionals in the industry and have tried to improve my skills as the industry continues to evolve. Each year bicycles become more sophisticated with materials, electronic shifting, multiple damper suspension systems, hydraulic disc brakes and more exotic wheels.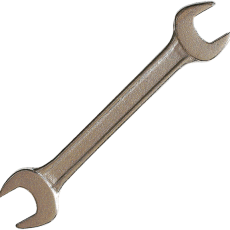 I'm glad you bring up the question of bicycle maintenance. Can you tell us about the services you provide?  Is it also true that all bikes purchased come with a free one year tune up?
Your typical bicycle that uses cables to shift and brake are still the most common, though with more and more gears adjustments must be more precise and the subtle nuances of component set-up become more critical. I think that wheel building is one of the true arts of the bike mechanic. It's fairly easy to look online and pick out a wheel set that fits your budget and ride them and be happy. The art of wheel building comes into play when you want something less ordinary, something that can do what you ask of it on a daily basis but not have it overbuilt or repurposed for the sake of some marketing department.  With the advent of suspension forks and rear shocks, there is a lot more training that goes into servicing mountain bikes. There is suspension fluid, springs, seals and a great deal of engineering that causes a fork to work properly. These components need periodic service to ensure that there is not undo wear on the internals and to check for contamination. Considering how expensive suspension components are, it's surprising how infrequent riders have us tear them down and rebuild them. The same thing goes for hydraulic disc brakes; they need to be bled at least annually to make sure they function when needed.  All of our new bikes are meticulously assembled and we offer each bike with a break-in tune up, to check our work and one year of brake and derailleur adjustment.
You helped me choose a new bike for my son and I was surprised to see how well he was riding it after just a few minutes of being on it.  Can you talk about bike fitting?
I think bike fitting is the most underrated and misunderstood service that a qualified mechanic can offer. Bike fit begins with the proper choice of bicycle for what the intended purpose will be. For example, you can bike tour on a mountain bike, but if you intend to travel for several weeks you are going to want something more designed for touring.  A strong but lightweight frame with the correct geometry will make for a stable ride while being comfortable every day. The geometry will dictate how the rider will be positioned and how the bike handles but we can take that and improve upon the position because there are no two people that are the same.  The bike size plays an important function in the initial set-up of any bike; too small and the rider is cramped and has pains in their neck and shoulders while feeling like they are teetering above their bike. Too big of a bike causes the rider to experience back pain and challenging handling issues along with clearance problems while standing over the bike.  We also look at seat height, fore and aft position of the seat, stem length, handlebar width and shape and a myriad of other things to ensure that you will be in the most comfortable position possible.
Let's talk about Cycle Oregon. I love this business model that they have created here. Will you please tell us more about this?
I am relatively new to Cycle Oregon but I have been intrigued with its business model too. I was fortunate to be able to take part in both the weekend event in Corvallis and the weeklong ride starting in John Day this year. The premise is to organize a large group of cyclists to experience rural Oregon; the road less travelled. In doing so, local groups from churches or Boys and Girls Club or others volunteer to become support staff for the riders and earn grants for a trip to Washington D.C. or perhaps the church needs a new roof. It's quite remarkable to meet the locals and experience such beautiful country. It really makes you appreciate how amazing Oregon is.

The weekend rides are definitely directed to the new rider and is especially nice if you have kids. We stayed at the OSU dormitories or in tent city.  The rides varied in length and difficulty.  There was no set start time so there was a steady roll out all morning long.  Breakfast was buffet style with eggs, bacon, toast, fruit and yogurt. There was plenty of coffee and juice to go around and great camaraderie with your fellow riders before starting out. There were plentiful rest stops and most people were just happy to be on their bikes. After the day's ride we showered and then went to the beer garden for a snack and a beer while the live music entertained us. Dinner was good for refueling for the next day and we slept soundly. The following day featured another selection of rides and you were able to choose whatever you felt like doing. All in all a wonderful weekend filled with good rides and enough fuel for the effort.  The week-long ride put us in eastern Oregon riding fantastic rural roads and meeting gracious townsfolk who truly made the experience. The 500 miles flew by and we were able to see some of the most beautiful open range ever. The days certainly had their challenges but with good food all day and entertainment each night you fell into a rhythm that took away a lot of trepidation for the next day's ride.
Ashland Bicycle Works has also been involved in creating bicycle fleets for several large companies. Tell us about it.
We were lucky enough to team up with some of the best local companies that want to promote a change in attitude towards riding bicycles for commuting to and from work. Initially, we worked with Standing Stone and Rogue Creamery to build up a fleet of bikes for their interested employees and help promote a healthy, green sustainable lifestyle. Rogue Creamery gave the idea to Rogue Federal Credit Union and Noonan Farms, and continues to promote the plan to companies outside of the Rogue Valley too.
What's the coolest thing you have seen change over the last 20 years in the world of bikes?
I would have to say that the overall variety of mountain bikes has been the coolest thing that I have seen change. My first mountain bike was a Peugeot that broke in two about 6 months in. Now we have such a selection of bikes with full suspension and new wheel sizes to better fit one's riding style that the possibilities are endless.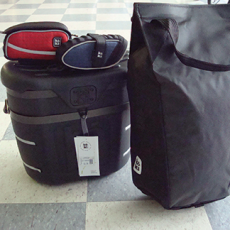 What are the top five items on your bicycle shopping list for Santa?
1. New night lights (Niterider Lumina series)

2. Stationary trainers (LeMond Revolution )

3. Commuter bags (Koki Klickitat panniers)

4. A new bicycle (of course)

5. A new helmet (Uvex Xenova)
Several bike shops exist in Ashland.  What niche do you like to fill for your Ashlanders?
I like for people to consider us the Family Shop… enthusiastic, great experience, friendly, fast, affordable. We offer select consignments to our customers as well as new bikes.
Where is your shop located and when is the best time to stop by?
We are located at 1660 Siskiyou Blvd. (by the Minute Market and across from House of Thai). We are open 6 days a week, Monday: 12-5:30, Tuesday- Friday 9:30- 5:30, Saturday 10-5, and we are closed on Sunday. These are our winter hours.
Obviously getting a new bike any time of year brings a lot of excitement to people. Tell us about one of your favorite moments in seeing happy customers.
Well, just recently I had a gentleman purchase his first bike since he was a child. He frequently stops in for advice or a new accessory and his face is beaming like he is a kid again.  It's fun to see that a bike can still bring that kind of joy to someone. I certainly appreciate each of my customers and look forward to bringing that kind of joy to others.

Learn More:
Ashland Bicycle Works
1660 Siskiyou Blvd., Ashland
(541) 482-3440
www.ashlandbicycleworks.com