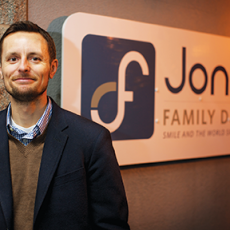 This month we are pleased to introduce Dr. Charles "Eric" Jones and family.  The Jones family moved from Brookings, Oregon a little over a year ago but Dr. Jones just recently purchased Dr. Jared Anderson's dental practice located next to Ace hardware store in downtown Ashland.  Dr. Jones brings with him a wonderful reputation and a history of excellence in care with an especially high regard for customer service.  Dr. Jones and his wife Sarah are the parents of four children who were the key reason for the transition from Brookings to Ashland.  The Jones family was quite impressed with the schools in the Ashland community.
 Over the years, Dr. Jones has coached countless community soccer and basketball teams.  Dr. Jones and his wife were impressed with the friendliness and great sportsmanship of the Ashland teams, which prompted them to inquire further into what the Ashland community was all about.
 The Jones family quickly discovered that the Ashland community was full of wonderfully open, creative and interesting people that valued many of the same things that they wanted in a community.  For this reason, the family moved to Ashland and Dr. Jones began commuting back to his practice in Brookings.  When Dr. Jones learned of the availability of Dr. Anderson's Ashland practice a close classmate happened to offer to buy the Brookings practice.  Everything seemed to fall in line.  Finally he was able fully invest in the Ashland community and to spend a lot more time with his family.
Dr. Jones thank you for your time today and congratulations on the opening of your new practice here in Ashland.
Thank you.  I am thrilled to finally live here full-time.  I have been welcomed with open arms and it has been a wonderful experience meeting and learning about so many great people here in Ashland.
Dr. Jones, your practice in Brookings was booked six weeks out in advance. How did that happen and what are you excited to bring to your new community here in Ashland?
Simply stated, we treated everyone in our practice the way that we wanted to be treated. That sounds simple and a little cliché but it's true.  We did no advertising or promotion outside of donations and sponsorships to support the wonderful community that supported us.  At various times we had to stop taking new patients in order to maintain the high standard of care that we set.  All of our growth occurred through word of mouth. I am most grateful and proud of patient referrals from existing patients because it tells me that what I work so hard for and have invested into my life is appreciated and valued.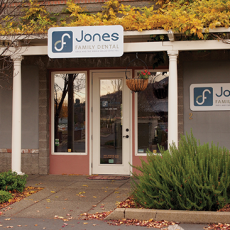 You have decided to carry the name Jones Family Dental to your Ashland office.
Yes I have.  I thought about changing the name but just like Brookings, my team here in Ashland functions less like coworkers and more like a family.  Family also refers to the fact that I love treating everyone, from young children who are visiting the dentist for the first time to the older man or woman who has complicated, multi-disciplined needs.  It's a part of what makes dentistry interesting and fun.
You became a very popular dentist for children in Brookings.
I had the opportunity to work with a doctor that taught me some wonderful techniques to help children gain confidence in the dental chair.  I used those skills and just tweaked them to fit my personality and style.  I love to play with the kids and put things in terms that kids can both understand and accept.  Many dentists don't feel comfortable being silly when they treat children, but my staff and I embrace it and we are able to accomplish much needed treatment and ultimately create a positive experience out of what many would describe as scary or uncomfortable.
You mentioned a mentor that helped you to treat children.  Are there any other people that have affected your dental career?
There are so many that we don't have enough room in this paper to tell you about them or to thank them all, but the one that truly speaks to my treatment philosophy, is a dentist by the name of Gordon Christensen.  He said that when you make decisions based on what is best for the patient and act accordingly, you will be successful.  This is the philosophy that drives my dental practice and has served me and my patients throughout my career.
Talk to us about being on the cutting edge of technology in dentistry and how you are helping to bring these services to your patients.
My mind instantly goes to the scene in Napoleon Dynamite where Kip sings a song to his new bride, "Yes, I love technology but not as much as you, you see…. But I still love technology…."  We all love technology and I have invested a lot of resources into purchasing and training to deliver the latest technology.  A good dentist has cutting edge technology, but a great dentist knows when and how to use it.  I have invested into oral cancer screening technology, restorative same-day crown equipment, digital x-rays, laser decay diagnostic equipment, intra-oral cameras, soft tissue lasers, etc.  This equipment elevates the standard of care, makes dentistry more fun, and improves wellness for my patients.
Can you say more about patient comfort and the services you will be offering?
Patient comfort is my specialty.  Early on, I made this my focus.  My research in dental school was in developing a new dental injection technique and protocol that would virtually eliminate much of the discomfort that is associated with certain injections.  I also use a machine called "the wand" which utilizes a computer to deliver a very slow and minimal dose of anesthetic that reduces patient discomfort and effectively numbs the teeth in a more convenient and comfortable way.  I have been able to help numerous people who avoided dental treatment due to fear and anxiety.  Often I am able to help these individuals without the use of sedation, but we will be offering sedation in the office when those techniques are not effective.  All of the technology and skill in the world will not improve the quality of life of the patient that is too scared to walk in the door.  We make it our job to help them gain courage.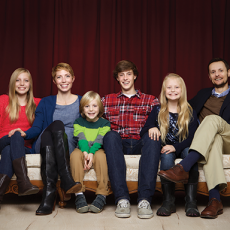 As a new patient what can someone expect to experience at Jones Family Dentistry?
Well, you can expect to be warmly greeted and welcomed.  All new patients will receive the appropriate digital x-rays, intra-oral digital pictures, and a full periodontal evaluation.  My exams include much more than a simple check on the teeth.  I am trying to see what the patient really wants and needs; what their dental IQ is and in what way I can best serve them.  I evaluate health history, I do an orthodontic evaluation, oral cancer screen, head and neck exam, xerostomia (dry mouth) diagnosis and counseling, Caries Risk Evaluation and counseling, and of course an evaluation of the teeth.  I also offer treatment options and discuss my diagnosis.
Both you and your wife Sarah were very involved in the Brookings community. Can you tell us more?
Our time in Brookings offered a special opportunity to be a part of change and making things happen.  I had the opportunity to be the president of the soccer club, coach baseball, basketball, and soccer for more seasons and teams than I can remember.  In my professional involvement I regularly partnered with Medical Teams International to deliver free dental care on a mobile van in the area.  I must brag about my wife, a member of a small group who managed to win a U.S. Cellular national contest earning the school district $100,000.  This was the highlight of nearly 8 years of service as the treasurer on the PTO and volunteer service throughout the community.  My wife is an inspiration. (Sorry for the cheesy side note.)
Lastly, now that you are here in Ashland tell us about what you enjoy the most.
Ashland is beautiful, cultured, and ultimately the people here are amazing. It has been such a pleasure to meet so many interesting people.  I am grateful to be here.  I am excited to care for patients here in Ashland and want all of them to know how privileged I feel to be given this opportunity to serve.  I want to not only provide the highest standard of care for my patients here in Ashland, but I want to impact wellness and be an important part of this great community.
Learn More:
Jones Family Dental
325 A St., Ste #2, Ashland
541-488-5088
Jones Family Dental