Interviews
Fretwell Music: A Music Store for Everyone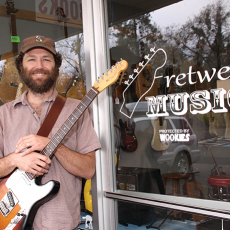 We get to hear about some pretty cool things here at LocalsGuide and often times well before the general public becomes aware.  When I received a phone call from Dee and Jef Fretwell about the opening of their new music store, I was excited!  The focus of the store takes a three-tiered approach.  It provides a space for the sale of used and new musical instruments as well as a readily available consignment opportunity for locals.  It also offers a consistent location for ongoing professional music lessons.  And finally, it provides a space for musicians to simply get together and jam!  Fretwell Music is now open in the Ashland Shopping Center next to The Bookwagon.  They offer an amazing selection of used and new musical instruments that can fit any budget!  The store is inviting, friendly, and warm.  "We wanted to create a store culture in which you highly encouraged to grab an instrument and start playing," Dee says.  "It's an awesome experience and we love what we do."
I like the multi-use purpose of your space. Jef, can you say more about this?
Sure! I started out looking to rent a spot to use as a teaching studio and rehearsal space for my own projects. From there the idea to put the teaching studio in a retail space and to sell consignment guitars out of the front was a pretty easy step to take. My vision is to operate a public space dedicated to music. We're not just selling instruments and accessories. We're teaching lessons and hosting jams and helping to facilitate performances in outside venues. I'd like to have bands come in during the afternoon before they have a show to talk with people and pick a few tunes. My teaching space is available for other teachers to use during certain hours and I plan to start hosting workshops and bringing in guest instructors.
Dee, would you introduce us to some of the current instruments you have for sale?
We have acoustic and electric guitars and basses in a variety of styles and price ranges. All of the guitars are used.  We're not interested in buying new, factory-built guitars from dealers for resale. We acquire used guitars, ensure they are in good playing condition, and sell them at a fair price. We do carry some new instruments – primarily hand-crafted items. We have ukuleles built by Mike Brown of Woody's Ukulele Factory in Medford and some beautiful banjos built by Doc Huff of Doc's Banjos in Dallas, Oregon. Plus, we also offer really nice hand built cajons by Wise Guys/Guy Schalin out of the Bay Area.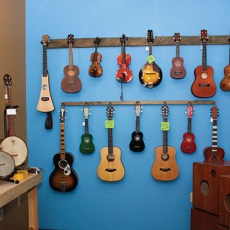 You are also offering instruments on consignment.  What are some items you currently have available?
A lot of our guitars and basses are in on consignment. We also have guitar effects pedals, amplifiers and some P.A. equipment that people have brought in. We're open to just about any kind of music gear people want to sell. Like anybody who loves cool old guitars, I've always enjoyed a cluttered music shop that I can really spend some time looking around in. That's one of the goals of the consignment model, to have as much cool, interesting stuff pass through the shop as possible.
What in the world are cajons and how are they played?
Cajons are a wooden box drum from Peru. They don't have a stretched skin (or synthetic equivalent) head. The front of the box is the playing surface and the back has a sound hole cut in it. The player usually sits on top and plays with his or her hands – not drumsticks. They've become increasingly popular with a lot of folk and pop musicians in recent years because a skilled player can make them sound kind of like a full drum kit. Hitting it on one end gives a kick drum thump, while the other end has snares inside to make it sound like a snare drum. I've seen drummers playing in bands with just a cajon and a set of high hat cymbals.
Do you offer instrument repair and service?
Yes. We 're equipped to do basic set-up and repair work in-house and also have arrangements to send work to two different top luthiers who've both been in business in this community for many years.
Music has been a huge part of both your lives.  Tell us how you have created a musical culture in your own family.
We both grew up in musical families – both had pianos in our houses and piano-playing mothers who made us take lessons. Our kids have grown up in a house with one parent who plays gigs all the time and another who promotes shows and manages bands. They've always been surrounded by instruments – and we've never pushed them to play. We don't want to be the guitar-playing equivalent of the over-bearing youth sports dad stereotype. Give them the opportunity and see if it speaks to them. Our eight year-old has been in fiddle lessons for a little over a year and we've had a blast playing music with her (dad on guitar and mom on the upright bass).
Jef, how should someone go about choosing the right instrument for themselves?
I think a person can get started on whatever they have at hand. I knew a guy in college who bought a banjo at a garage sale that was broken in such a way that it could only hold three strings. He tuned it like the 2nd, 3rd and 4th strings of a guitar and started learning songs. Eventually, of course, he got a guitar. The most important thing is to simply try out whatever instruments you can get your hands on. Don't be afraid to get locked into one instrument. Buy or borrow affordable stuff. A lot of cheap instruments are very playable. If you've got a guitar in the closet, string it up and see how it feels. If you know someone with a banjo, get them to teach you a song. Go buy a disposable ukulele and play it until it falls apart (you'll be amazed how long that takes).
Dee, talk about the tangibility of your instruments. Instruments were made to be played and this is important to you at Fretwell Music.
What I love about our store is our chance to create a store culture of warmth and community. We encourage everyone who comes in to take a minute to play a song, pick up an instrument and have a chat with us. It has been really great meeting the new folks that have come in, and it's absolutely wonderful seeing all of our friends that swing through when they have a chance.
Jeff, can you talk about some of your own involvement in creating music, songwriting and teaching?
I've played in bands since I was a kid – on both guitar and bass. I grew up with garage rock and bluegrass and eventually got into playing a kind of country-rock guitar style. The kind of fiddle tune flat-picking that people like Doc Watson played has probably turned out to be my biggest influence. I feel like, in music, context is everything. Playing songs gives context to the different scales and chords and techniques a player has learned. Songwriting for me is just about creating my own context within which to play. You have a gig, you have a band. You write some songs, you have material. You can't be afraid to write bad songs either – or even just to have a few weak lines in an otherwise good song.
Dee, how about you?
Over the last 20 years, I've been lucky to be involved in music one way or another. Currently I'm active as Development Director of the Rogue World Ensemble. We are doing some incredible things in the Rogue Valley, spreading world music far and wide, and there are some really, really exciting new announcements we are about to make! Besides that, I've just launched the Modern Roots Foundation, whose mission is to keep kids in American Roots stringed instrument rentals, lessons and chances at workshop opportunities like the Youth Academy at Wintergrass Bluegrass Festival. We also put on the West Coast Country Music Festival each August up at the Greensprings Inn. 2014 is shaping up to be a big year of more incredible music and is slated for August 16th!
So with the holidays right around the corner, give us some great ideas for gifts.
I got my first guitar for Christmas 25 years ago. We've got a pretty good selection of both acoustic and electric guitars that we brought in with new players specifically in mind. Guitar players get more value for their dollar than any other instrument I'm aware of. There are a lot of really good really cheap guitars out there in the world. We're running a holiday special where we'll throw in a month of free lessons when you spend more than $250 on a guitar with us. We'll give you 50% off a month of lessons if you buy a guitar under $250. Although the lessons need to be redeemed either in January or February, it's a great time to try on an instrument. It's amazing how far you can come in just a month!
Dee, what's on your wish list?
Besides a ¾ scale upright bass? I'm in love with the vinyl record clock of Bonnie Raitt that we have in the store (made by Repurposed Records from Medford). I'd also love to snag that bass ukulele, but I'm pretty sure I'd get in trouble. Folks might like the various stocking stuffer opportunities we have at the store as well as the gift certificates you can now grab there!
Jef, as a music teacher tell us how you enjoy inspiring musicians to grow.
The most satisfying experiences I've had in teaching revolve around helping people to understand that it's not as hard as they thought it was going to be. Music isn't rocket science. The basic building blocks of music are actually very accessible to most people. It's just like anything else – you have to do a thing to get better at it. You don't give yourself a chance to get better if you aren't willing to make mistakes. A big part of what I teach has to do with getting the most out of what a player already knows – and understanding that playing an instrument is a lifelong process. As long as you keep playing you'll always be improving.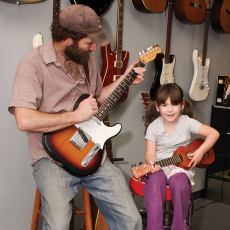 Dee, what has inspired you in playing and creating music with your own children?
I like to believe that music is the ultimate universal language and I see this every time I watch a group of kids, adults too, get together for the sake of making music. When I watch kids come together to produce a song out of their instruments they've worked so hard at practicing, there's a sparkle – a pride – that I witness forming… it's magic, really.  I love watching adults create this too, but with the kids there is something extra special about it.
Do you also sell strings, picks and other supplies for musicians?
Yes. We're kind of like a musical convenience store – we aren't trying to compete with the internet for infinite selection, but we have everything a player might need to get by.
Finally, any last words you would like to share with our readers?
Just that we're glad to be here and glad to be open. This is a great music town. If we can be a positive part of the local community of musicians then we will be happy.
Learn More:
Fretwell Music
1652 Ashland St. Ashland
541-482-7745