Interviews
Courtney Dukelow, Embodying Your Luminous Self
Healer, mystic, mentor, guide, body and energy worker Courtney Dukelow has spent
her entire adult life on a spiritual path which has led her around the world. From India to Brazil, Peru to Ashland. Courtney has received over 4000 hours of training in a wide range of healing modalities including craniosacral, body-centered therapy, somatic spiritual integration, gestalt therapy, massage and energy healing.
Over the past 20 years Courtney has worked with thousands of individuals, helping them to unlock doors to deeper healing and transformation. She serves as both guide and bodyworker, working with individuals to find gems even in the darkest of places. Those who have worked with Courtney appreciate her for her compassionate presence, deep listening skills and her intuitive guidance and touch. I spoke with Courtney to learn more about her unique experiences and gifts.
Hi Courtney, thanks for speaking with us today. Please tell us a little bit about yourself starting with some of the unique experiences that initiated your path as a healer.  
My path as a healer began when I was 19 years old. At that time, I was in college studying theatre. I thought my life's destiny up until that point was to become an actress. I was a typical college party girl. I loved drinking, smoking, partying and going to Phish, Grateful Dead and other bluegrass concerts. I had no interest in a healing path. It wasn't even on my radar. One evening, I was at home and scrolling through the channels on television when I came across a documentary of a woman who was a hands-on energy healer. In that moment, all the bells, dings and whistles went off inside me as a huge resounding wake up call that rattled me to the core. "This is your path." I immediately lost all interest in drinking, smoking and partying, as well as many friends, since they were all connected through partying. I felt like a pawn in some kind of chess game where my path was completely and immediately redirected. It opened up another door where I was infused with psychic perception and a vision of my soul's path. Within a few months, I found my first energy healing teacher. My path of healing has been an ongoing deepening and discovery since this time.  
Your experiences have taken you around the globe. One experience in particular was living in John of God's healing center. How did this experience change how you view healing, the capacity to heal, and change?
I think many people who have heard of John of God associate him with miraculous and immediate healings. People often come to see him looking for this and often for a physical cure.  I did get to experience and witness this several times. What I came to most deeply appreciate wasn't the miracle healings, it was the process of healing. The guides and doctors are all deceased and living on the 'other side of the veil.' I began to become aware that they are in touch with a much bigger picture of healing, perhaps even our soul's journey through our lifetime. We may have a physical illness and want it to be removed or healed instantly. There are many threads, like a tapestry that may be influencing our current state. There are lessons that we need to learn as part of our path. There are often emotions and traumas that have been passed on from our ancestors, which scientist have termed epigenetics. There also can be  unresolved energetic and emotional issues that are contributing to our current condition or illness. There are so many factors. Instead of an approach that is all about 'fixing' our condition in a sole attempt to make something go away, I find the path far more transformative when we learn to develop deeper intimacy with what we are experiencing. It is here, that we can discover the gems and healing transformations that are waiting for us in the heart of our issues.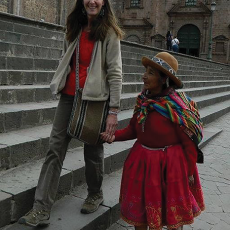 What lasting effect did this have on you? In other words, if healing was an everyday occurrence and it became normalized for you, did this stick with you and become a part of who you are now?
I think what got normalized was the connection to an unseen 'other' world and the field of grace that is here for us all. Healing was an everyday occurrence and it took a variety of different forms and expressions. What most people may commonly report, regardless of their symptoms staying or going, was that they felt more whole and a deeper inner connection with faith and gratitude in their lives. I think this in itself is a miracle. Many times, more perceptions were opened and an ability to more intimately access the unconscious through touch, and welcome these internal holdings into our conscious awareness for a deeper healing embrace. By unconscious, I refer to what is unseen and these multi-levels that affect our being (physical, environmental, emotional, mental, psychic, spiritual, circumstantial, ancestral, etc).  
Courtney, you seem to to be able to meet the moment for what it has to offer, even when it is unknown or dealing with such painful things as loss or grief.
I believe if we can find the courage to open to our hardships and take the journey down these dark roads consciously, then our hardships can become heart-ships where our grief can carry us along its sea to the secret docks in our hearts. As a culture, I think we have a deep conditioning to avoid loss and grief. Even in the midst of our experience of loss, we may still be in a relational battle with the many tightly-wound cultural beliefs we have around loss or grief.  We may think loss means that we have taken the wrong path or we have failed because we aren't experiencing success or expansiveness. I have discovered within myself and working with others, that these moments when we are traveling down the dark road of the unknown, where things aren't in the light of expansiveness and clear seeing, can offer a depth of transformation.  It is like a diamond that forms in the deep darkness and at very hot spots inside the Earth. But diamonds only form under specific circumstances and in specific zones. I think we need an approach and a sacred space and container for these darker times in our lives, so we can undergo a transformation that will birth forth the luminous radiance of our inner gems.

One of my grief mentors uses the word 'apprenticeship' with loss and sorrow. I like this word because it implies an opportunity to become intimate with our experience. When we aren't collapsing into our experience, nor pushing it away or going against it, then what we are experiencing may be painful but it can be enliveningly painful. I experience real grief to be very enlivening. Grief isn't a 'poor me' pity party. It isn't a wallowing in murky waters to only feel the dread and see the dead. Grief has a vitality and life to it that can birth forth gratitude and even grace in our lives. Grief is a wellspring that arises from deep below that contains fire, life and new dreams.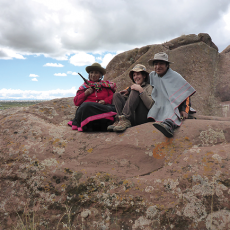 In other experiences, you have spent extensive time in Peru learning from the elders and mystics of the Q'ero tribe.
My time with the Q'ero was pivotal and life-changing. For the past seven years, I have taken yearly visits to work with my Q'ero godmother, Dona Maria and her family. She is the last living altomesoyak in her community. An altomesoyak is a Quechua name for a highest level mystic who receives their role as a healer in the community through nature by being struck by lightning 3 times.

My spirituality up until this point was primarily accessed from the heart up. I had many transcendent realizations of unity that was untouched, unborn or beyond my humanity. With the initiations at the sacred sites with the Q'ero, as well as doing deep inner work, I was eventually guided within myself back to a connection with a primordial unity, one that arises from roots the Earth, and that of our inner Nature: the soils of our Soul. This is the divine light that is restored from the darkness of matter. 'Mater' is a root word for Mother. How we experience this light is unique for each of us.  

Some mystics and teachers often refer to the transcendent as the Masculine/Father face of God. I think many of us know this well in our culture. The imminent: the divine light and power within the material world, is when we can realize God to be the divinity of our bodies. It is the unity of spirit and matter. The world is wild, alive and divine realty. We have been orphaned to the feminine face of Divinity for so long and I think so many people are yearning for this now.

In spending time with the Q'ero, I began to realize how they have maintained this connection to our sacred feminine Nature and the holy unity of life. They know their place of belonging. The 'underworld' isn't a place where "hell' exists. It doesn't harbor a lifetime of unexperienced pain.  The underworlds were home to the universal earth goddess Pachamama, the secret and invisible animating force of all life. They live within Nature's inner-connected weave, where there is a mutuality and interdependence with each other and all living beings. Living in this right relationship and sacred reciprocity with each other and life is the number one guiding principle in Andean culture. In Quechua it is termed 'ayni'. Ayni always begins with the Great Mother. They live and are guided by living in reverence with Nature, both inside and out, in all of Her aspects.  This keeps a continuity and flow of gratitude throughout life in all of its trials and beauties, gains and losses.  

What I have noticed in our culture in being primarily cut off from our primordial roots, we have been, we have been told to fill this gap of belonging, of belonging to each other and this greater soul of life with more material success, more things, more accomplishments. Yet, it doesn't seem to fill this primal and primary pang of aloneness. 

I feel my work is essentially to be a weaver in restoring the sacred essence and primordial magic of Life's inner-unity. This unity isn't a white washed out sense of oneness that only sees 'all good.' It is strongly rooted in unity in action through sacred service. It is motivated by a deep desire for healing ourselves and the world. It is sustained through creating a strong healing container, clear boundaries and living in right relationship, so that we can truly thrive, protect, preserve and nurture what is sacred in this life. My life is dedicated to living in the fierce compassionate ways of the heart, so we can truly discover a deeper depth of our humanity. All of my offerings are essentially fueled by this passion to restore the true felt intimacy and magic within ourselves, within life and within our relationships.   
Courtney, please give us an overview of the services you provide.
Healing sessions one on one

I offer individual healing sessions with a focus on integrative somatic bodywork, energy work and psycho-emotional/spiritual integration.  

Grief Rituals

Once or twice a year, I lead a day long or weekend grief ritual. These grief rituals are a wonderful and profound opportunity to bring our grief into a sacred and safe community container. I think when it is shared communally, we can recognize that our grief isn't individual, as indigenous traditions have always known. It is something that is shared. These gatherings are beautiful in rich connection, poetry, writing exercises, sacred music and grief ritual. It is an opportunity to connect more intimately to our grief and allow our grief to cleanse and strengthen our connection to ourselves, our partners, friends, family, community and the Earth. The next group will be Saturday, Feb. 6.

Retreats around the Sacred Feminine

Once or twice a year, I also lead groups around the sacred feminine. These groups are an opportunity to begin to connect to the ancient eternal wisdom of our bodies and that which unites body and soul. These groups focus on sacred ritual, prayer as a gateway into the depths of our Nature, inspired poetry, body-centered depth healing work, the sacred work of alchemy and authentic body-centered movement practices. The next weekend will be at the end of March.  

Sacred Journey to Peru

Yearly, I bring a small group of people to Peru to participate in life-changing ceremonies at the sacred sites with Q'ero mystics.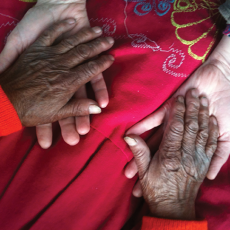 I would love to hear more about how your work has changed and touched the lives of your clients.
It is my deepest honor to come together in a safe healing space with others and the sacred  alchemy that can happen in this exchange. I hold each session, meeting and gathering in deep respect knowing that the true healer and the deepest source of guidance, inspiration, resources and support is alive within each one of us.  

"I came to visit Courtney for help with whiplash a year ago. Somehow, during that experience, it brought up trauma that was locked in my body connected to a near drowning incident when I was five years old and the unconscious terror of this which has lasted a lifetime. It was released during our session together with a tender massage and acknowledgement and inquiry into the painful areas in my neck and shoulders. Courtney's ability of combining massage, her deep listening, intuitive questions and offering such a sacred space was amazing! I felt a complete surrender to the experience of being in my body. This surrender has brought me full circle and healed the initial trauma which has haunted me since childhood."  -Kris
"You have a grace that accompanies your healing work that has allowed for profound shifts and has supported me in moving forward." -Brooke

"I want to thank you from the depths of my soul for the work we did together.  My God, that was such huge release and relief."  -Kristen

"Thank you from my Soul for the session. I experienced a huge breakthrough into boldness and truth." -Jennifer
What is the process you use in working with your clients?  How do you work with your clients in supporting them in their own healing journey?   
I work in a variety of different ways. Each session is unique and completely individualized. I support people through bodywork and have a wide range of modalities to draw from, ranging anywhere from swedish to deep tissue to craniosacral therapy. Usually, my sessions are pretty collaborative, where there is an engagement of feeling and healing attention to whatever is arising in the body. Often times, I may ask intuitively guided questions to help bring more healing awareness to people's inner experience. I have a John of God crystal bed which I occasionally use at the end of healing sessions to cleanse, balance and align the energy centers of the body (the chakras). Many times, after a session is complete, I will offer some 'homework' for people to deepen their own connection to their healing journey as well as offer a deeper integration after their session. This can consist of somatic body-centered exploration and exercises as well as writing exercises.    
You are now opening your calendars to work with new clients. What is the best way to go about setting up an appointment with you?
Please visit my website here. You can also call me at 541-535-2186 or email me at courtneydukelow@gmail.com.  
Courtney, do you have any last thoughts or comments you would like to share with our readers?
Thank you for taking the time to read this. I really am aware that these moments of our greatest hardships, which I feel is happening globally right now, can be a catalyst for our deepest transformation. Ashland is such an incredible community. I really feel a strong potential we hold to discover the living unity of comm-unity: to use the profundity of these times to bring us together in mutual support for each other and life, discovering and sharing our gifts for the betterment of the world.  
Learn More:
Luminous Healing Arts
Check out her website here
541-535-2186