Interviews
Dan Durant & Team – Brothers' Restaurant – What Makes Brothers' Great!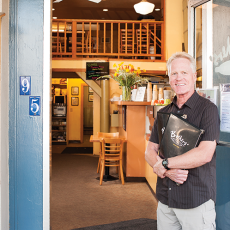 Conveniently located at 95 North Main, Brothers' Restaurant proudly hosts a friendly and vibrant place to enjoy great food and company. For more than 38 years the restaurant has provided Ashlanders and tourists with an eclectic breakfast and lunch menu. Each week Dan and his chef, Raliegh Grantham, offer new weekly specials ranging from Crab Eggs Benedict to Mexican Chorizo Hash, or a hot "Monte Cubano" Sandwich to a Salmon Club. At the core of Brothers' success is a positive work environment based on integrity, mutual respect, and kindness. Brothers' commitment to the community is further reflected in its support of local businesses including the many regional sources of the foods they serve. I met with owner Dan Durant to learn more about the secrets behind the success of Brothers' Restaurant!
Dan, thanks so much for speaking with us today and congratulations on 38 years in Ashland.
Thanks so much Shields for the opportunity to share with you my experience at Brothers' Restaurant. Although I can't take credit for all 38 years, the last 7 years have been filled with joy, challenges, positive feedback and so much more. I really love what I do!
Let's jump right into our interview by my asking you what has been the secret of Brothers' success here in Ashland?
When we bought the Restaurant in September 2007, one of the local papers ran a headline – "Ashland Institution, Brothers' Restaurant, changes hands." I thought, wow – an "Ashland Institution." No pressure there, right? The previous owners of 26 years, Bob Evoniuk and Beth Levin, handed over a very successful menu and a very strong local following.
For more than 30 years, I have always subscribed to many cooking magazines and routinely pour over them, looking for new ideas, keeping up with culinary trends, etc. When I lived in San Francisco, I took classes at the California Culinary Academy, so my interest in food runs deep. When meeting all the regular customers, I was warned, "Don't you dare take the Blintzes off the menu," and other similar comments. At the beginning, I made all the recipes myself – yes, I was the Prep Cook. I wanted to fully immerse myself into Brothers' food. I tweaked some recipes, left some alone and added a few of my own. Beyond that, I knew that I had bought a very successful restaurant, so being careful and respectful of the tried and true, I limited my changes. I still felt I needed a way to express my culinary experience.
So over the years, I've always had a variety of Specials available. It started out on a chalk board, but today, they are printed and inserted into the menus each week – and we sell a lot of Specials. I also update the Specials page of the website each week, so customers can always check and get an accurate list of this week's offerings.
Dan you also co-own the Restaurant with your partner David Newton. Before running Brothers' you had run Country Willows Inn for 10 years. What were some of the highlights of that business adventure that you were then able to integrate into your ownership of Brothers'?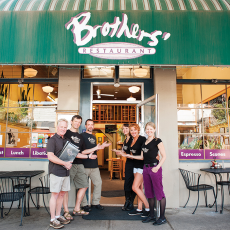 Yes, when we lived in San Francisco, we visited Ashland annually to enjoy the Oregon Shakespeare Festival and we always stayed at Country Willows Inn. After 10 years in S.F. working as a Systems Administrator for a major law firm, we decided to call it quits, sell the house and buy a B&B. David has a Harvard Doctorate in Science Education. He is a retired Chemistry Professor from Salem University in Salem, Massachusetts, Western Washington University in Bellingham, Washington, as well as the University of San Francisco. He is a widely-published science writer with over 400 books to his name – he still writes today. He can write anywhere, so he was in.
When we told current owners, Bill & Barbara Huntley this news, Barbara replied "Oh, really – we've decided to sell!" That was an OMG moment for us – we could hardly believe it. It took some doing to make the deal happen, but we pressed on and eventually moved to Ashland in 1993. The Country Willows' property is one of the most magical places in Ashland. It's a historic 1896 farmhouse on 5 acres with spectacular views of the valley and mountains and only 2 miles from town. I can remember serving breakfast to guests on the front porch our first summer there and feeling like I had to pinch myself to make sure I wasn't dreaming. The pinch hurt – turns out it was real. I really had fun playing with food here. We had an enormous garden. An old friend told me once, "Anything worth doing was worth doing in excess." So we decided to plant the whole produce section! Going out to this garden and harvesting all this fresh produce for our guests was such a joy. We had 9 rooms with up to 25 guests, so serving my creations to this many people was such fun. We must have been doing something right – our return guests made up the majority of our occupancy and getting reservations there was difficult indeed.
After 10 years, feeling that it was time to do something different, we sold the Inn in May 2004. Not knowing what lay ahead, it was a little scary. After taking a few years off to build a house, I was ready for the next challenge. It took about 1-1/2 years to talk Bob and Beth into selling the Brothers', but I persisted and they finally gave in.
Dan, you talk about your staff as being like a family, but you also have developed many close relationships with your customers. Can you please tell us about some of these relationships you have formed?
Well Shields, I must say that our regular customers bring us so much joy. We have people who come to Brothers' every day! That just really blows me away.
There's Clara, for example – if she's not there by 11am, we start to worry. As soon as we see her walking down the street, we start pouring her Iced Tea – except it isn't iced – that's right, Cold Tea, no ice, no lemon and no straw – and keep it coming, she drinks gallons of the stuff. We truly love her!
Then there's Dennis and Marcia. They drive to Brothers' from Eagle Point several times a week. Marcia always, always has the same thing – Scrambled Eggs with Green Onions and Cream Cheese. I actually programmed a button on the POS system that says "Marcia Scramble." I showed it to her on the computer and she got so excited. She took an iPhoto and posted it on her Facebook page.
There's Tom from OSF, who walks in the front door, and we hand him the New York Times and John who likes his hash browns a certain way – the cooks have started them before he sits down. Kurt drives to Brothers' nearly every day from Grants Pass – if it's a weekend, we hand him a Mimosa before we even say hi. There are too many regular folks to mention here, but what a great feeling and compliment it is that we are so important to their daily routines.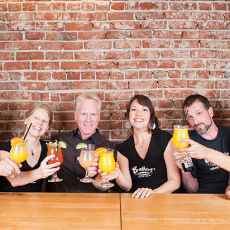 Brothers' is not only a favorite for locals but time and time again you have tourists coming back to visit.
It's true. They open the door and say, "We're back!" And then, "See you tomorrow," until their last day, when they say, "See you in September!" Again, what a pat on the back!
Let's jump back to talk about the quality of experience you are able to offer at Brothers'. The restaurant is so clean, light filled and nicely set-up. Great photos, a detailed menu and super delicious specials! Have you always given so much attention to detail?
I can remember looking through all the comments in the B&B Guest Register and one of the most common was, "Amazing attention to detail." Maybe that means I'm OCD? Whenever I hear that comment, I always credit my mother, Doris – she had six kids – 1 daughter and 5 sons – she had to be organized to survive that, right? BTW, she turns 96 next Monday and she remains one hot ticket!
Dan, please introduce us to your staff.
One of my goals at Brothers' is to make it a great place to work. To do that I have to hire people who know what it means when we talk about being a team player. I have assembled a team of talented, respectful employees that help me achieve that goal. When you have a great place to go to work, you stay put. That has been one the main reasons for our success and contributes to our consistency.
Dewayne Conner is my Manager and has been with me from the beginning (actually, he came with the restaurant). My buddy, Raliegh Grantham, is the Kitchen Manager/Chef and he's responsible for keeping an eye on consistency of the food, recipes, presentation, etc. Many of our servers, bussers and cooks have been with me for years. Job openings at Brothers' are fairly rare.
OK, I need a recommendation on what to eat for breakfast today. Any suggestions?
Customers often ask that question and I always have a hard time answering it. Omelettes? Well the #6 (Bacon, Onions, Mushrooms and Cheddar) and the #20 (Bacon, Spinach, Red Onion, Tomatoes and Mozzarella) are the most popular – but what about the Huevos Rancheros or the Housemade Blintzes? Our Lox Plate is also extremely popular.
How about for lunch? For the sandwich lover, my faves are the Classic Turkey Club or the "Our Hero." The Siskiyou Salad and the Steak, Apple and Blue Cheese Salads are delicious. I personally treat myself to a Bacon Blue Brothers' Burger every now and then. Dan, you have been very driven in your life and are always striving to do a great job at everything you do. How did you develop such a positive attitude to press forward?
Wow, what a question. I guess I would have to go back to my parents and growing up with my sister and four brothers. We lived in a very small house in Wilmington, Massachusetts that my parents built with their own hands – no electric saw! If you wanted something you figured out a way to do it yourself. If we wanted to plant a tree, we didn't call an arborist, we dug a hole. My motto and Nike's are the same – Just Do It!
Working at Brothers' is actually an accomplishment for those who get to do it. Who actually gets to work at Brothers' and why?
Well, I touched on this earlier, but to expand, you really need to have some experience. During our peak moments, we are putting out a meal a minute – really! I've learned that not everyone is able to accomplish that task while remaining calm. The Brothers' family of employees is on-time, willing to help each other out, flexible, cheerful and come to work with a positive, forward-looking attitude that says, "We can do this!"
Let's talk about morning drinks… these have been a big hit!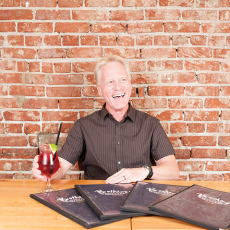 When we purchased the restaurant there was a beer and wine menu, but it was not very successful. Wanting to encourage the reputation of Brothers' as a hip place to go out to eat with both the college crowd and the vacationing tourists, I got a Full On-Premise Liquor License. I introduced Bloody Mary's, Mimosas, Irish and Keoki Coffee drinks, as well as Tequila Sunrises, Screwdrivers, Greyhounds, etc. This turned out to be a really good move – the Bar Sales have really taken off!
Dan, you actually swore to yourself that you would never work in a restaurant again after a negative experience in your younger years. What changed?
It's true, when we left the Boston area and headed to San Francisco, I swore I would never work in a restaurant again. And, you know it wasn't because I disliked the work – it was really because I didn't like the hours. I worked nights and weekends, so I could never hang out with friends and family who didn't work in restaurants. The fact that Brothers' serves only Breakfast and Lunch, makes it so manageable. These days, we all have a variety of work-related experiences throughout our lives. Turns out, I'm really suited for this one – I truly love what I do!
Presentation has been key, even down to how you want each of the plates prepared.
Yes, I have specific instructions for every dish on the menu, laminated and posted on "the line" for cooks to refer to. Otherwise Cook One's French Toast will be presented differently from Cook Two's version. We recently hired a very experienced line cook, Rob, who said that he had never worked in a restaurant that was so "dialed-in." He said that he appreciated the organization and that it made it easy for him to become part of the Brothers' Team.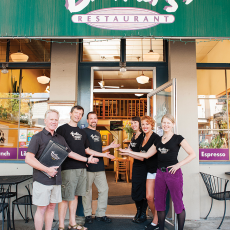 When you get to go out to eat where are some of the places you like to go?
We love going to Liquid Assets. The owners Jim and Denise are true neighbors and we love the bartender, Lucie. We also love going to Lark's – we usually dine at the bar. Every time we go, David says, "I'm not going to have the Fried Chicken again," but of course, he always does, because it's amazing! The Peerless is another favorite – their small plates menu really suits the way we like to eat these days.
How about traveling, what do you look for when you explore new restaurants in cities around the world?
Great question. We live to travel and we live to eat. You really have to be careful – getting sick while traveling to far-away countries is no fun. Having said that, I'm pretty adventurous when it comes to "street food." This winter we traveled to South Africa for Safari and then took a cruise from Cape Town to Singapore, visiting 12 countries in all. We had Christmas Dinner in a casual place in Johannesburg, crowded with locals, music, drums and dancing – we thoroughly enjoyed this place.
Last but not least what is your goal for every customer to experience when they come into Brothers'?
Different customers want different experiences when they go out. Firstly the basics should be exceptional – food, service, environment, etc. A good server has to figure out what would enhance each individual customer's experience. Some might really want to visit with their companion, while others love to chat with their server and ask lots of questions about things to do in the area. When a customer leaves, we hope they have enjoyed delicious food, friendly service and a burning desire to come back to Brothers'!
Learn More:
Brothers' Restaurant
95 N. Main Street, Ashland
eat@brothersrestaurant.net
(541) 482-9671