Interviews
Joseph Fichter – Collaborative Law – Divorce for People Who Don't Want To Go To Court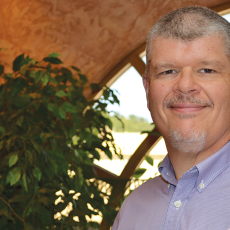 Introducing Joseph Fichter, newly relocated to Ashland, Oregon from Hawaii. Joseph is an attorney who focuses on helping individuals resolve their divorce and family law matters respectfully outside the court's traditional adversarial process. Joseph's personal and professional mission is to help his clients bring matters to closure in a fair and equitable manner, with dignity and ease. While divorce can be a very difficult and trying time, steps can be taken to reduce its economic and emotional costs. One of the ways Joseph does this is through the Collaborative Divorce process. In this process, couples agree to resolve the issues involved in their divorce outside of the adversarial and contentious world of divorce court. A Collaborative Divorce isn't for everyone though says Joseph, "Some people simply need their day in court, to be in front of the judge. Also, there are certain situations that are not good candidates for this approach. However, for individuals who are committed to resolving issues in a respectful manner, it can be quite effective. This does not mean that things are always easy, or conflict free. Rather, there is a commitment to the process of closure outside the court of law." I met with Joseph to learn more about his professional and personal commitment to fair and ethical resolution.
Hi Joseph, thanks for taking the time to speak with us today and welcome to Ashland!
Thank you Shields. And please, call me Joe. My wife and I have been here now for almost three years and love it. We truly appreciate how warm and welcoming the local community has been. The combination of good people, a stunning natural environment and a lively local cultural scene make Ashland a wonderful place to live. I believe it is also a place that is ideally suited to appreciate the approach to resolving legal disputes that I offer.
To begin with can you give us a little background on yourself? Even though you currently are focused on assisting individuals undergoing a divorce you have a very eclectic background full of legal experience.
I would be happy to. I grew up on a farm in Iowa. I earned my undergraduate degree from the University of Iowa, and my law degree from the University of Denver. After passing the Colorado bar exam I did traditional litigation in Denver related to a variety of business areas including securities fraud, antitrust, and oil field product failures. It was an intense, high conflict practice. After twelve years of that I found that I needed a break, and was drawn to the nonprofit world. I accepted the position of Director of Emergency Services for the Curtis Park Community Center in Denver. I was moved by how tangible my contribution to the community felt in that context. There was something about helping this person sitting in front of me to keep her heat on in the middle of January that was so immediate and gratifying. Something was calling me and I chose to follow.

In 2001 I moved to Hawaii where I lived on the Big Island for ten years. I was licensed to practice law in Hawaii. However, I chose instead to continue my nonprofit work during my stay in the islands. In September 2011 my wife Robyn and I moved to Ashland. I took the summer 2012 Oregon bar exam, passed it, and initially opened my office in Medford. In January of this year I moved my law practice to Ashland. I had been feeling the call to return to law for some time. However, my experiences in the worlds of intense, combative litigation on the one hand, and nonprofits on the other led me to conclude that I wanted to practice law differently. I now help people resolve their conflicts outside the high cost, in all senses of the phrase, environment of traditional battle in court.
Positive contribution is an important part of your work and has played a large role in choosing to become more and more engaged in collaborative law. Can you please tell us more about this?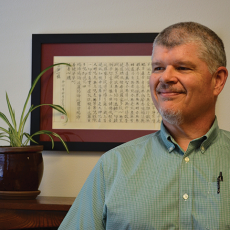 My goal is to offer a different path to engagement and resolution of conflicts outside the adversarial court process. I feel I am making a positive contribution to the world by helping people work through their conflicts in a way that minimizes harm while helping them reach their most important goals in a timely, respectful and economical way. There are a number of tools I use to accomplish this. One is the Collaborative Divorce process. Collaborative Divorce is a completely different way to approach the dissolution of a marriage. It is a non-adversarial process that keeps power and responsibility in the hands of the couple whose marriage is ending. The couple agrees not to litigate, but to negotiate in a spirit of respect and transparency outside of the court system. The spouses decide what is best for them and their children going forward, not a judge. This process is designed to lower the stress of divorce while permitting participants to address the very real issues they face in crafting their futures.
You told me a very funny quote from Ambrose Bierce. Would you mind sharing that again here?
Sure. Bierce defined litigation as the process by which we enter as pigs and exit as sausage. That's not an exact quote but it is pretty close. I like it as a shorthand reminder to myself. However, I offer it with a couple of caveats. One, I don't think we should see the pig as a symbol of greed. He merely stands in for any of us who enter litigation and get something more than we bargained for. Two, there are times when litigation may be necessary. My job is, in part, to help people understand their options and allow them to make an informed choice. What the quote points to is the fact that the costs of traditional litigation can be extreme, and these costs are not simply economic. In the past I saw my clients—even driven, highly accomplished business people—become overcome by the stress of the adversarial litigation process. It can often occupy all of one's waking free time and it is not at all unusual to awake at 3am with thoughts of the other party intruding upon one's sleep. It is extremely hard to maintain one's well-being in a circumstance like that.
Now taking a collaborative law approach does not always guarantee that things will be easy or non-conflictual…. correct?
That is absolutely correct. There can be and often is deep conflict between the parties. The difference is in how we manage it. It is not necessary that the parties get along. The bottom line is that the parties make a commitment to settle matters out of court while engaging the process with transparency and good faith. It can still be tense and demanding but the process is there to bolster the commitment of good faith. The adversarial process of court often seems to drive conflict and strife.
Is this always successful?
No. However, generally it is. Data from the International Association of Collaborative Professionals indicate that 86% of collaborative divorce cases end successfully with a settlement agreement. In 2 % of the cases studied the partners reconciled during the process. 11% of the cases ended with the termination of the collaborative process. 1% had some "other" resolution. Part of the reason the success rate is high is due to really helping people to choose the process that is right for them. The collaborative process works best for people who commit to being open, transparent and respectful in their dealings with each other. It requires people to work with integrity and to own their dispute, not just hand it over to the professionals. The commitments of the collaborative divorce are set forth in a Participation Agreement signed by both parties and their respective collaboratively trained attorneys.
Divorce is a major topic that you cover but you can also assist with other issues. Can you please say more?
Yes, the collaborative process can work anywhere there is a significant relationship that is valued by the parties. So, many business disputes are good candidates for this approach, be they partnership disputes, employment issues, contract disputes or any number of other matters that naturally arise in business.
Please tell us about the importance of the mission statement clients can create. What does it help to accomplish?
Well, not every couple in a Collaborative Divorce creates a mission statement. For those who do, it can help them see the work before them more clearly, and to have a clear grasp of the end point. It also can encourage and reinforce working together towards a common goal.
What have you seen are the biggest challenges facing a couple when they go through a divorce?
Well, I think the fact that the family as it has existed is being totally transformed is the root of most challenges. The known world is shifting dramatically and the new order is not clear. They occupy the in between space of the trapeze artist sailing between hand-holds. Uncertainty arises in a multitude of ways. What about the kids? What will we do about money and property? Will any of this ever get better? Where do we even start? If you find yourself in this situation please give me a call. Together we can explore your options and see which might be best for you.
Closure of any relationship is always a difficult process, can you please say more about this?
Let me speak a little bit from my own personal experience. When I was divorced 10 years ago I was devastated at first. Having grown up in rural Iowa I assumed all marriages lasted a lifetime. Both sets of my grandparents and my own parents were married more than 50 years. I went through all the stages of loss and grief: denial, anger, bargaining, depression and finally acceptance. The very moorings of my life were washed away. Who was I now? So, the very nature of divorce is extraordinarily disruptive. We are stretched and pushed in ways we can scarcely imagine. It can be frightening, and if we feed the fears that come screaming forward at that time we can be consumed. I alternately wanted to flee and pretend nothing is happening here, or start World War 3.

What I observed was that the more I struggled against the situation the worse it all felt. When I could accept that change has come and I can have some voice in how it evolves, I was more at peace. Acceptance does not mean we like it, but it does help us not demonize the partner who had meant so much to us. It does permit us to cooperate with circumstances to build positive change. It does give us the chance to live with dignity, integrity and warmth.
It's very apparent that you care very much about the work you do and the quality of experience that your clients have. Where and how have you developed your own sense of kindness and fairness?
Two of my earliest mentors were my grandmothers, Ruth and Mae. They taught through their speech and actions that we need to do our best to help each other in this life. Each of them inspired me deeply and I think of them often, subjecting my decisions to my best reckoning of what they would advise me to do. I also had the good fortune of working with Robert Aitken, a teacher and peace activist of great skillfulness. Finally, my martial arts practice has greatly contributed to my outlook. People often speak of the paradox of the martial arts wherein the study of arts that can cause great pain leads to a commitment not to do so. I have found that to be the case in the lives of many of my friends. I hope it is true for me as well.
In many ways I think this all boils down to a deep respect that we all need to hold for one another.
Yes, I agree. So much of what is required of us in order to live well together is just that simple. However, we all need reminders and skillful means to make this truth real and actively functioning in our own lives. It seems to me that you are able to maintain a very positive outlook despite difficult situation. I do my best to offer up whatever skill or insight I may have and then stay engaged with curiosity about feedback. If I stay open to what responses are coming my way then I have something to work with. If I start thinking "I know how this will work out," I am almost always wrong. Life is much richer than our conceptions about it. I trust in our human abilities to help us engage and move through extraordinary challenges together.
Joe, can you walk us through an ideal divorce scenario going from conflict to resolution?
Let's imagine a hypothetical couple, Ann and Bob. They are in their mid thirties and have two kids, 10 and 8 years of age. Ann and Bob have been married for 13 years. Distance and tension between them have been on the rise for some time. They both are coming to realize that their relationship is over, and that they need to go their separate ways. While they each have strong emotions about the end of their marriage they also do not want to engage in an all out battle in court because of the financial and emotional toll it will take on everyone, particularly their kids. They have disagreements about what should be done in unwinding their marriage, but they each feel strongly that they want to do this a different way, a way that will let them resolve their differences in a respectful, economical and efficient manner. They recognize that they may no longer be married but that they are parents forever.

Ann calls me and we schedule a meeting. We discuss the options for proceeding with divorce including Ann and Bob going it on their own, divorce coaching, mediation, collaborative divorce and litigation. Ann is interested in a collaborative divorce so we discuss what it entails, and I give her some information to share with Bob to see if he wants to pursue this path. He agrees to do so and he retains his own collaborative attorney while I represent Ann. Together we all work to identify Ann and Bob's respective interests, work through their conflicts and arrive at a durable agreement that takes care of all of the issues of importance to them. The kids are spared exposure to a contentious fight and Ann and Bob are able to move forward with their lives without rancor, making their jobs as parents so much easier.
There must be all sort of challenges when working through these processes.
That is very true. Any time we find ourselves in conflict our usual ways of responding are tested. Often we default to lashing out at perceived threats or running away from them. Our current trial court system grew, in part, out of the traditional trial by combat ordeal whereby a person accused of some infraction could choose to resolve the matter through actual physical combat carried out by himself or a champion of his choice. While we don't have attorneys physically duking it out on the field of battle, our trial system is an adversarial process that tends to be quite contentious. It is worth considering an alternative to that.

Anecdotal evidence from the Seattle Collaborative Law Group indicates that the costs of a typical collaborative divorce run about 65% of the cost for a traditional, litigated divorce. Moreover, a collaborative process places the interests of the parties first, keeps control of outcomes in their hands, not those of a judge, and protects the kids from a toxic, contentious environment. It is not easy, and I am not saying it is for everyone. I am not here to pass any judgment on traditional divorce litigation. I simply want people to know there is an alternative that is worth their consideration.
Joe, thanks for talking about your work with us today. Do you have any last words of wisdom or advice you would like to share with our readers?
Thank you for your thoughtful questions. I enjoyed this very much. Let me share a quote I like from a wise teacher, Thich Nhat Hanh: "Letting go gives us freedom, and freedom is the only condition for happiness. If, in our heart, we still cling to anything – anger, anxiety, or possessions – we cannot be free."
Learn More:
Law Office of Joseph Fichter
320 East Main Street, Suite 202, Ashland
jfichter@josephfichterlaw.com
541-708-0336