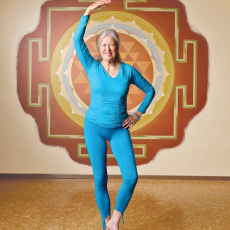 Long term Ashland resident Angie Thusius is the creator of the Kentro Body Balance method. This program of Centering Movements is an invitation to experience a novel and dynamic view of our bodies. Integrating the centering guidelines with our daily activities generates a healthy back and body at any age.
After a debilitating injury in her youth, Angie spent many years observing healthy motion in cultures around the world. Her discoveries led to the development of the centering practice that healed her. Kentro (Greek for 'center') reveals a delightful secret: You are able to resolve muscle and joint pain yourself, throughout the day. Merging the innovative Kentro practice with an affectionate attitude towards your body stretches and tones you at the same time; with Kentro, you choose to live this joyful physicality.
Unique to the Kentro approach is the principle that the body is designed for centered, healing function to an advanced age. While many of us will commit to wellness practices detached from everyday tasks, the Kentro practice is an inherent part of practical, everyday living. Physically centering your body during ordinary activities lets the body itself strengthen and relax. This month I met with Angie Thusius to discuss her work and creation of Kentro Body Balance!
Hi Angie, thank you so much for doing this interview with me today. I am excited to learn more about Kentro Body Balance. Let's start from the beginning, why and how did you develop this method?
For many years I was a professional artist and painted the harmonious motion of people in Honduras, where I grew up. I was enchanted by the strength, limberness and grace I saw in mature adults carrying heavy objects, sitting all day weaving baskets or bending for hours to wash clothes. While I was painting I could feel their supple movements. Many years later, I realized my experience portraying resilient people laid a solid foundation for my understanding and teaching of smooth motion.

My world changed dramatically when I was 30, living in Paris with my husband. I fell down two flights of marble stairs. The resulting sacral fractures, pelvic twist, hip, back and neck pain kept me in constant distress. I had to give up my career as an artist. Ten years of physical therapy, osteopathy, acupuncture, exercise, and yoga only brought minimal relief. A specialist declared eventually, I would not be able to walk. Some balancing stretches were helpful, and I became a certified Iyengar Yoga instructor, but I was still in pain.

I soon went under my own sails. I let go of all postural concepts and models, poses and prescribed forms, trusting my sense of harmonious movement. I passionately focused on discovering the source of healthy and joyful motion. This life-enhancing approach to my body bore fruit and helped me create Kentro, the only method which finally eliminated all my postural pain and transformed my daily living from effort to joy-in-movement.
Your research has taken you around the world. What did you discover?
Throughout dozens of visits to Greece I noticed abundant examples of healthy motion: I saw limberness and strength (resiliency) even in elderly fishermen who sat comfortably for hours before jumping up to repair heavy nets. My research in Greece was enriched by my 40+ visits to Honduras and journeys to many other countries, from Yugoslavia to Brazil. Over repeated visits to Southern England, I also observed smooth motion amongst local farmers. This in-the-field research is in concert with anatomical descriptions in Gray's Anatomy: Muscular flexibility and strength are inseparable companions when we move with optimal anatomical alignment. My comparative physiological studies in university Medical Archives in Athens, Paris, London and Stanford complemented my research.
How did your health change when you applied the basics of smooth motion that you had researched?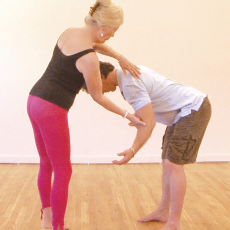 I became very practical. Instead of imitating Greeks or Hondurans, I tried out an endless series of motions, sensing my way into vitalizing comfort. A friendly attitude to my body was an effective approach to letting my body take over and release stressful holding patterns. Soon I could sit, bend and lift without pain. My back felt great. I didn't have sciatic, hip or neck pain anymore. I could sweep, prepare food and lift groceries feeling supple, stretched and toned.
What a striking transformation in your life. Did your improved health prompt you to form Kentro Body Balance?
Yes, because what really healed me were the centering movements I had started to explore and teach my students. I enthusiastically placed my energies into developing many movements students could right away feel in their own bodies. I formed Kentro to share this recipe for open-bodied posture and healthy motion with others.
Angie your own movements are very fluid and graceful. Can you say more about this?
Well thank you. I actually have a history of being frail, stiff and awkward since my childhood. As an adult, I had difficulty with sports and couldn't keep up with others in dance classes. After my first year of teaching Kentro I became pain-free. Slowly, my movements became more flowing and stable. Now, in my seventies, my body stretches and tones me spontaneously; dancing is one of my delights.
Are these typical results and do you often hear and see similar benefits with your own students? In fact, what symptoms do people come to you for in the first place?
Certainly most students have back pain, even after years of various therapies. Usually they also experience severe or chronic neck, shoulder, hip or knee pain.
Happily, students who integrate Kentro with their life will improve, in rhythm with their body history. Helene Lubben (pictured), a physical therapist at Stanford University Medical Center, wrote the following testimonial:

"I am very excited and privileged to have experienced the KENTRO Body Balance techniques. As a physical therapist, I have been frustrated by conventional ideas describing correct posture as a holding, maintaining process which requires a great deal of effort. Angie's techniques demonstrate a real insight into human biokinetics. Her exercise and stretch program is easy to incorporate into one's daily life without the use of expensive equipment or hours of practice. My posture is more aesthetically pleasing to me and I feel more flexible and comfortable, as well as safe and well-supported by my body. I have used her techniques on many of my patients, even in acute stages, with incredible success."
– Helene Lubben, P.T.
_____________________________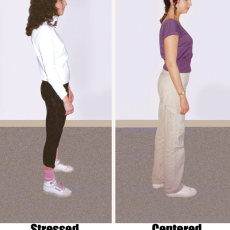 Helene Lubben, P.T. before and after
three months of Kentro practice
_____________________________
I have seen situations where there is an immediate improvement. After her first private class, a woman in her eighties reported she could walk without her chronic back pain. Another student had debilitating sciatic nerve congestion; a few classes were sufficient for lasting relief. Long-term students mention savoring their postural expression. Recently a student said she now enjoys vacuuming!
What impressive benefits. Angie, why do you think there is such a difference between the prevalence of back problems in this culture and the resilient people you have studied?
Well, we tend to blame our widespread postural distress on sitting and bending activities. Instead, I propose healthy motion is profoundly linked to HOW we move. In Greece, in 2004, only 8% of the population had back pain (whether they had desk jobs or did physically active work.) In contrast, over 80% of the U.S. population will experience a back problem, and half of all working people have back problems yearly. For whatever reason, we see the appearance of "ideal" posture in the 1930s, in highly industrialized Western counties. This notion is conventionally-accepted and we aim for "correct posture" which requires effort and tends to riddle us with stressful compensations.
How can Kentro help?
Kentro reverses concepts about aging in this culture – beliefs that we will get stiff and hunched over as we age. With Kentro practice, you are fit when your movements adapt well with your activities. You experience fitness without effort. You have nothing to fix or push into shape. Practicing the Kentro centering movements immediately enlivens your sensory system and you feel the difference between moving stressfully or smoothly. Posture melts into unique personal expression. And you can keep your lifestyle.
How encouraging! It sounds like there is a lot more to Kentro than meets the eye. What are some of the key Kentro principles?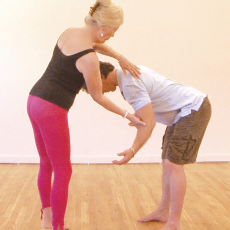 Kentro is about trusting nature. Aligning our bodies into comfortable centering stances lets our well-designed anatomical constructs function well. This is liberating. There is nothing to achieve because centering motion just happens. There is no beginning or advanced student, only deepening of ease. Postures and models are replaced by pleasurable motion and emotional resiliency, inherent aspects of centering our bodies.
Angie, does Kentro Body Balance cross the line into being a spiritual practice?
The Kentro guidelines focus on what I call 'Body Ecology.' The Greek words 'oikos' (home) and 'logos' (understanding) form the word ecology. When we visualize our body as shapeable, like clay, and move in centering relationship with our activities, we become harmoniously connected with our environment. We feel at home in our bodies. The centering movements link our physical and subtle center of self with the rich ancient clay of our surroundings.
Who has been attracted to your work, and who would benefit the most?
Kentro can benefit everybody, from office workers to dancers. Many of my students are over 50, with a background of trying therapies that didn't resolve their back problems. Noticeably, my students show a readiness to let go of stressful postural habits, an eagerness to let their muscles reshape them into healing motion and a desire to age well.
What are your classes like?
Thank you for asking. I have a variety of classes and workshops. My most light-hearted class is Kentro Dance Toning, open to everyone who loves Greek and Latin music. New students are welcome to come dance in this monthly Thursday class. In my regular weekly classes we integrate Kentro with "pretend" everyday activities; we sit on chairs, lie on mats and walk with centered motion. At home, students can use their mattress as a "stretch and toning center."

To join the ongoing classes, everyone begins with two private sessions to learn movements that are immediately helpful to them. Some students want to learn how to sit pain-free, while others want to learn how to lift weights in a centering manner. I delight in giving hands-on help to students. It looks like my students enjoy class, because they continue with Kentro for years.
You mentioned this month is very exciting for you. Can you tell us what you've been working on?
Yes, I am thrilled to announce the 2-disc DVD, "Kentro Body Balance, Movements for a Healthy Back and Body." I demonstrate 33 Lying Down, Sitting and Upright centering movements based on my book "Kentro Body Balance, The Secret Pleasures of Posture." These are both available at my website (KentroBodyBalance.com), Soundpeace and the Ashland Food Cooperative. My book can also be found at Bloomsbury Books.

Speaking of the Food Co-Op, they are hosting a free, open-public "Introduction to Kentro" on Monday, July 14th, 7-9pm. It will be informative and fun. If Kentro is your 'cup of tea' I invite you to enroll in a six hour workshop (12 participants) on August 2 – 3. Anyone may join this "Basics of Kentro" workshop. It also fulfills a prerequisite for the upcoming Teacher Training.
Finally are there any last words you would like to share with our readers here today?
My excitement is building for the premier Kentro Teacher Training Program, beginning in October. The training will encompass an enjoyable 'Greek approach' to learning and is limited to 12 participants. This program will instruct future teachers, deepening the Kentro experience. Information on this training is available through my website.
Learn More:
Angelika Thusius
KentroBodyBalance.com
541-944-1942