Interviews
Eric Hansen – Go True South Solar!! Southern Oregon Rooftop Revolution – Part 2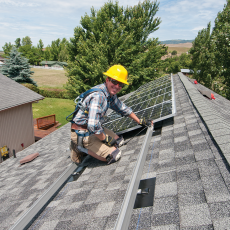 Last year after we interviewed True South Solar they ended up with an immediate surge of new business and now as they enter their fifth year, they have the wind in their sails and all the crew on deck. Currently with eight employees, local owners Eric Hansen and Shawn Schreiner are leading the rooftop revolution here in Southern Oregon.
At this point, they've got it all: awesome clients, awesome projects, awesome challenges, great results, a brand new office, and cute Smart Car delivery vehicle to go with it! True South Solar has made huge strides forward here in Southern Oregon. One only needs to drive around town to see the numerous True South Solar signs proudly displayed by local home owners who have taken the plunge and installed solar arrays. The signs represent a project well done and investments made in a sustainable and independent energy economy. Once you spot one of these signs, see for yourself … then ask yourself if you're not saying, "WOW, COOL."
Right now is the right time and right place to go solar. With solar panel pricing at all-time low rates along with amazing incentives, those that will… CAN and True South Solar will be there to help you all the way! The company is young, motivated and driven to do their best! I headed out to a lunch with owner Eric Hansen to review last year's success, to hear about this year's goals, and to simply talk solar!
Can you give us an overview of some of the progress and success you guys have achieved over the past year?
Sure, I'd love to. Last year we deployed twice as much solar as the year before – fifty jobs totaling 225 KW of solar. This year we're on track to double those numbers. We've added three employees and a new office to handle the growth. We've also added SunPower modules to our product line; the most efficient modules you can buy and we've expanded our financing options.
Tell us about some of the clients you met this past year.
Our clients are the best! All of them feel good about solar, they want to invest in the technology, and they want all the benefits. Some bought small systems because they're such a good deal. Others bought big systems because they use a lot of power and they want to knock down or totally eliminate their bills. It's getting more and more common for folks to go Net Zero and cover all of their electricity bill.

For example, we have a client here in Ashland that installed enough solar to cover 120% of her bill. She's buying an electric car so the oversized system will cover her house and future car. Another client in Medford also installed a system to cover all of his bill because it was a better investment than anything else he had going in the market.
Eric, can you walk us through the process of taking on new clients and getting a bid on a home site?
You bet; going solar is easy. Simply give us a call or request a quote through our website to get started. On the phone we'll talk about your site, look it up on Google Earth, and then schedule you for a site survey. Site surveys are totally free, no obligation meetings. At the site survey we'll measure your roof, assess your solar resource, look at your power bill, and go over your options. Then we'll schedule another time to come back and present you with some solar solutions. In the meantime we'll put our proposals together. I like to plan an hour for the site survey, and half an hour for the proposal.
What were some of your favorite projects from this past year?
They've all been great. A few that stand out are our neighborhood projects. Working on three, four, five or more systems in one neighborhood all within sight of each other is really exciting. We'll install a system on one house, then they'll refer their neighbors, and so on… After a while it gets confusing who referred who because all the neighbors are so proud of their solar and everyone is talking about them with each other. We have a referral program where we thank clients with a $200 gift for new clients referred by them and sometimes they have to work out who gets the gift, or split it. It's a fun challenge to have.
So you guys are focusing on both residential and commercial projects?
Yes, both residential and commercial. We have a half dozen or so commercial projects in the works. Most of them are wineries and farms. Recently though we've installed commercial systems on a hostel in Ashland and neighborhood's common pool house in Medford.
Let's talk about your own new space – True South Solar has officially arrived with a new office space… even a company Smart Car!
Yes, we're really lucky to have landed at 330 E. Hersey St. Please come visit us at our Open House on First Friday, Sept. 5th, 3pm-7pm for food, drink, a chance to meet with the crew and see the office. We'll have some gifts for the kids and cool door prizes too.

The first time I saw the office in January it had suffered some water damage from the harsh December freezes. It was empty and lookin' really rough. The sheetrock on the walls were opened up to repair plumbing, the painted floors were peeling, etc. We hired Green Hammer construction to transform it into a modern space with warm colors and materials. They raised ceilings, made interior windows to open up the rooms, designed and installed custom counters and desks for the front office, sales, and conference rooms, put in wood flooring and new carpets, and all new lighting. They turned simple things like an interior sliding door and the conference room's back wall into works of art using reclaimed barn wood, colored paneling, and an integrated solar panel. It really works for us and clients seem to love it.

We're adding a 5KW solar electric system to the building in August that will cover all of our electrical usage. It should even cover our new electric Smart Car that we use for running around all over the Valley.
The staff and crew you have taken on at True South are truly exceptional. Tell us more about them.
Yes, we're an exceptional team if I do say so myself. We're at eight employees now including our newest members: Dea, our office manager, Wade in sales, and Mike out in the field. Everyone here has a great story of how they got here and we're all united by one thing – we love solar! We're working really hard to keep up with demand and we're doing it with grace. The crew has great attitudes. They show up early and stay late. We're on a mission and we're really lucky to have living-wage jobs, health care, and some paid time off to keep us fresh and motivated.
In our last interview you talked about the 0% down financing for solar projects. Is this still available?
Yes, and our financing options just keep getting better. We work with local banks, the credit union, and national companies to get the best deal possible for our clients. A new option we've secured lets you take the first year's tax credits as an interest and payment free bridge loan. This new loan doesn't cost the client anything and lowers their buy-in costs 30% or more. Its deals like this that are making solar so much more accessible for home owners with good credit.
Eric, I know you have a new product to introduce us to. Will you please tell us about it?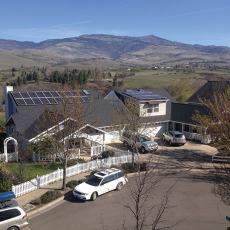 We're now SunPower dealers and offering the Valley the most efficient modules on the market. They're built to a higher standard and have the best warranty out there to match. SunPower systems deliver about 20% more power. They cost more up front but they're an even better investment of their lifetime. We still offer SolarWorld modules, made in Hillsboro, Oregon. SolarWorld's been working great for us and we haven't had anything but success with them. Now we have more options for our clients.
You might want to call True South Solar if:
a) You have a sunny site.

b) Want to invest in solar.

c) Want to join the Rooftop Revolution!
OK, best joke or saying you resort to when having a difficult or challenging moment?
Solar – it's the only kind of power plant you want on your roof.

When you really think about it, everything is solar powered.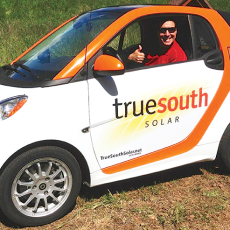 Rapid company growth can also have growing pains. How are things really going and what are some of your dreams and goals for this year?
We're really doing well. We're a young, ambitious company with goals of doubling our business' output. It's our time and we're living the dream. We work really hard but we play hard too. I'm still camping with the kids and finding time to mountain bike. Life is good. I have no complaints.
OK we need to wrap it up here… and it's exciting to hear about and see this roof top revolution happening here in Southern Oregon. What needs to happen next?
Whether you're new to solar or looking at it again, now is the time! Please give us a call or reach out through our website. Let's schedule a site survey so we can assess your site. Thanks in advance, we're looking forward to talking with you.

Be sure to join us for our Client Appreciation Day and Open House – Friday Sept. 5th, 3pm-7 pm at our new office – 330 E. Hersey St., Ashland. There will be food and drinks, as well as a chance to meet the crew at our new office; gifts for the kids and cool door prizes!
Learn More:
True South Solar
330 E. Hersey St., Ashland
info@truesouthsolar.net
800.947.1187