Now in its thirty-first season, the Rogue Valley Symphonic band is comprised of more than sixty participating members, ranging from Grants Pass to Yreka, California. The band is composed of both professional and amateur musicians, as well as student musicians from Southern Oregon University. New this season is a collaboration between the Oregon Center for the Arts and the Rogue Valley Symphonic Band, a partnership that offers the opportunity for SOU's talented music students to play in a professional-level band for credit towards their degrees. From trumpets to trombones, horns to flutes, the band performs four concerts per year, in addition to educational outreach. In today's interview, I spoke with artistic director and conductor Dan Kocurek. In my conversation with Dan, I was immediately taken with his passion and nuanced articulation. It's a rare opportunity to listen to someone paint a picture with words. He describes music in a way where one not only hears it, but also feels it. 
Dan, thanks so much for being here to speak with me today to talk about the Rogue Valley Symphonic Band.
Absolutely! I'm happy to be talking with you today. Thank you for taking the time to learn more about something I'm really excited about.
Dan, to begin with, can you please introduce us and give us a little bit of background to the Rogue Valley Symphonic Band?
The Rogue Valley Symphonic Band is in its 31st season as an organization. Many of our readers are familiar with the Ashland City Band, which entertains audiences throughout the summer in the Lithia Park Bandshell. About 31 years ago, a few members of that band thought it would be a good idea to keep playing throughout the year, so the RVSB was born! This is the valley's only auditioned band and features many talented individuals, including members of the Rogue Valley Symphony. Many of our members are professionals in other fields but bring their souls and talents together voluntarily to play wonderful music for the community. I was lucky to win the position of artistic director with this ensemble four years ago, and since then, we've played some fun and memorable concerts – from performing the entire Lord of the Rings Symphony, to a string of Halloween concerts done in full costume – including costume contests and pre-concert fun for the kids. We strive to create not only a concert, but also an experience. This way everyone can come to our shows and walk away having absorbed something valuable.
What are the main musical genres of the band? and what are your hopes and inspirations in sharing these works within our community?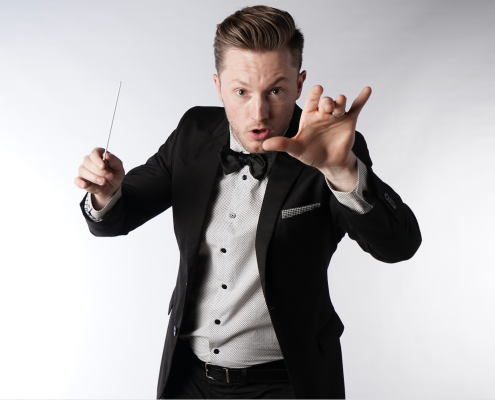 The Rogue Valley Symphonic Band plays predominately what could be described as "classical" music, though most of the pieces we perform have been created by still-living composers. I like to say that we are sharing living, breathing music with our audiences. I think that there are many people who have an unfortunate misconception about classical music: that it's stuffy and boring. All tuxedos and noses turned up in the air. I know I thought that when I was a kid growing up in Klamath Falls. What we're aiming to do in this band is to connect with not only the people who already love the music, but also people who maybe think they don't belong in this world. Or maybe they feel like they don't understand it. Our concerts are truly holistic experiences where we play a lot of new, exciting music (think movie soundtrack stuff, but even cooler) that really has emotional power. And, as the person catering the experience, I do my best to connect the audience not only with those emotions, but also with my own personal journey with the music. I like to be vulnerable to them and give them a glimpse into my mind and heart with each piece, and give them the opportunity to journey into themselves, as well.
Dan, please tell us about your own background and relationship to music.
I was born and raised in Klamath Falls, by a wonderful single mother. We were very poor and faced a lot of adversity, but she worked her tail off to make sure I always had what I needed. And she was also very supportive of my music from day one. There is no background of music or the arts in my family, so I'm sure she was a bit surprised when I came home at the end of 4th grade and said I wanted to play in band!

While in Klamath, I was lucky to go to Klamath Union High School for two years and be in the band of Charlie Moresi, who was really my first trumpet mentor. I never took private lessons with him, but he taught me some extremely important life lessons and set me on my journey of becoming a leader. He challenged me, pushed me, and made sure I was expecting more from myself than I was from everyone else.

Then I went to the University of Oregon, where I had quite the unique journey. I played trumpet, but I also sang an equal amount. This is where I got my first taste of music direction, as music director of UO's contemporary men's a cappella group On the Rocks.  This was an incredibly talented group of young men to whom I owe a lot. I almost quit the music major a few times, but it was On the Rocks that kept the flame alive.

After this, I was fortunate to get into Masters programs at some prestigious NYC conservatories, but instead made my way to Los Angeles to take a year off. Here, I again almost quit music, but was lucky to fall into some studio work, as well as some gigs with an incredible latin-alternative band.

I re-gained the determination and, after many successful auditions, had the choice between Chicago and Vancouver, B.C. for my Masters. I chose Vancouver. It was there I met my wife, Christine.

Immediately after my Masters, I auditioned for – and won – a job with the world-renowned Dallas Brass. This was one of the most musically gratifying, but personally challenging times of my life, and after one season we parted ways…I really wanted to ask Christine to marry me, and the job was making that a real challenge!

She and I started performing and touring as a duo soon after that (she's a talented pianist), which made up much of our professional work for a while. In Vancouver, I won my first conducting position with the now-defunct Vancouver Peace Choir. My time with this group was incredibly dynamic: we partnered with major social justice organizations and created some amazing programs: everything from performing the entire Brahms Requiem to help spread awareness of the Mood Disorders Association of BC, to commissioning a concert-length film and performing along with it in the Vancouver Planetarium as a commentary about our ocean life, it was a time of rapid growth for the group, and myself.

After a couple of years of performing full-time in orchestras and as a soloist and conductor up in Canada, I got a phone call to come teach at SOU. Christine and I jumped on it, and this is our 5th year here in the valley. When I was younger, I always thought I didn't belong in music and the arts, even though I loved them. Because of my background, I almost didn't feel I deserved to be there. It took a long time before someone helped me realize that I truly do belong here. And it's my goal, every time I perform, to help every single person in the audience feel engaged, and like they truly belong sitting in that seat. Music has quite literally saved my life, many times. And I owe it to music to share this deep love, this ever-lasting devotion, with as many people as I can.
Dan, please talk more about the ability to listen to music and then let it wash over you.
As musicians, we feel deeply about what we're offering the audience. Many hours – and often blood, sweat, and tears (really) – have gone into the preparation of this music to share with the listener. We want to include the community in this journey, to share the energy, the sorrow, the excitement, the anger, and the joy.
Dan, please talk about the choices and considerations you are making as the artistic director and conductor of the band.
First and foremost, my goal is to create an experience that will be a lasting one, for both the audience and the band. When I'm programming a concert, I'm thinking of many things: band personnel, the time of year, what is happening in the world (anniversaries, joys, sorrows), where the concert will take place, concert proximity to holidays, social connections, etc. From here, I often get one or two pieces stuck in my mind and build the program around them. Sometimes the connections are obvious (Dracula's Playlist was a program filled with spooky, cinematic music), and sometimes the connections are so subtle that few people might get them without being let in on the secret. I don't program pieces on concerts just to program them – they have to fit with the vision I have of the overall experience. There are a number of pieces I've wanted to conduct with this group, but I'm unwilling to force a piece without context. The concerts the audience will experience this coming season are over a year in the making.
You often enjoy talking to the audience from the stage and share aspects of what is important for you. Please tell us more about why you do this. 
I do this to connect with them. There's this thing in music and theatre called the "4th wall", this imaginary wall between performers and audience. Many artists do everything to keep this wall intact, so as to hold the integrity of the music together. The problem with this is that people are often left feeling like they're watching a party from the outside, instead of being invited in. I like the audience to know that they are just as important in the process as the performers – without the listening energy of the audience, the music doesn't breathe the same way. I often tell audiences the reasons why I picked certain pieces, or share personal stories of how this music makes me feel and why. I also like to give them a glimpse into my mind: to me, music is so pictoral. Some music is written intentionally to tell a story, but we can often hear stories even in music that isn't meant to tell one! As I'm preparing music, I'm often piecing together a plot line, imagining protagonists, and painting a picture of what's happening. As a conductor, it's then my responsibility to paint the air with my hands, and to communicate what I think the composer's intentions were with this music. Also, often there will be little "secrets" in the music…maybe a little quote from another recognizable piece, or a part in the music that is supposed to sound like something familiar. I'll often give the audience a head's up to listen for this, and I think people really like being in on the secret.
Where did you learn to pay attention to music the way you do?
I've been lucky to know some outstanding musicians and artists, who have taught me valuable things about feelings and attention. When I was younger, I used to love movie music (I still do!). I used to pay close attention to how the music was mirroring actions in the movie, and how it was enhancing important plot lines. This is where I got the idea that any music can have a story to it. Later in life I became more interested in the visual arts, as well as the beauty of words. In the different mediums there are different ways to pay attention and absorb, but in learning about each medium, we can learn different perspectives and different ways to imagine the things that are there in the music, just waiting to be discovered.
You say that as a conductor you are "painting the air". Please say more about this.
As musicians, we use sound to put colors in the air. A symphonic band has a large palette of colors to play with, and it's my job as conductor to swirl these around and arrange them in the ways that will create the maximum amount of emotion. An oboe playing in tandem with a horn is a completely different color than a piccolo playing with a tuba or a trumpet playing with a clarinet. These all have their place and it's imperative that every color is balanced and falls into just the right spot. As I mentioned before, I often use my observation of other art to inform how I feel and interpret music. Whenever I go visit a new city, the first two things I do are find an amazing art gallery and find the amazing restaurants. As I'm walking through, looking at paintings, I'm often relating how I feel about them to how I feel about certain pieces of music. As I'm sinking my teeth into a delicious pasta, I'm often reminded of all of the different flavors that came together in a balanced way to make this dish taste perfect. Music is the same way for me.
I am curious to hear how your work as a conductor interrelates with your life as a musician.
Being a conductor is one part of my work as a musician. I'm currently Artistic Director of the RVSB, as well as Director of Bands at SOU. But my primary artistic work is as a trumpeter. The trumpet is my voice and my passion. Locally, I play co-principal trumpet in the Rogue Valley Symphony, and I have performed with OSF four out of the last five years. Christine and I have given numerous recitals (keep your eyes open for two more this year), and I've performed with numerous chamber music ensembles, as well. In 2017 I was the soloist with the RVS, playing the North American premiere of an incredible piece, Sergei Wassilenko's Concert Poem, op. 113. I also perform regularly around the northwest and beyond.
Dan let's talk about the concerts that you have coming up.
Our first concert this year is on November 3rd, and it is called Frankenstein! The original 1931 Frankenstein movie was a talkie starring Boris Karloff. There was sound, but no music yet…because the technology didn't yet exist to layer sound on top of sound. In 2002, Michael Shapiro undertook writing a new score for the film, and adapted it for symphony orchestra, chamber orchestra, and wind ensemble (band). We will be performing in the SOU Recital Hall, acting as the living, breathing soundtrack to this classic horror masterpiece. The great thing is that, since this is an older flick, it's not really scary. So this is an event that kids can enjoy just as much as the folks who might remember the original film. And, in true RVSB style, we still have some other fun up our sleeves for the concerts. If you were one of the people at our sold-out Halloween concert last year, you'll know just what I'm talking about!

?The second concert of the year is on February 9th, and is called Wonder. This is composed of music that is really meaningful to me. It is grand and beautiful in scope – truly magical and colorful. And it is really easy for listeners to absorb and feel. We are performing some big pieces by Frank Ticheli, Eric Whitacre, and David Maslanka, all of which have really engaging percussion parts. It's as if this music is sparkling and coming alive, right before your very eyes. This is the type of music you feel in your bones, and I'm really looking forward to sharing such a personal program with the community.

The last concert is called Genesis: Bringers of Life. To be honest, we got stuck with the Mothers' Day date, but it ended up being just perfect. To celebrate Mothers' Day this year, the RVSB will be performing a program of music written entirely by women composers. Women are the bringers of life to this whole world, beginning with Mother Earth, and I want to celebrate them through music that is beautiful, powerful, and poignant. Highlighting that concert will be a magnificent piece written by Julie Giroux titled Postcards from Japan, and a world premiere of a brand new piece written by the Rogue Valley's own Chelsea Williamson. Some of you may know her as Martin Majkut's more talented half. As a self-proclaimed feminist myself, I am really looking forward to this concert.
Please talk about the long and rich band community here in the Rogue Valley and your work on your upcoming November 3rd concert, Frankenstein.
The Ashland City Band traces its roots back to 1876. The Southern Oregon Concert Band has been in action since 1909. The SOU Band has been around for over half a century. The Rogue Valley Symphonic Band started in 1988. There has long been a variety of good band music here, but so far, none of those bands has acted as the soundtrack to a movie! As far as I know, the only time any organization has done so is this past summer, when the Britt Orchestra performed a live soundtrack to Battleship Potemkin, a Soviet propaganda film. But ours is going to be even cooler, because this music was written especially for this film. This will be a memorable evening, where the audience has many choices of what to enjoy: Do they watch the film and let the music enhance the action? Do they watch the musicians, and the challenging process of somehow keeping a live score along with an already-recorded movie? Do they close their eyes and imagine what the music is saying? The possibilities are endless. And in our upcoming final planning meeting for other activities at this concert, we'll be thinking of exciting things to match the film experience. I don't think this will be one anyone will forget.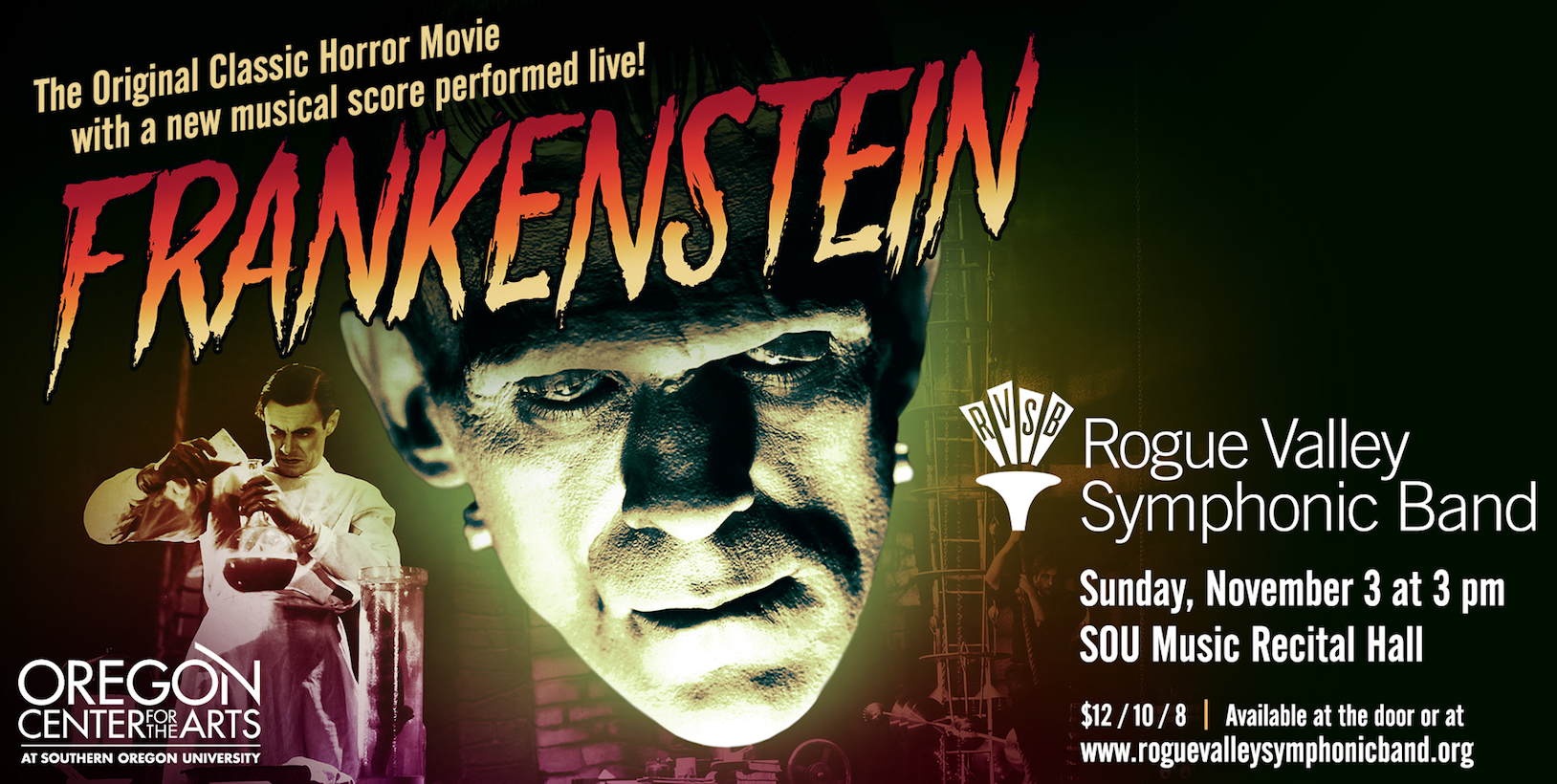 When and where exactly will this show be?
This show takes place on November 3rd at 3:00 PM  in the SOU Recital Hall.
I am curious to hear about how you re-imagine things that have already done before.
I have always been a big fan of taking good ideas and re-arranging them. For a number of years now, as a trumpet soloist, many of my pieces were originally written for other instruments. Much of the music in my repertoire was written for cello, horn, violin, or voice. I really enjoy digging in with my voice (the trumpet) and seeing how I can give each piece a fresh spin, while maintaining the integrity of the composer. As a conductor, I've often programmed music that is fairly familiar within the communities in which I am conducting. But where I like to reimagine is in the presentation, and the communicated message. For example, earlier I mentioned the concert I did with the Vancouver Peace Choir in the Vancouver Planetarium. First, I want to say that this was a fantastic choir that just happened to have social mission. I could get this group to sing almost anything I wanted without much difficulty, and I did. Anyway, most of the pieces we sang in that concert were mainstay choral gems: Eric Whitacre, Ola Gjeilo, Frank Ticheli, and Arvo Pärt headlined the music. We could have just performed this piece in a cathedral with beautiful acoustics, with no other additions to the program, and it would have been beautiful and impactful. But the REAL impact came from the audience sitting in the dark, leaning back and looking UP at the massive, round planetarium ceiling, watching this stunning film while listening to this impactful, if relatively common, music. We don't need to re-write the book on the music itself… there is so much incredible music. But I believe we have to continually update the way we present to audiences.
How do you work with strengths and weaknesses as an ensemble? 
First, I have to look at major solo passages in any piece of music. Then I have to look at my band personnel and determine if I have the person who can really tell a story with this solo, and not only pay the notes. Because I'm unable to pay the musicians, we can sometimes have turnover within the sections, but I've been extremely lucky to have some talented and committed principal players who can really sing with their instruments.

Then, I have to think of specific technical challenges for sections: can my clarinets all play this part? Will the horns WANT to play this part? I'm often even tinkering with the way the ensemble sits, in order to maximize certain strengths within the ensemble. I'm lucky to have a band full of enthusiastic, intelligent, and talented individuals. I'll carry my gratitude toward them for a long time.
?Dan please talk about the multiple pathways that you utilize with your audience to connect.
At a typical "classical" concert, an audience is sitting in a seat, in the dark, in a warm room. The job of the audience is then to try to sit still and listen to the music, while being sure not to cough, clap at the wrong time, move, breathe, or even think loudly. I think 200 years ago this may have exciting. I don't think this is exciting anymore. I try to talk with the audience to give them a glimpse into the creative process. I like to share with them the stories (real and imagined) in the music and invite them to create their own. And I strive to give them more than just one thing to connect to – maybe a piece will utilize some interesting lighting effects; maybe another piece will be played entirely in the dark; maybe the audience can look at a piece of projected art, which inspired the piece they're listening to. The possibilities are endless. I think we can all agree that, the more entrances into a house, the more likely you are to be able to get in. I try to open many doors into the musical experience and invite the audience in.
Once again, wow. Ok, if you wouldn't mind would you please indulge me in the following question? What do you love to eat?
I love French and Italian food. Duck confit. I really love good ramen. Good coffee.

I love things that are complex in character. When you get a really good bowl of ramen you get many great textures: just a bit of firmness in the noodles, the crunch of sprouts, the creaminess of the egg, the chewiness of the pork, and the broth is the key. There are so many decent places to eat agreeable ramen, but when you have excellent ramen you can almost taste every ingredient in the broth separately, but they somehow all come together to create one taste instead of 50. I have always had a hyperactive smell and taste palate. I've smelled everything obsessively since I was a kid, so things like wine and coffee are fascinating to me. I can taste and smell all these things – the earthiness, the different notes, the layers. I love things that weave together like a tapestry.
I have to say, it is a treat to listen to you describe your reality. It sounds like you have an even larger treat planned for all who will attend your upcoming November 3rd concert.  What are some of your goals for the upcoming concert?
?Rogue Valley concert-goers will never have had an experience like this here in the valley, I promise you that! I really want to show people the power of music. There are many people who love "classical" music that don't even realize it! If you were to watch your favorite movie, be it action, romance, drama, suspense, any of it…if you then take the music OUT of that movie, I guarantee it won't be nearly as enjoyable for you. It adds so much depth and meaning to what your eyes are absorbing. In a live performance along with this classic film, people will be up close and personal to this process. It will be much easier for them to be able to imagine what this move was like without the music, then experience the gravity, power, and excitement the music adds to the film. And all "classical" music can be thought of in this way! It is all meant to tell of the human experience, and we can all connect with that! As I said before, music has saved my life a number of times. It has added immeasurably to my experience of the world. And I relish every opportunity to potentially open that door for someone else.
Dan, thanks so much for speaking with us today. Do you have any last thoughts or comments to share with our readers?
I think that's all for now! Thank you so much for taking the time to talk with me about this fantastic group of musicians.
Learn More:
Rogue Valley Symphonic Band
1250 Siskiyou Blvd    Ashland, OR
www.RogueValleySymphonicBand.org
541-227-3787