Interviews
Detox Tips and Tricks from the Team at Waterstone Spa
We are thrilled to speak with the team at Waterstone Spa about a topic that is on so many minds in the month of January: detoxification! With the indulgence of the holidays behind us, we're curious about any tips and tricks you can offer us on detoxing and renewing our bodies.

Let's start at the very beginning. Why is detoxing beneficial? Why is it important to health?
Jody: Detoxing is important because everything we take in – through our lungs, through our skin, through our digestive tract – is either eliminated or stored, so we want to help the body with that elimination process. Various detoxifying treatments we offer at the spa support the process of eliminating toxins gathered in our body. For instance, a detoxifying steam and sauna can help move toxins out through the pores. Or a treatment like a seaweed wrap can really help pull toxins from the system.

Dana: You definitely feel better after detoxifying and your skin will have a natural glow after exfoliating treatments.


What are the signs I need to detoxify? What should I be on the lookout for?

Mary: Low energy, headaches, brain fog, skin problems, just not feeling "well" in general. Having slow starts in the morning and not having enough energy to get through the day can be a sign of our body's need for a little more self-care.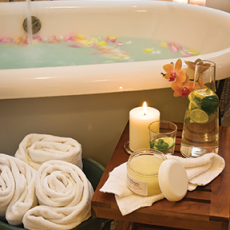 Does the need to detoxify show up in the skin in any particular way?
Jody: We see it in the facial room a lot… A client's skin might have a grey or yellow tone and after a cleansing facial their skin color and texture changes.

Why is exfoliation considered necessary for skin detoxification? Doesn't the body do that automatically?
Elizabeth: The body does exfoliate automatically but cellular turnover slows with aging or poor health, which hinders the body's ability to detox. Exfoliation helps the body to renew itself. Exfoliation also increases circulation and optimizes absorption of skin care products such as a moisturizer.

Why are organic products important in the detox process? Why does Waterstone Spa opt for organic?
Mary: Organic products don't add to the toxin load, and most are sustainably sourced, which supports our ecosystem.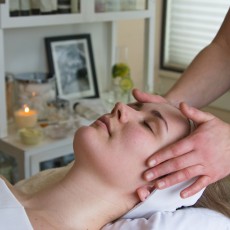 So if I'm not using organic products I'm adding to the toxin load?

Mary: What you put on your body is absorbed through the skin; the capillaries in the dermis take it into the blood and lymphatic system. So it's very important that we use clean products to support our system.

Diana: It's our belief here at the spa that if you start with organic products you get the highest quality experience. Our facial products contain the whole plant, not extracts, and we've seen better results because of it. A lot of our guests come in because they know we are a green spa and they know we are trying to take care of them at a higher level than many other places do.

What does it mean to be a green spa?

Maddy: Well, almost all of the products we use in our treatments and have for sale are certified organic. Red flower™ is a sustainably sourced company; all of the Ilike™ products are certified organic through the BDIH, which is the most stringent certification process in Europe.  

Diana: Ilike™ is also animal cruelty free and gluten free. And while you don't see it, we're "green" behind the scenes with all of our non-toxic, organic cleaning products and guest amenities.

Jody: In our facial rooms we minimize waste by using towels for product removal instead of disposables, and a product line that is organic, BDIH-certified, and uses recycled material for their packaging.

Elizabeth: And we offer sugaring, an alternative to waxing that consists of three ingredients: sugar, lemon, and water. Sugaring is more eco-friendly than waxing which contains parabens, resins, and dyes.

Maddy: Even the gloves used in sugaring are biodegradable.

Can you offer us any tips or tricks for detoxing or basic skincare?
Mary: Drinking more water is in itself detoxifying. A well-hydrated body purges toxins and metabolic wastes better.

Diana: I tend to be on my feet all day, so when I get home I wrap my feet in hot towels, and then exfoliate with a pumice stone. I see that the aestheticians use masks on the feet so I do that as well. And it works great!

Mary: Aromatherapy is most easily absorbed into the system through the feet. So if you exfoliate and apply the aromatherapy to the feet, it has a strong effect.

Dana: Speaking of feet, one of the things I love to use is Sacred Earth™ Peppermint Foot Cream, because it has Arnica in it and it's stimulating and cooling on the feet. So I use that in every service and leave it out for guests.

Astoria: Another tip if you're feeling brave is when you're in the shower, just turn it to cold for about five seconds. It's energizing! It creates vasoconstriction after vasodilation. Alternating between warm and cool water temperature stimulates the circulatory system.

Mary: A morning routine can include dry skin brushing. It not only exfoliates but kick starts your lymphatic system. And a little lemon in hot water before anything else, first thing in the morning, helps alkalize the body.

Astoria: Massaging your feet at the start and end of each day is a simple thing to do, to really nurture yourself. It also helps prevent plantar fasciitis. Massaging the reflexology points on our feet can help organs throughout our whole body so massaging the feet is a simple way to help the body come into balance.

John-Paul: Part of my self-care is that I receive massage every two weeks. I find it gives me a better relationship with my body and awareness of what is out of balance, and what I can do to get back into balance.

Jody: I like using hot towels, which opens and relaxes the pores. I do this every day: soak the towel, sometimes I add aromatherapy to it, and then place it on my face. Normally the goal is to constrict the pores, but allowing them to relax is sometimes just what the skin needs.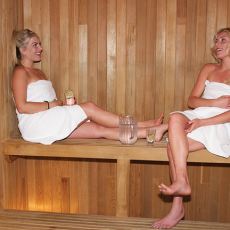 What about simple, daily care for the neck and shoulder areas besides yoga and stretching?
Diana: Tennis balls are your best friends.

Astoria: Definitely! You can put them in a sock and roll your shoulder over them on the floor. Or stand with a tennis ball against a wall and move it around against the stiff spots in your shoulder.

John-Paul: If you're working at a desk, pause regularly, stand up and move away from the screen, focus on something else, shake your arms, look at the sky, and take a walk as often as possible.

What are your personal go-to self-care products?
Maddy: I really love the Illike™ Rose Petal Cleansing Milk (as someone with extremely sensitive skin).

Astoria: I love the Illike™ Whipped Apricot Moisturizer. It smells so good! I'm really sensitive to chemical scents and environmental toxins, and I don't get any headaches with this product.

Dana: The Hammam is my favorite, it's a flow of steps, cleansing, therapeutic, and healing with truly wonderful aromatherapy.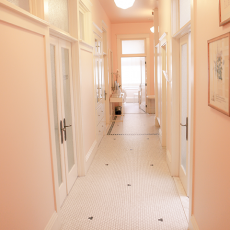 Any personal favorite essential oils for aromatherapy?
Diana: Peppermint.

Mary: Clary sage is a personal favorite, or anything by TARA™ or red flower™.

Are there any product lines that you find most effective on detoxification specifically?
Maddy: Buddha Blends™ has some really nice bath salts. We have one called "Detox Bath Salt," which is primarily Hawaiian red sea salt with essential oils that support detoxification.

What are some actual detoxification treatments offered by the spa?
John-Paul: The Hamman, as it has the clay mask which includes bentonite clay which specifically draws toxins out of the body. Also our seaweed treatments are beneficial to detoxing.

Mary: The steam room has a cold plunge shower, which is great for circulation, which supports detoxing.

What is the most economical way to detox in the spa?
Diana: I would say one of the best things we have here is the steam series card, which is a series of 10 steam/sauna visits for $100 that can be used year round, shared with friends, and there is no expiration. Our guests use it before events, to boost the immune system and be refreshed.

Dana: Reflexology, foot soaks, and the Sea Spirit Revitalizer, which is really detoxifying.

Diana: We offer a locals discount of 20% off full price services (not including specials, waxing or sugaring, or packages since these are already discounted).

Mary: Also, soaks in the tub: we place aromatherapy salt blends in the water that are detoxing and support the immune system, among other benefits.

Diana: Tub soaks are also a lovely way to detox with a friend or partner as we have two soaking tubs and both fit two people – the Japanese ofuro tub – it's a deep tub in which you're seated. Our soaking tub is a traditional, clawfoot, reclining tub.

What is your most decadent service or combination of services?
Dana: The Hamman treatment has to be the most decadent treatment, because it's three treatments in one: a scrub, a wrap, and a massage. It includes a lemon coffee olive stone scrub, a rhassoul clay body mask with acupressure facial massage – and finally, a cardamom, black pepper, bergamot oil massage – followed by a tangerine fig lotion applied to seal in the moisture. All the products can also be purchased for home care.

Mary: It's a very effective treatment for detoxification, very luxurious but very effective. Hamman means "spreader of warmth," and is based on the traditional skin care practices of the Turkish hammam bath house. It's perfect for this time of year. In the spring we'll be introducing another red flower™ treatment, based on Japanese bathing traditions, which will focus on energizing and vitalizing the body, perfect for the season of renewal.

Maddy: Another decadent offering is the "Girlfriend's Getaway Package." It starts with a 60-minute aromatherapy massage and then a custom organic facial, and then lunch from Larks, which we bring to you here in the spa.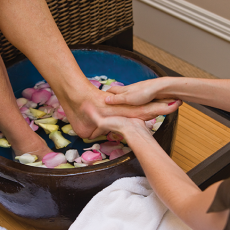 How does massage help with detoxification?
John-Paul: Well, it certainly helps the circulation of blood so it brings nourishment to all the tissues and it also promotes the flow of lymph. It reduces inflammation, and metabolizes fat cells as well as skin cells.

Astoria: It also improves digestion.

John-Paul: This may be a little esoteric but massage helps digest life in general, the experiences, and the emotions.

Astoria: Massage is a rehearsal in relaxing.

What is the difference between your two locations – downtown, and Lithia Springs Resort?
Jody: The biggest difference in my mind is that here at the downtown location we have the steam and sauna and soaking tubs. At Lithia Springs Resort, the soaking tubs are in the resort guest rooms themselves (and the parking is amazing).

Mary: And, of course, Lithia Springs Resort sits on top of mineral springs. It's naturally alkaline water, full of restorative properties.

Astoria: Another major difference between the two locations is that we have the Vichy shower at our downtown location. It's especially nice for rinsing off after a scrub.

Diana: It's like a wonderfully warm, heavy rain (the Vichy shower). It's luxurious and fantastic, definitely something you want to experience.

John-Paul: Lithia Springs Resort also works well for handicapped individuals as it's on the ground floor, where the downtown location is on the second floor.

Dana: Lithia Springs Resort is more of a resort setting with four acres of beautiful organic gardens, and you can walk from your room in your robe to the spa rooms. It's a complete getaway.

Diana: And a great "staycation" resort!
Can you tell us about the mineral waters at Lithia Springs Resort and why "taking the waters" is so beneficial for the body?
Mary: The curative springs found deep beneath the four acres of gardens at Lithia Springs Resort are rich in sulfur and several minerals, which help the body to heal, relieve stress, and rejuvenate. All of the water in the rooms is ozonated, potable, mineral water. We don't treat our water with any chemicals; rather, we pass air bubbles through our holding tanks so the majority of the sulfuric odor is off-gassed, leaving lightly odored, high-alkaline water, full of restorative properties. An unstable ion in the water molecule bonds to the hydrogen in the skin and draws out impurities. Our guests tell us that the experience of soaking in our mineral water results in a lasting sensation of deep relaxation and detoxification.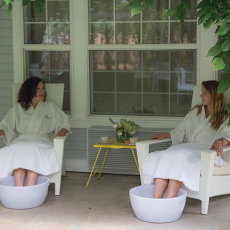 Sign me up! As a local, where would you suggest I start?
Maddy: Always watch for our quarterly and monthly specials.

Where can I find out about those?
Mary: Check the LocalsGuide!

Maddy: Also, check our website, or you can call us, check the posters at the spa entrance, sign up for our e-newsletter, and of course, Like us on Facebook!
 
Learn More:
Waterstone Spa
236 E. Main St.
2165 W. Jackson Rd.
(541) 488-0325
Check out their website here