Interviews
A New Technology To Treat Depression is Available in Southern Oregon
Through decades of scientific research, we have come to know that Major Depression, or depression for short is a disorder of the brain rather than the mind. A multitude of factors determine if, when, and why a person manifests symptoms and what their prognosis will be. The brain is the most complex organ in the body so it stands to reason that disorders of the brain would be very complex and often difficult to treat. This is surely the case with depression. Many people who live with this debilitating disorder have difficulty finding an antidepressant medication that addresses their symptoms adequately or a medication may decrease symptoms but the side effects are too bothersome. A new breakthrough treatment is finally here: Introducing Transcranial Magnetic Stimulation Therapy, or TMS for short. TMS has been scientifically studied and used around the world for many years. The FDA cleared this technology for use in the United States in 2008.  Currently, there are approximately 600 treatment facilities operating and over 25,000 patients have been treated successfully. This technology uses a pulsed magnetic energy similar in type and strength of an MRI (magnetic resonance imaging) machine to stimulate targeted areas of the brain that are underactive. This underactivity in the "depression center" of the brain has been scientifically linked to depression.  
Southern Oregon TMS Center in Ashland is now offering this effective new treatment. The center is an affiliate of Silicon Valley TMS in Los Gatos, CA and is operated in the Rogue Valley by Dr. Luis Oxholm, Psychiatrist and Lauren Oxholm, Bachelor of Science in Psychology, Certified Life Coach specializing in behavioral wellness. Both Dr. Oxholm and Lauren are certified TMS Treatment Specialists. The couple has worked in the mental health field for 25 years. Now relocated to Southern Oregon, they are operating Southern Oregon Integrated TMS Center and wish to help transform people who struggle with depression into people who can finally live symptom- and side effect-free lives. We met with them to learn more about TMS.
Hello to both of you. Thanks so much for speaking with us today to tell us about the new center and your professional backgrounds as mental health professionals.
Lauren: Thank you as well, we are both very excited to be working in Southern Oregon and that we are able to put our skills to use here. I was working at a mental health facility where Dr. Oxholm did his residency training in psychiatry in the early 1990's. After completing his residency, we moved to Ohio so he could do more specialized training at the Cleveland Clinic Foundation. After Cleveland, we spent a short time in eastern Pennsylvania. Before moving to the Rogue Valley in 2014, we worked together in private practice and raised our children in northern Michigan.
Tell us how you learned about TMS.
Dr. Oxholm: I was aware of the treatment through reading medical journals but had not considered using it for my patients until a pain specialist colleague of mine wanted to offer TMS to his patients with chronic pain and depression. Because the TMS equipment could only be owned and operated by board certified psychiatrists, he reached out to me. Due to the fact that we practiced in different cities, we weren't able to form a business with him.  However, Lauren and I did form a business with a pain specialist colleague in our city and in February of 2011, began using TMS in our office.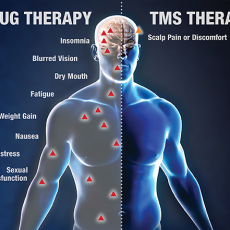 How long has TMS Therapy been around and how does it work?
Dr. Oxholm: TMS technology is based on the research of Michael Faraday, the 18th century scholar who developed Faraday's Law. This type of electromagnetic stimulation has been in use for many years and for many different medical reasons.  In the early 1990's, scientists started developing the modern day TMS equipment and learned which electromagnetic algorithms reduced or removed depression symptoms in people. It was mentioned earlier that TMS technology uses a pulsed magnetic energy similar in type and strength of an MRI machine. This pulsed energy stimulates targeted areas of the brain that are underactive. So to treat depression, the "coil" is placed on the front left side of the skull (see diagram) to specifically target the amygdala, the thalamus and the hippocampus. These are the main structures commonly referred to as the "depression center" of the brain. The FDA cleared TMS technology to treat depression in the United States in 2008.
When we first started speaking together on the phone for this interview, you shared that it was very important to educate the public about TMS. What are some key points you would like for our readers to know?
Both: TMS is very safe. It has been scientifically studied around the world and the positive effects have been consistently replicated in many different clinical settings. Most everyone is eligible to undergo TMS therapy. No anaesthesia is required and like MRI tests, there are no known long-term side effects. There are a few common short-term side effects such as discomfort where the machine touches the scalp, headache and increased fatigue. Each of these side effects goes away after the first few treatments.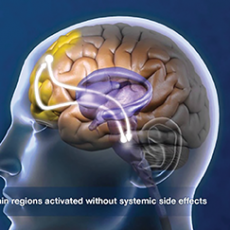 What conditions specifically is TMS best suited for?
Dr. Oxholm: TMS can improve many different conditions but officially it is FDA-cleared to treat depression. However research has shown that TMS improves bipolar disorder, migraines, obsessive compulsive disorder (OCD), generalized anxiety disorder (GAD), Parkinson's disease, post-traumatic stress disorder (PTSD), tinnitus (ringing in the ear) and of course, chronic pain, to name just a few.
What is the range of results that have been reported?
Both:  In real life studies, 1 in 2 patients experienced significant improvement and 1 in 3 patients were symptom-free after a full course of treatment.
Who is eligible to work with you?
Lauren: The initial treatment is done by a board-certified psychiatrist, a certified psychiatric nurse practitioner or physician assistant. All subsequent daily treatments are conducted by a Certified TMS Treatment Specialist.  Treatment specialists typically have a degree in the healthcare field. They can be nurses, therapists, counsellors or medical assistants. Our goal is to integrate our services into the existing healthcare team for each person we treat rather than take over their mental health care.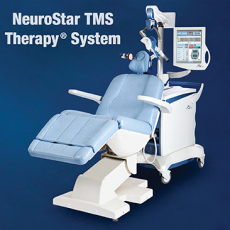 Lauren, you have also been reaching out to practitioners all around the valley to help spread the word about TMS.
Lauren: Yes, I have. I've visited many family practice offices, pain clinics, therapist offices, internal medicine offices and chiropractors. I also have a Facebook page and I send out mailings regularly to all of the above professionals. My efforts have been well received. Everyone I have spoken to about this technology has been very interested to learn how it can help their patients.
Can you share some success stories of patients you have worked with?
Dr. Oxholm: Yes. I have treated patients ranging in age from their late teens to mid-70s. One of my first patients was in her late-60s. I had known her for almost 15 years through my practice and she had experienced depression for most of her adult life. Though she followed recommendations throughout the years, she still struggled for the usual reasons. Either the medications we tried didn't work effectively or stopped working after a period of time or she couldn't tolerate the side effects. After approximately two weeks of TMS, she reported that "she didn't feel like she wanted to die any more." Happily, she continued to improve. I also treated two young college-age students. One of them had withdrawn from school, the other was taking only a few classes at a community college because depression and anxiety symptoms were so debilitating. Both finished treatment and after a short period of time were able to return to school and receive degrees. Lastly, I treated a professional in his 40s who was on disability for depression and Parkinson's disease. His depression improved so significantly that he was able to return to work. His Parkinson's symptoms noticeably improved as well. I have consistently seen that when depression symptoms are under control, other disorders and conditions improve.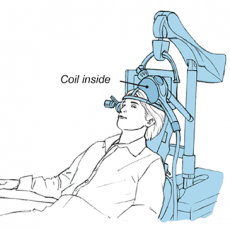 On average, how many treatments are required to begin to experience results?
Both: We consistently had people feel noticeably better after the first 8 or 10 treatments, but the standard of care ranges from 20-36 in total. This is based on studies indicating that this range allows for lasting effects. The length of time someone has had depression and how difficult it may have been to get under control are some of the factors that help determine the number of treatments. Treatments last 37 minutes each day and are given Monday-Friday. For many people, occasional "booster" treatments are necessary after the initial course to maintain wellness.
Can TMS be covered by insurance?
Lauren: Yes. Some insurance companies have a TMS policy in place. Policies differ widely so people should check with their health plan administrator to find out details.
What are the criteria for using TMS?
Dr. Oxholm: TMS can be used to treat depression after someone has been officially diagnosed by a board-certified physician. However, medical documentation must reflect that at least one antidepressant medication was prescribed at a medically significant dose and that it was used over a six week period without satisfactory results. When health insurance is involved the criteria are often more stringent.
What is the next step that someone should take to learn if this is the right treatment for them?
Lauren: They should call me or have their healthcare provider call me at (541) 362-8752 locally, or toll free at (888) 507-1927, to schedule a free consultation with Dr. Oxholm. Also, they can go to our website, email us or visit our Facebook page, Southern Oregon TMS Center to learn more.
Learn More:
Southern Oregon Integrated TMS Center
208 Oak St, Suite 106-M, Ashland
(541) 362-8752
(888) 507-1927
www.soitms.com
soitmscenter@gmail.com