Interviews
Doug & Becky Neuman – Transforming, preserving, and investing in Southern Oregon.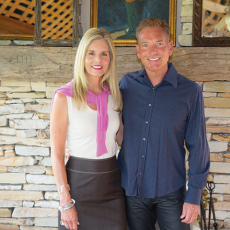 When Doug and Becky Neuman purchased and restored the historic Ashland Springs Hotel in 1998 they had no idea that it would unlock a great passion for restoring and renovating properties on an even grander scale. Past projects of theirs include: The Lake of the Woods Resort (1999), Larks Restaurant (2005), Waterstone Spa (2010), and The Lithia Springs Resort (2012). Most recently, the Neumans acquired Ashland Hills Hotel & Suites and the Red Lion Hotel in Medford, soon to be renamed Inn at the Commons.
Doug and Becky enjoy working together on their projects and have excelled moving through all aspects of project planning, management, and execution. With Doug running the logistics and navigating the myriad of hoops and mazes, Becky stays focused on creating inspiring spaces. The Neumans have recently formed the Neuman Hotel Group to aid in these ventures. Doug and Becky are pleased that it is within their means to be able to step forward and restore these beautiful places, thereby saving these iconic Oregon locations for the future of our community and for Southern Oregon. 
Over the past 15 years the Neumans have not only demonstrated a track record of success, but have completely revitalized otherwise ignored or dilapidated properties here in Southern Oregon. What motivates and inspires Doug and Becky to take on such ambitious projects? The challenge, the creativity, the opportunity and ability to see the best in Oregon.  Add to that the foresight to preserve, protect, and invest in our local economy and you have a very powerful presence at play.
I spoke with the Neumans to learn more about their work, the formation of the Neuman Hotel Group, and the creation of beautiful landmarks here in Southern Oregon.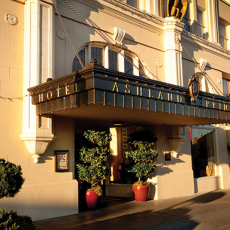 Hi Doug and Becky, thank you so much for speaking with me today. I want to congratulate you for all the great work you have done here in Southern Oregon. Your work and investment has brought beauty and memorability to our town and beyond.  
Thank you very much for taking time to interview us. Likewise, we want to congratulate you on your vision and following your passions in creating the LocalsGuide.
Becky, I would love for you to take us back to when and how these adventures all began; a time before you discovered or even imagined all that you have accomplished. 
In 1986, Doug and I moved with our two children to Ashland from Santa Barbara as we wanted to find an idyllic town to raise our family and make a difference in our community.  I was happy as a full time mom for many years and Doug was involved in expanding the real estate business. Then the day came that changed our lives completely.  I will never forget him coming home that afternoon and saying to me that he wanted to buy the Mark Antony Hotel and the Lake of the Woods Resort.  I was initially beyond shocked. He told me he had always passed by that hotel and was interested in purchasing it.  I absolutely questioned buying the Lake of the Woods at the same time, but he was certain that was what he wanted to do.  And now I see that by following his dreams and giving him full support, I was able to realize my own dreams.
And what happened next?
The screaming learning curve from there on and the discovery of this love for preserving authentic Oregon.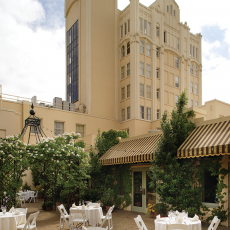 After you began the projects at Lake of the Woods and the Ashland Springs Hotel, you started working with designers Candra Scott and Richard Anderson.  Can you tell us how they transformed your life, by being able to create both a sense of place and time with these two projects?
We were so excited to find Candra Scott and Richard Anderson.  Resurrecting and restoring historic hotels is what they do best.

I was so surprised that at our first meeting they wanted to visit the Southern Oregon Historical Society to discover what was happening in 1925 in Southern Oregon when the hotel was built.  From that particular visit we found out about the history of the Chautauqua Lectures and the healing waters, and that was the directions we decided to take.  We conjured a story about a lecture from the national Chautauqua Series and imagined and designed a space where such a lecture would live.  Part of that was creating a lobby that felt like a personal space.  We brought in curiosity cabinets, created cozy seating areas and went with the naturalist theme.

Also, it was our good fortune that Candra, the designer, was doing a residence in Paris at that time and so we brought back such special pieces to put in the hotel including the curiosity cabinets and the collection of pressed herbs from the Paris flea market – that became the artwork for the hotel rooms.

We wanted to layer in the precious details that would make the hotel unique and timeless.  We collected vintage postcards of Southern Oregon, which we framed for the hotel hallways with a little piece of greenery in each.  She also pressed herbs into the lampshades that are in each room.  Candra also added the collection of birds (found in the lobby), which she felt was a representation of a turn of the century past-time, common in the 1920s.  She added ceiling fans and the palm trees to take you to a more gentile and gracious era. And finally we created a wonderful garden with English roses, a wrought iron gazebo and a fountain where memories could be made.  Because of this lovely aesthetic people have come to celebrate their weddings, anniversaries and other special events with us.

Candra took me on a journey – she showed me how décor needs to give a person a sense of place – and it needs to be authentic.

It is not just some nice furniture you bring in to design space – the interiors help a property tell a story.  We went about figuring out what was the story of this Grand Dame.  Because of this whole process, Candra Scott opened those inner passions of mine, and helped me make sense of the whole design idea.  I became passionate about bringing a historic feel to our properties.  It worked for both the Ashland Springs Hotel and Lake of the Woods Resort.  Since that time, with the help of Twist Home Design (local designers Jennifer Bright and Laurel Walter) I have continued to enjoy designing Lithia Springs Resort, Larks Restaurant and Waterstone Spa.
You received a comment from an 80 year old woman staying up at the Lake of The Woods Resort who told you it was exactly the way she remembered it as a child. Can you talk about this and what it meant to you both?
In the hectic times we live in, where daydreaming is a forgotten art, people do not have time to talk with each other, they communicate via text, email and phone – my intent was to create the often forgotten world where all generations could gather, and enjoy lodge dining, paddle boating, fishing together, staying in cabins that felt like you were returning to the 1950s – Pendleton blankets, old oil paintings, Life magazines, board games to play at night, Friday nights with old 16mm movies on the side of the general store, under the stars.

It is so fun to laugh with your mom, your grandmother and your kids at the Laurel and Hardy movie, or the family bonfire.  Hearing what this 80 year old lady said about the resort was exactly what I was hoping to achieve at the Lake of the Woods.  It warmed my heart and validated my original goal of capturing authentic Oregon.  To many people they see things that should be torn down; rather I see possibilities – I see the value.

In mid the 1990s a thought went through my head while sitting at the ran down Lake of the Woods resort, "I hope someone comes here and resurrects this place. It has so much potential and native charm."  I never expected it would be me.
Something I found to be interesting was the course correction you set in place to transform the Bulls Eye Bistro into Larks Restaurant. Becky can you talk to us about the need you saw and then the inspiration behind the creation of Larks Restaurant?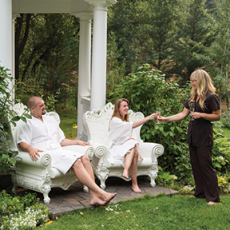 When we got the hotel in 1998 we inherited the Mark Antony bar, and with it live music, bistro food.  The designers, Candra and Richard took it that direction, but after five years of the restaurant doing poorly, I realized that we were really not offering our guests or our town a type of food they really wanted, or that Doug and I really loved.  We wanted fresh, local, authentic Southern Oregon food and wine that would celebrate the farms, orchards, wineries, and creameries of our region.  And the concept of LARKS Home Kitchen Cuisine was born……
Becky, your love for design and Doug's for the logistical end has really turned you into a dynamic duo for taking on and turning out such great projects. Had either of you collaborated on this level before or was it a discovery for you both?
It was an entirely new collaboration as business partners.  I had up to that point loved being a wife and mom, but when we expanded into the hotel business I was so excited to partner as the creative director of the projects.  That was a learning curve in itself to have Doug being successful making his own decisions and then me jumping in and wanting to be part of all of this.  We had to learn how to work together.
You both talk about having a great appreciation for Oregon, its people and its heritage.  Can you share more about the steps you have taken to preserve and share this with generations to come?
Our appreciation for Oregon continues to grow.  Every property we take on is like discovering a new way of giving an Oregon experience to our guests, a new way of sharing the essence and the spirit of this place.  We fell in love with everything Oregon and wanted to communicate it to and share with our guests.  By sharing the experiences true to this region, we hope to inspire both people who live here as well as the visitors who come to Southern Oregon.

Part of my passion is resurrecting what the turn of the century marketing pieces were espousing about this region, "Ashland the beautiful," "The purest water," "The delightful climate," "Picking Ashland peaches."  These romantic descriptions are what I fell in love with and I wanted to do my part in bringing that forgotten, dreamy side of life back.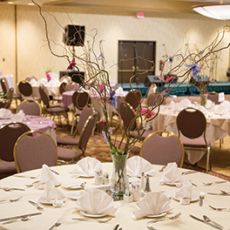 I view that we are all in co-creation of our Southern Oregon future.  As a community we participate together to imagine, create, and live out the future. What are some of your hopes and dreams for Southern Oregon?
Doug and I enjoy the collaborative effort that we share within our company and beyond.  All our relationships, whether it's with the farmers and vintners, OSF, corporations, local suppliers, the university, or the outfitters, as well as local residents and visitors from afar who leave valuable comments and give us priceless feedback, shape what direction we head and how successful we become.  We listen, adjust, imagine and create accordingly.  Together we can create a more idyllic region.
Becky, another passion for you has been the Lithia Springs Resort.  Can you please talk to us about what it represents to you and why you stepped forward to become involved with it? 
I am so happy to have been able to transform Lithia Springs Resort.

I have to thank Doug for making it possible to take on these incredible bungalows and suites designed with big soaking tubs where healing waters come to your private room.  Duane Smith was the visionary who saw the potential and created a charming inn on 4 acres of organic gardens, streams and koi ponds.  I was blessed to come and conceptualize this property, freshen it up and bring a more naturalist, modern feel into the design, which really broadened our popularity.  We have created an oasis to keep sharing the gift of healing water for the generations to come.  Our Waterstone Spa, located both downtown and at the Resort has helped us forward the healing power of nature, offering a broad variety of treatments for health and wellbeing.
Doug, obviously the success of all the projects must point directly at the teams of friends, advisors and employees who work with you at every level.  Can you please say more about this?  How is everyone holding up taking on so many new responsibilities?
Having an exceptional team that is passionate about Oregon, understanding our vision, and are proud of working at our properties is vital and makes projects fun.  Building long-term relationships has been a successful business model for me.  Because of the expansion and the success we have had, we are able to hire even more individuals who assist us in building a stronger team and that reduces the stress involved.  Our team of managers are young and energetic and have helped us build our culture and brand.  Each of them are consistently supporting each other to take full responsibility for the products and services they deliver, with pride and a sense of ownership. Personally, I seem to do much better creating a vision and concept.  The challenge comes with making sense of the daily business choices.  That  is where the sound decisions of the entire team are the key that makes each hotel or restaurant successful and profitable.  That's why I feel Don Anway has been the most amazing General Manager I could imagine.  He leads with heart, but has a numbers mind, as an accountant – the best possible leader for our team.
Doug, with the newly formed Neuman Hotel group, what functions will it help to serve and carry out?
Neuman Hotel Group is a company that serves as a management and holding company for all our different properties.  It makes sense to have all our businesses under one leadership team.  Also, creating the brand and making it easy to understand which properties are related seemed like a good idea.
Becky, you have called the Ashland Hills Hotel & Suites a 'gateway hotel.' Tell us what you mean by this and what you imagine this space will be able to transform into for both locals and visitors coming into Southern Oregon?
This is so exciting for us to have a hotel at exit 14.  It used to be the largest hotel and conference center in Southern Oregon and to have this opportunity to bring it to its former glory and beyond is fantastic.  We feel that Oregon is really coming into its own and is talked about as far everything it has to offer.  To have a hotel at the gateway and to introduce travelers to the whole Oregon experience in one stop is going to be amazing.

Our intent is to capture the I-5 traveler and get them to stay overnight in Ashland.  Most of our town's offerings are downtown, but we want to give travelers an Oregon experience right there at the exit, even if they just come for a bite to eat, or to shop in the mercantile, or a few boutiques, and taste what we have to offer in this amazing state.  The ideal scene would be for them to discover the beauty and wonder of Southern Oregon and want to spend more time here, which will benefit everybody. If you want to know how I see this – this plays into the future and prosperity of Southern Oregon.  We expect the I-5 traffic, but also large conference opportunities that will expose hundreds of people at one time to the wonders we have to offer in the south part of our state.
You mentioned to me that you always go back in time to create into the future. Can you please say more about this and why it is important to each project?
I am drawn to the past, the simpler times, the values, work ethics and what was happening back in time here in Oregon; the times spent close to nature, in the great outdoors, in wonderful conversations with family and friends.  I am a farm girl at heart whose favorite thing to do is to walk in the stream.  We have gotten so far away from all of that.

The fact that the food we use is local, vibrant and harvested in the peak of the season, and that we partner with the artisans of Oregon who create amazing products – that's all for me going back in time.  It's a nod to those earlier ways!  Our hope is that we create an oasis, a sanctuary for people – that they will feel more relaxed when they enter our spaces and enjoy our food.

One of my favorite things to do is to de-stress people through the aesthetics.  Spaces you create can have wonderful effects on people.  I love helping people enjoy the simplicity of life, create memories, find more joy in their traveling, and make them happier.  Oregon's philosophy is that we celebrate great visionaries and love dreamers.

Our state aspires to the idea of applied idealism and that sums up our philosophy.
Last but not least, The Inn on the Commons (formerly the Red Lion).  Wow… located in downtown Medford.  A 9,500 square foot meeting space with a 800 person capacity.  Tell us more. 
We are so happy to be part of the revitalization of downtown Medford.  We believe that it will continue to expand and blossom, and we want to be part of that transformation.  It's a great opportunity to strengthen another community and impact its development and success.  We are excited to bring LARKS to the people of Medford and the surrounding areas and offer new jobs.  I want to take this hotel from a corporate feel and design to a more boutique experience. We will be beautifying the hotel with new landscaping, a fresh, new façade and cozy interiors.  Our hope is to expand our conference business, which in turn, will benefit the entire City of Medford.
Please talk about the creation of prosperity through building community.  You have been able to purchase, renovate, and completely revitalize several spaces.  What experiences  have helped you choose to be invested in and build community in this way?
Doug always talks about co-action.  Doug loves networking; creating long term relationships.  It is so exciting to work arm in arm with other people in the community who each give their special gifts.  We have passion for hospitality; others have passion for the arts, athletics, or education.  When working together, we shape and support a strong community with the potential to achieve anything we dream of.

And that means happiness.