Interviews
Dr. Michael Hummel , ND – Mederi Center Wholistic Care for Cancer, Chronic Disease, and Lifelong Wellness
In today's interview I speak with Dr. Michael Hummel of the Mederi Center. Dr. Michael Hummel is a board-certified Naturopathic Physician who provides comprehensive care with an emphasis on natural therapies. Dr. Hummel works with primary care patients and is also specialized in integrative oncology and chronic infectious disease (including Lyme disease). He has further areas of focus in naturopathic adjustments/physical medicine, bioidentical hormone therapies, botanical medicine, nutrition, family medicine, and healthy aging.
Dr. Hummel, thanks so much for taking the time to speak with me today and welcome back to LocalsGuide.
Thanks Shields! It's always a pleasure to be here. I am excited to be able to chat with you again and share some of the updates regarding my practice at Mederi Center.
Last year when I spoke with you, you and your family had just relocated to Southern Oregon for you to begin working with Donnie Yance, MH, CN and his team. How has the transition been for you and your family?
It's been really great overall. Donnie has such an incredible level of knowledge, experience, and insight that has been invaluable in my understanding of medicine. Needless to say, I love being able to work with him. The transition moving from Arizona and being far from family and friends was not easy, but it was worth it. The people in this community are so caring and enjoyable to converse with. I have really enjoyed reconnecting with nature and spending time getting to know my patients. I am not a fan of the smoke from the fires but have been told it wasn't as long this year… so I'm happy about that. The staff and myself have been drinking a lot of lung-supportive herbal teas so that has been fantastic and very helpful.
Dr. Hummel, please tell us about your personal philosophy as a naturopathic physician and holistic healthcare professional.
When I think of the term philosophy, I think of its root meaning, which is the love of wisdom. I love growing in wisdom, which comes with experience. To me, wisdom is knowledge added to experience. So, in a nutshell, my personal philosophy as a naturopathic physician is rooted in the many experiences I have had working with patients.
Some examples are:
Using what works: Whether it's a pharmaceutical or natural therapeutic, I use what I know will bring about the best results for the patient, without allowing myself to be dogmatically attached to any one option.
Remaining open hearted and open minded to the patient in front of me: Too many people are marginalized and stigmatized with certain diagnoses. If someone is placed in a cage they will always yearn for freedom. Nothing is more freeing to someone who has been attached to a diagnosis than recognizing the possibility of healing and pursuing that path with hope.
Always learn and grow: I learn so much from my patients. The constant pursuit of knowledge and wisdom is not an easy path but the rewards of seeing lives change for the better make it worth it.
What are some of the most common issues you address as a primary care practitioner?
That's a pretty tough question because I see such a variety of presentations. Some of my patients are just pursuing continued wellness, are overall pretty healthy, and want to work from the realm of prevention. Others may be searching for advice regarding weight loss and nutrition, while many may be suffering from a chronic autoimmune condition, an acute infection, or joint pain, to name a few.
When someone comes to you who has been diagnosed with cancer, what does the process involve and what kind of treatment do you provide?
The process is a straightforward approach. First, I gather as much objective data as possible around the extent of cancer spread (imaging, recent labs), what type of treatments they have done, pathology reports, and specific cancer mutations. Second, I want to really get to know the person in front of me, what type of person they are and what they are doing to improve and build their overall health and vitality. Lastly, I want to understand the support network the person has around them. Once I've developed a good holistic understanding of the person, the environment (internal and external), and the disease itself, I can create a comprehensive treatment plan using botanicals/herbs, nutritional supplements, pharmaceuticals, lifestyle, and dietary approaches all aimed at improving health and slowing or inhibiting the growth of cancer.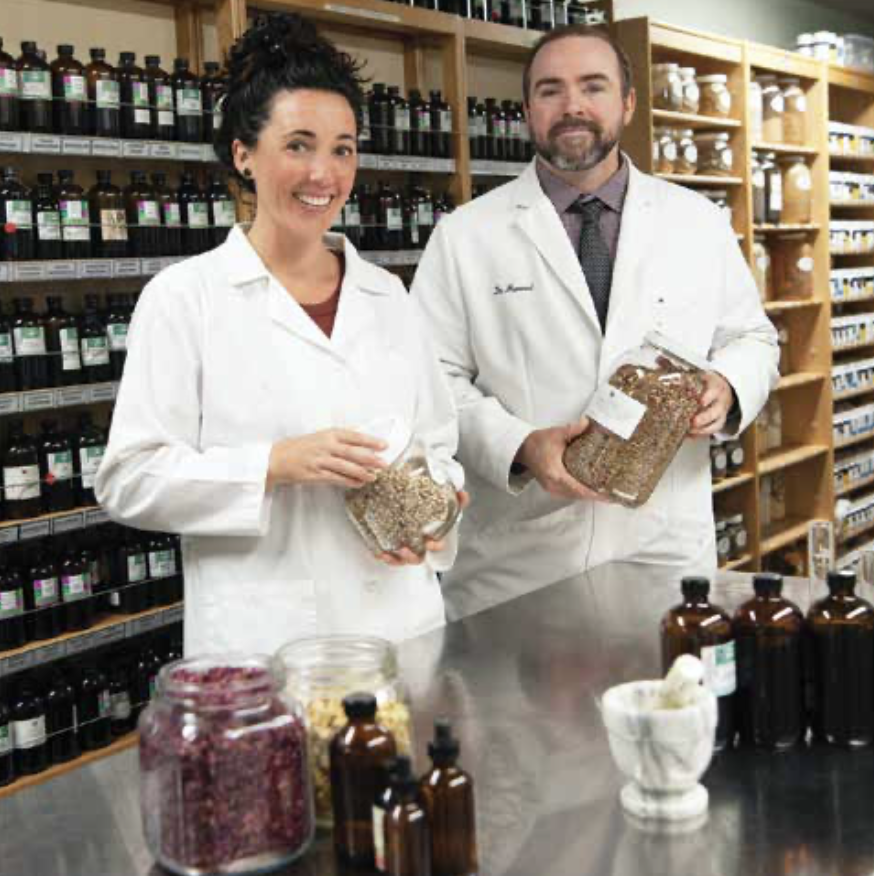 Dr. Hummel, you also work in concert with conventional methods of cancer treatment, like chemo and radiation. How does that work in conjunction with the herbs and other natural medicines you prescribe?
Often natural medicines can work to diminish the side effects and even enhance the efficacy of chemotherapy and radiation. However, even natural medicines need to be used with proper timing and dosing, and can be harmful if not used appropriately. I think everything in medicine has a place where it can be properly applied. Unfortunately, too often the mindset is "kill the cancer" rather than heal the person. I think if we could just recognize that healing the person will often stop the cancer's growth, we would have a lot more success in not just quantity, but also quality of life.
When we spoke on the phone you mentioned that it has been refreshing working at Mederi in part due to the mindset of your clients. Please say more.
Yeah, this question is really easy to answer in that many of the people who seek out Mederi Center have a love of herbal medicine and most often recognize its many benefits. They also tend to be aware of the significant benefits of natural medicine approaches towards healing, often because they have personally experienced them. This makes working alongside these patients a true pleasure because our philosophies resonate well together. I've had the opportunity to work in both conventional and alternative approaches to cancer and not only is the patient mindset at Mederi a breath of fresh air, but the results where people tend to suffer less and live longer are heartwarming as well.
Dr. Hummel, will you please share a few case studies with us that illustrate some of the success that you are achieving at the Mederi Center?
Sharing full case studies would take up several pages but I can share a few good examples here:
• I recently had a bladder cancer patient who did amazingly well through the majority of his chemotherapy and radiation. His original high grade (fast growth) cancer was downgraded to a slower growing cancer with only natural therapeutics. Recent testing showed no cancer presence.
• A colon cancer patient with a fast-growing tumor went through surgery and chemotherapy with fewer side effects. When he did have some side effects the oncologist thought it was supplements. He stopped the supplements and got worse. He went back on the supplements and got better. Recent testing showed he is disease free as well.
• A Lymphoma patient chose to avoid chemotherapy and only did the protocol I recommended. The lymph nodes have continued to shrink, and his disease is not currently present on recent imaging. He also has expressed that he is feeling better than he did before the cancer diagnosis.
• I have a breast cancer patient with metastasis to lymph nodes who went through chemotherapy and radiation. She chose not to do the surgery, and I helped direct her to some other options. She had a tough time with the radiation, but we managed to diminish her difficulties with that quite a bit. She is currently disease free.
I know I can share many more but I think the point is that I feel confident about what the Mederi approach can do for cancer patients.
With so many choices for naturopathic physicians and holistic healthcare practitioners in the Valley, what would you say sets you apart from other providers?
I don't really like to point out what separates people from each other. I think we have enough of that going on in our society. I truly believe that every provider, both holistic and conventional, brings experience that can provide what people need at the right times. I personally focus on caring for and developing a caring relationship with my patients. I know that if I care, then I will do the work that's needed to bring about what is best for my patient. I take a lot of time and I put a lot of research and consideration into the plans I provide. As well, I feel very fortunate in that I am able to work directly with Donnie Yance and glean from his 40 years of experience in the field of herbal medicine and cancer care, which I know brings about some really remarkable results.
I've heard you use the term "Mederi Care" and am curious about what that is. Can you please describe it?
Yes, Mederi in its Latin root means to heal or to be whole. It's the root of the words medicine, meditation, and remedy. The fundamental model of Mederi Care is to comprehensively evaluate the person (which includes their external environment), the microenvironment (their internal biological terrain), and the disease itself in order to get the full picture of what's really going on, and then create an individual treatment plan from there. Our approach is based in less invasive natural therapeutics that ultimately result in the best possible outcomes.
Do people have to come to the physical clinic here in Ashland to work with you, or do you also provide telemedicine options?
We absolutely provide telemedicine options and I consult with patients all over the U.S. In today's world, it's not only a matter of convenience but also a matter of conserving resources and providing care earlier, before a disease takes root. There are also times where it's important to be seen in the clinic physically, such as when there is a need for a direct physical evaluation.
Dr. Hummel, your ability to accept insurance has really opened a lot of doors for your patients. Please say more.
This aspect of care really means a lot to me. I accept insurance because I can help those who otherwise could not afford the level of care that a naturopathic doctor provides. I think it's important to be able to provide integrative medicine options to as many people as possible.
Tell us about the Apothecary at the Mederi Center. I hear it's the most extensive natural medicines apothecary in our area.
The apothecary is one of my favorite aspects of working at Mederi Center. Often prepackaged supplements don't fit an individual need or don't contain the right combinations of things for that person. I love being able to formulate specific combinations and access certain herbs that would not otherwise be available. We have hundreds of single herbs and herbal extracts, powders, Chinese granules, and many of the medicinal formulas created by Donnie. Plus, our apothecary is available for other practitioners to use too. It's really incredible.
Dr. Hummel, when it comes to family time, what have been some of the fun things you enjoy doing here in Southern Oregon?
Right now, I enjoy spending time with my family exploring the redwoods and the beaches on the weekends. Of course, there are so many other beautiful, outdoor places to explore around the area. Mostly, we go hiking, but we also have fun metal detecting and panning for gold as well. It's really just an excuse to hang out at the rivers and beaches though.
Thanks so much for speaking with me today. What is the best way for our readers to learn more about the services you have to offer?
Thanks to you as well Shields. I recommend visiting the medercenter.org website or calling and discussing what we do with our staff.
Learn More:
Mederi Center
478 Russell St. Ste #101
541-488-3133