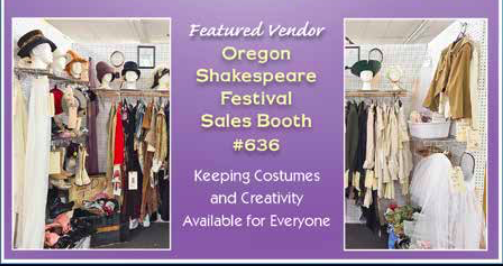 We are so lucky to play host to the OSF booth, proudly keeping costumes and creativity available for everyone! 
The OSF Costume Sales Booth at the Ashland Artisan Emporium is a treasure trove of affordable costumes for all! Everything in the booth is priced under $50, and most items are under $15. Everything is priced so affordably because at OSF we believe that no one should be excluded from the joy of costumes!
Ready to have your own creativity sparked? Check out the selection of fabric left over from actual OSF shows as well as patterns and unfinished projects.
Putting together a dress up wardrobe for a youngster? The Two Dollar Treasure Trunk and the Bin of Fabulous Five Dollar Finds are the perfect places to score unique pieces.
Working on a production of your own? Find that perfectly crafted piece to bring any production together.
The inventory changes weekly and features pieces that have already had a life on the stages of OSF, such as hats, maks, shoes, capes, gowns, doublets and accessories. You never know whose name you will find on the tag inside one of our costumes!
Please stop by today to nab your own original OSF costume for yourself before someone else does!